Movie Alphabetti Spaghetti
26 June 2017
11:45 PM

Stefan Karlsson
Alphabetical Movie Favourites
Favourite Movies
Favourite Movies by letter of the Alphabet
Movie ListMania
Top Films
Top Movies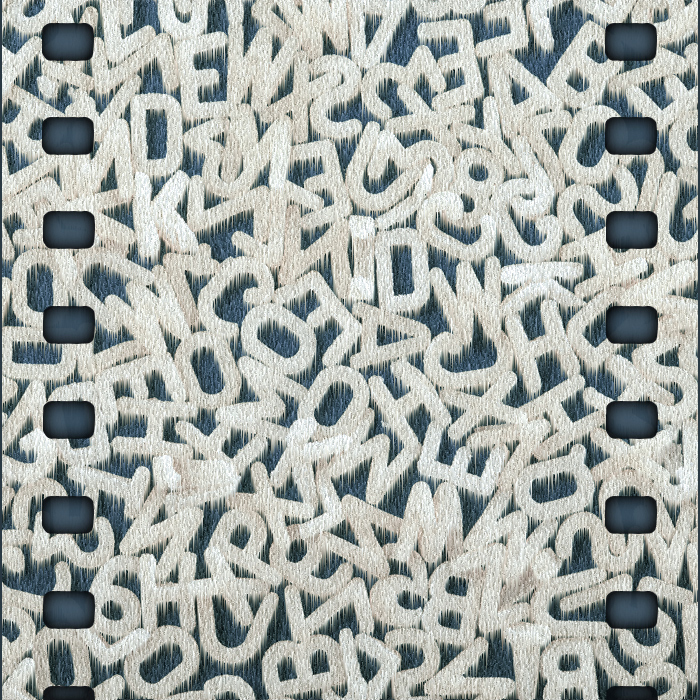 Following on from my Musical Alphabetti Spaghetti post, I've gone one further with this mammoth movie listing. Selecting from more than 600 of my all time favourite movies, which ones deserve to represent each letter of the alphabet. Some of the choices were really very obvious, while there were a few conflicts over my all-time top 20. Nevertheless I persevered, and here you can find the following results - I really hope some of you try to compile your own list - would love to know what you think I may have criminally overlooked. I was also delighted to see that most of my favourite directors are represented, not always by my favourite film of theirs, but simply the strongest in that letter category. My sister Bina should enjoy this exercise! Note that some of the films considered are far from child-friendly, so do exercise caution when viewing a family movie. This selection is as broad as it can be - spanning a good 90 years, and covering most genres - enjoy!
# = 2001: A Space Odyssey (1968 - Stanley Kubrick)
Easily the front-runner in this category from one of my favourite directors, although 'Barry Lyndon' is probably my favourite film of his, or 'Clockwork Orange.' '101 Reykjavik' most likely the runner up here.
Other films considered for this category:
8 1/2 | 10 Things I Hate About You | 13 Assassins | 13th | 21 Grams | 54 | 101 Reykjavik | 300 | The 400 Blows
A = Amelie (2001 - Jean-Pierre Jeunet)
I'm a big fan of Jean-Pierre Jeunet and love all his films, including the underrated 'T.S. Spivet'. Ever since I first saw 'Amelie' though it has resided in my All Time Top 10 - an easy winner for 'A'.
Other films considered for this category:
The Abduction Club | The Accidental Tourist | Acción Mutante | The Accused | The Act of Killing | Adaption | Adventureland | After Hours | The African Queen | The Age of Innocence | Airplane | Aliens | All the President's Men | Amadeus | Les Amants de Pont-Neuf | Amateur | American Beauty | American Gangster | American History X | American Honey | American Hustle | American Psycho | An American in Paris | An American Werewolf in London | Amores Perros | Amy | Angel Heart | Animal House | Anna Karenina | Annie Hall | Anvil: The Story of Anvil | The Apartment | Apocalypse Now | Apocalypto | Around the World in 80 Days (1956) | Arrival | The Artist | As Good as It Gets | Avatar | Avengers Assemble
B = Blade Runner (1982 - Ridley Scott)
Another one of my all-time favourites in probably my preferred genre - Sci-fi. Everything about this film has been so influential including the amazing Vangelis score - of course this was supposedly set in 2019, and I feel we are still a little way of replicants yet - probably need another 20-50 years for that level of fidelity. Of Ridley Scott's films, this one just pips the almost equally amazing 'The Duellist'.
Blade Runner vies with another one of my all-time favourites here - 'Breaking the Waves' which is usually also to be found in my top 10, but got knocked out on this occasion...
Other films considered for this category:
Babel | Babette's Feast | Back to the Future | Bad Santa | Bakaka | Barbarella | Barney's Version | Barry Lyndon | Barton Fink | Batman Returns | Batman - The Dark Knight | Battle Royal | Beasts of the Southern Wild | Beautiful Girls | Beautiful Lies | Beetlejuice | Behind the Candelabra | Being John Malkovich | Belleville Rendez-vous | Ben Hur (1959) | Better of Dead | Beverly Hills Cop | The BFG | The Bicycle Thieves | Big Fish | The Big Short | The Big Sleep | The Big Lebowski | Birdman | Black Hawk Down | Black Narcissus | The Black Shield of Falworth | Black Widow | Blazing Saddles | Blood Simple | Blow Out | Blow-Up | Blue Jasmine | Blue Velvet | The Blues Brothers | Body Heat | Boogie Nights | Book of Life | Bonnie and Clyde | Borat | Born on the Fourth of July | The Bourne Identity | Bound | A Bout de Souffle | Boyhood | Boyz n the Hood | Brazil | Breakfast at Tiffany's | The Breakfast Club | Breaking the Waves | Brick | The Bridge on the River Kwai | Brief Encounter | Brotherhood of the Wolf | Bugsy Malone | Bullets over Broadway | Butch Cassidy and the Sundance Kid
C = Crouching Tiger, Hidden Dragon (2000 - Ang Lee)
I'm a significant fan of all manner of martial arts films, in particular exquisitely detailed period pieces like this one - of all the Chinese films, 'House of Flying Daggers' runs it the closest, with Korea's 'War of Arrows' possibly 3rd, although 'Red Cliff' is brilliant too. Nothing has quite as much magic as 'Crouching Tiger' though.
Other films considered for this category:
Chasing Amy | Choke | Chronicle | Cinema Paradiso | Citizen Kane | The City of Lost Children | Class | Cleopatra (1963) | Clerks | Clockwise | Clockwork Orange | Close Encounters of the Third Kind | Cloud Atlas |
Cloverfield | Clueless | Coal Miner's Daughter | Collateral | The Company of Wolves | Con Air | The Conversation | The Cook, The Thief, His Wife and Her Lover | The Craft | Crash | Crazy Stupid Love | Crimson Peak | The Crow | Cruel Intentions | The Crying Game | Cyrano de Bergerac (1990)
D = Drive (2011 - Nicolas Winding Refn)
I'm not necessarily the biggest Nicolas Winding Refn fan in the world, especially as I really disliked his 'Valhalla Rising', yet love his neon aesthetics of recent trilogy - 'Drive', 'Only God Forgives' and 'The Neon Demon'. It really helps 'Drive' that the 80's -inspired synth soundtrack is spot on too. So many of my favourite movies feature the perfect mix of visual and musical atmosphere. Also in this category is another Lars von Trier classic - the Björk starring 'Dancer in the Dark'. My tied favourite Peter Greenaway film too - 'The Draughtsman's Contract' which vies with 'The Cook, The Thief...' as his best. Also another Jean-Pierre Jeunet classic - 'Delicatessen'!
Other films considered for this category:
Dallas Buyers Club | Dancer in the Dark | Dances with Wolves | Dangerous Liaisons | Dark City | Dark Crystal | Dark Star | Dazed and Confused | Dear or Alive | Dead Poets Society | Deadpool | Death on the Nile (1978) | The Deer Hunter | The Defiant Ones | Delicatessen | Deliverance | Destry Rides Again | Dial M for Murder | Dirty Harry | Dirty Rotten Scoundrels | District 9 | Django | Django Unchained | Doctor Zhivago | Dog Day Afternoon | Dogma | Dogtooth | Dogville | La Dolce Vita | Donnie Brasco | Donnie Darko | Do the Right Thing | Dr No | The Draughtsman's Contract | Driving Miss Daisy | Drowning by Numbers | Drugstore Cowboy | The Duchess | The Duellists | Dumb and Dumber | Dune
E = End of Watch (2012 - David Ayer)
Surprisingly one of two category winners to star Jake Gyllenhaal who has become a firm favourite. This sleeper movie took me totally by surprise - it keeps you on the edge of the seat throughout. It pips 'Edward Scissorhands' which remains my favourite Tim Burton film - although I do love several of his. 'Enter the Void' is also amazing, and I have a soft spot for 'Eternal Sunshine of the Spotless Mind'.
Other films considered for this category:
Easy A | Eat Drink Man Woman | Edge of Tomorrow | Edward Scissorhands | Election | Electric Dreams | Elizabeth: The Golden Age | Elysium | Emma | The Empire Strikes Back | Ender's Game | Les Enfants Du Paradis | The English Patient | Enter the Dragon | Enter the Void | Erin Brockovich | E.T.: The Extra-Terrestrial | Eternal Sunshine of the Spotless Mind | Everybody Wants Some | Excalibur | Ex Machina | The Extraordinary Adventures of Adele Blanc Sec
F = Fargo (1996 - Joel Coen)
You can't be a movie fan without loving at least one of the Coen Brothers' films, I love them all near enough, and this is one of the better ones - just totally tonally perfect from start to finish - and their good work here has been continued in the equally excellent TV series which I love too. This takes the category - just ahead of 'Ferris Bueller' in my affections.
Other films considered for this category:
The Fall | Falling Down | Fame | Fanny & Alexander | Fantastic Beasts and Where to Find Them | Fantastic Mr Fox | Fast Times at Ridgemont High | Ferris Bueller's Day Off | Festen | A Few Good Men | The Fifth Element | Fight Club | Filth | A Fish Called Wanda | A Fistful of Dollars | A Fistful of Dynamite | The Flamingo Kid | Flashdance | Flash Gordon | The Fly (1986) | Footloose | The Four Feathers (1977) | Forrest Gump | Foxy Brown | Frantic | The French Connection | Friday Night Lights | Fright Night (1985) | From Russia with Love | The Fugitive
G = Grease (1978 - Randal Kleiser)
I'm not in the slightest bit embarrassed to admit that this is one of my most watched films of all time - it's the only film I saw 3 times in the cinema when it came out. Love John Travolta, Love Olivia Newton John, she was my second celebrity crush after Nadia Comăneci! And of course I love the music - especially 'Hand Jive'! Another John Travolta favourite is also in the category - 'Get Shorty', also 'Grosse Pointe Break' is great, as is 'Grand Budapest Hotel' - lots to choose from, some will be aghast that I did not choose either 'Godfather 1 or 2' or 'Goodfellas' as winners, but what can I say - I'm a dancer ... and I was born to hand jive!
Other films considered for this category:
Galaxy Quest | Gandhi | Gangs of New York | Get Carter | Get Out | Get Shorty | Ghostbusters | The Gift | The Girl with the Dragon Tattoo | Gladiator | Glory | Go | The Godfather | The Golden Compass | GoldenEye | Goldfinger | Gomorrah | Gone Baby Gone | Gone Girl | Gone With The Wind | The Good, the Bad and the Ugly | The Good, the Bad, the Weird | Goodfellas | Good Will Hunting The Goonies | Gosford Park | The Graduate | Grand Budapest Hotel | Gravity | The Great Beauty | The Great Gatsby | Gremlins | The Grifters | Groundhog Day | Grosse Pointe Blank | Guardians of the Galaxy | Guess Who's Coming to Dinner | The Guest
H = Hugo (2011 - Martin Scorsese)
I was torn for a while here between 'Hugo' and 'Heathers' - 'Hugo' in the end wins out on cinematic virtuosity, it is one of my 4 must-see 3D movies alongside 'Avatar', 'Gravity' and 'Live of Pi'. Martin Scorsese's art direction is simply genius.
Other films considered for this category:
Hacksaw Ridge | La Haine | Hardcore Henry | Harold and Maude | Headhunters | Heat | Heathers | Henry Fool | Her | Hidden (Caché) | The Hidden | High Fidelity | A History of Violence | The Hobbit: The Desolation of Smaug | Holy Motors | The Host | Hot Fuzz | House of Flying Daggers | Howards End | The Hudsucker Proxy | Hunger Games | The Hunt | The Hurt Locker
I = Inland Empire (2006 - David Lynch)
I'm a massive David Lynch fan - Twin Peaks is my favourite TV series of all time by some distance, and I love most of his films nearly as well - although I've always struggled a bit with Eraserhead. The 3 hour masterpiece that is 'Internal Empire' is a Laura Dern acting masterclass. The film calls up all the usual and then some 'Lynchian' tropes - with a huge range of ambience and emotion and another great soundtrack. Probably within a quad of really great Lynch movies alongside Blue Velvet, Mulholland Drive and Wild at Heart. For me, Inland Empire is his best work thus far.
Other films considered for this category:
Ichi the Killer | If | The Imaginarium of Doctor Parnassus | Inception | Independence Day | Inherent Vice | Insomnia | In the Heat of the Night | In the Realm of the Senses | Interstellar | Interview with the Vampire | Into The Night | IP Man | Irreversible | It Follows | The Italian Job
J = Juno (2007 - Jason Reitman)
I love several of Jason Reitman's films - 'Thank You for Smoking', 'Up in the Air' and 'Young Adult' in particular, alongside his thus far career best - 'Juno' which just pips the lot on account of its extra sparkly whip-smart dialogues. I thought this would be the making of Ellen Page too, but here career does not seem to have quite met expectations. Juno is easily my favourite 'J' film, although there are some truly great films in this category - Spielberg's 'Jaws' and 'Jurassic Park', then 'Jerry Maguire' and the first film I ever watched 'Jungle Book' - which is equalled by its newest 3D 'life-action' remake.
Other films considered for this category:
Jabberwocky | Jackie Brown | Jackpot | Jagged Edge | Jamón Jamón | Jar City | Jaws | The Jerk | Jerry Maguire | John Wick | Julie & Julia | The Jungle Book (1967 & 2016) | Jungle Fever | Jurassic Park
K = Kiss Kiss Bang Bang (2005 - Shane Black)
I'm a big fan of screenwriter and director Shane Black - responsible for the earlier 'Lethal Weapons', as well as 'The Last Boy Scout', 'The Long Kiss Goodnight' and 'Nice Guys' - all bona fide classics as far as I am concerned. I've also had a crush on Michelle Monaghan for the longest time, her plus Robert Downey Jr and Val Kilmer is just superb casting. Easily me favourite of the 'K's.
Other films considered for this category:
Kagemusha | Kick Ass | Kids | Kill Bill | Kill List | The Killing | The Killing Fields | Kind Hearts and Coronets | Kingdom of Heaven | The King's Speech | Kiss of the Spider Woman | Krull | Kubo and the Two Strings | Kung Fu Hustle
L = La La Land (2016 - Damien Chazelle)
The most recent film in these listings - another love letter to Hollywood, this time of the musical variety, superb bitter-sweet magic, I loved it! A worthy winner for this category - and despite certain criticisms - chock full of memorable songs and melodies - I have the score in sheet music! Runner-up here probably 'Life of Pi' - one of my favourite books too.
Other films considered for this category:
L.A. Confidential | Labyrinth | Ladyhawke | The Last Boy Scout | Last Days of Disco | The Last Dragon | The Last Emperor | The Last of the Mohicans | The Last Picture Show | Last Seduction | La Vie En Rose | Lawrence of Arabia | Leaving Las Vegas | Legend | Lemony Snicket's A Series of Unfortunate Events | Léon | Les Misérables | Less Than Zero | The Life Aquatic with Steve Zissou | Life is Beautiful | Life of Brian | Life of Pi | Lincoln | The Lincoln Lawyer | Lion | Little Miss Sunshine | Live and Let Die | Lock Stock and Two Smoking Barrels | Logan's Run | Lone Wolf and Cub - Babycart at the River Styx | The Long Goodbye | The Long Kiss Goodnight | The Look of Silence | Lord of the Rings 3 (Return of the King) | The Lost Boys | Logan | Lost in Translation | Love and Friendship
M = The Matrix (1999 - The Wachowskis)
Seminal Sci-fi classic still very influential in its SFX and fight choreography - and totally revolutionary for its time. Also never quite equalled by the Wachowskis yet - they do manage to retain a flare for the visual, but most of their work can also be blighted somewhat by convolution, and 'Jupiter Rising' for instance - which promised so much, veers dangerously into pastiche territory. Most likely 'Cloud Atlas' remains their second finest work - although they really need to sort out their narrative flow. There's no other film that really comes close in impact in the 'M' category - although I really like Wes Anderson's 'Moonrise Kingdom' too.
Other films considered for this category:
Mad Max Fury Road | The Madness of King George | Magnolia | Maleficent | Man Bites Dog | Manchester by the Sea | Manhunter | Mars Attacks! | The Martian | M.A.S.H. | The Master | Master and Commander: The Far Side of the World | A Matter of Life and Death | McCabe & Mrs. Miller | Me and Earl and the Dying Girl | Mean Girls | Mean Streets | Melancholia | Merry Christmas, Mr. Lawrence | Metropolis (1927) | Mic Macs | Midnight Cowboy | Midnight Express | Midnight in Paris | Miller's Crossing | Minority Report | Mirror Mask | Misery | The Mission | Mississippi Burning | Mona Lisa | Moneyball | A Monster Calls | Monty Python and the Holy Grail | Moonlight | Moonrise Kingdom | Moulin Rouge! | Much Ado About Nothing (2012) | Mulholland Drive | Murder on the Orient Express | Mrs Brown | My Cousin Vinny | My Fair Lady | My Name is Nobody | My Sassy Girl
N = Nightcrawler (2014 - Dan Gilroy)
Another excellent role for Jake Gyllenhaal - you never know where this movie is going, but it continually surprises you with every twist and turn, a proper signpost for the age of media celebrity and stalking. This is the directorial debut of successful screenwriter Dan Gilroy who also wrote the script - looking forward to seeing more from him. This category also features my third / fourth favourite Alfred Hitchcock film - 'North by Northwest'; yet 'Nightcrawler' is a worthy winner.
Other films considered for this category:
Nashville | Natural Born Killers | The Neon Demon | Network | Never Ending Story | The New World | The Nice Guys | The Nightmare Before Christmas | No Country for Old Men | Nocturnal Animals | North by Northwest | The Notebook | No Way Out
O = Oldboy (2003 - Chan-wook Park)
Korea's most celebrated director / auteur Chan-wook Park is very much a firm favourite of mine, and this is his finest effort to-date - a genuine classic, which the Americans totally failed to remake. This film is certainly not for the squeamish and has several scenes of highly stylised violence - not seen again until the almost as brilliant 'Raid 2'. This is a truly fine example of bold film-making, and has one of the best ever twists at the end. A worthy winner in this category.
Other films considered for this category:
Oblivion | Ocean's Eleven | Of Horses And Men | An Officer and a Gentleman | O.J Made in America | The Omega Man | Once Upon a Time in America | Once Upon a Time in the West | One Flew Over the Cuckoo's Nest | Ong-bak | Only God Forgives | Out of Africa | Out of Sight | The Outsiders | Oz
P = Pulp Fiction (1994 - Quentin Tarantino)
Probably currently my favourite favourite all-time movie - this one has everything you might expect and more. Possibly the best non-chronological film too. Easily my favourite Tarantino film, combining clever composition, blistering dialogue, odd situations, comedy, dancing and a magnificent soundtrack - it really runs the range of different genres and emotions - and every re-watching yields new detail surprises. This is independent film-making at its absolute best. Even though John Travolta might not be my favourite actor - he does feature in 4 of my most cherished films - this one, 'Grease' (as above), 'Saturday Night Fever' and 'Get Shorty'.
There is another film in this category which is a major perennial favourite - 'The Princess Bride', I also have a soft spot for currently deemed unpolitically correct Peter Sellers classic 'The Party' and of course zany stoner comedy 'Pineapple Express'.
Other films considered for this category:
Pale Rider | Pan's Labyrinth | Paper Moon | Paris,Texas | The Party | A Passage to India | Performance | The Philadelphia Story | Pineapple Express | Pitch Black | Pirates of the Caribbean - Curse of the Black Pearl | Platoon | The Player | Point Blank | Priceless | Pride & Prejudice | Princess Pride | Prizzi's Honor | Psycho | Punch-Drunk Love | Purple Rain
Q = Quadrophenia (1979 - Franc Roddam)
To be fair - there is not much of a selection for 'Q' really, unless I have overlooked something obvious - it really just boils down to a head-to-head between 'Quadrophenia' and French period drama 'Queen Margot' - which is excellent too. What with all my Parkas though and preference for clean lines - I fancy I could have been a Mod too - so 'Quadrpohenia' pips this one!
Other films considered for this category:
The Queen | Queen Margot | Queen of the Damned | Quest for Fire | Quills | Quiz Show | Quo Vadis
R = The Royal Tenenbaums (2001 - Wes Anderson)
I adore Wes Anderson films, and this one vies for favourite of his with 'Grand Budapest Hotel' - I could go either way really. Beautifully quirky comedy, with superb Mark Mothersbaugh curated score / soundtrack as usual, astonishing framing compositions and an incredible eye for detail! That said I really do love everything Wes Anderson has put out to date.
Other films in this category worthy of mention include my favourite Hitchcock film - 'Rear Window', possibly best Icelandic film of all time 'Rams', Baz Luhrman's incredibly stylish 'Romeo and Juliet', Kurosawa's 'Ran' - French underground period classic 'Ridicule' - there's some serious competition here.
Other films considered for this category:
The Raid 2 | Raiders of the Lost Ark | Rain Man | Raising Arizona | Rams | Ran | Rebecca | Rebel Without a Cause | Red Cliff | Red Rock West | Rear Window | Requiem for a Dream | Restoration | The Revenant | Ridicule | Risky Business | The Road to Perdition | Roger Dodger | Rogue 1 | Romeo and Juliet (1996) | A Room with a View | Ronin | Room | Royal Flash | The Rules of Attraction | Rumble Fish | Run Lola Run | Rushmore | Rust and Bone
S = Star Wars IV - A New Hope (1977 - George Lucas)
Quite simply THE most awe-inspiring and formative cinematic experiences of my life. Our neighbour helped smuggle us into the cinema - this was '12' rated in Iceland for whatever reason. From the first moments - those scrolling titles and the Star Destroyer looming into view - plus the John Williams score - you really could not get more Epic. You could argue that 'The Empire Strikes Back' had more in pure cinematic artistry, but for me the first one is the one that generates still the most appreciation.
It side-swipes another of my perennial favourites - 'Saturday Night Fever', and in the most populous category of this article. Other notables include childhood favourite 'Street of Fire', the always good 'Sideways', mockumentary classic 'Spinal Tap', favourite Studio Ghibli film 'Spirited Away', and brilliant wingman film 'Swingers'.
Other films considered for this category:
Salvador | Samsara | Santa Sangre | Saturday Night Fever | Saving Private Ryan | Say Anything | A Scanner Darkly | Scaramouche | Scarface | Schindler's List | The Science of Sleep | Scott Pilgrim vs the World | The Searchers | Searching for Sugar Man | The Secret in Their Eyes | Secretary | See No Evil, Hear No Evil | Selma | Sense and Sensibility | Serenity | The Serpent and the Rainbow | Serpico | Se7en | Seven Samurai | Sex, Lies, and Videotape | Shaft (1971) | Shakespeare in Love | Shampoo | Shaolin Soccer | Shaun of the Dead | Shawshank Redemption | The Shining | Shortcuts | Sicario | Sideways | The Silence of the Lambs | Silent Running | Silver Linings Playbook | A Simple Plan | Sin City | Singin' in the Rain | Singles | The Sixth Sense |
Slackers | Sleepers | Sleepy Hollow | Slumdog Millionaire | Snatch | Snow Piercer | Source Code | Soylent Green | Spartacus | The Spiderwick Chronicles | (This is) Spinal Tap | Spirited Away | Spring Breakers | Stand by Me | Stargate | Starship Troopers | St Elmo's Fire | The Sting | Stir Crazy | Strange Days | Streets of Fire | Sucker Punch | Superbad | The Sure Thing | Sweeney Todd: The Demon Barber of Fleet Street | Swimming with Sharks | Swingers | Synecdoche, New York
T = Trainspotting (1996 - Danny Boyle)
Both Trainspotting films are excellent, but the former is more 'of its time' and a defining signpost of that era - it includes the best use of a house track in a film too with Underworld's 'Born Slippy' - kind of put them on the map internationally. Everyone involved in the film has gone on to do great things - probably Danny Boyle's finest effort too - even though he got the Oscar for 'Slumdog Millionaire' which is another amazing film.
Trainspotting wins this category pretty easily for me - 'Thelma & Louise' is worth a mention, another great Ridley Scott pic, I also have a soft spot for 'Time Bandits' and Quentin Tarantino scripted 'True Romance'.
Other films considered for this category:
The Tales of Hoffmann | Taxi Driver | Tell No One | Terminator | Terms of Endearment | Thank You For Not Smoking | Thelma & Louise | The Theory of Everything | There's Something About Mary | There Will Be Blood | The Thief of Baghdad | The Thin Red Line | The Thing (1982) | Time Bandits | The Thomas Crown Affair (1999) | The Town | Tie Me Up,Tie Me Down | To Live and Die in L.A. | To Catch a Thief | To Sir, With Love (1967) | Top Gun | Top Secret | El Topo | Tora! Tora! Tora! | Total Recall | Trading Places | Train to Busan | The Tree of Life | Tron (both) | True Grit (both) | True Romance | Truman Show | Trust | Mr Turner | Twin Peaks: Fire Walk with Me
U = The Unbeleivable Truth (1989 - Hal Hartley)
One of my two favourite Hal Hartley films - I also love 'Trust', while some prefer his 'Book of Life' and 'Henry Fool'. All are great indy flix though - with memorably smart witty dialogs and plenty of leftfield quirks. They won't be to everyone's taste, but will appeal to those looking for something outside the mainstream.
I had considered 'The Usual Suspects' too - which of course is excellent, and I also have a soft spot for 'The Unbearable Lightness of Being'
Other films considered for this category:
The Umbrellas of Cherbourg | The Unbearable Lightness of Being | Unforgiven | Untouchable | The Untouchables | Up in the Air | The Usual Suspects
V = Vertigo (1958 - Alfred Hitchcock)
Vertigo is probably only my 3rd favourite Hitchcock after 'Rear Window' and 'North by Northwest' - it is however generally the most critically acclaimed, particularly for some very specific camera techniques which have been much copied since. Near enough all of Hitchcock's films are great and offer several brilliant insights into the film-making process. I don't believe anyone pioneered quite as many cinematographic techniques as old Alfred did.
I must also make mention of recent German film 'Victoria' which accomplishes perfectly a single moving shot throughout the whole of its 2 hour runtime - another kind of virtuosity that Hitchcock would no doubt be proud to see.
Other films considered for this category:
V for Vendetta | The Vanishing (1988) | Vantage Point | Very Bad Things | A Very Long Engagement | Vicky Cristina Barcelona | Victoria (2015) | The Virgin Suicides | Visitor Q
W = When Harry Met Sally (1989 - Rob Reiner)
I must confess that I am a sucker for a quality Rom-com, with two of my absolute favourites being this one and 'Annie Hall'. Both are blessed with such amazing dialogue that you could happily watch both on loop almost with audio alone. Both have numerous memorable scenes - when this genre is done well it's magical, unfortunately there is too much dross out their in this genre to give the whole category a bad name. The very best examples are worthy representatives of the cinematic arts. It must also be noted that Rob Reiner is in charge of a number of my favourite films - including 'Spinal Tap', 'The Sure Thing', 'Stand By Me' , 'The Princess Bride', 'Misery', and 'A Few Good Men'.
Within the 'W' category, I would like to bring your attention to 'Whiplash', 'Wild Tales' and 'Winter's Bone' - all somewhat art-house in nature, but all worth your time too.
Other films considered for this category:
WALL-E | Wall Street | Wanted | War of Arrows | Watchmen | The Way Back | What's Up Doc | Whiplash | Who Framed Roger Rabbit | Wild at Heart | The Wild Bunch | Wild Tales | Wild Things | Willow | Winter's Bone | The Witch | Withnail and I | Witness | The Wizard of Oz | The Wolf of Wall Street | Working Girl | The World's End | The Wrestler
X = The X-Files (1988 - Rob Bowman)
It wasn't really the X-Files film we were expecting, yet retrospectively seems a pretty decent contender for this category. The only other notable here is 'Xanadu' - which is basically the combination of two of my favourites - ELO + Olivia Newton John. Sure it's kitschy as hell, but for that reason is just kind of works!
Y = Yojimbo (1961 - Akira Kurosawa)
It's great to have Akira Kurosawa on the podium, there are so many of his films that I enjoy. This one is particularly high in my affections alongside 'Ran' and 'Kagemusha'. Like much of Kurosawa's work this was copied many times, including Bruce Willis's 1996 film - 'Last Man Standing'.
There's not much to the 'Y' category which does though include other notables - my favourite James Bond film 'You Only Live Twice' the overlooked 'Young Adult', Jean-Pierre's beautiful 3D adaption of one of my favourite books - 'The Young and Prodigious T.S Spivet', and Gene Wilder's much celebrated 'Young Frankenstein'.
Z = A Zed & Two Noughts (1985 - Peter Greenaway)
Not quite my favourite Peter Greenaway, but certainly upper echelon, for me his best are 'The Draughtsman's Contract' and 'The Cook, The Thief, His Wife and Her Lover' - then 'Drowning by Numbers' and 'Z 0 0'. All of Peter's films are special, although the latter ones can drag the tiniest bits. His earlier work though is exemplary, and well worth a viewing if your tastes veer significantly outside of the mainstream.
Other films considered for this category:
Zathura | Zatoichi | Zero Dark Thirty | Zombieland | Zoolander | Zootropolis / Zootopia | Zulu | Zzyzx
Postscript
And so we come to the end!
Hopefully I have not excluded for consideration too many of your favourites. Cinema after all can be very personal. I can say that I am satisfied with all my selections, though there is something niggling at the back of the mind trying to tell me I've left something out. I am sure you will all advise me if that is the case - and I will consider its inclusion.
I started off thinking that I would just name my favourite film per series / trilogy, but then decided that you may as well name as many as you find notable. In my case mentioning 3 of the Star Wars films... (IV, V and Rogue 1)