12 of the Best Toys for Christmas 2018
02 December 2018
6:52 PM

Stefan Karlsson
Anki
Boxer Robot
Chad Valley
Fingerlings
Fisher Price
Furreal Buzz Pet
GraviTrax
Hot Wheels
Imagniext
Lego
Playmobil
Ravensburger
Theo Klein Bosch
VTech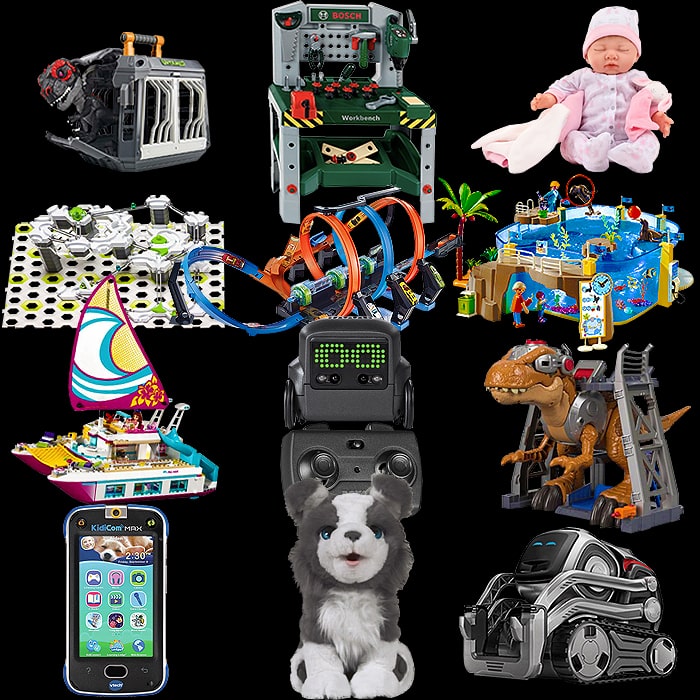 There are plenty of lists out there with 50 or 100 of the best toys to get for Christmas - but I've narrowed the selection down to just 12 that I really like the look of - hopefully something for everyone. There are a few items here that carry over from last Christmas to a degree - like the Fingerlings and Anki Vector Robot - but most of these toys were released this year.
When I did my best of LEGO overview I overlooked the Sunshine Catamaran - so am making amends for that now. I have selected a good mix of fun practical and properly 'playable' toys ranging in price from £25 to nearly ten times that.
Toys are listed roughly in ascending order of cost. Note that bargains can be had everywhere, and Amazon although convenient is not always cheapest - I also quite like people to support more localised outfits like The Entertainer and Smyths Toys:
---
Wow Wee 3748 Fingerlings Untamed Dino Cage Playset - £25-£30
We had the mostly monkey-like Fingerlings last year, while this year we get the more appealing dinosaurs or Dinos - much more to my liking! The individual Dinos are available from £15-£17 while even cooler is the Dino Cage Playset which comes with one figure and has space for a second one.
---
Klein Toy Bosch WorkBench with Sounds - £35-£70
There's plenty of kitchen playlets too - but I really like the look of this fun workbench with fairly authentic sounding battery-powered tools. Mothercare have this for £35 but keep selling out!
---
Chad Valley Tiny Treasures Doll with Closed Eyes - £50
I've bought many a toy doll for my nieces over the years and this is one of the more endearing ones - note that it has permanently shut eyes, but has a faint vanilla 'baby scent' to it as well as a battery-powered beating heart. Really cute, but some kids may get annoyed that the doll never opens it's eyes - Chad Valley have other Tiny Treasures Dolls with open/close eyes - while I might go for the Baby Annabell for that type (c£40).
---
Ravensbruger GraviTrax Marble Run Starter Set - £37-£50
I actually would not mind this for myself - there are plenty of different marble run type sets out there but this really is a step above all the others with really clever mechanics and smart building blocks and interchanges. Can also of course be expanded infinitely!
---
Hot Wheels Corkscrew Crash - £29-£50
Yes Hot Wheels are still going strong after all this time - and this whirly-smash triple-corkscrew is probably the most fun of all their sets - there's something about toy cars smashing into each other that never fails to delight.
---
Playmobil Aquarium - £40-£50
I grew up with LEGO and Playmobil and although I usually lean towards LEGO in most regards, Playmobil have made some cracking sets over the years - including Castles and Pirate Ships. This is another one of the exceptional Playmobil sets which LEGO really can't compete against - as it's not water-tight. There are tonnes of beautiful detail touches here and hours of playability.
---
LEGO Friends Sunshine Catamaran - £50-£65
I inadvertently overlooked this great set in my previous LEGO roundup - this is another fantastic fun build with lots of cool playability details - would be ideal for one of my younger nieces if they were still into LEGO!
---
Boxer Interactive AI Robot Toy - £45-£80
One of last year's most popular toys was the Cozmo kind of bulldozer interactive robot - and I see this as a more cost-effect version of that. For this list I have included this cheaper version as well as the more expensive and more capable newer Anki Vector Home Robot - which despite its name is still a toy!
---
Fisher Price Imaginext Jurassic World Jurassic Rex - £99-£110
I dub this 'Stompy Chompy Dinosaur' from Fisher Prices's Imaginext range - actually a really quite large mechanical dinosaur with lots of playability features. Possibly a little too sci-fi for some, but still tonnes of fun.
---
VTech KidiCom Max - £77-£110
This is really for where you have younger and older kids and the latter are starting to get / use smartphones. Of course the juniors want to be in on the action - but it does not make sense to be buying them all iPhones - step in the VTech KidiCom for some momentary peace and harmony.
FurReal Buzz Pet - Ricky the Trick Lovin' Pup - £75-£100
The is a sort of V2 teddy-bear - a robotic / interactive furry toy dog / pup. Has lots of cool 'moves' and reacts to certain props - but possibly not as versatile as the other robots featured in this list. I see it as simply a more advanced / animated breed of plushy toy.
---
Anki Vector Home Robot - £189-£250
The Cozmo was one of the big hits of last Christmas, and Anki have released a slightly more formidable (and more expensive) version of that in the guise of this newer Vector Home Robot. I'm not sure what the intention was with the 'Home' moniker in there - this is still very much a quite gimmicky 'toy' which could actually really do with a little more ground clearance to be able to properly navigate the typical home - thresholds, more robust carpets etc.
---
Final Thoughts
Christmas is a very costly time of year for most and you should not let yourself get dragged into keeping up with the Joneses or succumbing to your kids every wish / whim. Give them some reasonable options to choose from and set yourself a budgetary limit for individual as well as overall gift totals.
I try to buy smart and keep it under £50 as much as I can for the extensive and extended family - but if the fit is right - I don't mind going overboard once or twice - as long as the overall tolerances aren't exceeded. I would say be disciplined and be organised - it's already a little late in the day for some of these bargains - as there have been significant discounts during Black Friday and Cyber Monday / Week. I personally don't get properly started usually until the start of December - or around now - when I've completed all my research and deliberations.
Part of the exercise is also figuring out what you would like for yourself. As whenever you ask a relative what to get for the kids etc. - you usually get asked what you might be after personally. Don't be afraid to set and name your limits - and don't be shy about refusing to buy certain types of gifts you might not agree with!
When buying for teenagers there is no avoiding asking them what they want/need - they are a peculiar and very particular breed!