Celebrate Free Comic Book Day 2018 - Saturday 5th of May
05 May 2018
12:04 AM

Stefan Karlsson
Cinebook Comics
Forbidden Planet Megastore
Free Comic Book Day
Free Comic Book Day 2018
Gosh! Comics
Orbital Comics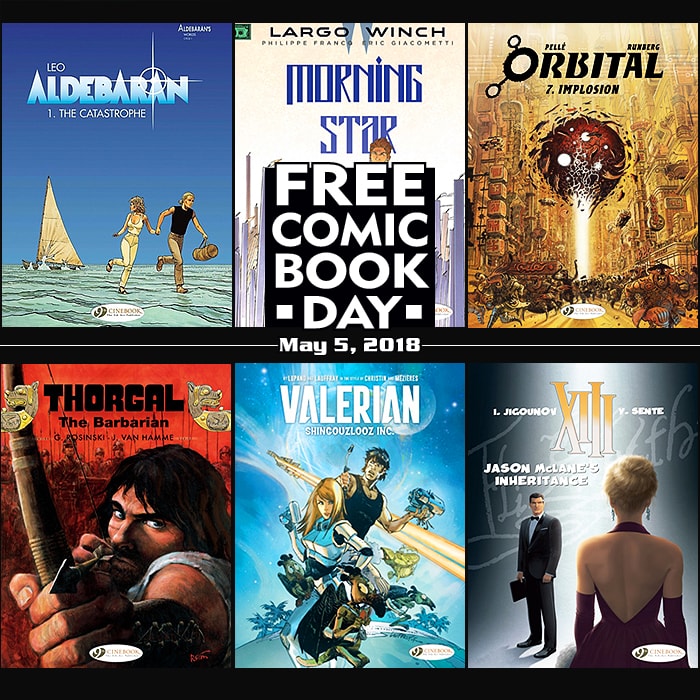 I normally use Free Comic Book Day to highlight some of the best titles currently available or focus on a particular imprint. I am well beyond the age when I can tolerate standing in queues for long periods, so I don't indulge in Record Store Day or Free Comic Book Day Promos any more. I'm really not a fan of single flimsy issues, my preferences is for 'Trade Paperbacks' with a litle more story arc, and usually includes special issues, cover art variations etc. Both Record Store Day and Free Comic Book Day have become a little bit of scrum of late, and there's just too many 'Ebayers' in the midst rather than bonafide fans and collectors - hucksters looking to make a fast buck by reselling immediately online. So I use those days generally to celebrate the medium, and acquire an album or issue or two that I had overlooked or else try out a new series - of course by way of collected Trade Paperbacks.
For this particular day I am shining a light on lesser known imprint Cinebook - a UK publisher which translates Belgian and French material largely from the imprints Dargaud, Dupuis, and Le Lombard. A large number of the children's titles they offer I read in my youth in Iceland - translated into Icelandic of course - series like : Lucky Luke, Marsupilami, and Spirou & Fantasio. I am currently largely interested in the more mature / adult series on offer.
Pictured above are 6 of my favourite series - either first or latest edition. Namely : Aldebaran, Largo Winch, Orbital, Thorgal, Valerian and Laureline, and XIII. For me Aldebaran is more than one series - it really encompasses - Aldebaran, Betelgeuse, Antares and The Survivors, as well as sister series Kenya and Namibia.
Alderbaran etc is a Cryptozoological / UFO / Aliens / Space Exploration series.
Largo Winch is billionaire businessman with industrial espionage mixed with James Bond style action
Orbital is kind of a different take on the Valerian and Laureline space buddy dynamic - without the dimensional-time-travel
Thorgal is a sort of high brow Conan which weaves in Sci-fi themes too
Valerian and Laureline is that very influential Sci-fi series recently made into a major motion picture - more of an influenced by than 'adopting' any particular storylines
XIII is a thrilling black ops murder mystery adventure with plenty of secret service agencies and agents involved
Cinebook is most definitely one of my favourite imprints, and to date I have read or am in the process of reading 36 of their series, as follows (alphabetical):
Aldebaran (6 Volumes)
Alone (8 Volumes)
Antares (6 Volumes)
Barracuda (6 Volumes)
Bear's Tooth (3 Volumes eventually)
Chimpanzee Complex (3 Volumes)
Crusade (4 Volumes)
Damocles (4 Volumes)
Darwin's Diaries (3 Volumes)
Green Manor (2 Volumes)
Insiders (7 Volumes)
IR$ (6 Volumes)
Kenya (5 Volumes)
Lady S (5 Volumes)
Lament of the Lost Moors (4 Volumes)
Largo Winch (16 Volumes)
Long John Silver (4 Volumes)
The Fascinating Madame Tussaud (1 Volume)
Namibia (5 Volumes)
Orbital (7 Volumes)
Pandora's Box (5 Volumes)
Queen Margot (3 Volumes)
S.A.M. (3 Volumes)
The Scorpion (8 Volumes)
Spooks (6 Volumes)
The Last Templar (6 Volumes)
The Marquis of Anaon (5 Volumes)
The Survivors (5 Volumes)
Thorgal (19 Volumes)
Trent (2 Volumes)
Valerian and Laureline (22 + 1 Volumes)
Wayne Shelton (5 Volumes)
Western (1 Volume)
Wisher (4 Volumes)
XIII (23 Volumes)
XIII Mystery (1 Volume)
Note that the only Comic Book Store in London that properly / fully stocks Cinebook is Gosh! Comics at the bottom of Berwick Street in Soho. Forbidden Planet on Shaftesbury Avenue has Valerian and Laureline and a few others, as does Orbital Comics on Great Newport Street, Convent Garden. If you're after Cinebook though you should really head for Gosh!