Now TV User Interface goes from Bad to Worse
24 August 2018
1:04 PM

Stefan Karlsson
Amazon Prime TV
BBC iPlayer
Digital Television
Netflix
Now TV
Online TV
Sky TV
Streaming Service
video on demand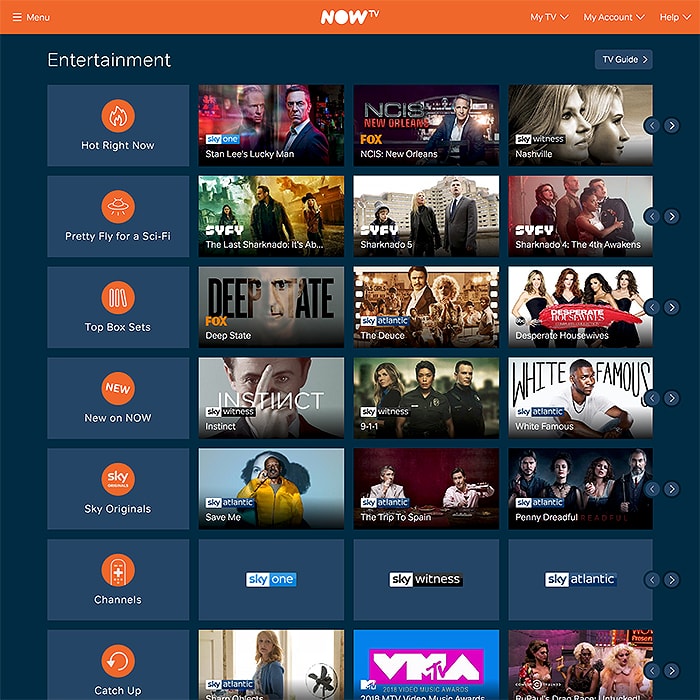 I really don't know what the developers for the NowTV.com interface are doing these days or who is instructing them. The whole experience was not a particularly pleasant one before - with a still separate pop-up window player which has very poor connectivity and continuity with the main video library. You are kind of OK if you just want to watch the next episode in the series, but totally stranded if you wan't to switch to something else.
The arbitrary problem with video libraries and how programming is classified has always been resolved by a 'View All' alphabetical browse listing and a full library search. So what have Now TV done in this latest iteration - they have dispensed entirely with any form of Search??? And they have removed the ability to browse alphabetically through the whole catalogue. This means you can only browse by their rather few genre categories - and when searching for material - you may need to seek various different categories to discover the actual program or film you are looking for. In this day and age and when Netflix and Amazon and the BBC even have shown how to properly do this - how can Now TV be so far off the pace?
Whichever executive approved these changes has to be a total idiot - they can't have done much usability / discoverability testing with this new version as it is just horrible to use. I feel they may be trying to conceal the overall proportion of rubbish movies on their movie channel as there is way too much poorly rated fodder on there - and not really enough of substance.
I find it totally staggering that an interface can be so poorly devised these days when there are so many great examples of how it should be done. This is the kind of thing that could kill this service. Sky TV Execs please beware - you've been put on notice!