3
3 LiveShop
3 Store
B-Reel
commerce
ecommerce
Future of Online Retail
Internet Shopping
online retail
Online Shopping
social commerce
social marketplace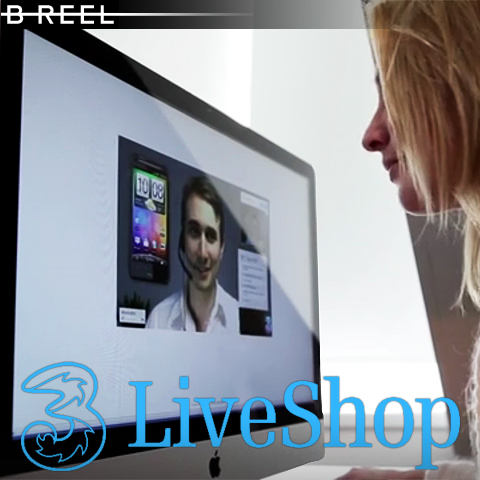 These last few weeks have seen a lot of features about B-Reel's excellent recent interactive touchscreen live sales assistant interface for Sweden's 3 Mobile Phone Store. The new interface - aka '3 LiveShop' enables a sales assistant to present various options in the style of Tom Cruise in Minority Report. The touch screen interface allows the assistant to sweep and select with multiple touches and drag and drop pictures and text panels onto the interface. On the client ...
Buying'
commerce
Comrz
Crowdity
Discounts'
Google
'Group
Groupola
Groupon
Incahoot
KGBDeals
Lastminute
social commerce
social marketplace
social media
Social Promotion
Toptable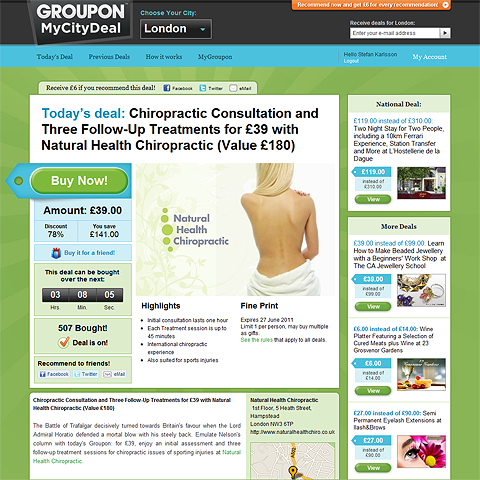 Alongside many Brits, I have been encouraged to sign up to Groupon so as I don't miss out on some amazing deal or stupidly pay over the odds for an essential product or service. I am already signed up to more specific discount sites / services like BrandAlley (mostly Fashion / Accessories / Homeware), Toptable (Restaurants) and Lastminute (Hotels / Travel / Excursions / Entertainment).

I am signed up on Groupon for 'London' - but London is an enormous place, and all the offers ...
commerce
ecommerce
Geo-located Services
iPhone
Mobile Commerce
social commerce
social marketplace
social media
Social Promotion
Westfield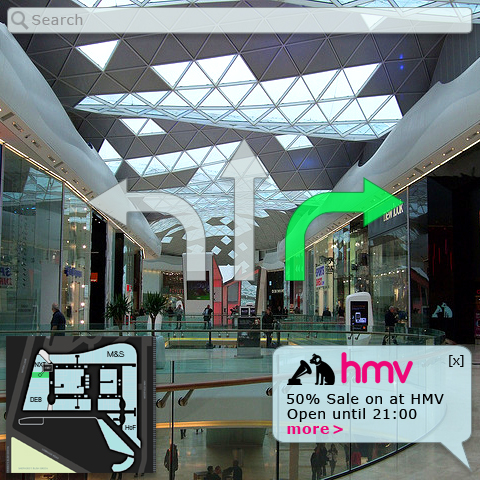 I was at the magnificient Westfield Mall, Shepherd's Bush last night - which really is a most excellent cathedral to that most highly disciplined vocation of holistic retail.

Of course I grabbed a map on the way in, but the A3-folded-in-four-format was not particularly good for easy navigation around the mall - largely as your perspective and orientation changes so much - looking up and navigating via old school map is a little more complex than it should be.
I immediately ...