The 15-ish Best New LEGO Sets of 2018
28 November 2018
6:37 PM

Stefan Karlsson
Best Lego 2018
Best New Lego 2018
Lego
Lego Gifts for Everyone
Lego Sets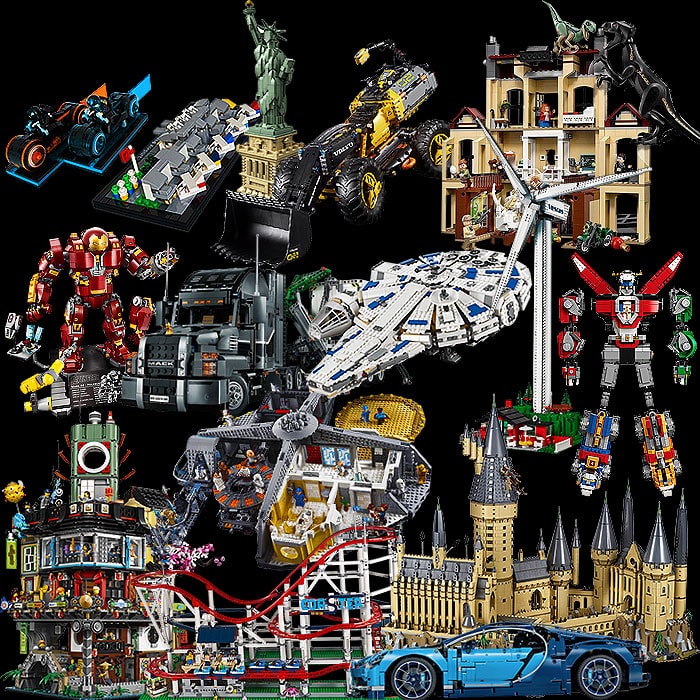 I've been a lifetime fan of LEGO, although there have been lapses here and there. I kind of filled the available space at one time and then changed tack to more guitar-related matters and shifted most of those sets to other younger family members. Alas those young'uns no longer seem to be the slightest bit interested in LEGO - choosing to build within the virtual realm instead - on apps / games like Minecraft and Terraria.
Which is a crying shame really as 2018 has been another bumper year for LEGO, and I've even managed to fit in a couple of the smaller sets for myself - both of which of course are included here. I still want the Disney Castle that came out a couple of years ago - even though I have no space for it! and even though I actually really prefer the New Hogwarts Castle that was released this year - which I also have no space for.
In any case - some excellent sets this year of all sizes and right through the price-range - who knows - I may actually end up with one or two somewhere along the way...
A brilliant resource that I came across which I had not properly encountered before is BrickSet.com - which lists out every LEGO set there ever was - a brilliant reference point for LEGO.
Anyway, sets are listed out / pictured in ascending order of price - ranging from £30 for Tron to £350 for Hogwarts!:
---
Ideas : Tron Legacy - £30
As a big fan of Tron - I love the simplicity and elegance of this set which I had to have - lovely use of neon LEGO parts and a solid model which is fun to build.
---
Architecture : Billund Airport (only sold at the airport) - £80
This is a very secret set that is sold solely at LEGO HQ's local Billund Airport - although some enterprising sorts have bought a few sets and are offering them on Ebay.
NOTE - this is something of red herring as after I had completed the visual etc. I noted that this set was first available in 2016! - I'm leaving it in in any case as it's suitably rare and will be new to many!
---
Architecture : Statue of Liberty - £90
This was the second set I acquired this year - a really fun build - although the raised arm assembly is somewhat precarious and I'm not a big fan of some of the 'curtain-wall' construction methods deployed here as parts of this model are a little delicate - it looks great though.
---
Technic : Volvo Concept Wheel Loader Zeux - £110
This is the first of my recommended Technic sets - a sort of remote-controlled custom Volvo digger where you can also build a couple of other models - probably the least appealing visually of the 3 Technic models I feature here - but by far the most fun to build / transform and 'play' with. Note that it comes with a really cool drone too!
---
Jurassic World : Indoraptor Rampage at Lockwood Estate - £120
The Mansion from the horror-stalking part of the really rather good Jurassic World sequel. This is a fantastic play set for kids - with lots of interesting little nooks and crannies - and two really cool dinosaur figures from the film.
---
Marvel Super Heroes : Hulkbuster Ultron Edition - £120
The coolest Iron Man build to date - the full-on Hulk Buster suit with an assortment of lab essentials - this is a great gift for younger Marvel fans.
---
Technic : Mack Anthem - £140
A fantastic classic USA style truck with container trailer / payload. Lots of great little details here - and it looks amazing.
---
Star Wars : Kessel Run Millennium Falcon - £150
For those that can't afford and don't have the space for the enormous Ultimate Edition Millennium Falcon at 3 times the price of this one. This Kessel edition however retains most of the really cool parts with lots of the ship's more interesting areas accessible within the model.
---
Creator : Vestas Wind Turbine - £160
This for the more eco-centric of you! A genuine working modern Wind Turbine.
---
Ideas : Voltron - £160
This is both fantastic in concept and execution - a full-size anthropological Gundam style robot made from 5 robotic big cats - which combine together to make this sort of transformer style mechanoid.
---
Ninjago : City - £260
I had the Ninjago Pagoda/Village which is also excellent - but this takes that sort of to the next level with all manner of clever functional building types combined into one brilliant coherent unit.
---
Creator : Roller Coaster - £300
A fantastic Roller Coaster set which you can build in multiple different ways - and make as simple or complicated as you like. I've seen several LEGO fans combine a number of these sets and use some really clever build-techniques for some fantastic fantasy Roller Coaster structures.
---
Star Wars : Betrayal at Cloud City - £300
This is sort of a slimmed down set compared to the magnificent Death Star - but along very similar lines with lots of memorable scene areas from The Empire Strikes Back film.
---
Technic : Bugatti Chiron - £330
LEGO famously made a life-size working model of this set too - which is one of the coolest Technic sets created to date - based on the world fastest production sportscar - or at least it was at one stage - but these records change quickly. In any case a really good looking and faithful replication of the source vehicle which alas the James Bond Aston Martin DB7 was not!
---
Harry Potter : Hogwarts Castle - £350
And then leaving the best until last - my favourite set of the year - a totally fantastic Harry Potter Hogwarts Castle with just an incredible wealth of detail and some really smart build features with very unique pieces. It's a large model and you will need quite a lot of space to accommodate this!