We've had nearly 3 months now to reminisce and re-familiarise ourselves with David's output, and in this time he has broken at least two records - total number of YouTube views in a single day, and number of albums by the same artist in both the top 10 and top 50 concurrently. While music and video stores celebrated his life with dedicated displays, I was surprised to find nothing of note in any of the London bookshops. Equally surprising has been the marked lack of new material - beyond magazines really and one great new book.
I don't really like to put my consumer behavioural science hat on in these circumstances, but the estate of David Bowie has a limited time to capitalise on society's current mind-state and goodwill - a few weeks / months hence, David Bowie will not have the same cachet with the typical members of the public - retailers have to strike while the iron is hot.
For such a fastidious musician and producer, I find it rather annoying that none of his live shows are available in high definition. Most of his filmography too is on DVD only, and a few of these are US region 1 only.
Since the announcement of his passing, I have spent some time nearly every day getting back into the world of David - both musically and visually. I have watched hours of interviews on YouTube, as well as all the more obvious footage available. There could be a book on David's musings and witticisms alone - and a video compilation of the same too.
In amongst all the material, there is not really though a single package or vehicle which adequately conveys the depth and breadth of Bowie's influence. I would love to see a Dorling Kindersley Visual Guide for David Bowie - chock-full of amazing infographics as well as the fantastic photographic material already available.
In all my journeying I did not come across a single succinct guide which covered the essentials of Bowie in a single stream. Hence my intention with this piece is to gather together all my favourite parts such that those new to Bowie, or wishing to get to know Bowie better have a decent springboard to start off from.

Selected Essential Albums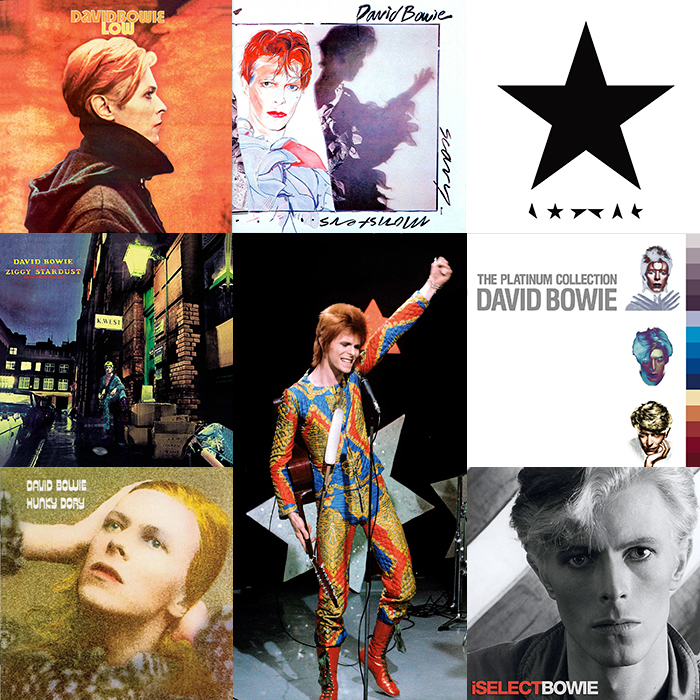 I never really saw Bowie as a proper album artist, for me, most of the albums lack coherent flow or theme and contain only a couple or so memorable tracks. Most tend to agree that David Bowie made 3 truly great albums - Hunky Dory, The Rise and Fall of Ziggy Stardust and Low. Then there is great argument over which are the best of the rest - I guess you can best group David's albums into 4 categories - essentials, pretty good, flawed, and forgettable. A great example of a Bowie album is 1983's Let's Dance - which contains the highest concentration of great tracks for me - 4 of my favourites - Let's Dance, China Girl, Modern Love and Cat People - the remaining half of the album is wholly forgettable though, it would have been better if all the great tracks were just on the one side, or even if this was just released as an EP. Some of the albums only contain 6 tracks and are little more than EPs themselves. Beyond the three absolute classics, I rather like Scary Monsters, and the latest one Blackstar. You can get all the other notable Bowie songs / singles via the triple Platinum Collection compilation. Another compilation - 2008's 'iSelect' largely contains a number of David's lesser known songs - all selected by the great man himself. So in short - these 7 albums will give you pretty much all the significant parts of David's music legacy - certainly in my opinion (bar a couple of tracks off 'The Next Day').
(Chronological)
1971 - Hunky Dory
1972 - The Rise and Fall of Ziggy Stardust and the Spiders from Mars
1977 - Low
1980 - Scary Monsters (And Super Creeps)
2005 - The Platinum Collection (Compilation)
2008 - iSelect (Compilation)
2016 - Blackstar

Selected Essential Songs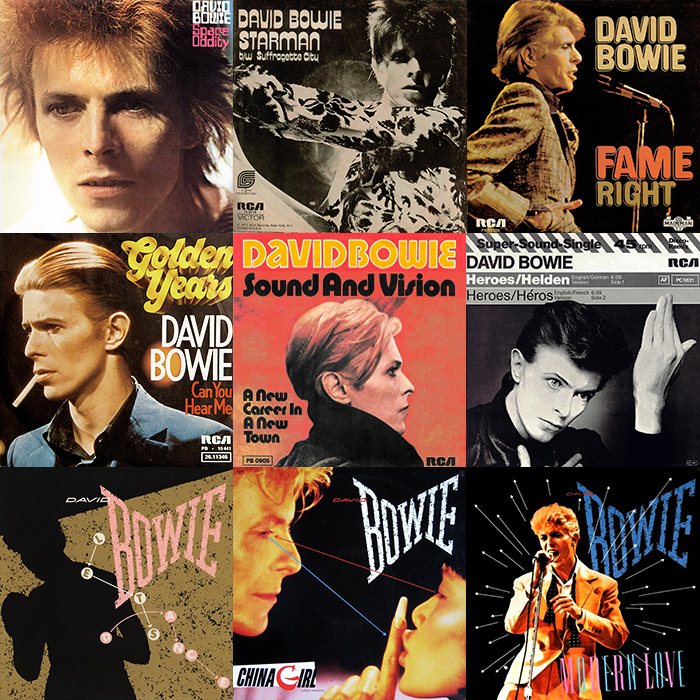 I had intially intended to limit the number of songs to 30, but ended up with 32. Sure I could have culled a couple, but after much deliberation I decided that these 32 best represented David's oeuvre. There are some album tracks and oddities in the mix - but in general you should recognise all of Bowie's most memorable singles here too.
(Chronological)
1969 - Space Oddity
1972 - Changes
1972 - Starman
1972 - Jean Genie
1973 - Life on Mars
1973 - Rebel Rebel
1975 - Fame
1975 - Golden Years
1977 - Sound and Vision
1977 - Always Crashing in the Same Car
1977 - Heroes
1980 - Ashes to Ashes
1980 - Fashion
1981 - Under Pressure (with Queen)
1982 - Cat People (Putting Out Fire)
1983 - Let's Dance
1983 - China Girl
1983 - Modern Love
1984 - Blue Jean
1985 - This Is Not America
1985 - Loving the Alien
1986 - Absolute Beginners
1986 - Magic Dance
1986 - When the Wind Blows
1987 - Day-In Day-Out
1987 - Never Let Me Down
1992 - Jump They Say
1997 - I'm Afraid of Americans
2013 - Where Are We Now?
2013 - The Stars (Are Out Tonight)
2014 - Blackstar
2015 - Lazarus
Co-productions, Collaborations and Appearances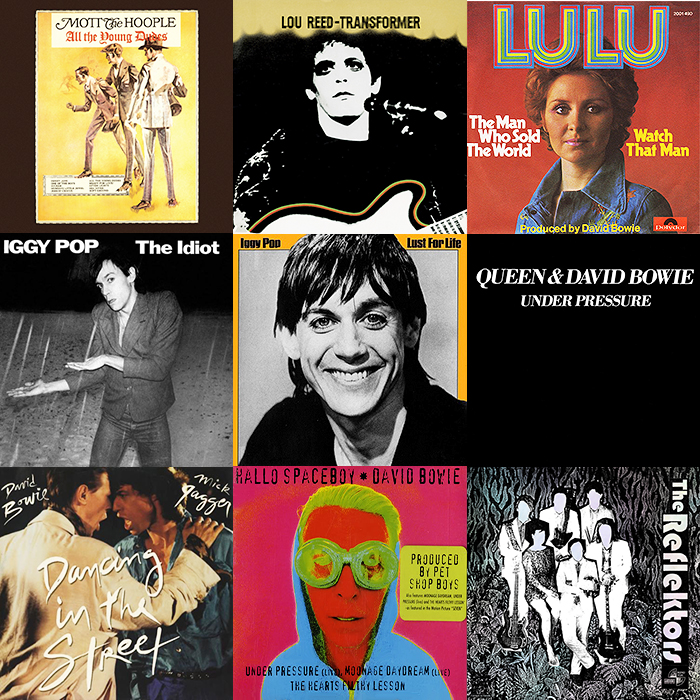 David didn't just do his own thing, he shared his talents with a number of his peers, here are his ten best collaborative moments as far as I'm concerned. Bizarrely I much prefer the Lulu version of 'The Man Who Sold The World'. I've decided to lead with songs, naming album production credit too where relevant. I could also have included 1975's track Fame which Bowie co-wrote with John Lennon - but I consider that more of a core classic Bowie track, and not quite the same type of thing as the following:
(Chronological)
1972 - Mott the Hoople - All the Young Dudes (Bowie produced Single and Album of same name)
1972 - Lou Reed - Perfect Day, Walk on the Wild Side, Satellite of Love (all from Bowie produce 'Transformer' album)
1974 - Lulu - The Man Who Sold The World (Bowie produced single)
1977 - Iggy Pop - Sister Midnight, China Girl (from Bowie prodcued album 'The Idiot')
1977 - Iggy Pop - Lust for Life, Success, Some Weird Sin (from Bowie produced album 'Lust for Life')
1982 - with Queen - Under Pressure (Single co-produced with Queen)
1985 - with Mick Jagger - Dancing in the Street (Collaboration, duet)
1996 - with Pet Shop Boys - Hallo Spaceboy (Re-recorded collobaration featuring Bowie vocals)
1998 - Goldie - Truth (Bowie features as vocalist for album track)
2013 - Arcade Fire - Reflektor (Bowie provides additional / backing vocals for album track / single)

Mixes
I've already shared this one once before, but it's so exceptional that I'm sharing it again. If you want a one hour snapshot of what made Bowie great, you really cannot do much better than this. In the Eighties we would have called this a megamix, but it is so much more than that - with individual tracks edited and remixed and segued together in the most incredible seamless fashion by the Dewaele Brothers / Soulwax / 2ManyDJs. The only tiny flaw for me is that it leaves out one of my all-time favourites 'Modern Love', otherwise pretty flawless, not just the music either, but the video homage that goes with it.
Refer to my previous Bowie Post for the full tracklist:

Selected Magazines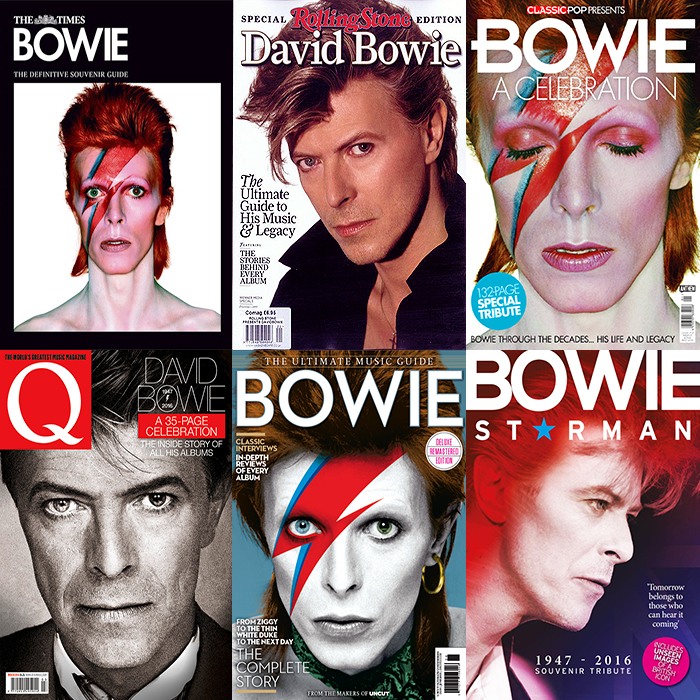 The Rolling Stones Bowie special has only just fairly recently arrived to round up my list of 10 commemorative magazines. They're certainly not all equal, and I've tried to include the most worthwhile ones in the above montage. If you only buy 3 get the Classic Pop Bowie Celebration, Rolling Stone Special Edition and most significantly - the Uncut Bowie Ultimate Music Guide (although this does not include the very last album):
(Alphabetical)
Bowie Starman - Souvenir Tribute - 83 pages
Classic Pop - Bowie A Celebration - 132 pages
Classic Pop - David Bowie Issue - 12 pages
Mojo - Bowie Issue - 21 pages
Q Magazine - David Bowie Issue - 35 pages
Rolling Stone - David Bowie - Special Edition - 99 pages
Time Magazine - David Bowie Issue - 6 pages
The Times - Bowie - The Definitive Souvenir Guide - 86 pages
Uncut - David Bowie Memorial Special - 19 pages
Uncut - Bowie Ultimate Music Guide - 146 pages

Selected Books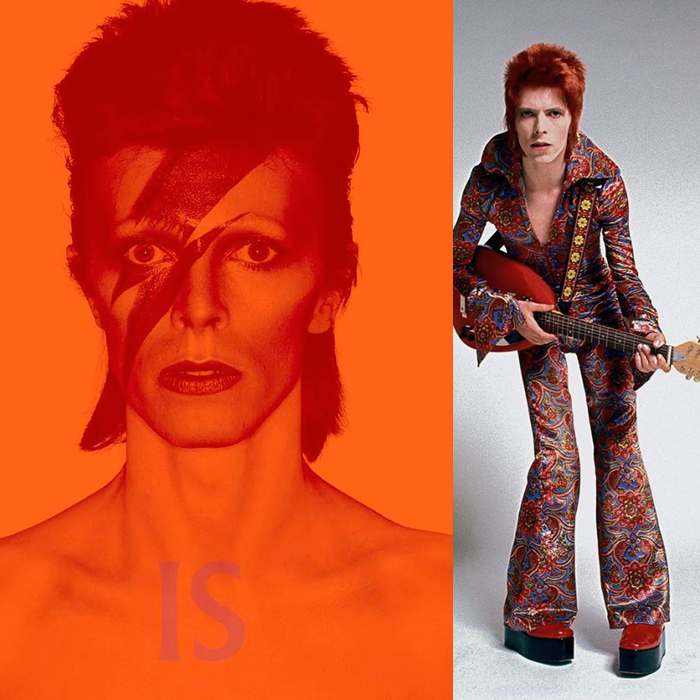 David Bowie biographies are two a penny, but there is only one fully detailed one, which is 'The Complete David Bowie' indicated below. I thought that the V&A 'David Bowie Is' coffee table book would take some beating, but 'The Rise of David Bowie' kind of runs it neck-and-neck. A number of the Bowie books need to be updated to include his final output. As I say in my introduction though, we could really do with a DK visual guide style book spanning all of David's life and all his activities. No one really touches on his art as yet either.
(By Preference)
David Bowie is: Inside by Victoria Broackes and Geoffrey Marsh - 288 pages
The Rise of David Bowie, 1972-1973 by Mick Rock - 310 pages
The Complete David Bowie by Nicholas Pegg - 704 pages

Ultimate Bowie Infographic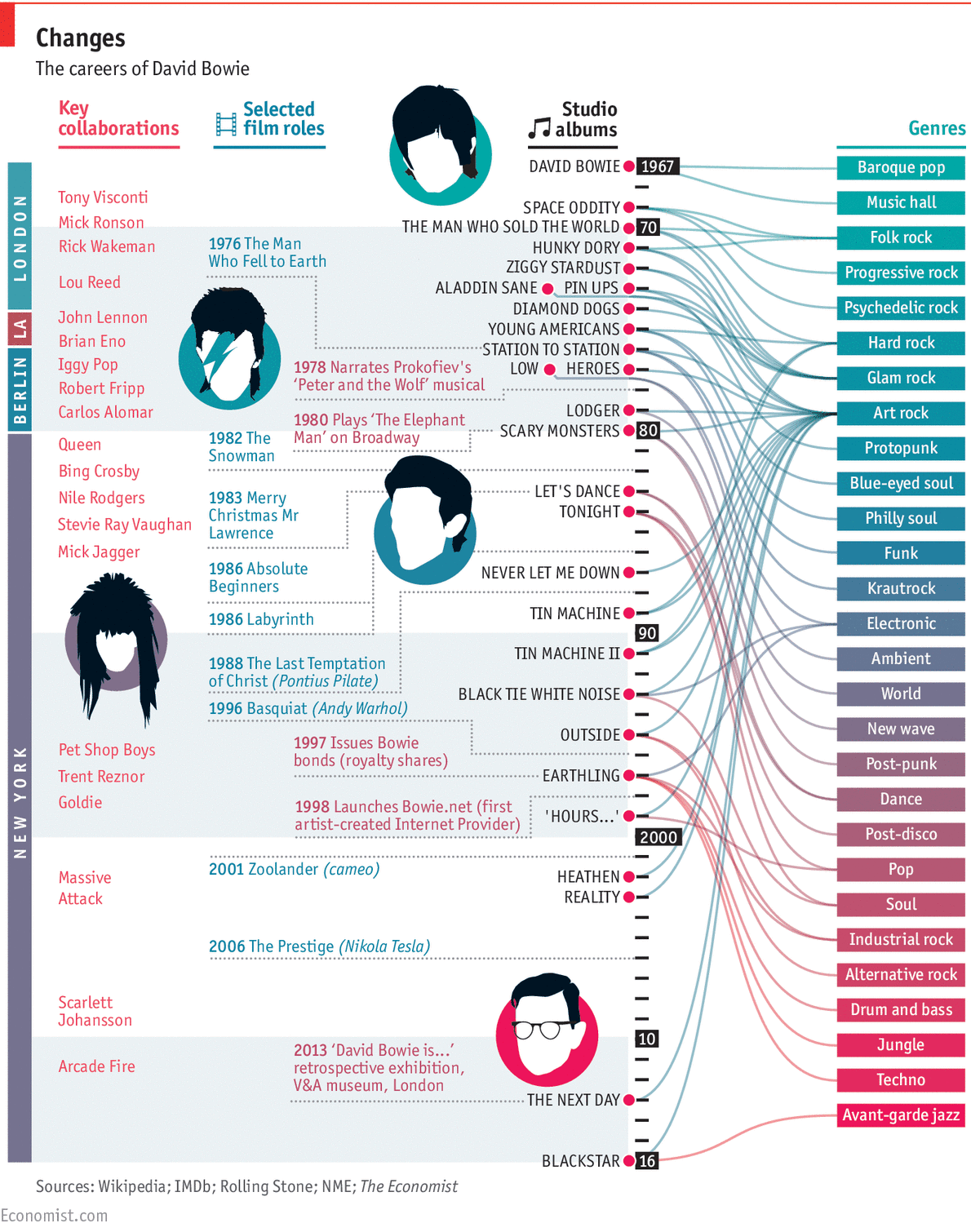 The above infographic from The Economist lists the musical directions / genres of David's Albums in a fantastic informative chart. By far and away the best Bowie infographic I have seen to date, would love a whole book of Bowie infographics, and another one of musings and witticism as I have previously stated.

Selected Blu-rays and DVDs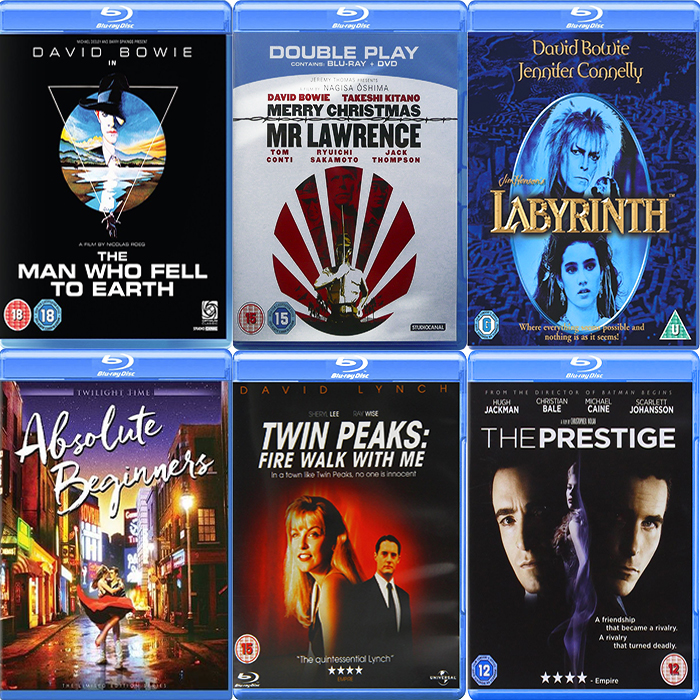 Most of my generation remember David's movie involvements best through his work with an army of muppets on 1986's Labyrinth. The Man Who Fell to Earth is also notable, although I forget the number of times I have part-watched that film and never made it to the end. I think I've only seen it whole and complete on two occasions. David is not the greatest of actors - he usually just plays aspects of himself, and some of his output is rather forgettable. There are 7 blu-rays out featuring David Bowie, and I've include my 6 favourites in the above montage. This is my no means an exhaustive list, and I would have loved to have been able to pin down Region 2 versions of the somewhat hammy Spaghetti Western 'Gunslinger's Revenge' (1998 - as Jack Sikora) and rather ponderous dot.com.bust drama 'August' (2008 - as Cyrus Ogilvie). Beyond the obvious - I think 'Into the Night' is worth a look-in, as is 'The Hunger' both films which David liked himself in.
(Chronological)
1976 - The Man Who Fell to Earth (Blu-ray) - as Thomas Jerome Newton
1978 - Just a Gigolo (DVD) - as Thomas Jerome Newton
1982 - The Snowman (Blu-ray) - as Himself, Introduction
1983 - Merry Christmas, Mr Lawrence (Blu-ray) - as Major Jack 'Strafer' Celliers
1983 - The Hunger (DVD) - as John
1985 - Into the Night (DVD) - as Colin Morris
1986 - Labyrinth (Blu-ray) - as Jareth the Goblin King
1986 - Absolute Beginners (Blu-ray) - as Vendice Partners
1988 - The Last Temptation of Christ (Blu-ray) - as Pontius Pilate
1991 - The Linguini Incident (DVD) - as Monte
1992 - Twin Peaks: Fire Walk with Me (Blu-ray) - as Phillip Jeffries
1996 - Basquiat (DVD) - as Andy Warhol
1999 - Everybody Loves Sunshine / B.U.S.T.E.D. (DVD) - as Bernie
2000 - Mr Rice's Secret (DVD) - as William Rice
2001 - Zoolander (Blu-ray) - as Himself, Walk-off Judge
2006 - The Prestige (Blu-ray) - as Nikola Tesla

Selected Music DVDs / Live Performances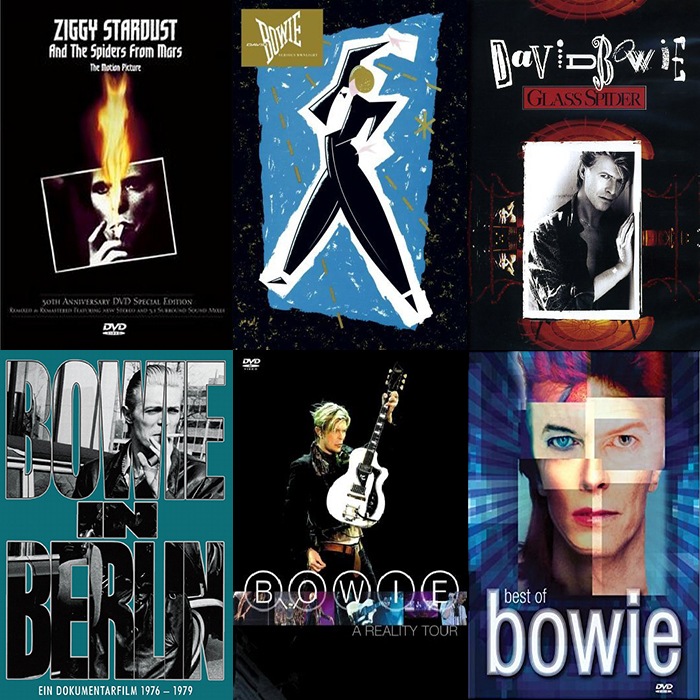 I am serously disappointed none of the musical videos are available as Blu-rays or high-definition. Surely some of these deserve digital clean-up and enhancement - like they did on the various Bond Movies. There are a number of dodgy documentaries out there, and Bowie in Berlin in my list isn't exactly great, but it does feature my favourite 'Berlin Period'. The first one needs no introduction, and the others are they key live tour videos available - there is plenty of additional footage online. David Bowie's visual art and imagination is also on great display on his many pop videos - most of which can be found on the two-disc 'Best of Bowie' compilation.
(Chronological)
1973 - Ziggy Stardust and the Spiders from Mars (DVD)
1983 - Serious Moonlight
1987 - Glass Spiders
2002 - Best of Bowie
2003 - A Reality Tour
2012 - Bowie in Berlin

The Bowie Brixton Mural Memorial!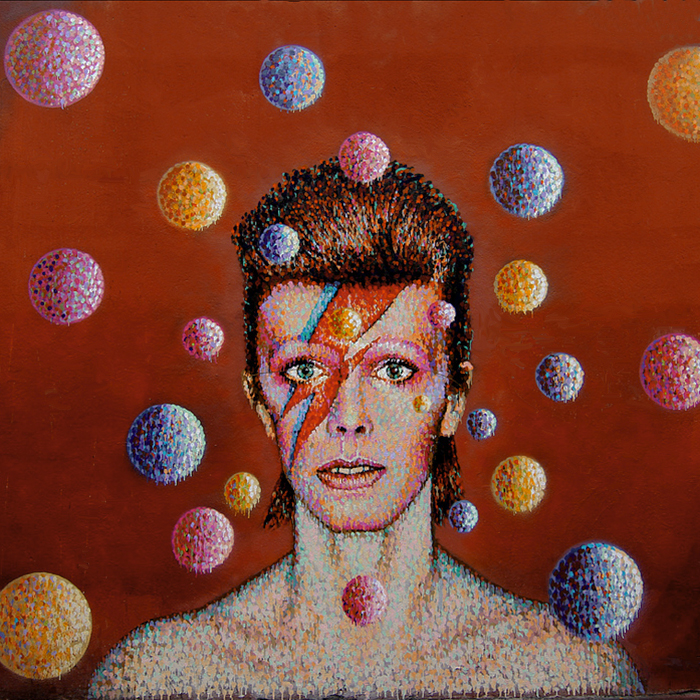 I thought I would end this piece with one of the great commemorative symbols of these last few months. Australian street artist James Cochran's (JimmyC) wall painting from June 2013. The artwork is now protected as a listed work, and can be found on the side-wall of Morley's Department Store on Tunstal Road, just around the corner from 172 Brixton Road, SW9 8EH.