The Rather More Extravagant Electronics Gifts Guide
28 November 2018
1:56 AM

Stefan Karlsson
Best Electronics 2018
Electronic Gadgets 2018
Electronics Gift Guide
Gift Guide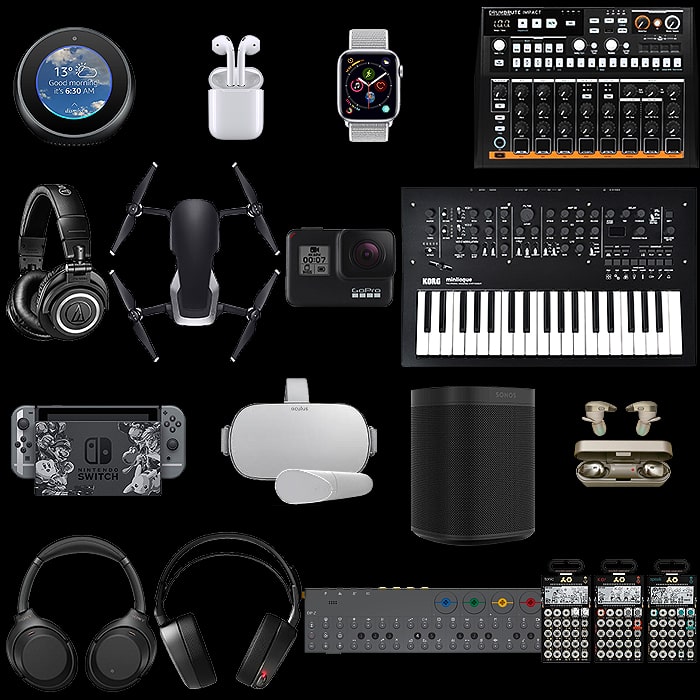 Because of the size of some of the items on this one I decided to limit the listing to 16. This means I've left out laptops, tablets and smartphones - which I believe rather depends on which side of the Apple/Android/Windows divide you fall - with my still being somewhat reluctantly loyal to the Apple camp even though prices are getting increasingly ridiculous and slightly unjustifiable in some regards,
In any case I've selected 16 of my favourite 'gadgets' this year from the electronics department. As a huge music fan this list is somewhat skewed towards music creation and playback - but that's how I roll! Otherwise we have what I consider the best in each category, and offer my rationale for each selection.
Of the above I only have two already in my possession - Sony headphones and SteelSeries headset, while I obviously desire all the rest, but am unlikely to acquire most as I have other guitar-related priorities at present. These are a mix of new and limited editions as well as the perennial 'best of' in each category - your own tastes may vary. I do try to be mindful of relative costs, but it's not always the major deciding factor.
I've also tried to arrange in relative proportions, but some are pictured slightly larger for reasons of contrast and clarity.
Items are listed / pictured alphabetically by brand:
---
Amazon Echo Spot Smart Home Speaker with Screen - £120
I also considered the Amazon Echo Show here - which has pretty much a tablet-size screen, but lacks the overall utility that say something like an Apple iPad could deliver. I find that the Echo Spot with its small screen is the perfect bedside assistant for clock/alarm, weather updates and appointments etc.. If you need a larger screen there are plenty of better tablet-like devices for that including the latest series of iPads.
---
Apple AirPods Earbuds - £150
These are never going to be the best sounding wireless earbuds as that space is now very heavily congested yet they sound plenty good enough, and none of the competition connects as easily or maintains connectivity as faithfully. For sheer everyday reliability there's still nothing which comes close to the AirPods - which is why they are included here.
---
Apple Watch Series 4 GPS + Cellular 44mm - £530 (Silver Aluminium Case with Seashell Sport Loop)
I feel that the Apple Watch has mostly come of age now - with its full stand alone ability, cellular connectivity and comprehensive suite of health and fitness monitoring functions. It's a shame really that only one network (EE) in the UK supports these currently. I've complained twice to O2 now but have not received any answers as to why only EE are supporting this most useful of all watches. If O2 are not supporting this next year, it's probably time for me to switch providers again!
---
Arturia DrumBrute Impact Compact Analogue Drum Machine - £256
Obviously I am more dedicated to guitar at the moment, but the inner-Prince in me still wants to create beats and grooves in the same way that said venerable master used to. And I feel that the newly minted descendant of the DrumBrute is the one that best suits me. Sure it lacks some of he bells and whistles of its bigger sibling, but it makes up for it in other ways - which is why I included the above demo video - featuring the distortion effect tuned to the optimum impact.
---
Audio-Technica ATH-M50xBT Bluetooth Headphones - £180
Audio-Technica released this bluetooth version of its celebrated studio headphones, and if your primary concern is sound quality - you would be hard-pressed to find a better proposition at this price. Had I not gone for the pricier class-leading Sony WH-1000XM3 which are somewhat more about noise-cancellation - I would most definitely have gone with these, I may still acquire these eventually.
---
DJI Mavic Air Drone 4K HD Video, 32MP Sphere Panoramas, 21 mins flight time - £640
This is the priciest item on this list, and is still the category leader for consumer drones - for an excellent mix of feature set, stability and ease-of-use. You can of course go for the even better DJI Pro versions but they are twice the price and more...
---
GoPro HERO7 Black Action Camera - 4K HD Video, 12MP Photos - £400
This is still the only stand-alone camera I would want to own (outside of a smartphone). It's good for both pictures and video on the move and is waterproof, rugged and reliable. I would also need to match it with a handy gimbal - probably either the GoPro Karma Grip or Ego GP.
---
Korg Minilogue PG Ltd Ed. 4 Voice Polyphonic Mini Analogue Synthesizer - £500
This is a truly great little analogue synth - perfectly packaged in its PG edition and capable of some awesome tones. Of course it's something of a compromise compared to the bigger synths and say its own bigger sibling - the Prologue, but it does everything I would really want of it. Although hotly contested, I picked this by a hair over the Arturia MiniBrute.
---
Nintendo Switch - Anywhere Gaming Console - £330
This chameleon of hand-held and domestic gaming console is still the best in class, and particularly cool in its Super Smash Bros. Ultimate Edition. I'm slightly hot and cold for gaming consoles - and am currently going through a phase of sort of gaming abstinence, but once the bug hits again I would snap up one of these in an instant.
---
Oculus Go VR Headset 64GB- £250
I long debated the merits of the Go versus the original Rift - which still holds some advantages in feature set. The 'Go' however is fully stand-alone and easier to live with overall. Brother Markus uses his mostly to watch Netflix in bed - which is a significant improvement to holding up a smartphone or tablet.
---
Sonos One Smart Home Speaker with built-in Alexa - £164
There is some competition in this area with the Amazon Echo Plus (£140) and Bose Home Speaker 500 (£400) - the Bose sounds great and has a somewhat useless screen for displaying album artwork. You can also get a proper stereo pair of Sonos Ones or Echo Pluses for £100 less than the Bose. For me the Sonos has it just be a nose - even though Google Assistant support still hasn't arrived, and Amazon hasn't given Sonos full access to all of Alexa!
---
Sony WF-1000X Wireless Bluetooth Noise-Cancelling Earbuds - £123
I'm actually still kind of torn between these 'What Hi-Fi' category award winners and the Apple AirPods above. The Sony's obviously have significantly better sound quality and noise-cancellation, while the AirPods connect quicker and easier and maintain that connection much more reliably.
---
Sony WH-1000XM3 Wireless Bluetooth Headphones with HD Noise Cancelling Processor - £330
I had an accident with my much-loved Philips Fidelio BT-2's which are now long out of production - so I came by these somewhat by chance. It's still kind of a 4-way fight between these, the Bowers & Wilkins PX, Nura Nuraphone and Bose QuietComfort 35 II. And while some argue the PX and Nuraphone have better sound-quality and punch - no one can match the Sony's on all-round feature set, noise-cancelling-ability and comfort. And once you get into the accompanying app you can EQ your headphones to pretty much exactly how you would like them to sound. Great battery life, connectivity and reliability too - I really like this Sony's.
---
SteelSeries Arctis Pro Bluetooth + Wireless Gaming Headset - £300
I switched from a Windows-run iMac this year to a fully OSX MacBook Pro - which meant looking for new peripherals for that setup - and headphones/headset are something of an essential for me as I spend so much time at my desk. This whole system with the dual-switching-batteries and base-station and extended feature set / EQ is just immense. Really great sounding surround-sound headset which works well for me in every scenarios including team meetings and client conference calls.
---
Teenage Engineering OP-Z Multimedia Synthesizer and Sequencer - £530
I have and love the original OP-1 mini synth, albeit I have not picked it up particularly recently - but here Teenage Engineering is raising the bar of innovation once more with an all-round Multimedia Synthesizer which combines music and accompanying visual creation in one ingenious unit. So budding musicians can create the track and the video for immediate upload to YouTube as it were! Obviously something of a learning curve, and an acquired taste to a degree - but all-parts genius in any case.
---
Teenage Engineering Pocket Operator Metal Series Super Set - £300
These funky calculator-style mini sort of modular synths go from strength-to-strength - with the new Pocket Operator Metal Series catering to your inner Daft Punk with all manner of sampling genius. There are currently 9 in the range - including the 3 new Metal Series once - they can be bought individually at around £50-£100 depending on series, or in packs of 3 for £220-£300 per the above. To date I have just acquired the PO14 Sub (Bass) Synthesizer, but have long thought to add a couple more. I still need to acquire a decent monitor to accompany those - any recommendations?
---
Final Thoughts and Notes
So yes - lots of pricey consumables here, and many will rightly decry these excesses! But this is where the electronics industry is currently at. I should really have included the new Sony Aibo Robotic Dog - but I was trying to keep prices relatively reasonable and around £500 - with is why to a degree I excluded the laptops, smartphones and tablets - as most of those state-of-the-art ones are well in excess of £1,000 - and more personal investments than 'gifts' really as I see it.
I may do one final gift guide with more whimsical and less useful items overall - more on an arts and crafts tip. But I do feel that by and large the above is a decent round-up of much of the best output by the world's electronic industries!