9 of the Best Pop Art Collectibles of 2018
02 December 2018
8:11 PM

Stefan Karlsson
Camilla d'Errico
Coarse
Dunny
Jei Tseng
JT Studio
Kidrobot
Landwehr & Waschk
Luke Chueh
Mark Ryden
MunkyKing
Scott Tolleson
Tara McPherson
Touma
ToumArt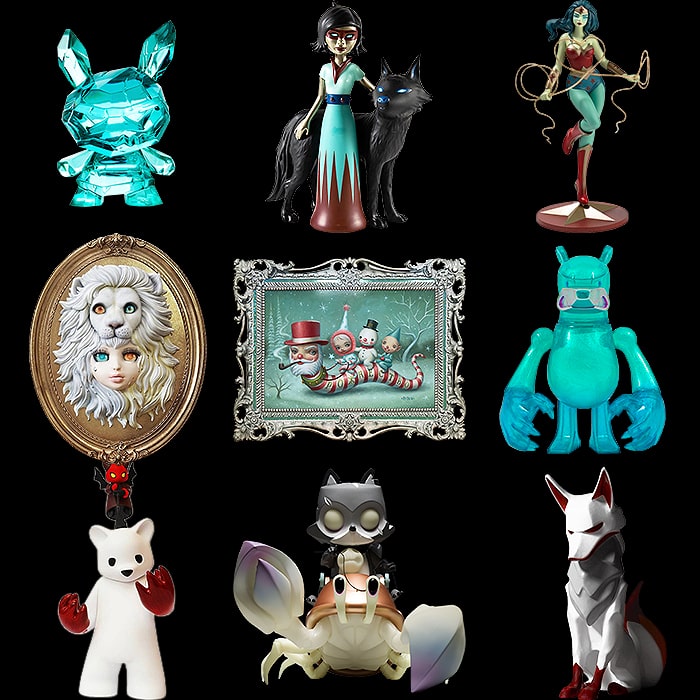 I possibly have too many hobbies these days! as I find it difficult to let anything go - I just seem to be adding new areas of interest almost every year. One of the things I've always been into though is Vinyl / Pop Art Figurines - along with Surreal Pop Art - artists like Mark Ryden and Marion Peck, Camilla d'Errico, Tara McPherson, Audrey Kawasaki, Amy Sol, Caia Koopman, Nicoletta Ceccoli, Femke Hiemstra, Luke Chueh, Shunya Yamashita, Touma etc.
Of course my major focus on all things Guitar has meant some of my other pursuits have taken a back seat - including my collection of collectibles! (I'm also frankly running out of space to display them)
Artworks / figures listed in somewhat random order which makes sense to me though:
---
Kidrobot Shard Ice Monster 3" Dunny by Scott Tolleson (300 Edn) - $60 (Kidrobot.com)
300 obviously weren't enough. This went on sale this week, and while I was pondering whether I really needed this - it all pretty much sold out within the first 24 hours. I expect there may be other colour iterations of this eventually - but I really like the transparent greenish hue - some will possibly make it to secondary retail in some respect - if only Ebay etc. One of the coolest Kidrobot Dunnys in a while. (No video previews/ reviews yet).
---
Kidrobot Astra and Orbit 8" Black & Green Ltd Edition Figures by Tara McPherson (200 Edn) - $75 (Kidrobot.com)
I was fortunate to spot this update on my Facebook feed - I feel the Black & Green Limited Edition colourway version is way cooler than the standard version. There's also another cool comicon special edition floating around, but I think the Black & Green version looks best overall - a really cool sort of Art Deco looking piece in some respects - well worth getting - and still in stock at Kidrobot.
---
Kidrobot Wonder Woman 11" Figure by Tara Mcpherson - $100 (£85) (Kidrobot.com)
I was lucky to get the last one out of the display cabinet of Forbidden Planet on Shaftesbury Avenue - I had noticed online that this display version was the only one they had left in stock - and I had been staring at it for the last few weeks on my usual Covent Garden rounds. Another classic Tara McPherson design - 2018 has really been her year - coordinates nicely too with my Black & Green version Astra & Orbit. These are still available from Kidrobot.
---
APPortfolio Aria Sculpture / Wall Shield 42xm x 32cm x 12cm by Camilla d'Errico (200 Edn) - $300 (APPortfolio.Shoplineapp.com)
I'm a huge fan of Camilla d'Errico's work and also have her 'No Ordinary Love' figurine. This wall-mounted art though is a really cool take on another of my favourite works of hers 'Aria' for which I already have a limited plate edition and enamel badge. Will be great to have a 3D version of this. They don't seem to have sold out yet and are due to be shipped some time next week as far as I recall. I rushed in on the pre-order back in October, but it seems as if that wasn't entirely necessary as this edition has still to sell out. (No video previews / reviews yet.)
---
Santa Worm Die Cut Embossed Framed Miniature 9-3/8" x 12" by Mark Ryden (999 Edn) - $250 (PorterhouseArt.com)
So popular is Mark Ryden these days - collected by celebrities like Leonardo DiCaprio and the like - it kind of prices most of his works beyond the means of us slightly more ordinary people. Just as well then that Mark is releasing this really cool intricately designed and laser-cut framed miniature of the well-known Santa Worm - a one off seasonal original work from back in 2000. These go on sale from the Porterhouse Art website - this Thursday the 6th at 17:00GMT. (No video preview/review yet).
---
Toumart 6" KnuckleBear Kanaloa Transparent Green/Blue Edition (45 Edn) - €65 (AtomPlastic.com)
I'm a big fan of Touma and have a number of FangWolves, Goons, HellHounds, KnuckleBears and the like to my name. I had not been tracking Touma of late - but came across a couple of cool new editions of the KnuckleBear in particular - with sort of dipped bi-coloured transparent colourways - of which I really liked the Photon and Kanaloa editions - there's not a lot of those around - so do snap them up if you see them.
---
MunkyKing 'Possessed' 10th Anniversary 9" Figure by Luke Chueh - $80 (£95) (MunkyKing.com)
I have a couple of Luke Chueh's books and it's cool to see so many figures made from his paintings. This is my preferred edition of the 'Possessed' bear motif - with the small devil figure tethered by remote-control chord to the bear's head. There are very few UK stockist of this and they seem a fraction overpriced - so you may be better buying from overseas and gambling on custom charges. The above video shows the special hand-chromed edition of this design.
---
Coarse 'Enjoy Your Stay' Ignited Edition 11" x 14" x 12" by Landwehr & Waschk (199 GID Edn) - $295 (CoarseLife.com)
I have only come across the works of German designers Landwehr and Waschk very recently - having of course missed out on all their critical releases up to this point. They design and make beautifully stylised art figures - and I particularly like the various ones featuring the raccoon type creature - in particular the Glow-in-the-Dark (GID) 'Ignited' edition of the work called 'Enjoy Your Stay' or raccoon riding a crab! Long since sold out of course.
---
JT Studio 'Yox' Guardian Red 11cm by Jei Tseng (250 Edn) - $60 (JTStudio.com.tw)
Thai artist Jei Tseng and his studio are new to me - but he sort of fits my profile with super stylised angular creature designs - not so unlike some of my favourites. Of course these creatures are all his own designs - and I particularly like the Yox Gurdian (Fox) which is in very limited supply this side of the pond and each colourway edition in fact is limited to batches of 250 units. Several batches have been made - so there are copies out there on the web - just not UK-based. (no preview/review videos currently available).
---
Final Thoughts
There's not much to say about these - are can be a very subjective pursuit - so it depends very much on what kind of aesthetic you go for. I just happed to like elegant whimsical and with design along with rather angular hyper-stylised creatures - maybe you are more fine art!
I have always had a taste for sculpture in all its forms - whether Henry Moore, Tony Cragg or these vinyl art sculptures / figures as such. And of course pictures and paintings to match.
With modern 3D printing techniques being employed I think there have never been more of these around, and some of the value here is artificially inflated by unnecessarily limited special colour edition runs - but as with all art - I guess if you really like something you will pay what you feel you can get away with to acquire that art - after all - it's what separates us from the animals!