I spent the first 3 months of the year celebrating Bowie, reminiscing on his extensive output, and revelling in his latest direction on Blackstar. Bowie was a significant musical influence in my life, and I was quite familiar with his extensive recording catalogue, movies etc. Yet however significant David Bowie's music has been in my life, Prince's impact has been that much greater. My first exposure was through my older brother Pétur - who acquired the '1999' album shortly after its release. The first side of the double set was on constant rotation for months in a row at our home, the B-side got pretty good mileage too, but not so much the second platter. For the next 10 years or so, up to and including The Love Symbol album - Prince was pretty much constantly in my life.
The musical superstars of the 80's were Michael Jackson, Madonna and Prince, but the latter overshadowed the other two. Prince not only composed all his music, he played all the instruments, carried out recording and production, designed and pioneered his own fashion, and danced and performed like no other - he was and still is a true original, and above all his peers he was a virtuoso musician who could play guitar like Hendrix, bass like Larry Graham and keys like Stevie Wonder. His signature move of leaping from grand pianos and speaker stacks and landing in splits before rebounding like a bouncing ball is likely what led to his ongoing hip joint complications and over-medication - which in turn may likely have had a part in his unexpected death this past April 21st.
Prince definitely had his own sound, he was an exceedingly fine studio and sound engineer, and what he pioneered with the electronic LinnDrum in particular has liberally been 'borrowed' by all for several decades after. He was supposedly the first to tune his LinnDrum to the key of the song. He also has two of the greatest albums of all time - which most people have in their collection. My personal favourite 'Purple Rain', and the incredibly diverse 'Sign 'O' The Times. Either album could top a listing of Prince's best; Purple Rain just resonates a touch more for me, and I'm not overly keen on 'The Cross' (on SOTT) which just grates a little for me, while I could put Purple Rain on auto-repeat ad infinitum - I truly love every track.
After Prince started his battles with Warner Brothers, I kind of lost touch with him for quite a while - as did most of my peers. I had dipped in and out very superficially in that ensuing period, but was not fully aware of the full scope of his latter recordings. Therefore, following 3 months of Bowie, I spent 3 months familiarising myself with Prince's extensive catalogue, few have been more prolific, and few have given out quite so many double, triple and quadruple albums. I was in fact finally persuaded to sign up to the Tidal streaming service purely on the basis that it was the only one that had Prince's back catalogue. In fact when I signed up, it was only around half, which was still 100% more than anyone else - more recently Tidal has added to its Prince backlog, and pretty much everything is now available. For me though, to get the full experience I had to trawl through a lot of disparate websites. Prince had a reputation for being anti-Internet, and there was very little content to be had before his death. Afterwards though there has been an explosion on YouTube - with all manner of snippets - live performance, interviews and rare songs. So I dug in deep and luxuriated in Prince World for a full 3 months. It has not had a major impact on changing by top favourite tracks, but it was the first time I got proper exposure to Crystall Ball and the Black Album - both containing material that spanned the same recordings as Sign 'O' the Times - I discovered some amazing new-to-me-tracks which are now high in my affections.
Here then follows my summary of Prince's highlights:

Selected Essential Albums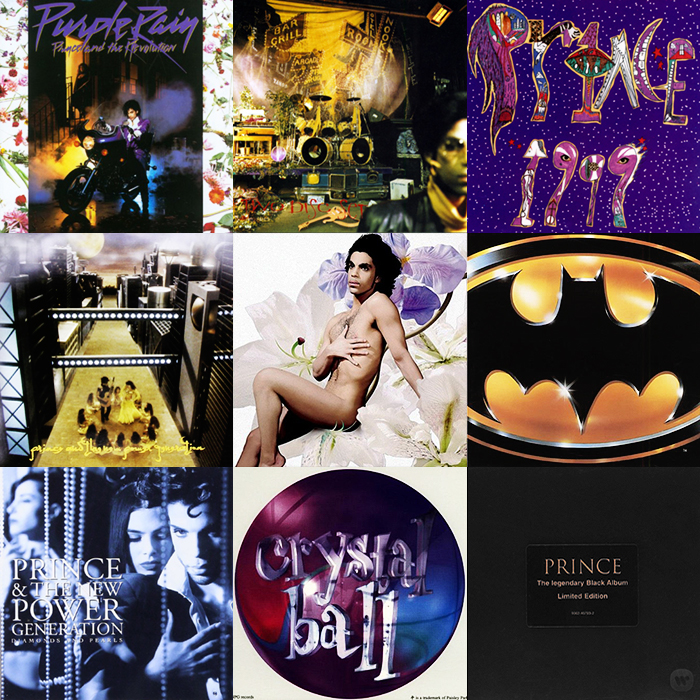 As I noted previously, two Prince albums are in my all time favourites list, and there were always going to be another 4 or 5 definites near the top of the list. It was just a question of which albums I considered to be a better listening experience. I ended up listening to all of Prince's recorded output - circa 5-10 times each, and based on how much I enjoyed each track and the album as a whole, I was able to come up with a percentage score. I would subtract percentage points every time I wanted / needed to skip a track on repeated listens. The truth is, I like Prince's funky side the best, so if there are too many maudling or ballad-style pieces it kind of gets lost on me. I also appreciate variety, programming segue and spontaneity.
Many cite 'Dirty Mind' as Prince's first significant album, it places 16th on my own list - with 'Controversy' being the first full album of note - I would say Dirty Mind has better singles, but Controversy is better overall. Other notable near misses are the two most recent albums - HitNRun Phase One & Two, Art Official Age, 3121 and Emancipation. A quick note on the surprise placing of The Batman OST - I actually never particularly like the gimmicky number 1 hit 'Batdance' yet the rest of the album is actually pretty solid - with 3 of the tracks featured in my Prince 50 Essential Songs listing.
My Prince top 10 albums are as follows:
Purple Rain (1984)
Sign 'O' The Times (1987)
1999 (1982)
The Love Symbol Album (1992)
Lovesexy (1988)
Batman (1989)
Diamonds And Pearls (1991)
Crystal Ball (Vol 1-3 only) (1998)
The Black Album (1994)
Controversy (1981)

Selected Essential Songs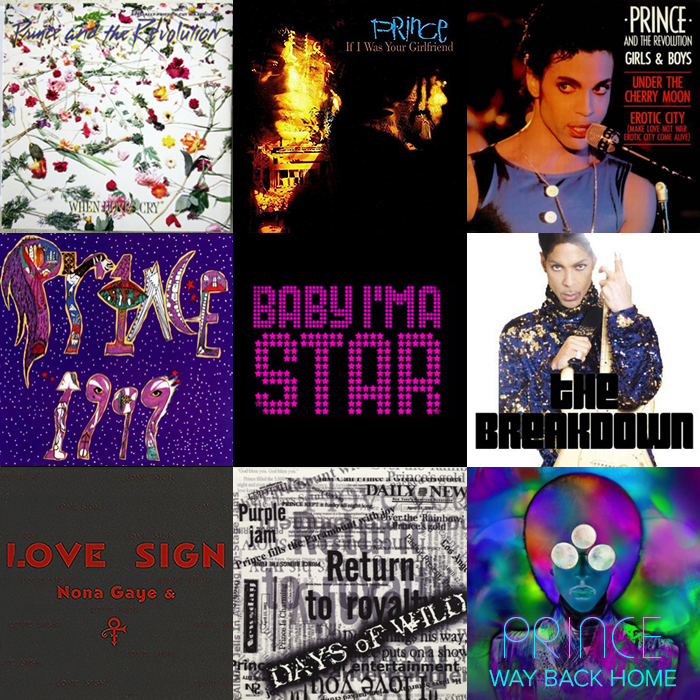 I've done these chronologically (below), and had to extend to a full 50 - including some favourite album tracks. These are mostly the obvious picks, but possibly some rarer ones too. As per albums, two Prince songs feature in my all time favourites - 'When Doves Cry' and 'If I Was Your Girlfriend'. In fact, I will share my top 10, before I reveal the full chronological list of 50:
When Doves Cry (1984 - Purple Rain)
If I Was Your Girlfriend (1987 - Sign 'O' The Times)
Girls and Boys (1986 - Parade)
1999 ((1982 - '1999')
Baby I'm A Star (1984 - Purple Rain)
Breakdown (2014 - Art Official Age)
Love Sign (1994 - 1-800-New-Funk)
Days of Wild (Live) (1998 - Crystal Ball)
Way Back Home (2014 - Art Official Age)
Let's Go Crazy (1984 - Purple Rain)
Baltimore off HitNRun Phase Two is Prince's best of his latest releases.
Here is the full 50 (chronological):
1978 - Soft and Wet (For You)
1979 - I Wanna Be Your Lover (Prince)
1980 - Dirty Mind (Dirty Mind)
1980 - When You Were Mine (Dirty Mind)
1980 - Head (Dirty Mind)
1981 - Controversy (Controversy)
1982 - 1999 (1999)
1982 - Little Red Corvette (1999)
1983 - Delirious (1999)
1984 - When Doves Cry (Purple Rain)
1984 - Let's Go Crazy (Purple Rain)
1984 - Erotic City (Let's Go Crazy B-side)
1984 - Purple Rain (Purple Rain)
1984 - I Would Die 4 U (Purple Rain)
1984 - Baby I'm a Star (Purple Rain)
1985 - Computer Blue (Purple Rain)
1985 - Love Bizarre (Sheila E. Single Collaboration)
1985 - Raspberry Beret (Around the World in a Day)
1985 - Pop Life (Around the World in a Day)
1986 - Kiss (Parade)
1986 - Girls & Boys (Parade)
1986 - Mountains (Parade)
1987 - Sign 'O' the Times (Sign 'O' the Times)
1987 - If I Was Your Girlfriend (Sign 'O' the Times)
1987 - U Got the Look (Sign 'O' the Times)
1987 - I Could Never Take the Place of Your Man (Sign 'O' the Times)
1987 - It's Gonna Be A Beautiful Night (Live) (Sign 'O' the Times)
1988 - Eye No (Lovesexy)
1988 - Alphabet Street (Lovesexy)
1988 - Anna Stesia (Lovesexy)
1989 - Partyman (Batman)
1989 - The Arms of Orion (Batman)
1990 - The Future (Batman)
1991 - Gett Off (Diamonds and Pearls)
1991 - Cream (Diamonds and Pearls)
1991 - Diamonds and Pearls (Diamonds and Pearls)
1992 - Thunder (Diamonds and Pearls)
1992 - Sexy MF (Love Symbol Album)
1992 - I Wanna Melt With U (Love Symbol ALbum)
1992 - 7 (Love Symbol Album)
1994 - Cindy C (Black Album)
1994 - MPLS (As Minneapolis) (1-800-New-Funk)
1994 - Love Sign (With Nona Gaye) (1-800-New-Funk)
1994 - The Most Beautiful Girl in the World (The Gold Experience)
1998 - Crystal Ball (Crystal Ball)
1998 - Days of Wild (Live) (Crystal Ball)
2006 - Black Sweat (3121)
2014 - Breakdown (Art Official Age)
2014 - Way Back Home (Art Official Age)
2015 - Baltimore (HitNRun Phase Two)

Prince Collaborations, Productions and Associated Artists and Acts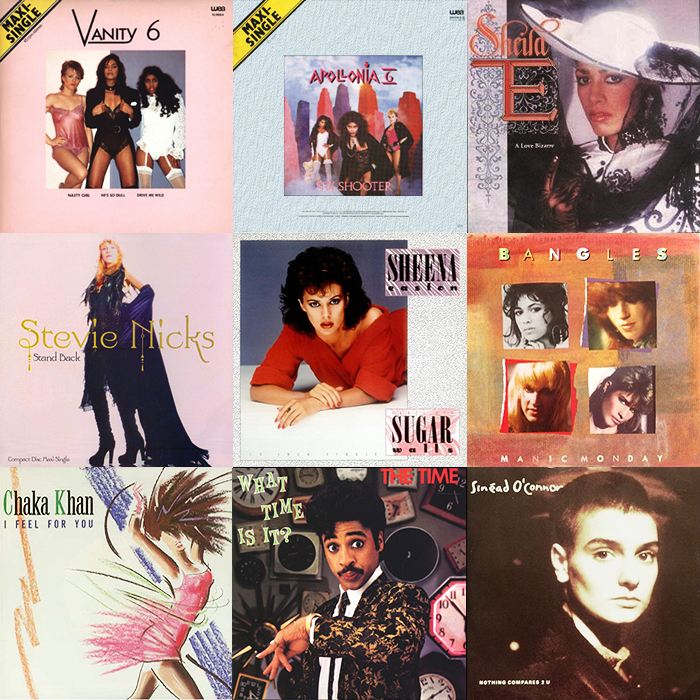 Prince was pretty generous with his patronage, as most of his ex-girlfriends and 2 wives can attest to. He provided ample support, and was very complementary about Sinead O'Connor's version of Nothing Compares - which I also prefer to Prince's original. He was much less happy about the Tom Jones cover of 'Kiss' - which his record company authorised against his wishes. Here are Prince's proteges and associated acts, those songs marked with * have no direct prince input, otherwise songs are composed by, co-authored, collaborated etc. The first 5 bands listed featured prince as a sometime or permanent member:
94 East - Just Another Sucker
Morris Day and The Time - Cool, The Bird, Jungle Love
The Family - High Fashion, Mutiny, Nothing Compares 2 U
Madhouse - Six, Ten
Mazarati - 100 MPH
Vanity 6 - Nasty Girl, Make-up
Vanity - *7th Heaven, *Under The Influence
Apollonia 6 - Sex Shooter
Wendy & Lisa - *Waterfall, *Sideshow, *Lolly Lolly, *Satisfaction
Sheila E. - A Love Bizarre. The Belle of St Mark, The Glamorous Life
Stevie Nicks - Stand Back
Sheena Easton - Sugar Walls
Chaka Khan - I Feel for You
The Bangles - Manic Monday
Patti Labelle - Yo Mister
Mavis Staples - Time Waits for No One, The Voice
Cat Glover - *Catwoman
Sinead O'Connor - Nothing Compares 2 U
Martika - Love...Thy Will Be Done
Carmen Electra - Go-Go Dancer
Mayte Garcia - If I Love U 2nite
Alicia Keys - How Come You Don't Call Me Anymore
Bria Valente - 2nite, Elixer

Prince Guitars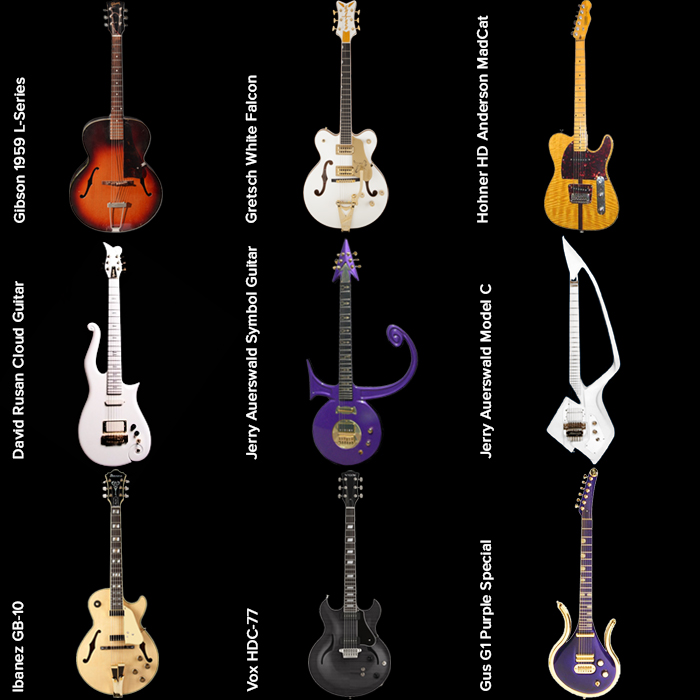 At the start of the year I was determined to get back into playing and making music - I was seriously considering going down the beat-making route via Ableton Live / Ableton Push, and some plugin keyboard, something like an Access Virus TI Polar. But then came the deaths of Bowie and Prince in quick succession, and I was more inspired to pick up the guitar again. I had dabbled as a teenager, and hadn't got anywhere particularly far, but was determined to get back into musicianship - I played a variety of instruments from about 5 to 18, and then not so much. Prince's guitar work is truly inspiring - there are so many YouTube clips that will fire you up, including the one of him taking the solo on 'My Guitar Gently Weeps' - look it up if you haven't seen it already. Prince was much more than just great technique though, as a sound engineer, he was a big fan of signal processing/ signal chains and using pedals, and the voluminous sound he gets on Purple Rain or the fuzzy crunch on 'Let's Go Crazy' are great examples of Prince's combination of virtuoso playing with brilliant sound design and production.
Prince had a number of signature guitars, which I thought I would celebrate here! Easily the most famous is the David Rusan designed 'Cloud Guitar' which was made and re-painted in a rainbow of different colours, starting from the white original. For proper Prince guitar fans though you should go for the Hohner / HD Anderson MadCat - a sort of Telecaster knock-off, which Prince used consistently throughout most of his career - including on his first 4 albums and on that amazing 'My Guitar Gently Weeps' solo.
In rough chronological order:
Gibson 1959 L-Series (used on earliest demos)
Gretsch White Falcon
Hohner / HD Anderson MadCat (Old Faithful)
David Rusan Cloud Guitar (The most iconic)
Jerry Auerswald Symbol Guitar
Jerry Auerswald Model C
Ibanez GB-10
Fender Custom Shop Painted Stratocaster
Fender Custom Shop Gold Stratocaster (bought by Lewis Hamilton at charity auction)
Taylor T5 Custom Thinline
Vox HDC-77 (for touring with 3rdEyeGirl)
Epiphone Crestwood Custom
Gus G1 Purple Special (last guitar bought)

Prince on Screen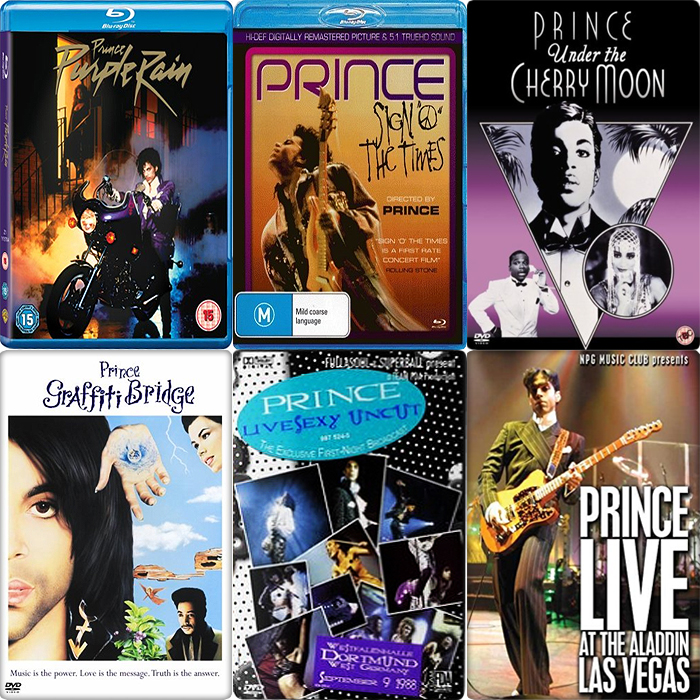 Everyone should know and love Prince's big cinematic debut 'Purple Rain' now the benchmark for staged live musical biopics. Sign 'O' the Times is another great Prince release - I have it on Australian import Blu-ray, as the sound on the DVD version is disappointing. In fact the overall volume of Prince Blu-ray and DVDs is rather meagre. There were a number of VHS cassettes released of some of the legendary gigs, but there seem to be very few official quality DVD releases in the wild. Buyer beware, as there are a number of DVD dubs from very poor VHS source material which don't translate at all well in this era of High Definition. I had some of these already, and some I had to acquire, slim pickings really; in order of significance:
Purple Rain - Blu-ray
Sign 'O' the Times - Blu-ray (Australian Region B Import)
Under The Cherry Moon - DVD
Graffiti Bridge (Purple Rain sequal) - DVD
Lovesexy Live (Livesexy Dortmund) (Unofficial) - DVD
Live at The Aladdin, Las Vegas - DVD
Diamonds and Pearls - DVD
Rave Un2 The Year 2000 - DVD
The Hits Collection - DVD
Note that there are some very average unofficial documentary DVD's out there too, pieced together from fairly rough news footage etc...

Prince in Print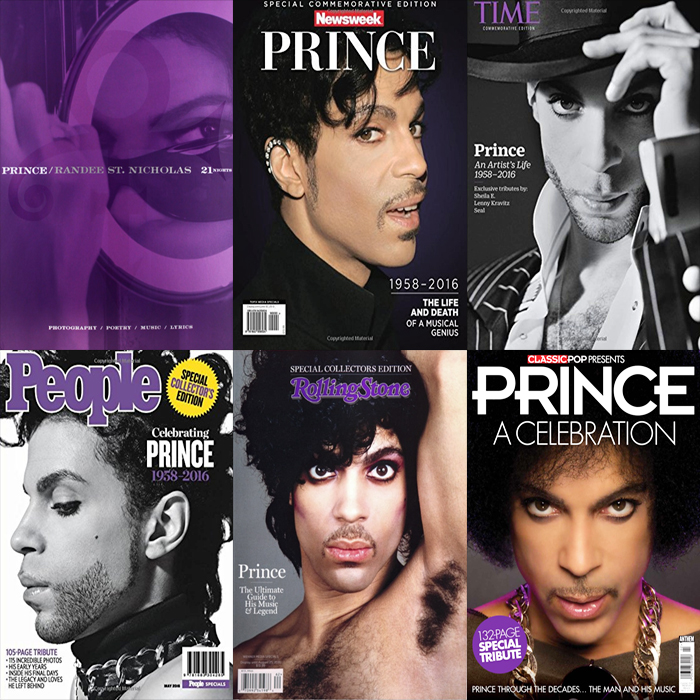 There have been even more commemorative issues on Prince than on Bowie. Sadly only one proper coffee-table book has ever been released which is the largely staged photographic oeuvre '21 Nights' which accompanied the 21 Night residency at the O2 in London. I have acquired all the obvious ones, plus some leftfield varieties - the ones in the accompanying picture and towards the top of the list are worth getting, the ones lower down not so much. I have put the number of pages dedicated to prince per publication in parenthesis - e.g. 12pp = 12 printed pages). Generally more pages is better, but not always - the Newsweek issue has some clever infographics and unique analysis:
21 Nights - September 2008 (256pp)
Newsweek Prince Commemorative Edition - May 2016 (93pp)
Time Prince, An Artist's Life 1958-2016 - May 2016 (96pp)
People Magazine Prince Special Collector's Edition - May 2016 (104pp)
Rolling Stone Prince Special Collector's Edition - July 2016 (99pp)
Classic Pop Presents Prince, A Celebration - May 2016 (130pp)
Prince - A Revolutionary Icon, Mirror Collection - May 2016 (82pp)
Ebony Feature - June 2016 (31pp)
Q Feature - July 2016 (21pp)
Rolling Stone Prince Feature - May 2016 (16pp)
Uncut Prince Special - July 2016 (15pp)
Classic Pop Prince Feature - June 2016 (14pp)
Hot Press Prince Feature - May 2016 (12pp)
Entertainment Weekly Prince Feature - May 2016 (12pp)
People Magazine Prince Feature - May 2016 (9pp)
Guitar Player Prince Feature - July 2016 (6pp)

Prince Infographic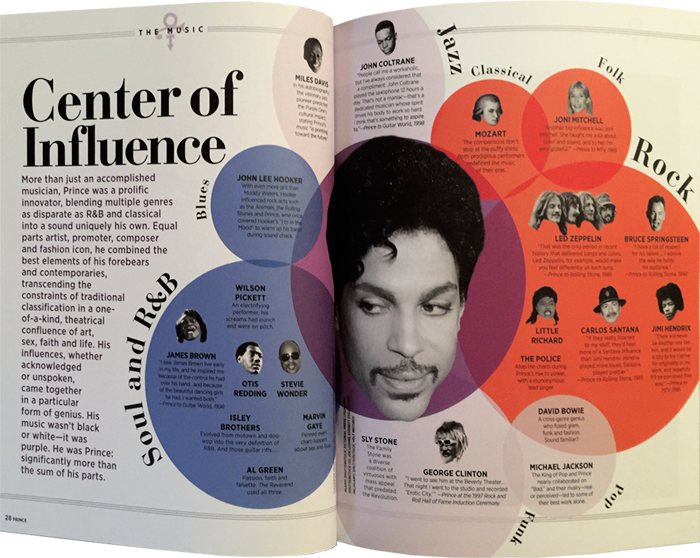 A lot of the commemorative issues share much the same information and imagery, so it's really in how they present that material and find innovative ways to derive commentary. My favourite infographic is in the Newsweek Special Edition and focuses on Prince's personal influences - as per captured image, and the below structure. All of which you can hear in Prince's many flavours, clockwise from top:
Jazz

Miles Davis
John Coltrane

Classical
Folk
Rock

Led Zeppelin
Bruce Springsteen
Little Richard
Carlos Santana
Jimi Hendrix
The Police

Pop

David Bowie
Michael Jackson

Funk
Soul and R&B

Wilson Pickett
James Brown
Otis Redding
Stevie Wonder
Isley Brothers
Marvin Gaye
Al Green

Blues
All legendary artists too, and funnily enough all to my liking!

Paisley Park / The Vault / Legacy / Graceland II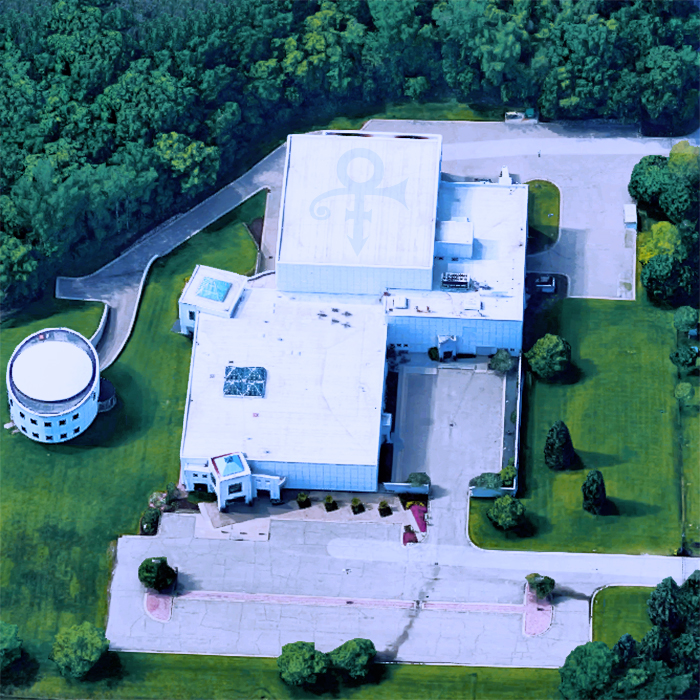 Paisley Park was and is Planet Prince - his home, studio and playground. It is much more than Presley's Graceland, which after all was really just a home. The scope and scale of Paisley Park is more akin to a proper Smithsonian-type archive of music, design and the arts. It is questionable if anyone was or will be as prolific as Prince - supposedly hundreds of tracks - completed and works-in-progress have been stashed away in the on-site vault, along with around 100 fully professionally recorded music videos, several experiments, and of course Kevin Smith's much talked about interviews.
Prince grew increasingly secretive and limited the world's exposure to his art in his latter days - we are going to be seeing quite a lot more of him in the forthcoming years - hours and hours of high quality live performance footage (hopefully some more Blu-rays), and all manner of treasures that need to be fully discovered, quantified and qualified - and released to public of course. In the modern era, there is precious little out there in terms of genuine, official Prince product. Very few videos, only one coffee-table book, and relatively few album reissues. I feel a lot of these will materialise over the oncoming months and years - you need to beware of all the unofficial junk out their put out by opportunists, nearly all of it is poor quality - same goes for most Prince biographies.
Paisley Park will become the Graceland of Minneapolis - with people taking the pilgrimage to pay homage to one of the greatest artists that has ever lived. And yes he got a bit strange towards the end, but we tolerated all that for the sake of his immense talent. Still today there are people borrowing parts of the 'Prince Sound' rhythm structures, drum-fills, guitar licks, vocal tricks and any number of hooks. Prince will be greatly missed, there are no heirs apparent to fill the enormous void he has left. Much like Bowie, these giants of popular culture will seldom be seen again. Contemporary popstars don't quite have that pomp and circumstance, or the immeasurable talent to carry it all off. For the true Prince fans I heartily recommend they subscribe to Tidal, as that is still the only place to experience the full Prince catalogue - hopefully it will ease itself around the world eventually ...