Best of Entertainment for 2019 - Albums, Songs, Movies, TV, and Graphic Novels
22 December 2019
5:25 PM

Stefan Karlsson
Best Albums 2019
Best Entertainment
Best Entertainment 2019
Best Films 2019
Best Graphic Novels 2019
Best Songs 2019
Best TV 2019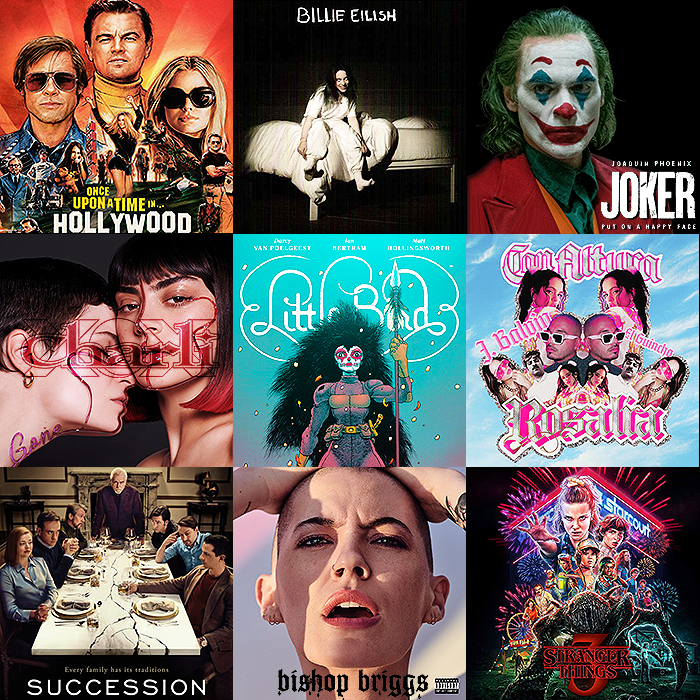 This is one of the toughest tasks I face every year - first settling on the final 20 in each category, and then having to decide which order they go in. Also lots of these things are just one-takes - I rarely re-watch a TV Show or Movie in a year, or re-read a graphic novel - there's simply too much out there to do that. Yet I listen to music for a good chunk of every day - especially when I'm on the move or in transit - and I can easily tell which albums and songs I play/replay the most.
But it's not merely a popularity contest for me - as I try to weigh up artistic merit, production values, creativity, originality and delivery/execution - and ascribe to those a single 'Entertainment' rating. It's not necessarily the most entertaining or satisfying movies that are greatest - some have tiny moments of genius which transcend all general attributes.
All of this is also based on mood and a moment in time - for movies I have to be in the right mood or right frame of mind to watch certain genres - in fact the same is true of nearly every type of entertainment for me - in that you have options and choices - yet something pulls you towards one rather than the other at any given time. This happens with my extensive cinema viewing over the year - if I'm having a stressful time - I really just want something so fictional and fantastic that it entirely takes me away from my current considerations and anxieties.
Then at the end of the year when these sorts of lists and roundups arise - you see several near the top of other people's charts - that you had avoided and ignored for some reason - yet they still look intriguing - and so the period leading up to Christmas is one major cram-session trying to fit in everything of note you overlooked in the year. Of course there isn't enough time for absolutely everything - and so you get these snapshots in time of what you liked - yet go back at another stage with a different mindset and the results - rankings at the very least would likely be quite different.
This year I listened to four albums more than any others - Billie Eilish's 'When We Fall Asleep', Bishop Briggs 'Champion', Mark Ronson's 'Late Night Feelings' and Rammstein's 'Rammstein' - so those for sure had to be the top 4 - and Billie's music was probably the most pervasive for me this year which is why she is at the top of my selections.
This is about the usual level of eclectic - covering quite a broad spectrum of genres, with electro pop particularly well represented this year. As mentioned in the intro - the quartet at the top of the list has been on steady rotation for most of the year - since each release date obviously - with Bishop Briggs the most recent of those - so possibly she might be a little further down if I had not listened to her quite so much these last few weeks.
There's a number here which feature heavily in the end of year critics' charts - including Angel Olsen, Lana Del Rey, FKA Twigs, Sharon Van Etten, Weyes Blood and Big Thief. Unusually there's just a couple of nods to hip hop here - Young Thug, and Slowthai - from either side of the pond. And we also have a couple of representatives from metal - Rammstein and 3Teeth - the latter of which has not picked up as much acclaim as I expected - but possibly their brand of Industrial/Electonic-Infused Metal is not as accessible as Rammstein's.
Much deliberation has gone into this list - and apart from the very obvious top 4 for me, I somewhat struggled with the order of these - if you want to look at it simplistically imagine it as 4 groups of 5 really. It's all academic really as I've mentioned before - as number positions will change from time to time - so this year I'm just putting in bullet points rather than fixed numbering to signify the fluidity of the ordering! :
Billie Eilish - When We All Fall Asleep, Where Do We Go?
Bishop Briggs - Champion
Mark Ronson - Late Night Feelings
Rammstein - Rammstein
Angel Olsen - All Mirrors
Lana Del Rey - Norman Fucking Rockwell!
Bat for Lashes - Lost Girls
Charli XCX - Charli
Young Thug - So Much Fun
Slowthai - Noting Great About Britain
FKA Twigs - Magdalene
Rachel K Collier - RKC
Sigrid - Sucker Punch
Dawn Richard - New Breed
Sharon Van Etten - Remind Me Tomorrow
Weyes Blood – Titanic Rising
Big Thief - U.F.O.F.
3Teeth - Metawar
Cub Sport - Cub Sport
Banks - III
For whatever reason - Charli XCX and Christine and the Queens' 'Gone' was my most memorable song of the year - I kept hearing this throughout 2019 and checking to see what it was called (kept forgetting actual song title) - really elegant and obviously considerably hooky melody which should have been a much more massive hit than it was.
Rosalía keeps delivering the goods for me too - I've liked most of what she's released this year. There's evidently quite a few also album tracks on this listing but equally individual stand out singles for me from Georgia, Grimes, Peggy Gou, Stormzy and Jai Paul alongside those already mentioned.
Charli XCX - Gone / 1999
Rosalía - Con Altura / Yo x Ti, Tu x Mi / Aute Cuture
Bishop Briggs - Jekyll & Hyde / Champion
Billie Eilish - Bury a Friend / Bad Guy
Mark Ronson - Late Night Feelings / Find U Again / Pieces of Us / True Blue
Georgia - About Work The Dancefloor
Rammstein - Auslander / Sex / Puppe
Bat for Lashes - The Hunger / Jasmine
Grimes - 4ÆM / My Name is Dark / Violence
Rachel K Collier - Faith Over Fear (Hectic Remix) / Paper Tiger / Dinosaur
Peggy Gou - Starry Night
Stormzy - Vossi Bop
Young Thug - Hop Off A Jet Sup Mate / What's The Move
Angel Olsen - Lark / Spring / All Mirrors
Sharon Van Etten - Seventeen / Jupiter 4
Dual Lipa - Don't Start Now
Róisín Murphy - Incapable
Coldplay - Orphans / Arabesque
Jai Paul - He / Do You Love Her Now
Caroline Polachek - So Hot You're Hurting My Feelings / Pang / Door
My top choice here has to be the latest Tarantino - which I rate as one of his best - although not all critics agree with me. I also loved Joaquin Phoenix's nuanced performance in Joker - certainly my tip for the Actor Oscar. And I saw the Favourite so late last year (December 29th) and loved that so much I felt the need to include it here in the third slot.
Knives Out is just a joy from start to finish with a great new side to Daniel Craig's repertoire - one for all the family really. And I truly loved the 3+ hours of Scorsese's The Irishman - which was like a book-end to the Godfather trilogy and Goodfellas - seeing Pacino, De Niro and Pesci all together - lots of ice cream sundaes - and those amazing fluid long-distance tracking shots that no one does as well as Scorsese - I really should have seen it in the cinema - but it's nice to have the bathroom breaks at home!
There's a smattering of horror in here too - definitely not for everyone - but I loved the creative cult traditions that Ari Aster knitted together for Midsommar - one of the most peculiarly magnetic mashups of mesmerising and unsettled viewing I have witnessed in a long time, There were a number of films which disappointed a touch this year, and actually few which were wholly perfect. I won't dwell on negatives though and will just say that people have vastly different preferences, and I would not expect anyone to match up exactly to my favourites listed here!
I am personally not a big fan of horror per se - but that genre is seeing some of the most inventive and creative movie making of recent times - and generally still continues to conjure up surprises while other genres seem to trade more on cliches.
Once Upon a Time in Hollywood
Joker
The Favourite
Knives Out
The Irishman
Midsommar
Us
Aeronauts
Booksmart
John Wick : Chapter 3 – Parabellum
Mid90s
Green Book
Destroyer
Hustlers
Zombieland 2
Avengers : Endgame
Alita : Battle Angel
Ready or Not
Doctor Sleep
My Name Is Dolemite
I will admit that I was rather late to Succession - but absorbed both seasons within a matter of days when I came across it at last. This is unlike most TV shows in that there doesn't seem to be a single wholly likeable character here - and most of them are about as downright despicable and anti-hero as they come - although fictional - I still find it a rather frightening reflection of where society has evolved to.
I've been a huge Stranger Things fan from the start, and the added comedy in season 3 made this one of the most fun shows of recent times. The next 3 slots are taken up by dystopian dark-side anti-heroes sort of with leftfield takes on the Super Hero trope - all really enjoyable.
I also loved the puppetry and attention to detail of the new Dark Crystal series, and the similarly detailed Dark Materials. I always enjoy a good documentary and docu-drama - and there are a few still more on my watch-list - while Chernobyl and When They See Us are classics of the genre.
All in all a really eclectic selection with a slight concentration on Super Heroes - it's been a pretty great year all-round for TV series. This listing came before my seeing The Witcher or The Mandalorian - which I hope I will be able to include in next year's overview! :
Succession
Stranger Things
Watchmen
The Boys
The Umbrella Academy
The Dark Crystal: Age of Resistance
His Dark Materials
Chernobyl
When They See Us
Russian Doll
Jack Ryan
Good Omens
Killing Eve
Fleabag
The End of the F***ing World
The Expanse
The 100
Carnival Row
Derry Girls
Sex Education
---
20 Favourite Graphic Novels
I though that this would be a more difficult task in many ways than it ended up as being. It was evident for a while that Little Bird would be my favourite of the year - I find it very much along similar lines to my favourite Jodorowsky + Moebius works - just stunning sci-fi really with great characters and narrative and fantastic artwork.
For my favourite Graphic Novels it really has to be a blend of characters, narrative and visual - with the visual component pretty much paramount. So we're lucky that These Savage Shores, Ascender, and Invisible Kingdom all have the right ingredients in the mix. And it's nice to see Messrs Chris Ward and Chris Ware in the same top 5! A new Chris Ware book is always an event - and this is his first for a while since 2012's Building Stories.
Humanoids seemed to have been slightly off the boil this year for me - while Image in particular continues to rule as far as I'm concerned. I've been far more selective in my comic buying this year, and I don't appear to have suffered for it particularly. I often have a flurry of activity at the end of the year when I catch up with titles I've otherwise overlooked - while this year I seem to have acquired near enough all my favourites listed here just in the course of my fairly regular acquisitions - I tend to prefer fiction - science fiction in particular over and above more mundane and everyday narratives!
Little Bird [Image]
These Savage Shores [Vault]
Ascender [Image]
Invisible Kingdom [Dark Horse]
Rusty Brown [Penguin]
Die [Image]
Pearl [JinxWorld]
MCMLXXV [Image]
The Magic Order [Image]
The Mask of Fudu [Humanoids]
Alien 3 [Dark Horse]
Sharkey [Image]
Life Is Strange [Titan Comics]
Sonata [Image]
Middlewest [Image]
Ice Cream Man [Image]
Murder Falcon [Image]
Blackbird [Image]
Crowded [Image]
Ronin Island [BOOM! Studios]
Sobek [ShortBox] - James Stokoe Bonus Round!