The Really Useful Sub £100 Gadget Gift Guide
26 November 2018
2:04 PM

Stefan Karlsson
Christmas Gift Guide
Gadget Gift Guide
Handy Tools and Utilities
Practical Gift Guide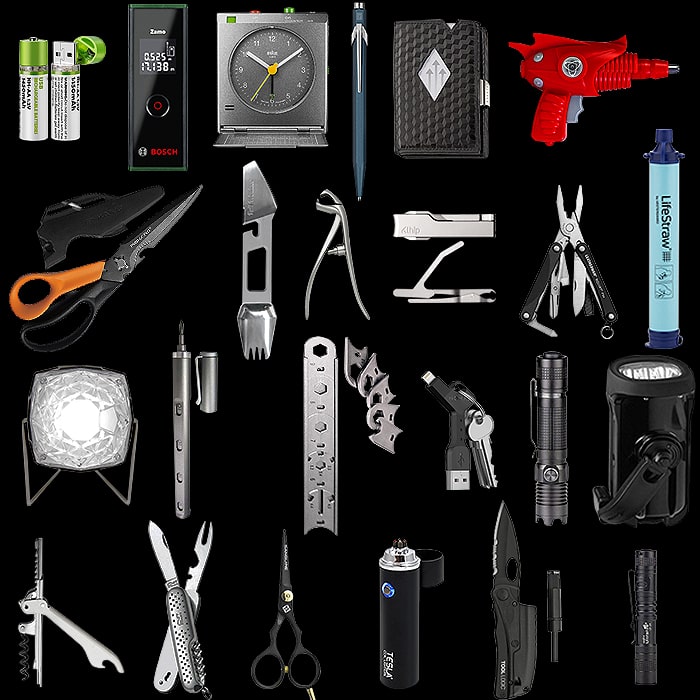 So I've compiled a handy list of some of my perennial favourite utility gadgets along with some more recent arrivals. I also had an eye towards longevity and minimal environmental impact here to a degree - so there are some eco-gadgets mixed in. I have about half of these all told and all have really been exemplary since I first acquired them and are still in tip-top condition.
There should hopefully be something here for everyone - these are all useful tools to have around the house, but make sure that some of these sharper ones stay out of the hands of kids. I am generally a huge fan of the pocket multi-tool and I have a variety of all manner of tools, Fiskars, Gerber, Leatherman, Victorinox and others. Most of those though are significantly above £100 - so I thought I would keep this guide more accessible.
I will likely do another guide with the more expensive electronic gadgets - but limited to 16 or so.
Items are listed alphabetically by brand and range from £8 to £80 - note that prices can fluctuate significantly and you may find some of these cheaper as well as more expensive ... so shop around!
---
BlueBeach USB Rechargeable AA Batteries - £8 for pair (Amazon)
How about these for the ultimate rechargeable batteries - you don't need one of those special rechargeable battery units - the top of each of these pops off to reveal a USB jack for plugging in directly to USB socket! Each AA battery is @ 1.2V and carries 1450mAh of charge.
---
Bosch Zamo Laser Measure (3rd Gen) - £63 (Amazon)
This cool black-screen version is the slickest of the point-and-click DIY digital measuring devices - no more faffing around with flappy/floppy tape - super quick and efficient and accurate to +/- 3mm with a range of 20 metres. You can of course get more expensive and far-reaching, pin-point-accuracy pro Bosch versions of this - but they have a lot more buttons and are quite a bit more expensive!
---
Braun Classic Reflex Control Travel Alarm Clock in Silver Grey - £34 (Amazon)
For some reason the grey version looks the slickest of the different colourways - this is my favourite of the various travel clocks / alarms available and come with snap lid, and super-intuitive controls - also it has that essential second hand that I so like - super clear and totally ergonomic. Of course if you have £155 spare you can get one of those very cool Mondaine Steel Travel Alarm Clocks - which looks amazing, but the Braun still has it beat on control ergonomics overall!
---
Caran d'Ache 849 Nespresso Limited Edition Ballpoint Pen - £33 (Amazon)
One way for all you coffee drinkers to make up for all those left-over by-product aluminium capsules. I don't drink coffee, but I'm totally onboard with this pen which is made from those used coffee capsule, and which is my daily weapon of choice nowadays.
---
Exentri Compact Trifold Wallet with RFID Protection - £49 (Amazon)
This is my pocket-vault of choice nowadays, and the whole family pretty much is onboard with these. The earlier versions of these wallets weren't RFID proof like this one is - and this Black 3D Embossed Cube Patterned version is the coolest variation yet as far as I'm concerned.
---
Firebox Ray Gun Nose Hair Trimmer - £12 (Firebox.com)
This is a touch the odd one out here - but something about this nose hair trimmer in the shape of a ray gun tickled my fancy as such. Sure it's a novelty, but concept-wise it's pretty much spot-on - and it works tolerably well to boot too!
---
Fiskars Cuts+More Multi-Tool Scissors - £16 (Amazon)
I have a few pairs of these around the house now - these are just superb - the very best domestic / kitchen scissors available as far as I'm concerned - each comes with own sharpener and various functions - including tape slicer, wire cutter and bottle opener.
---
Full Windsor The Muncher Titanium Multi-Tool - £40 (TheFowndry.com)
A cool multi-utensil made of durable Titanium, and which includes - Spork / Serrated Knife / Fire Starter / Peeler / Can Opener / Bottle Opener / Pry Bar / Box Cutter / Cord Cutter / Flat Head Screwdriver.
---
Kai Kershaw World's Finest Toenail Clippers - £80 (TheFowndry.com)
I already have the almost equally pricey Klhip Nail Clippers - and this is sort of the equivalent for feet! Not quite as neat and tiny! - but a solid piece of engineering at a rather admittedly steep price.
---
Klhip Nail Clippers - £75 (TheFowndry.com)
I've had these for a quite few years now as I recall - really clever design, and still super-sharp. These are still the best designed / made hand nail clippers as far as I'm concerned.
---
Leatherman Squirt PS4 Mini Pocket Multi-Tool - £46 (Amazon)
This seems to be only available in admittedly a rather nice looking blue currently, although my 4 or 5 year old one is in black. This is the neatest tiny tool - with pliers and scissors at this diminutive size - amongst several other functions. Note that there is also an electrician's version of this - the ES4 with more wire-cutting and electrical maintenance functions.
---
LifeStraw Personal Water Filter - £20 (Amazon)
Your very own personal pocket water purifier - you've probably seen a few demos of this. Handy to have with you when travelling outside of Europe.
---
Little Sun Black Diamond Solar Rechargeable Light - €50 (LittleSun.com)
Fellow Icelander and uber artist Olafur Eliasson's eco-light project should be well-known to most - this is the latest and best generation of the Little Sun with extended 'battery' life now. 5 hours of sunlight charge / gives you circa 5 hours of light output.
---
Mininch Tool Pen Mini APlus Edition - £80 (TheFowndry.com)
I have the regular size original version of this - but this updated version is neater and tinier still and properly of regular pen dimensions - so it will sit easy in your shirt pocket if that is your thing! Really want this version too! (not for shirt-pocket!)!
---
Mininch WRENCHit Pop-A-Point Spanner Set - £55 (TheFowndry.com)
Minich have knocked it out of the park again with this 10-wrench, 15-function modular ruler-style spanner set. Really neat one-way push-click function, and super slim form factor which is slick and effective.
---
NomadKey Lighting to USB Cable - £20 (Amazon)
Probably the neatest take-anywhere iPhone charger lead - slots nicely onto any old keyring.
---
Olight 1000 Lumens M1X Tactical Torch - £50 (Amazon)
My regular torch of choice with serrated lens end-cap for protective counter-measures. Has 3 modes - regular, half-power and flashing. Really rugged, reliable and bright - although batteries can run out rather quickly too. I also still really like my Maglite Mag XL200 which is a little less costly at £34 but also has a fairly fast-draining battery.
---
Power Plus Barracuda LED Solar / Wind-up Torch - £15 (Amazon)
Probably the go-to survivalist rugged water-proof self-powering torch with 3 fairly bright LEDs albeit just 8 lumens max output. One side has solar panel, the other has a hand-crank. A day's worth or so of solar charging yields 90 minutes of light, while 1 minute's worth of hand-cranking gives you circa 60 minutes worth.
---
Puigpull Ratchet Corkscrew - c£30 (Ebay)
My favourite mini un-corker has a really neat mechanical ratchet function which makes it super easy to open a bottle of wine. This is the best waiter's pocket friend as far as I'm concerned, I've had mine for twenty years or more now.
---
Richartz Struktura Classic Picnick 3 Knife - £48 (VintageFishingTackle.co.uk)
I've had this one for nigh on twenty years too - a really cool pocket knife which splits in two for a proper knife and two-prong fork set. Also includes bottle opener, cork screw and screw-driver / can-opener. Really handy to have when you're on the move - and still a classic design.
---
Sanguine Japanese Steel Mini Hair and Beard Trimming Scissors - £13 (Amazon)
Super-sharp and perfect for any bearded type as well as general hair-cutting despite its diminutive size. Beware that you need to care for these properly in order to maintain that razor-sharp edge - so only use on hair.
---
Tesla T02 360° Electrical Plasma Double-Arc Rechargeable Lighter - £18 (Amazon)
As a non-smoker this is strictly for lighting candles around the house and in case the gas cooker doesn't spark. This newer design is more dangerous as it exposes the spark - but it's also the only version that works to light those semi-burned-out glass-encased scented candles I so like! Note that this is a great eco product versus the more disposable lighter kind, and the double-arc version in particular is sufficiently wind-proof.
---
Tool Logic SL Pro 2 Black Tactical / Survival Knife - c£40 (Ebay)
Even though I mostly use this as a box cutter - great shape of blade for that, this is my pocket / penknife of choice - with built-in emergency whistle, torch and fire-starter spark-rod.
---
UltraFire UF-3A 70 Lumens Mini Torch - c$10 (Ebay / Ultrafire.com)
This is the torch that I use the most these days - it's about as tiny as you would want it or circa 90mm long and is effortlessly easy to carry around - super bright too and with decent life-span on its single AAA battery!