You are here:
Home
|
Blogs
|
Stefan's Naturally Aspirated Blog





16 Jul 2012 1:29 PM

Popular

Comments

Profile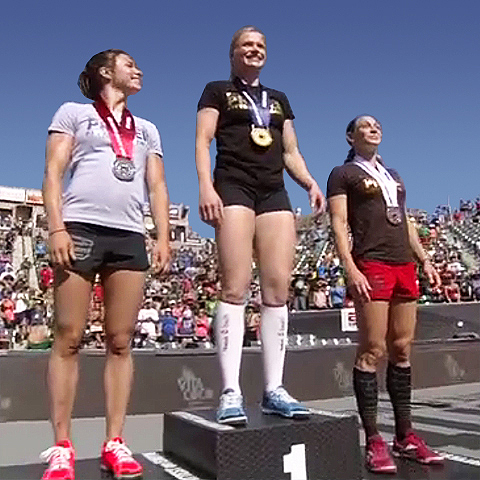 We're all very proud of Annie 'Mist' Thorisdottir - who is officially 'Fittest Woman on Earth' second year in a row. This year saw the competition stretch over four gruelling days. Anyone who thinks that the Iron Man Triathlon or Olympic Decathlon are tricky events obviously has not witnessed the world of the CrossFit Games - with its 15 events - testing every single muscle of the athlete's body - and combining athletics with gymnastics, weight-lifting and strongest-man-type events. I get breathless just watching - ring pull-ups and ring press-ups followed by hand-stand press-ups, followed by running and hauling weights - without barely a moment to gather your breath or your wits. What makes it even more tricky, is that apart from the first event triathlon, the athletes don't have a clue as to what the events will be each year. Each year the CrossFit Committee deliberately seeks to catch out and challenge its contestants with the most excrutiatingly tricky tests of fitness - every year yields something new and unusual - like this year's overhead medicine ball toss! (Hurling as many medicine balls as you can from a prone position - in 60 seconds - points awarded for number of balls thrown and distance!)

Annie should have won Icelandic Sports Personality of the Year 2011, but Iceland's idiotic Sports Council refuses to acknowledge that CrossFit is a proper sport - obviously for political reasons. They state that the International Olympic Committee (IOC) has yet to recognise this sport, but then forget that Iceland recognised the independence of the Baltic States way before they were even on the United Nations agenda. Cowardly, cliquey and obviously politicised behaviour - someone needs sacking.

Iceland's government last year very ungraciously sent Annie a 50% tax claim on her winnings - just a few days after her victory - someone at Iceland's tax office needs sacking too! This is Annie's main source of income, and she quite correctly needs to assign costs and expenditure agains her profession of competing in these events - there's no way that the tax office is entitled to a straight 50% cut of earnings before they have been netted off.

All Icelanders need to lobby the Iceland Sports Council to make sure that justice is done at this year's awards.

...

4 comments
|
permalink
|
email this
|

|





31 Jul 2011 11:58 PM

Popular

Comments

Profile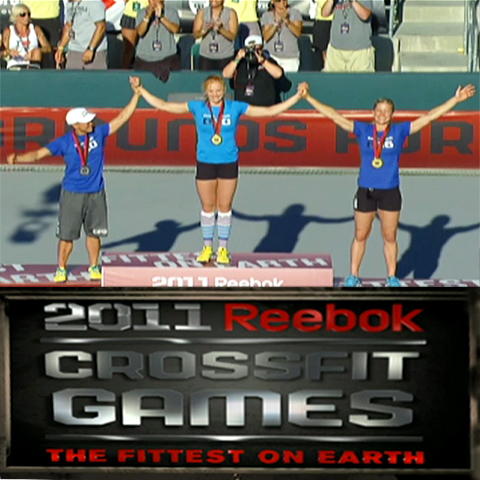 As you may have spotted on a previous blog, I have following Annie's progress right throughout the 10 events and over the 3 days - really willing her on to win. She performed admirably in the opening beach run / swim / pull-ups / squats event, placing fifth.
Annie's 'Ball Skills' let her down badly in Event 2, and she made a disastrous error on the L-Sit, barely hitting the 30 second mark, when she is capable of at least twice that - even though she outpaced everyone on the handstand-walk, she placed a lowly, unthinkable 29th. A win in the final event of the day though saw her move up to 4th overall.
Day 2 was a much more consistent affair with a 7th place, another 1st and a 3rd in events 4-6 - bringing her right up to the shoulders of her arch nemesis Kristan Clever - who was leading at the end of day two.
First event of Day 3 and Annie scored another win, putting her very marginally in the lead ahead of Kristan. In the frantic triple final sequence - Annie just had to place more consistently than Kristan to win the whole competition, and she did this admirably by scoring 3rd in each of the final 3 events - a place or two above Kristan; every one else was too far back really to overtake Annie.
On the Winner's podium, as pictured, were the following:
Annie Thorisdottir (Iceland) with 842 points
Kristan Clever (USA) with 799 points
Rebecca Voigt (USA) with 775 points
Scores out of a maximu of 1000, with 100 scored for first, 95 for second, 90 for third in each event etc.

The UK's Samantha Briggs placed a very credible 4th - just outside the medals with 752 points. No one won more individual events than Annie (3), her margin could have been that more impressive but for a couple of silly mistakes - but then that it part of the winning spirit too - overcoming adversity; and there's no knowing that the poor performance in event 2 was not what spurred Annie on to win the competition.

For me this year's final was not as thrilling as last year's mega obstacle course - I think the obstacle courses are a much better means of audience entertainment for a final event. Even though the overall event was bigger and better this year, the individual components were not quite as satisfying, and the time keeping was about as good as Iceland Express's!

&

...

1 comment
|
permalink
|
email this
|

|





29 Jul 2011 4:52 PM

Popular

Comments

Profile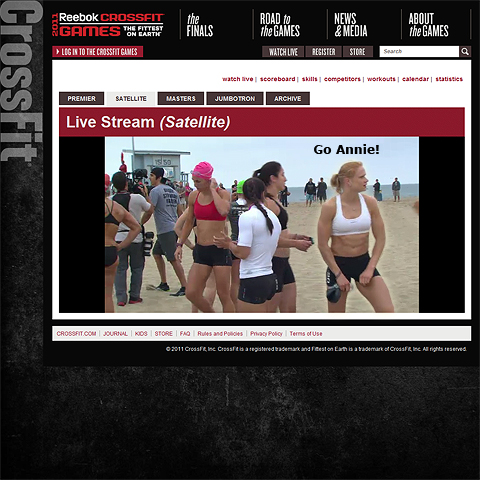 As I explained in a blog post around about the same time last year, 'The Crossfit Games' really are the alternative olympics, or even the endurance olympics. The winners of the 3-day games are officially crowned World's Fittest Man and Woman - quite literally.

Over the 3 days, Friday to Sunday - every single muscle and sinew is tested as the athletes start with a mini triathlon, and then a mixture of athletics, gymnastic and weights-based disciplines. This is true full-body fitness, and is the natural extrapolation of the Olympic's more traditional decathlon.

Parts of this are distance running, parts are old-school gym workouts - chin-ups and the like, and then the most insane of obstacle courses. As any good gymnast will tell you, it's as much about rate of recovery as endurance and flexiblity. The events come so thick and fast, that there is often very little time to recover inbetween.

Last year, Iceland's Annie Mist Thorisdottir was just pipped to the gold by Kristan Clever of the USA. This year, we're all hoping Annie will go one better and bring home the gold, the $250,000 prize money, and 'The World's Fittest Woman' title.

You can all watch and cheer live with me via the Live Crossfit Games Online Satellite Stream. All the contestants compete simultaneously - so you get to see everyone together at all times. It's somewhere between watching the Krypton Factor obstacle course, a triathlon and the World's Strongest Man all at the same time.

I'm sure most of you will enjoy this almost as much as I do - 'Go Annie!'.
4 comments
|
permalink
|
email this
|

|





19 Jul 2010 11:06 AM

Popular

Comments

Profile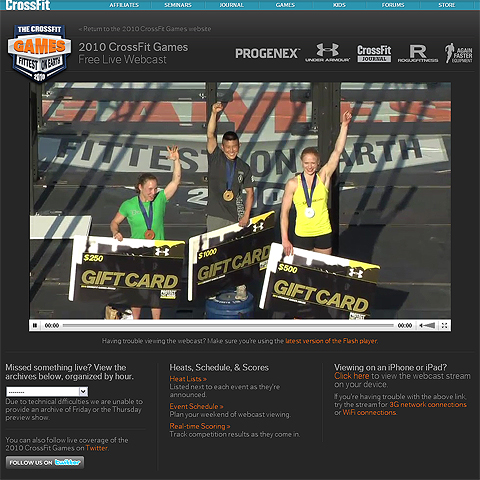 Iceland has another world-class athlete to be proud of. I happened to catch in the Icelandic News (Mbl ) on Sunday morning, that Anníe Mist Þórisdóttir was leading the fittest female standings at the midway point of the 2010 CrossFit Games .

A brief search on the Internet later, and I was on the CrossFit Live page, watching the event in High Definition - direct from the Home Depot Centre in Carson California - the home of the LA Galaxy for those in the know. This just goes to further qualify the amazing impact and reach of the Internet - that a little known 3 day programme of events can be broadcast seamlessly around the world - enabled by a moderate level of sponsorship, and easily accessible technology that is now available to all. The quality of the video broadcast exceeded that which I witnessed on the BBC and ITV for the World Cup.

For anyone who is unfamiliar with 'CrossFit ' - this is a core strength and conditioning program which aims to utilise every single muscle in the body. It is the training methodology of choice for most law enforcement and fire departments in the US, as well as for many professional sports teams. I had previously thought that the Ironman Triathlon or Olympic Decathlon events were the pinnacle of extreme sports endurance training / testing, but having watched most of Sunday's broadcast. I can attest to the fact that CrossFit certainly seems to be the most gruelling, intensive test of extreme athletic ability. As an example of an event, competitors were made to do 5 'burpees' in a row, scaling over a 6 foot barrier between each, and then climbing a 20 foot rope several times in succession, before repeating this circuit 3 times. This was a mix of running endurance, squatting, thrusting, pushing, pulling, climbing, leaping and straining the body to its absolute limit -and then doing further reps (repetitions) of the same, when you were quite beyond exhaustion. If you recall the obstacle courses from the gyms of your youth, imagine this with added weights, 10 times more difficult exercises, a time limit enforced, with several repetitions of each circuit. Watching this all go down live, was terrifically exciting, and after 3 days of competition, the winners totally deserved the accolade -'The Fittest Male / Female Alive'.

In every competition, the contestants are faced with brand new trials and tri...

Add Comments
|
permalink
|
email this
|

|



Subscribe to feed

Subscribe by email
Recent Visitors