Cheer Iceland's Annie Mist to Victory - Live Online at the 2011 Reebok Crossfit Games
29 July 2011
4:52 PM

Stefan Karlsson
2011 Crossfit Games
Annie Mist
Annie Mist Thorisdottir
Annie Mist Þórisdóttir
Crossfit
CrossFit Games
Internet Broadcast
Live Event
Live Streaming
Reebok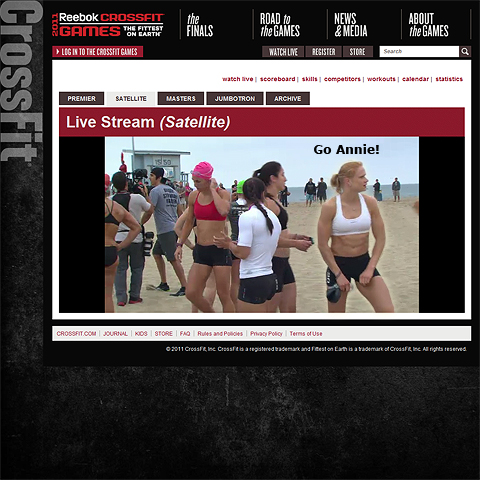 As I explained in a blog post around about the same time last year, 'The Crossfit Games' really are the alternative olympics, or even the endurance olympics. The winners of the 3-day games are officially crowned World's Fittest Man and Woman - quite literally.

Over the 3 days, Friday to Sunday - every single muscle and sinew is tested as the athletes start with a mini triathlon, and then a mixture of athletics, gymnastic and weights-based disciplines. This is true full-body fitness, and is the natural extrapolation of the Olympic's more traditional decathlon.

Parts of this are distance running, parts are old-school gym workouts - chin-ups and the like, and then the most insane of obstacle courses. As any good gymnast will tell you, it's as much about rate of recovery as endurance and flexiblity. The events come so thick and fast, that there is often very little time to recover inbetween.

Last year, Iceland's Annie Mist Thorisdottir was just pipped to the gold by Kristan Clever of the USA. This year, we're all hoping Annie will go one better and bring home the gold, the $250,000 prize money, and 'The World's Fittest Woman' title.

You can all watch and cheer live with me via the Live Crossfit Games Online Satellite Stream. All the contestants compete simultaneously - so you get to see everyone together at all times. It's somewhere between watching the Krypton Factor obstacle course, a triathlon and the World's Strongest Man all at the same time.

I'm sure most of you will enjoy this almost as much as I do - 'Go Annie!'.