Lego Owns Christmas 2014
09 December 2014
12:32 AM

Stefan Karlsson
AFOL
Christmas Bricks
Christmas Present 2014
Creative Toys
Lego
Lego Christmas
Lego Christmas Cheer
Lego Christmas Domination
Lego Christmas Present
Lego Rules
Merry Lego Christmas
World's Leading Toy Company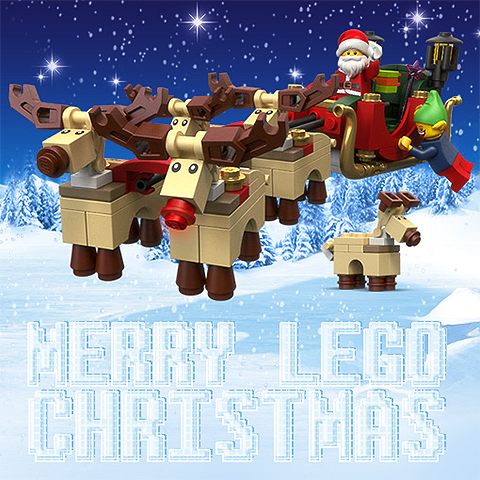 Our Danish cousins at Lego really know how to push the boat out! It looks like Christmas 2014 is going to break all manner of records for Lego. 2014 all in all has been a bumper year for them, lots of excellent sets across all the different themes - with particularly strong Movie and TV tie-ins, all the usual fantastic console games and apps, and now a blockbusting Hollywood movie also!
A recent BBC article once again tries to cast aspersions on the creative impact of Lego, as the majority of sales now come from pre-packaged sets with detailed instructions. As any kid will tell you though, you likely only build to the instructions the first time around - before you go off and customise / re-build and even combine sets to create something entirely new and different. You also have all those original bucket brick sets anyway for freestyle building - so you can build whatever you like in any case - all that old fashioned traditional stuff is still there fully intact - you just have lots more choice nowadays.
For the past few years we have treated everyone at our company Christmas dinner with some mini Lego kit or other - usually Lego Technic, and what you learn is at the very least the following:
An Eye for detail - careful consideration that everything goes in exactly the right place
Spatial Awareness - appreciation for engineered structures and their relative placement / integration
Hand-to-Eye Coordination - the ease and deftness with which you assemble your kit - something our CEO Markus in particular excels at
Problem Solving - figuring out what went wrong when final pieces don't fit - several pieces look very similar but may have very slight variances in depth or colour!
Cause-and-Effect - Lego Technic sets are based on sound engineering principles, you genuinely learn how certain engineered structures / components really work
The last few years' Christmas gifts have not been short of a Lego set or two, and this year looks like they are more prevalent than ever. A quick glance on the John Lewis website this weekend showed near enough every Lego Technic set 'out of stock'. I happen to know that John Lewis prioritise in-store inventory, so I dashed into Oxford Street to get what I needed. In the queue for the tills, pretty much every other person was holding one or more items of Lego. Lego itself takes up about 1/3 of the John Lewis Toy Department, but I have never seen quite so much in circulation before.
Like I said at the start, with 'Lego Friends' for girls, the games, the movie etc. they have nearly all the bases covered. Now they just need a more girly sing-along Frozen-alike movie to grab a piece of that demographic (i.e. include the mums!). At this rate, there is no stopping the invevitable rise of Lego to the world's number 1 toy manufacturer ... actually scratch that, Forbes reported back in September: - Thanks to the hit Warner Bros. movie, Lego announced that sales jumped 11% in the first six months of the 2014 to just over $2 billion, making the Danish brick builder the largest toy maker in the world for the first time, overtaking Mattel at last.