Our journey started with a 06:40 flight from EasyJet's Hub - the typically budget airline misleadingly named London Luton. As Iceland is on GMT time all-year-round, we arrived at the ridiculously early time of 08:40 (local time) after a 3 hour flight. Our parents had graciously agreed to pick us up at the airport in two cars, and stopped en-route to the Alba Guesthouse at our town's local bakery for a fresh / refreshing breakfast (okkarbakari.is/)
We then dropped our cases at the Guesthouse (www.alba.is/) and headed into town to pick up the Volvo CX90 7 seater jeep we were graciously being loaned for the trip - by our brother's lovely partner Elva Rut. We went to our brother Pėtur's offices (modernus.is/) near the top of the Höfðaturn tower office block to pick up said vehicle - before heading straight out of town!
---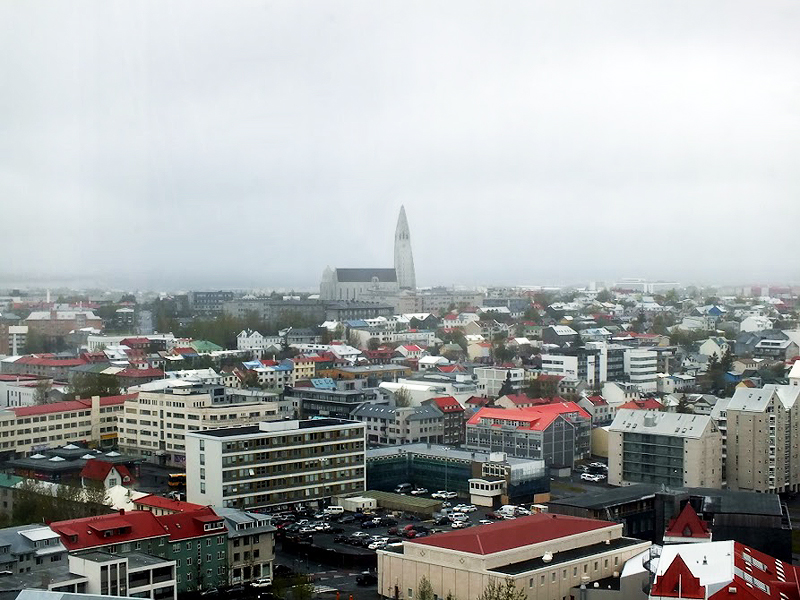 Reykjavík Vista - As seen out of the windows of the Modernus / Isnic offices - near the top of the Höfðaturn tower - with Reykjavík's dominant church - Hallgrímskirkja in the centre (hallgrimskirkja.is/)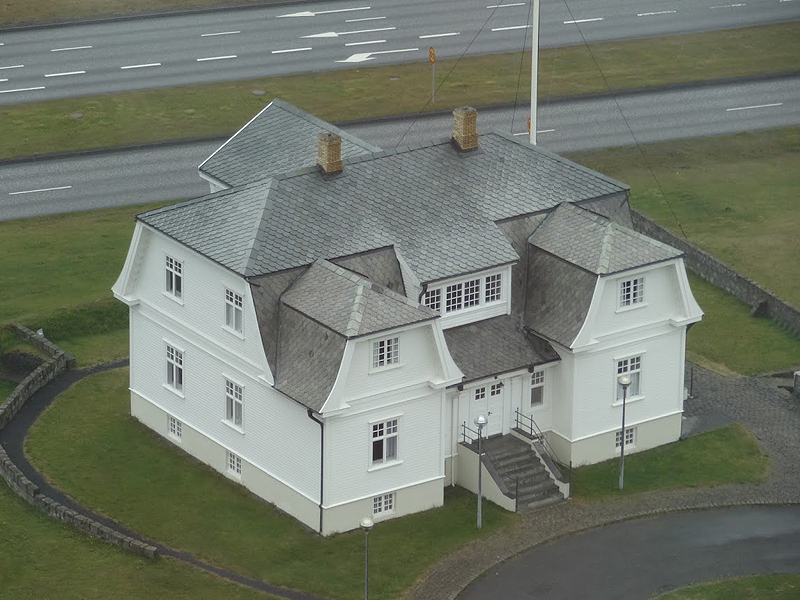 Höfði House - Famous venue for the 1986 Regan and Gorbachev Reykjavík Summit - also seen out of the window of the Modernus / Isnic offices where our brother Pétur works (www.visitreykjavik.is/desktopdefault.aspx/tabid-166/371_read-1397/)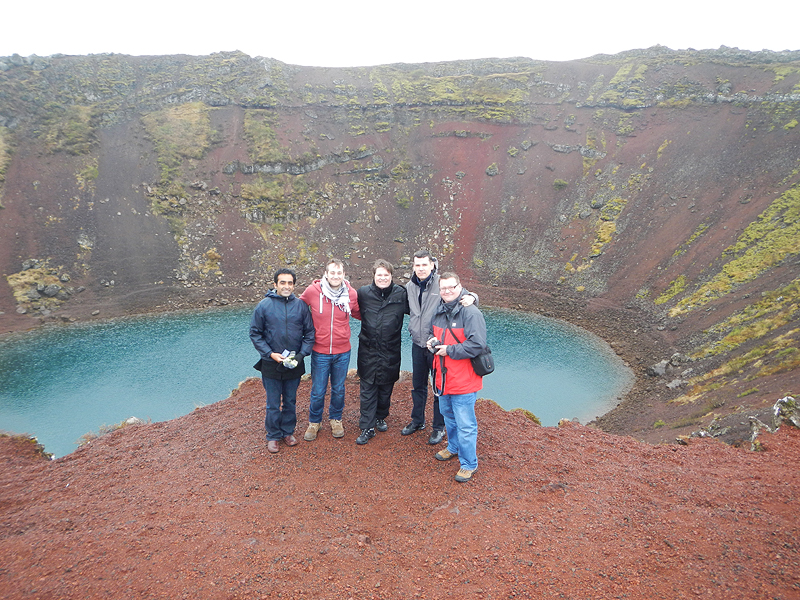 Kerið Dormant Volcano Crater - lovely 55 meter deep green-coloured crater lake (www.nat.is/travelguideeng/plofin_kerid.htm) and we encounter the first of the rain on this first stop of our Golden Circle Tour - which traditionally features - Geysir > Gullfoss > Þingvellir and is preceded by Kerið for those in the know! You can take the circuit clockwise or anti-clockwise as we did. (www.icelandtouristboard.com/index.php?page=the-golden-circle)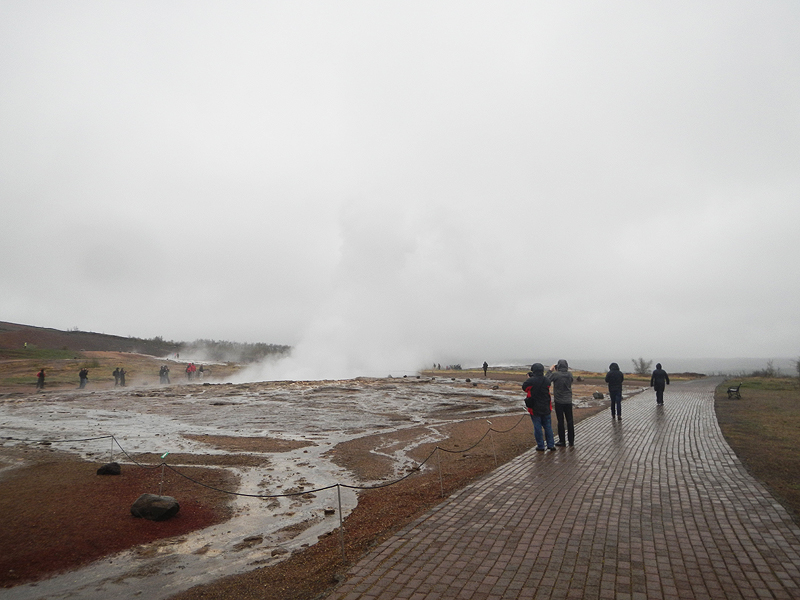 At Geysir - Just catching current active geyser Strokkur going off (Note that word Geyser derives directly from Icelandic word 'Geysir' which is now dormant, but has been set off by a few kilos of baking soda for key events!) (www.geysircenter.com/)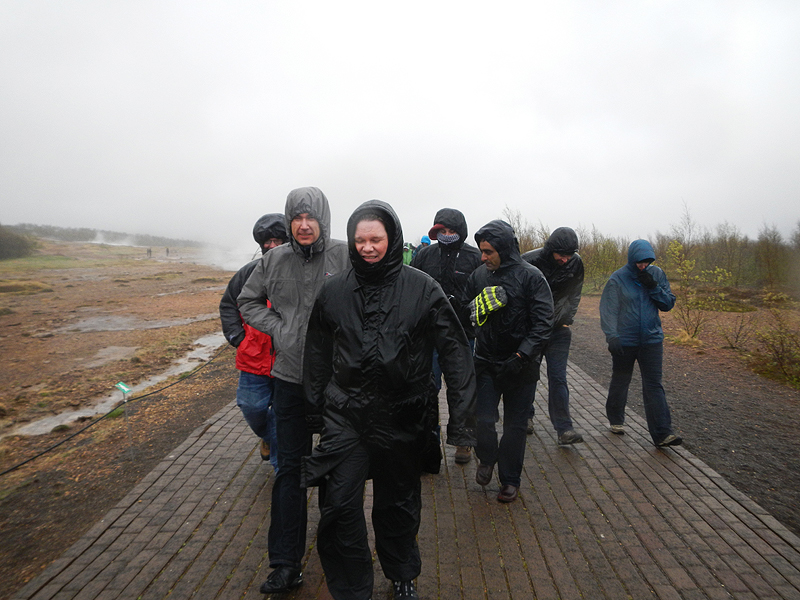 Totally drenched at Geysir within about 10 minutes - Some of the little-reported driving Icelandic rain - seems to come at you from every direction! - Note Rao's Magic Multi-Purpose Hat - which was used mostly as a camera-protector on this first day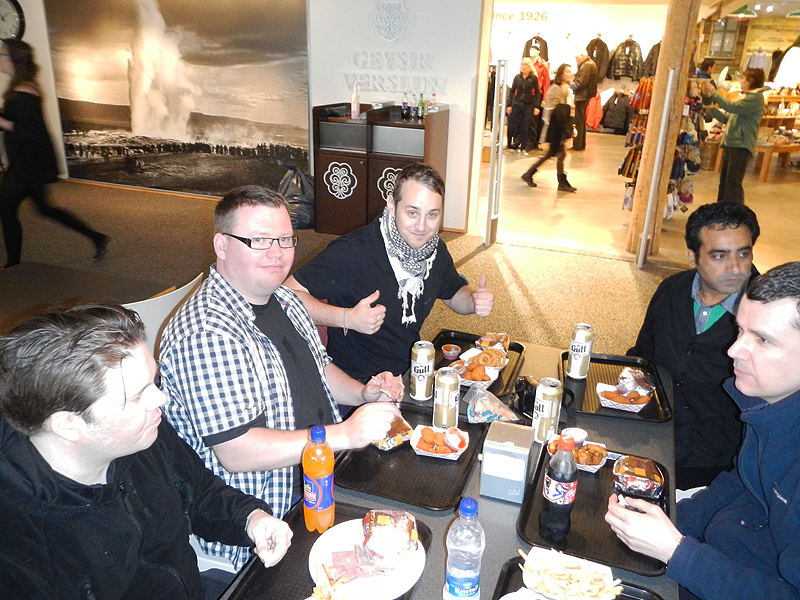 Lunch at Geysir Diner - A mix of burgers and Icelandic delicacies - smoked lamb, dried fish, confectionary and award-winning Icelandic Beer - 'Egils Gull' (www.worldbeerawards.com/2011/lager.html)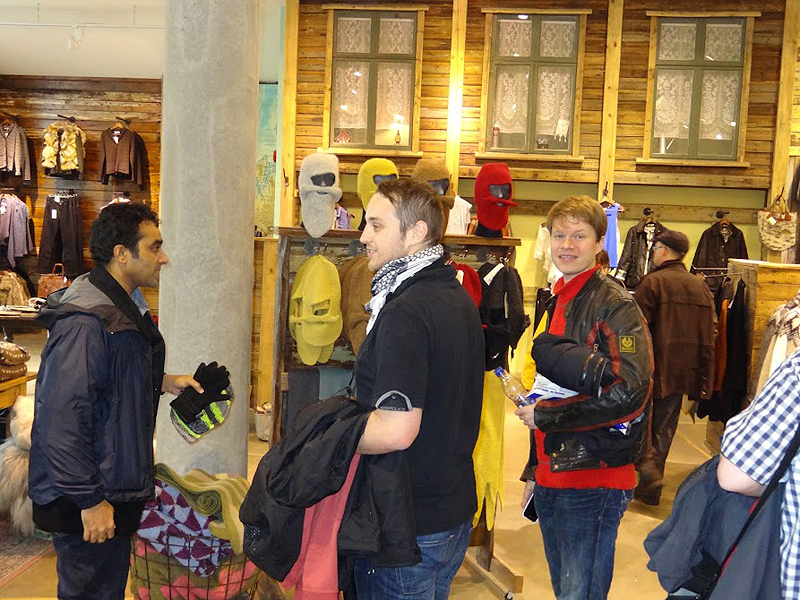 Geysir Gift Shop - The best Gift Shop in Iceland - real quality - here we're trying to persuade Rao to buy a Moustache Balaclava to save him from needing to grow his moustache every time he goes back to India (www.geysircenter.com/?c=frettasafn&id=25&lid=&pid=&page=3)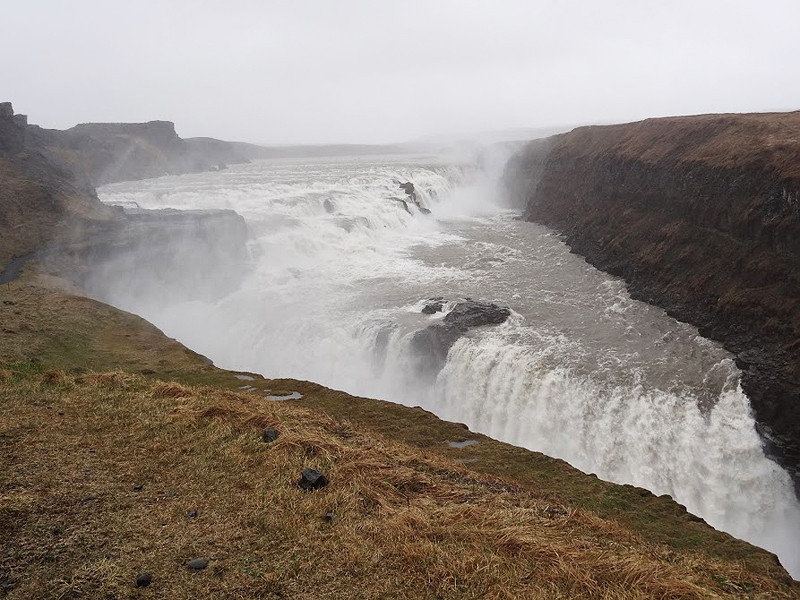 Gullfoss - Iceland's Golden Falls - some say the prettiest falls in Iceland, I quite like Goðafoss though in the North of Iceland. Just look at the volume and flow of water though - if you fall into that you've had it - as happens to the occasional tourist (www.gullfoss.org/)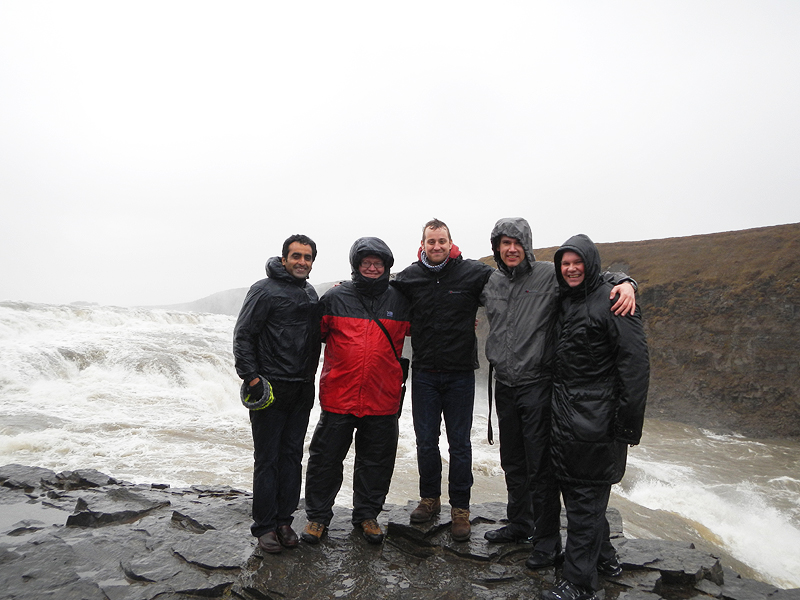 Standing on Gullfoss dividing shelf (The top rock outcrop in above picture) - As warned in the previous note - you need to be very careful where you stand here as there's no protective fencing - go too close to the edge, and you will slip over and go under - never to be seen again ...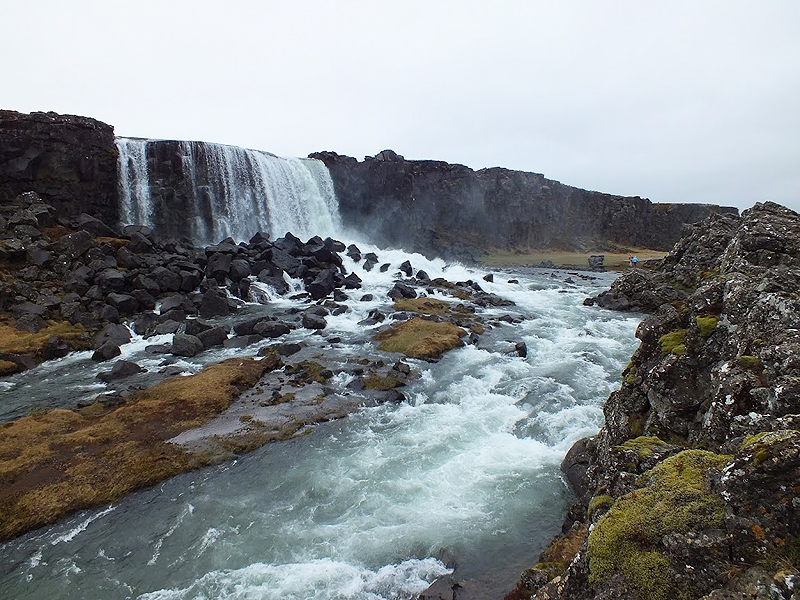 Öxarárfoss at Þingvellir (Öxar River Falls at Thingvellir) - Iceland's original seat of Parliament 'Alþingi' - supposedly the first democratic Parliament in the world was established here in 930 (Moved to Reykjavík in 1789). This is also the exact location of where the North American Tectonic Plate separates from the Eurasian Tectonic Plate - in other words a Volcanic Rift Valley - comes to the surface here at 'Almannagjá' - meaning Iceland is gently expanding by about 3 cms per year (www.thingvellir.is/english)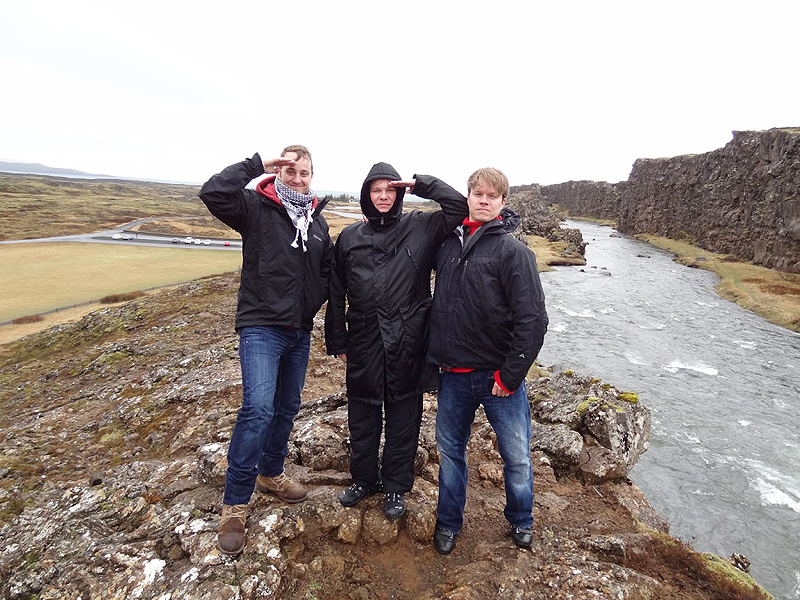 Saluting from just inside the Eurasian Plate - Öxar River to the right is the separator between Europe and the Americas - Iceland straddles both amusingly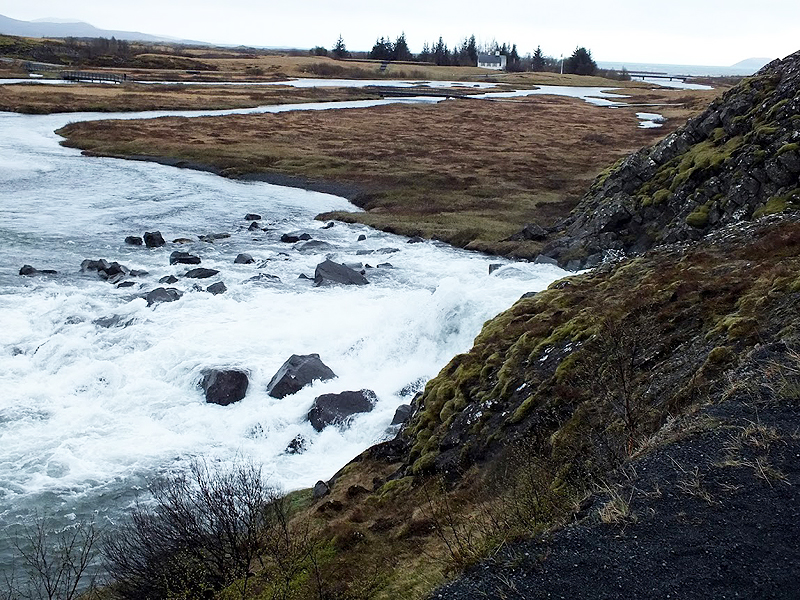 View over Þingvellir National Park - Þingvalla Church and Residence in the background (by the trees on the right) - official summer house of Icelandic President. Also in that same direction you find numerous incredibly deep creeks / crevices, one of which 'Peningagjá' glitters with the reflections of thoudans of dropped coins - Iceland's most popular wishing well no doubt. We also encountered our very own infinity pool - a puddle-sized crevice in surface dimensions - leading deep down to the centre of the earth - we dropped a coin and could not see it land as it disappeared into the dark depths!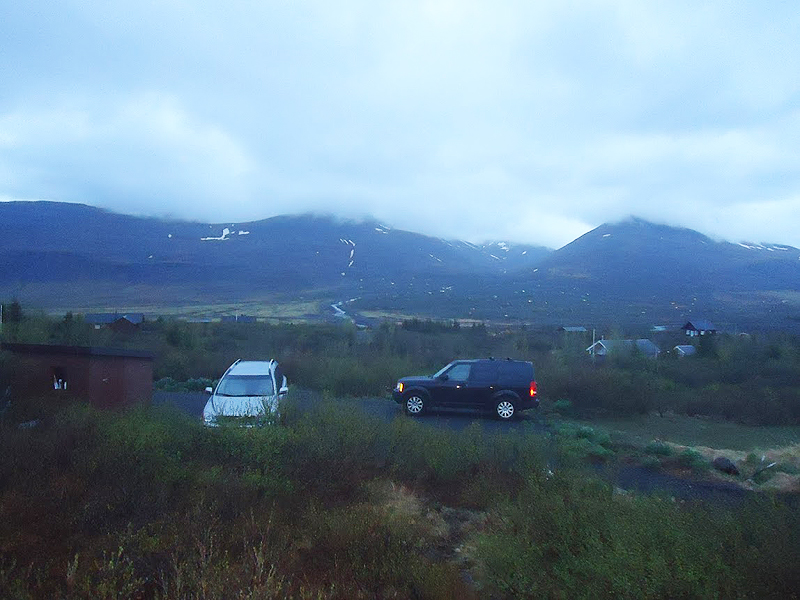 Cabin up in the hills - Our brother Kalli's summerhouse sits in the Vatnaskógur National Park near Eyrarvatn (Eyra Lake) - facing on to the Skarðsheiði Mountain Range as seen (Skarðshyrna, Heiðarhorn, Skessuhorn). Our faithful Volvo CX90 7 Seater on the left (Graciously loaned by Elva Rut) and Kalli's 3rd home on the right - his ever trusty Land Rover Discovery sit in the foreground or on the drive up to the cabin (tool shed on left)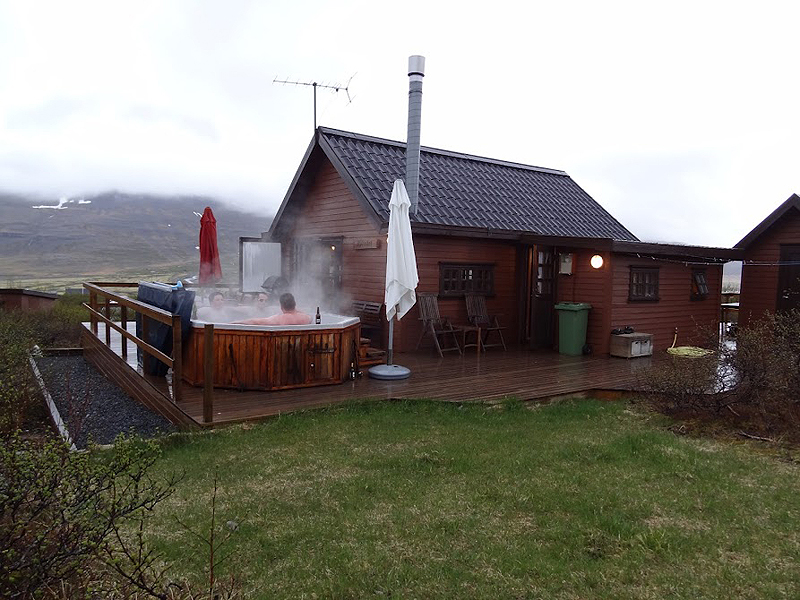 Hot Tub, Beer and Barbecue - A delightful soak under Iceland's blue summer night skies, with icy chilled beers, then inside for barbecued lamb steaks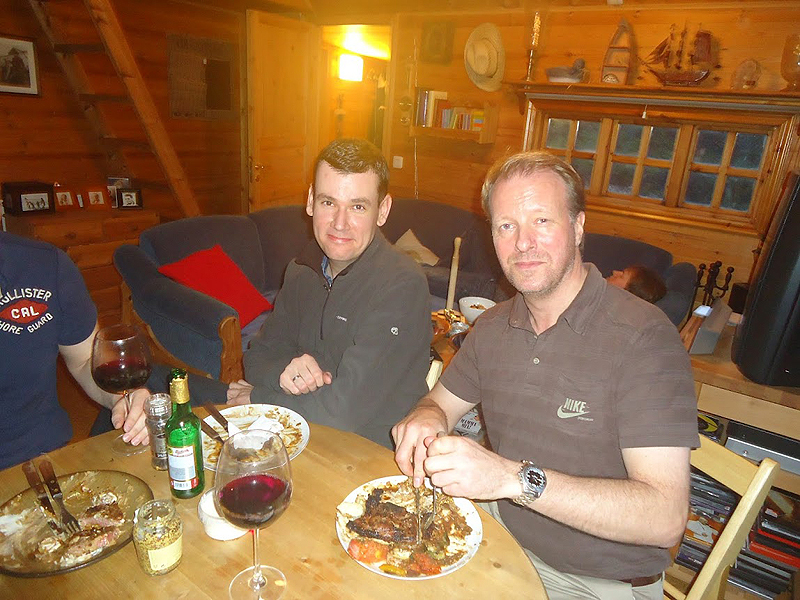 Barbecue King Kalli - Our delightful host - eldest brother Karl - cooked up the most amazing Lamb Steaks with grilled / baked potatoes, grilled tomatoes, mushrooms and assorted veg, and Red Wine Sauce - alongside half-a-dozen additional interesting table variety sauces. So good was the food, that Chris was unable to turn down three helpings of the same! Brother Pétur joined us for dinner too.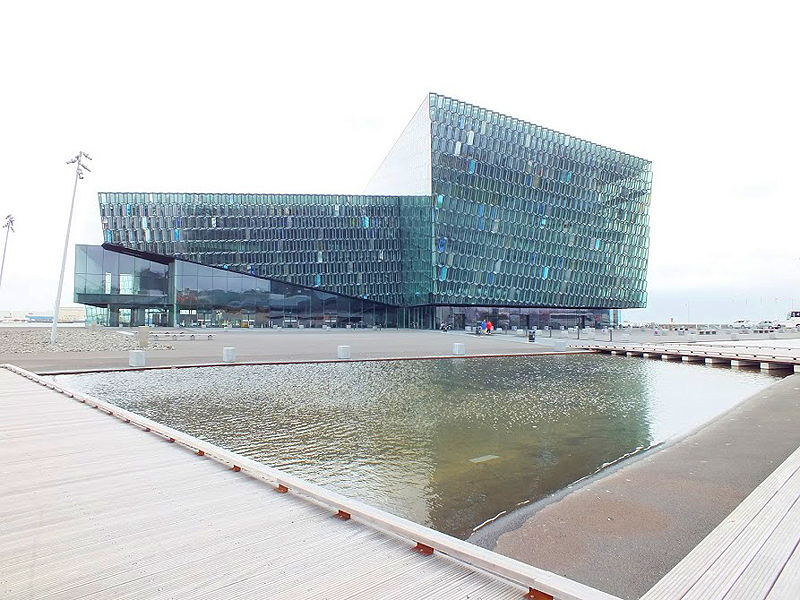 Harpa International Concert Hall and Convention Centre - Reykjavík's equivalent to the Sydney Opera House - albeit a little more multi-purpose - finally gives Icelanders something to sing about on the world stage. Beautifully designed by Danish Architects Henning Larsen - with LED lit Glass Shell designed by Icelandic / Danish artist Ólafur Elíasson (en.harpa.is/)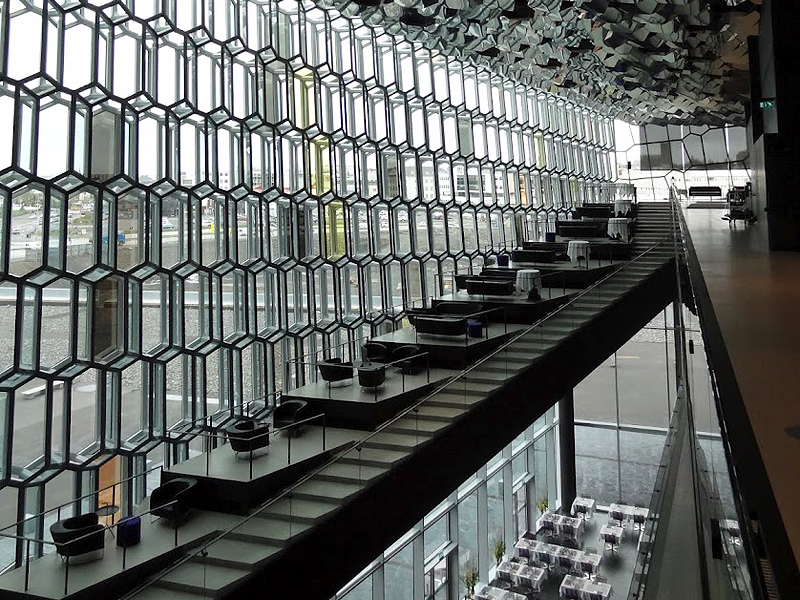 Harpa Interior - hexagonal mirror block on ceiling and shades of black and grey concrete decks - you can really see the clever design of the hexagonal window panes - each of which is lit up by its own LEDs - allowing for really intricate night-time pattern sequencing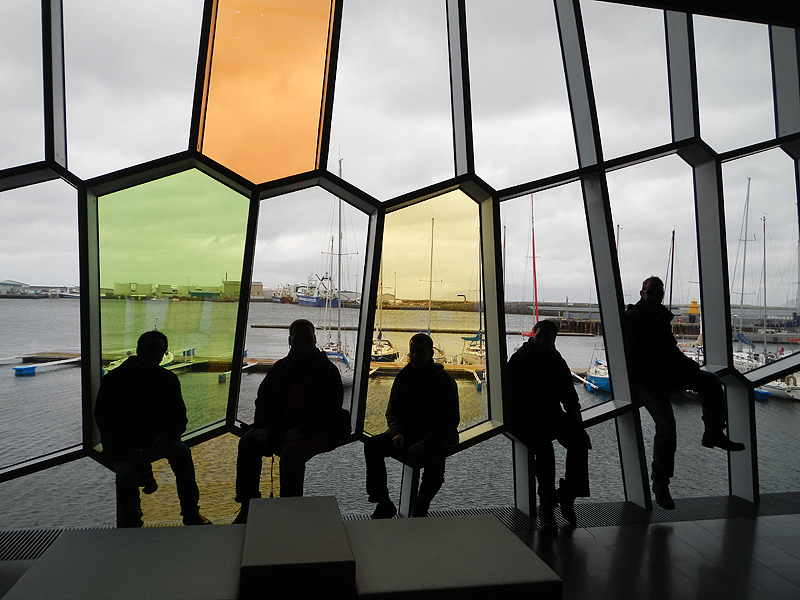 Comrz Team Window Silhouettes - Now somewhat a tradition in Iceland - getting yourself photographed in Harpa's rear-facing windows - all of which have significant steel frames which you can perch on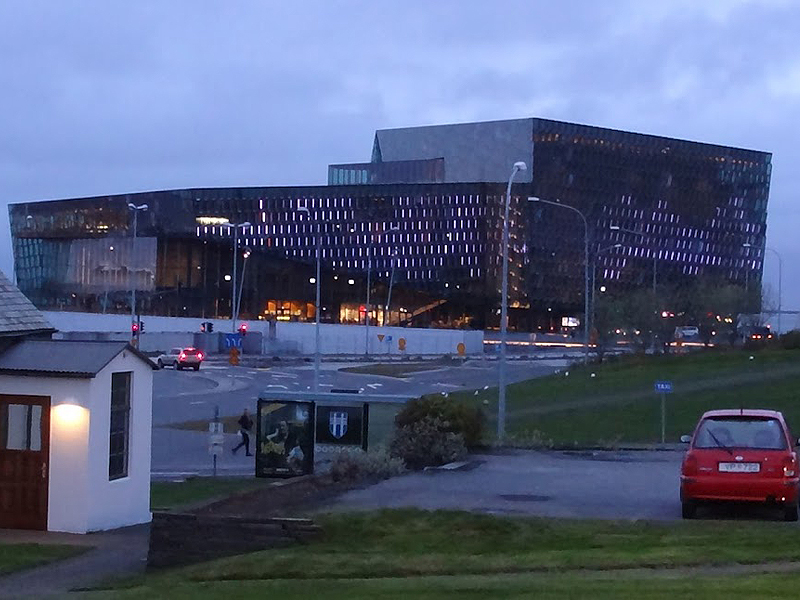 Harpa Illuminated at Night - Not tremendously obvious in Iceland's eternal summer dusk - but night-time Harpa features a variety of interchanging Window Illuminations - by way of independent LEDs in each of the front-facing hexagonal windows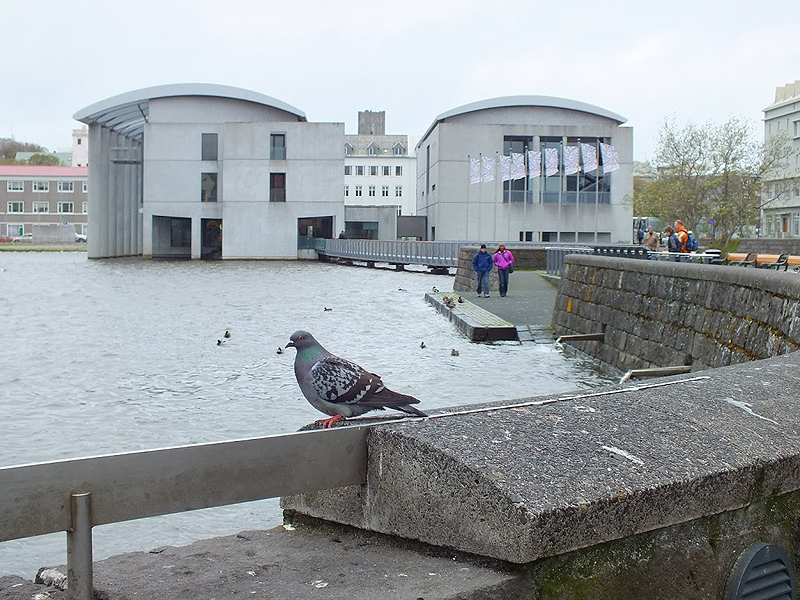 Ráðhús Reykjavíkur City Hall - Minimal security for Icelandic public buildings results in a very informal, free atmosphere - feel free to snap off as many pictures as you like and even settle down with an easel - you won't get some overzealous security guard or policeman chasing you off or trying to confiscate your cameras or paint-brushes (www.nat.is/travelguideeng/plofin_city_hall.htm)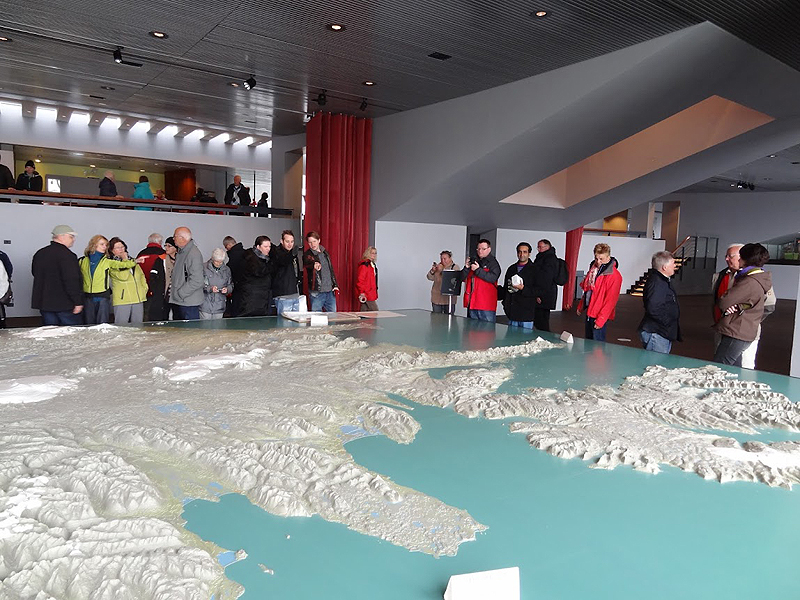 3D Topographical Map of Iceland - The main reason for visiting Ráðhús Reykjavíkur is the excellent 70m2 Scale Relief map of Iceland - which took nearly 20 years to make - every single tiny hill and dip have been accounted for in this incredible diorama - just look at the detail! The City Hall used to have an amazing Patisserie Valerie style cake / tea room, but those days are long gone now - I would direct you to Súfistinn Coffe Shop in M&M Bookshop on Laugavegur - they now have the best cakes! (www.sufistinn.is/)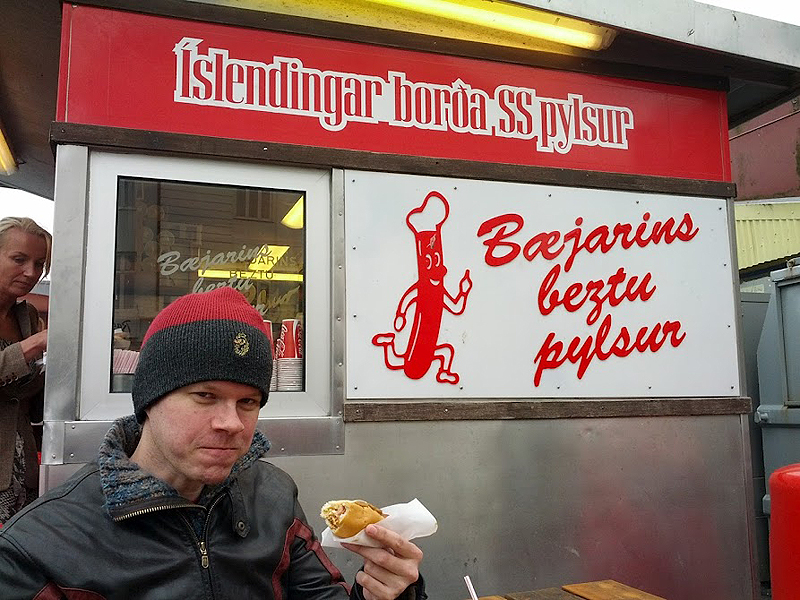 Lunch at Bæjarins Beztu Pylsur - Literally 'The Best Hot Dogs in Town' - Bill Clinton's favourite Hot Dog Stand - We've never tasted finer. I've tried the supposed finest in London - namely 'Big Apple Hot Dogs' - but they really don't compare - in part this is down to the condiments, but also the special stock in which the Hot Dogs are cooked in fact even the taste and texture of the actual Hot Dog. Order 'Tvær með öllu og kók (Tvyre meth ohdlu ogh coke! - two with everything and a coke). Everything means crispy fried and raw onions, ketchup, sweet mustard and remoulade - totally delish! (bbp.is/en/)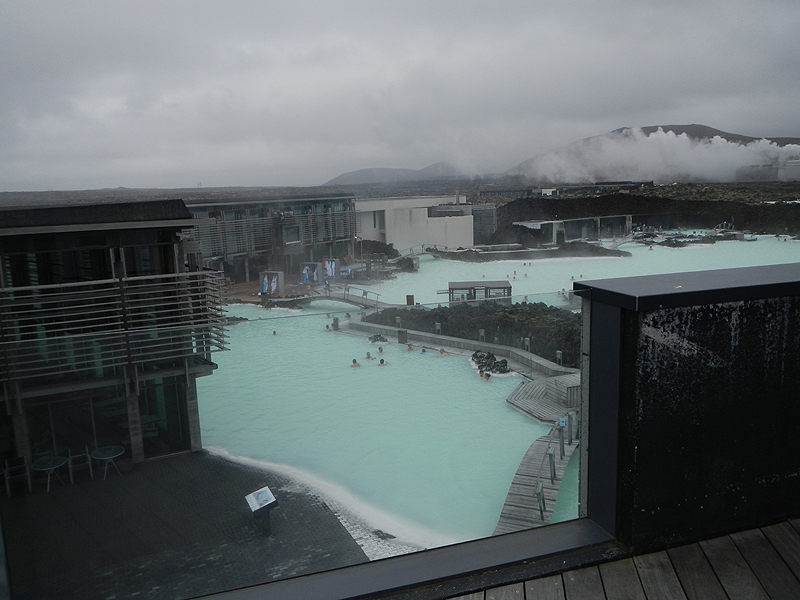 Afternoon at the Blue Lagoon - Iceland's Blue Lagoon - near the town of Grindavík - is one of the world's best loved spas. Created around the run-off from the area's Geo-thermal power station - cold water is pumped into the ground where it hits the super-heated outer-core which is close to Iceland's surface - the cold water is immediately turned to steam which shoots back up to the surface to drive turbines and generate electricity. Once the steam condenses it flows off into a pool - which is how the Blue Lagoon was originally formed. Carried along with the steam are health-giving minerals - which produce a milky white silica mud which does wonders to your skin. A must-visit destination for all visitors to Icleland (www.bluelagoon.com/)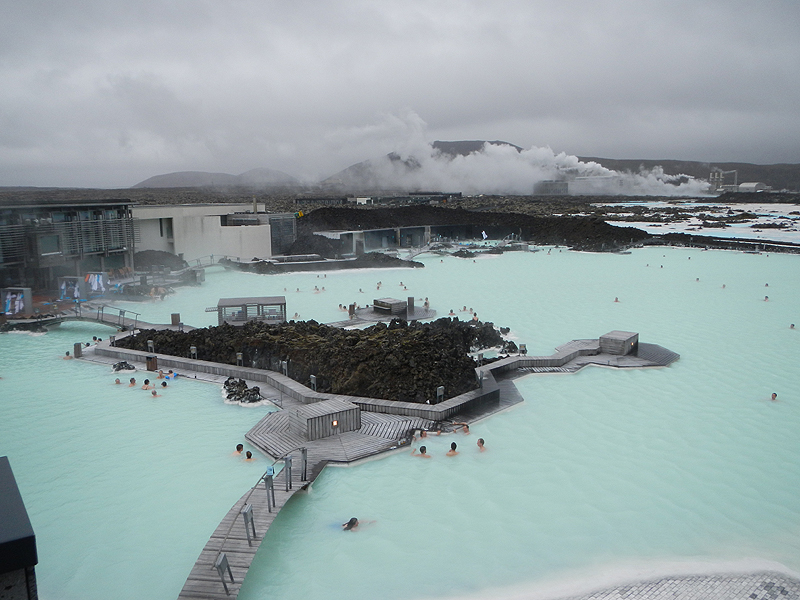 Blue Lagoon Overview - General admission to the Blue Lagoon is around Kr 5.000 or circa £25 - which initially sounds like quite a lot, but then there are loads of self-service treatment areas available. Along the wall leading out from the main pavilion (top right in the pic) you have a number of Steam and Sauna Rooms, along with the shoulder-massage-cascade and silica mud stations - where you apply the white mud sludge to your face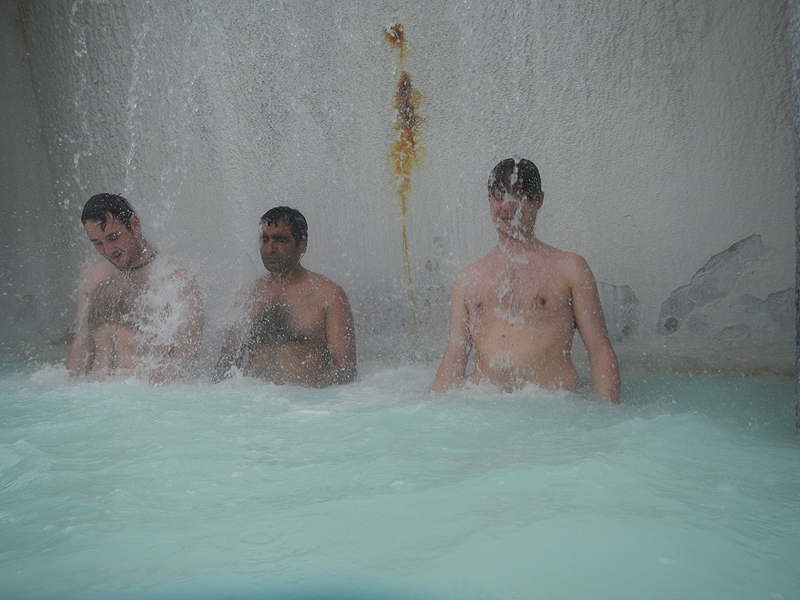 Cascade Shoulder-Massage - A mini waterfall as such cascades over the top of a wall not far from the main pavilion entrances - this is a firm family favourite, particularly with my parents - who spend most of their visit under the thrumming caresses of this water feature - this is circa 100 times more powerful than the massage setting on a typical power-shower- you really feel the benefits here!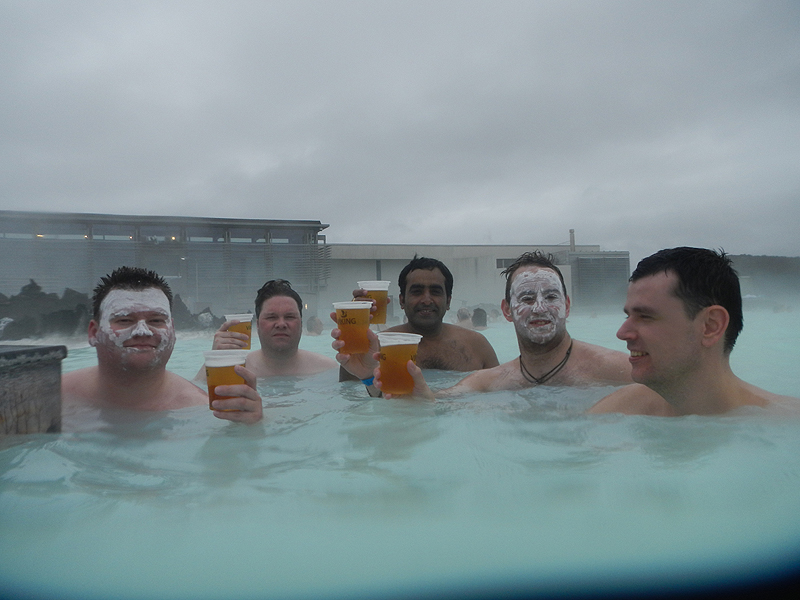 Beers and Facemasks - One of the best things about the Blue Lagoon is the pool bar - and the tag payment system which allows you to order snacks, beers, wine and cocktails. You need to leave the white silica mud on your face for circa 15-20 minutes for maximum baby-soft impact. We recommend you clean off the facemask before you drink your beer - otherwise it can be awkward, but then anything goes really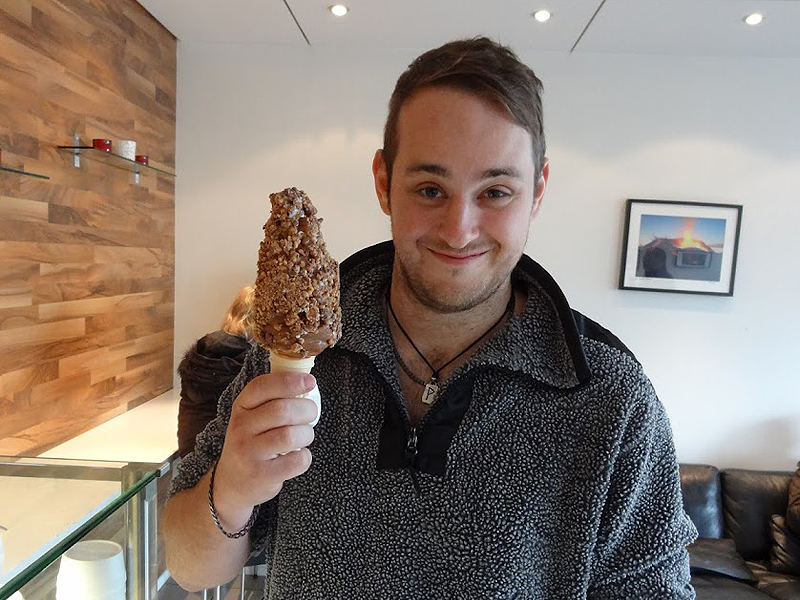 Soft Ice Cream at Ísbúð Vesturbæjar - Best Soft Ice Cream in town - Americans are familiar with Dairy Queen style ice cream parlours and the UK is just starting to get the feel for SBlended shakes and sundaes. Icelandic ice cream culture though has been totally entrenched for decades and is fully a year-round-thing. You can always spot Icelanders by how they can eat Ice Cream in the height of winter - where others would be reaching for a mug of hot chocolate. You obviously get a choice of flavours and varieties, but then you coat the icecream in a luxury dip - which hardens to a crisp shell - you then stack on all kinds of toppings. Alternatively you can make shakes and blended sundaes - which whisk together all manner of tasty treats. Chris is here sporting a 'regular' sized confection with luxury dip! (www.facebook.com/isbudv)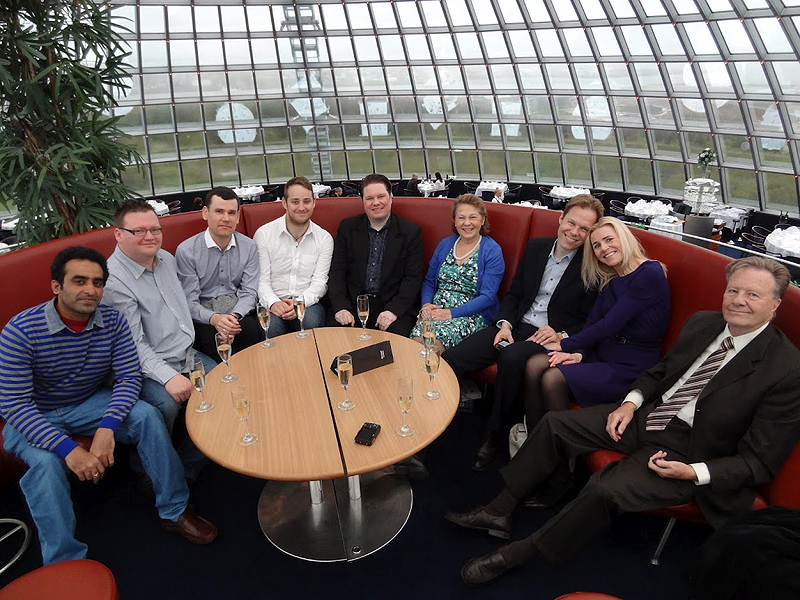 Dinner at the Pearl - My favourite restaurant experience - a rotating glass dome perched upon the city's hot water supply tanks. Superb views, great atmosphere and great cuisine. The family always starts at the pinnacle piano bar with a champagne aperitif. On this occasion we were treated to lovely Perrier-Jouët Belle Epoque. We were joined by our parents Jón and Eileen, brother Pétur and his partner Elva and brother Kalli - who missed the early photos! (perlan.is/index.php?lang=en)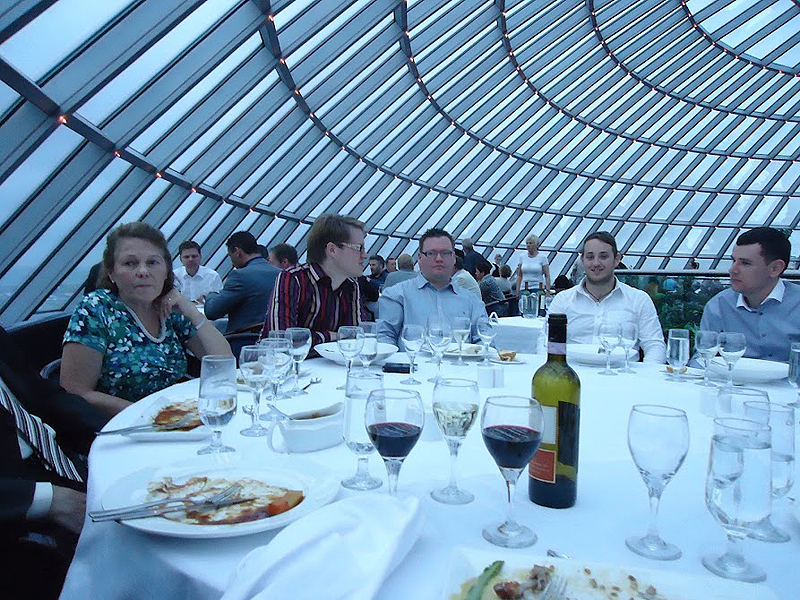 360 Degree Views - The Pearl restaurant floor (outer rim really) makes one revolution every 2 hours - giving you full view of the Reykjavík bay, airport, city and suburbs. If you've had a few glasses it can occasionally be disorienting navigating to and from the toilets - the location of which obviously changes throughout. Food-wise we were treated to a couple of chef's treats - I remember a wonderful champagne sorbet confection before the main course, but I have unwittingly forgotten what the first starter treat was - most had a series of fish dishes, I myself selected Scallops, Beef Tenderloin for main and a White / Dark Chocolate Mousse and Raspberry Sorbet confection for dessert - all excellent. Service was quick and efficient too, in times past service could be a little slow, but they seem to have been on-point for a while now, pricey but kind of worth it!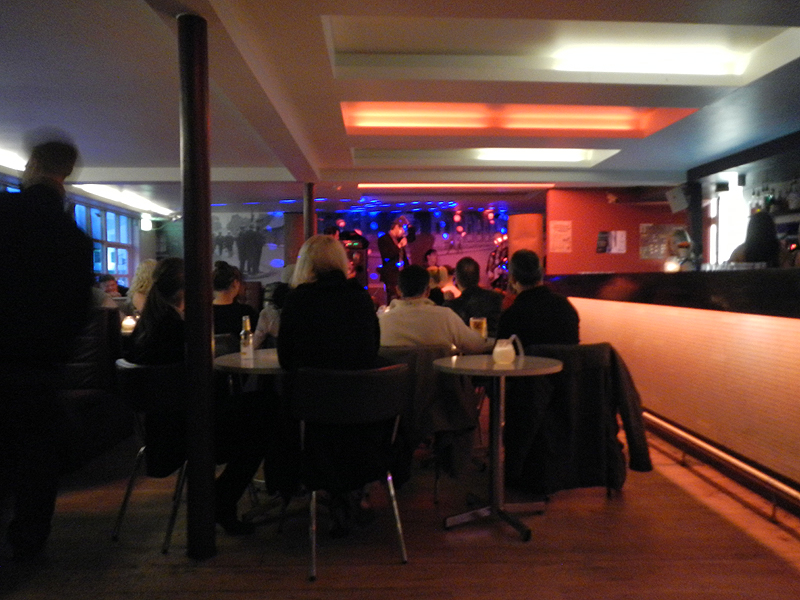 Friday Night Down Town - Only two days in and we were already quite exhausted - we threaded the usual haunts - no room at the inn at 101 Bar, but everywhere else was not yet up and running really (Big Lebowksi, B5 etc.) as this was before midnight, and Reykjavík only really gets going after 02:00 AM. By chance we popped in to Hressó (Hressingarskálinn - hresso.is/) and caught an amazing live band - who really mixed up the genres and performed amazingly throughout - we stayed until the end of their set.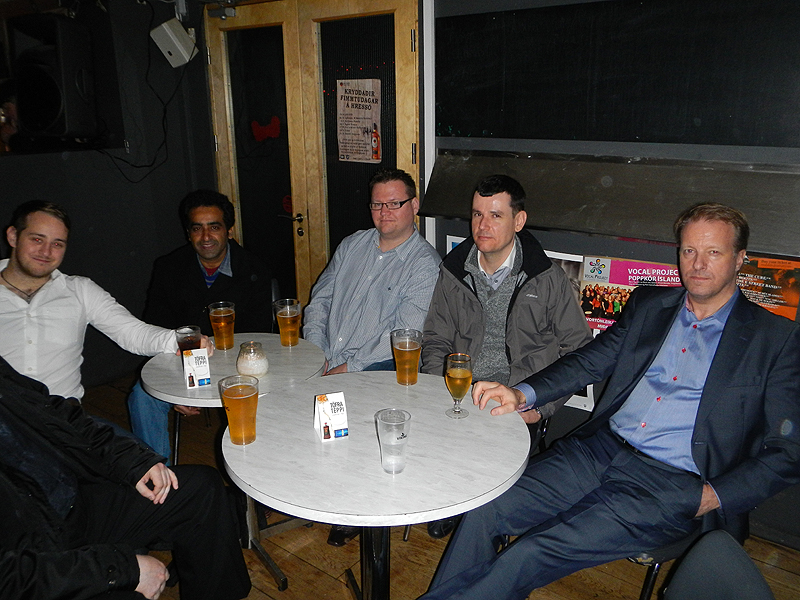 Beers at Hressó - Kalli led the short foray into town - which apart from the initial hitch at Bar 101 was genuinely enjoyable - there was the usual dithering and uncertainty, but the fortuitous happening upon the live music venue more than made up for it. We had beers all round - 'Viking' this time, same as at the Blue Lagoon, OK-ish but noway near as good as 'Egils Gull'. Chris surprised us all with a shot bomb - those things usually taste disgusting, but 'Magic Carpet' - a shot of Amaretto into a glass of Magic energy drink tasted rather lovely really. Shame you cannot get 'Magic' in the UK - could be a new favourite otherwise.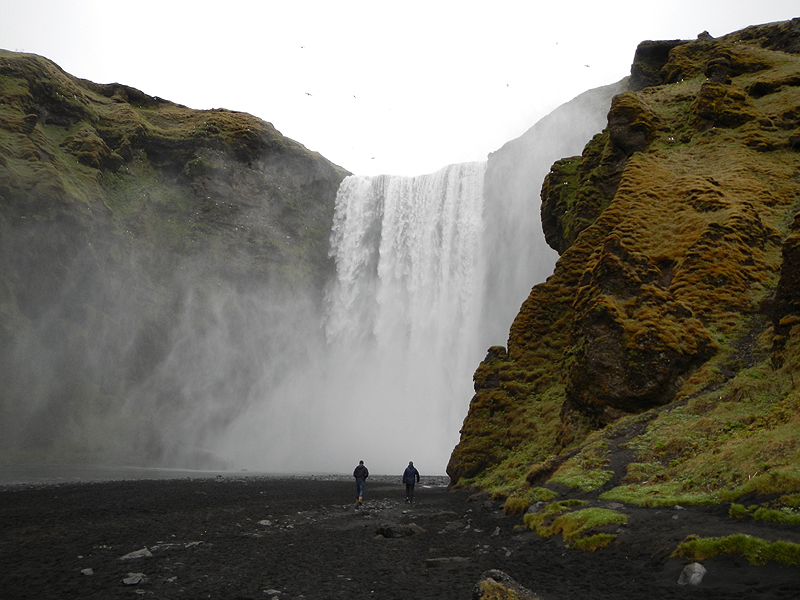 Skógafoss Waterfall South Iceland - One of Iceland's premier waterfalls - as featured in a thousand pop videos - also marks the start to one of Iceland's best walks 'Fimmvörðuháls' (Five Cairns Pass)- up towards and around where the recent volcanic eruptions happened at Eyjafjallajökull and Mýrdalsjökull - a good day's walking with amazing scenery and several more waterfalls along the way. (www.icelandvirtualtour.com/skogafoss-waterfall.html)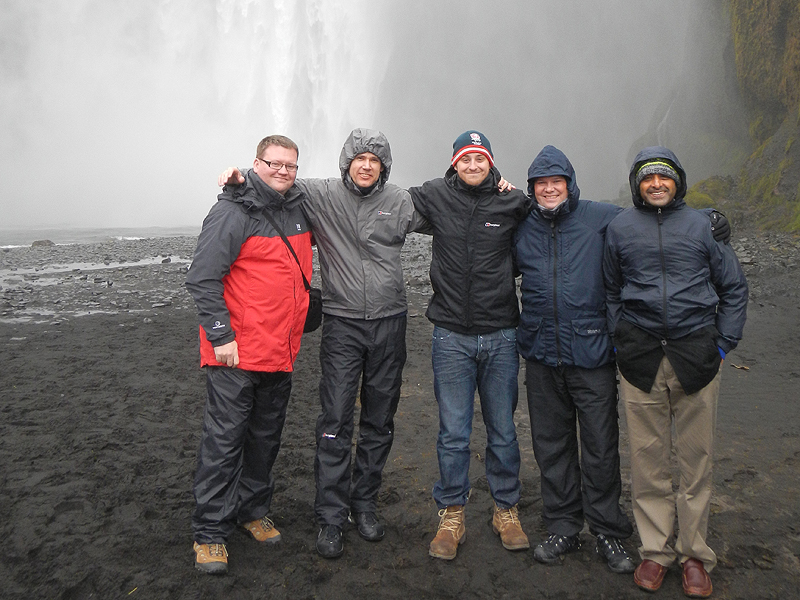 No Way to get behind the Waterfall - Markus misunderstood some instructions and was convinced you could walk around the back of the waterfall - in the resulting investigations Markus, Chris and I got a lot more soaked than we needed to and NO there is no way to get round behind the waterfall without getting submerged - there's supposedly hidden treasure somewhere in there!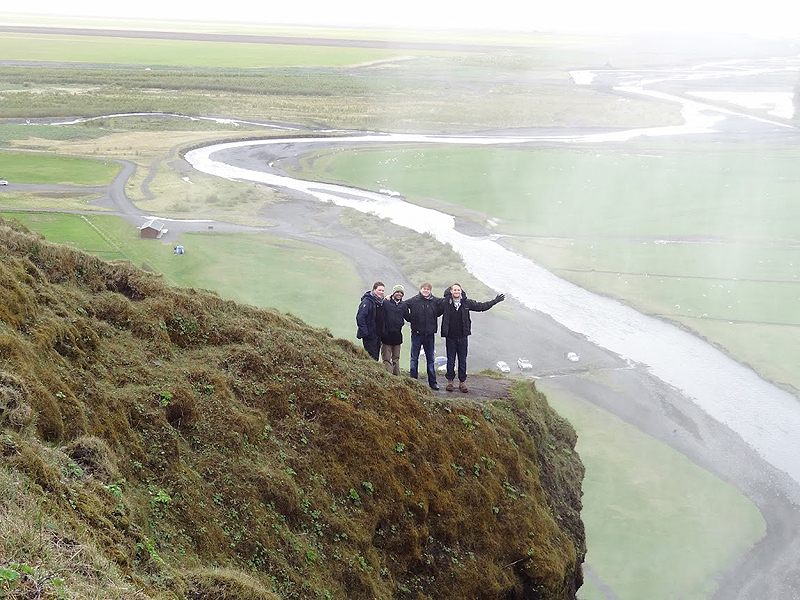 Up on a Ledge overlooking Falls - Being proper Icelanders we stepped over the tourist guide ropes to get right on the ledge overlooking the falls off to the right! In the rain, this was especially treacherous - we would not recommend it to everyone - as with Gullfoss, it's very easy to fall of the edge here - great views though!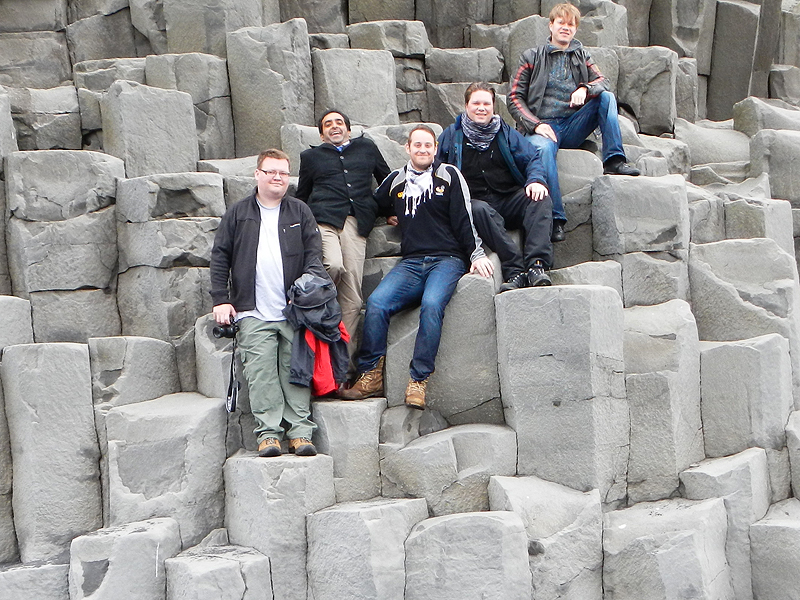 Basalt Column formations on Reynishverfi Beach - Many are familiar with the 'Giant's Causeway' in Ireland, and this is a similar structure found quite frequently in Iceland - where volcanic extrusive basalt rock is rapidly cooled - in this case by sea water. Perfect for a photo-opportunity (www.dreamingiceland.com/visit-to-vik-and-to-reynishverfi-beach.html)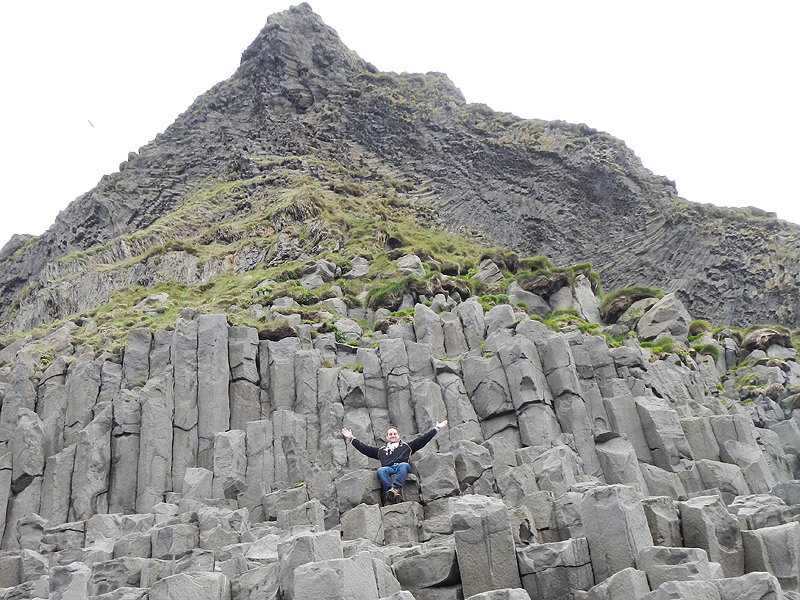 Chris is King of the Mountain - Chris just had to climb up the mountain! I have too many responsibilities these days to even harbour the thought, mind you - Iceland is not a bad country to be treated for broken arms and legs. Chris came off the mountain quite unscathed - of course anything can happen - so be careful!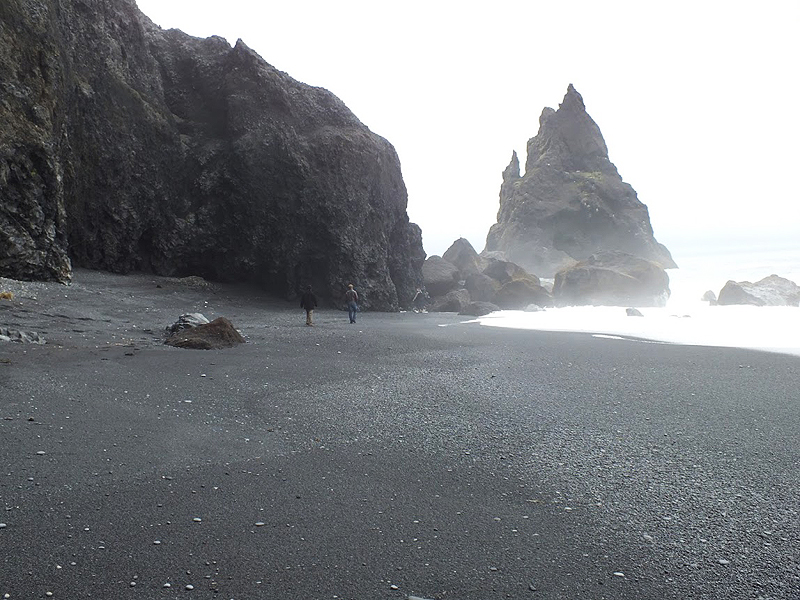 Reynisdrangar off to left of Beach - Weathered Columnar Basalt Stacks out in the sea - Legend says that the stacks originated when two trolls dragged a three-masted ship to land unsuccessfully and when daylight broke they became needles of rock (www.icelandvirtualtour.com/vik-reynisdrangar-beach.html)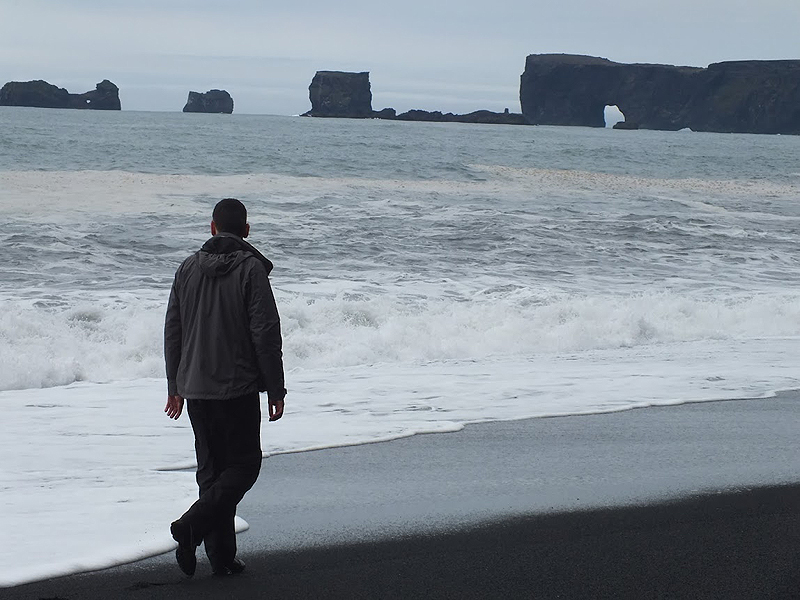 Dyrhólaey off to right of Beach - Similar to Durdle Door in Dorset, England, but obviously composed of Basalt rather than Limestone - Dyrhólaey means 'Door Hill Island' but was known to British sailors / fishermen as Cape Portland (British fishermen were common around Iceland before Iceland's Fishing limits were invoked) (www.dyrholaey.com/default.asp?page_id=5373)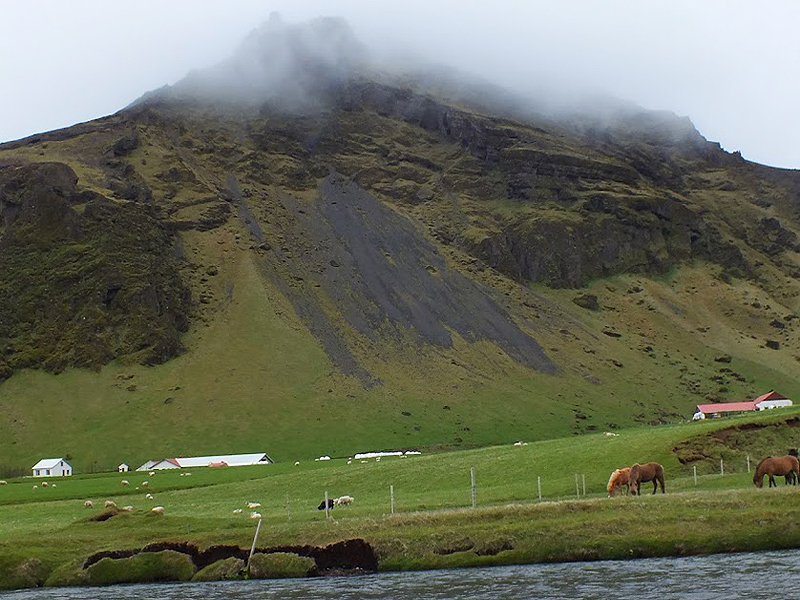 Typical Icelandic Farmstead - As you drive around the coast you will see a lot of white / cream buildings with red roofs farmsteads sitting at the foot of one mountain or another - several mountains along the south coast are of course volcanic - which of course led to some amazing pictures during the Eyjafjallajökull eruption. These farmsteads are shielded from some of the worst weather, but can be prone to rock-slides and avalanches in winter!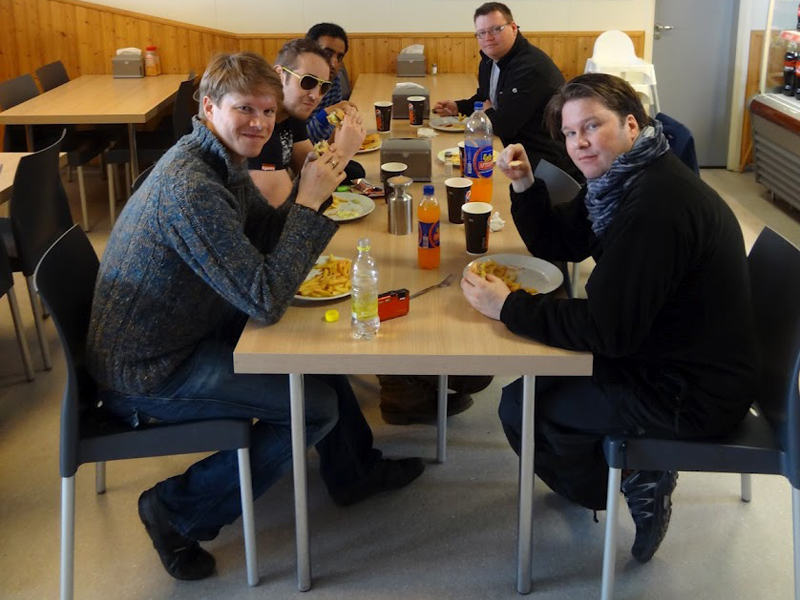 Lunch at Kirkjubæjarklaustur Diner - The last but one stop-off before Jökulsárlón (Skaftafell is the other one) - kind of out there on its own amongst South-Iceland's black sand deserts. Kirkjubæjarklaustur translates roughly as 'Church Town Abbey' - the seat of a Christian mission back in the early days of Iceland's foundling Christianity (around 1000 AD) (www.klaustur.is/Ferdathjonusta/English/Interesting_places/Kirkjubaejarklaustur)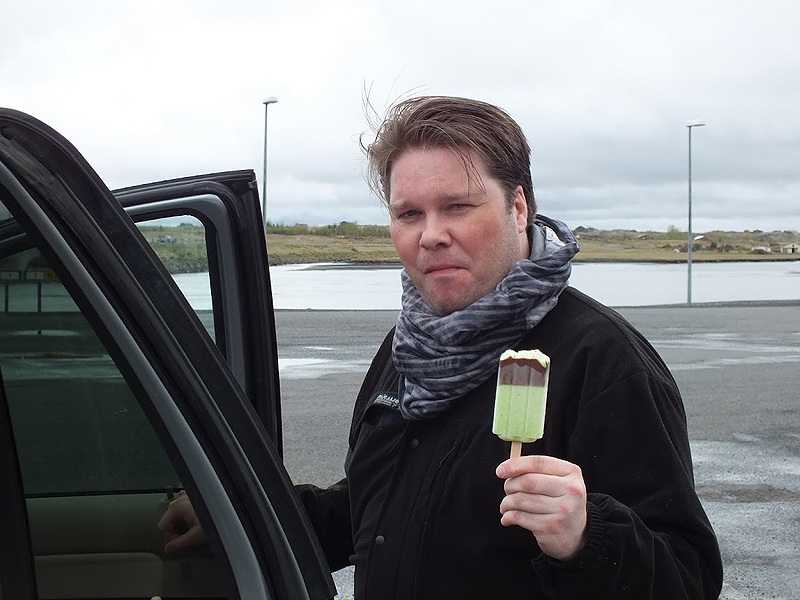 Grænn Hlunkur Green Ice Lolly - Another Icelandic confectionary / ice speciality - chocolate dipped ice lollies in all colours, the green ones started off as being lime at some stage, but are now a wonderful flavour of their own - somewhere between Water Melon and Lime - another experience that is unique to Iceland - totally artificial, but somehow highly satisfying! (www.kjoris.is/2011/02/gr%C3%A6nn-hlunkur/)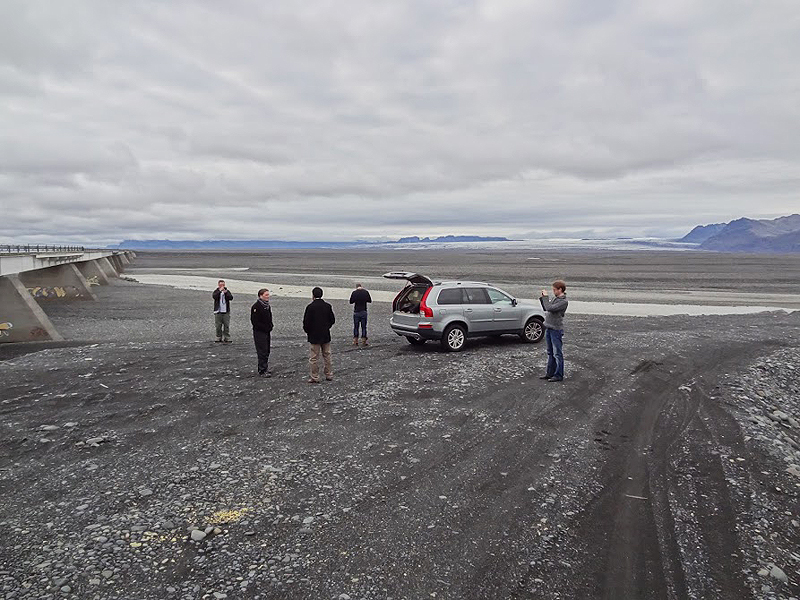 Stop at Iceland's longest bridge - There's an enormous black sand flood plain 'Sprengisandur' - which is a desert for the most part - except when we have serious volcanic activity under the main Vatnajökull Glacier and the flood plain becomes overflowing with torrential water. This vast expanse is bridged by 3 significant single-lane bridges - with the one furthest to the east being the largest - you can see the glacier in the background of the photo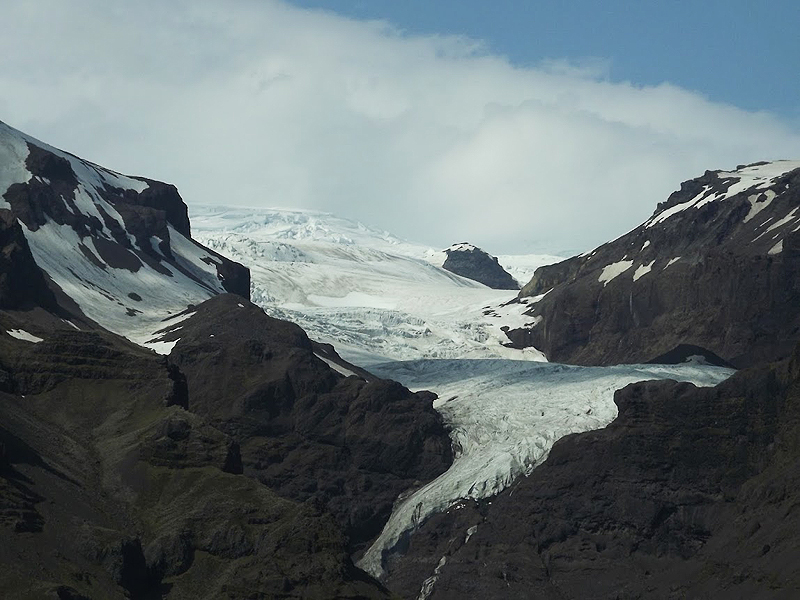 Vatnajökull Glacier creeping towards the coast - There's a few places where the main glacier comes very close to the road, most obviously at Jökulsárlón (q.v.) but also near Skaftafell as in the above picture. Don't though be fooled by the optical illusion - the glacier often looks a lot closer than it is - because of its vast size. We kids once were determined to walk up on the glacier from the road - it looked quite close, but took several hours of brisk walking - and when we came close enough, we totally forgot about the melt-water river which got in the way of further progress!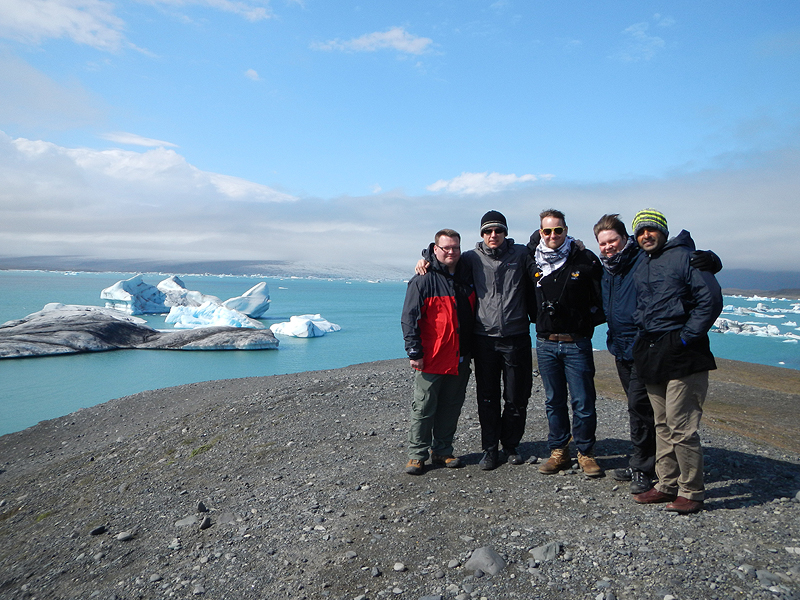 Jökulsárlón Glacial River Lagoon - The point of the Vatnajökull Glacier where it is melting / breaking away most rapidly. In times past the lagoon was filled with ice floes - almost right to the sea, whilst now it is largely empty. The icebergs that currently populate the lagoon are made of circa 1500 year old ice - certainly the oldest thing I've tasted (icelagoon.com/)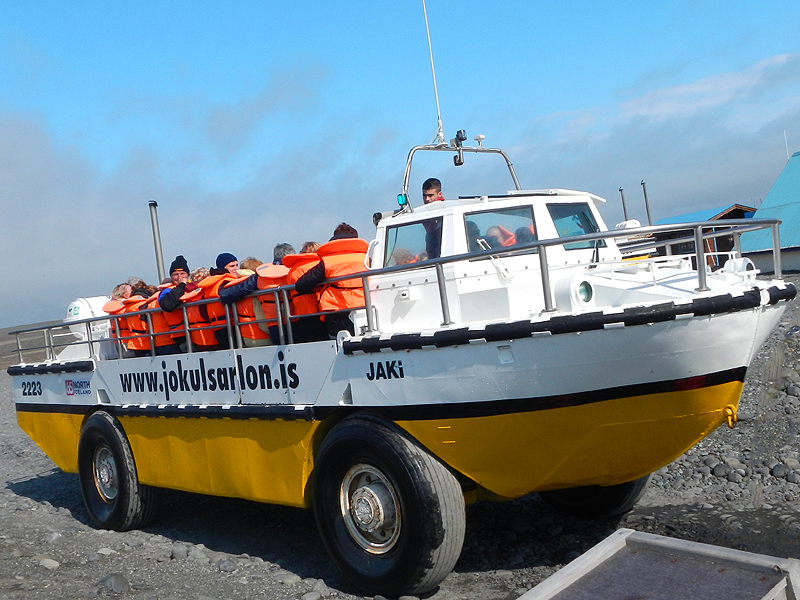 Jökulsárlón Amphibious Boat - Everyone who comes to the lagoon should do the boat tour - it only takes around 30 minutes or so - this is where they filmed 2 James Bond films - 1985's View to a Kill and 2002's Die Another Day - also Batman Begins and Tomb Raider. The lagoon is normally a mix of sea water and fresh melt water from the glacier - for Die Another Day they blocked off the sea-end so that the whole surface would freeze over (sea water has a much lower freezing temperature). (www.rikivatnajokuls.is/icelagoon/en)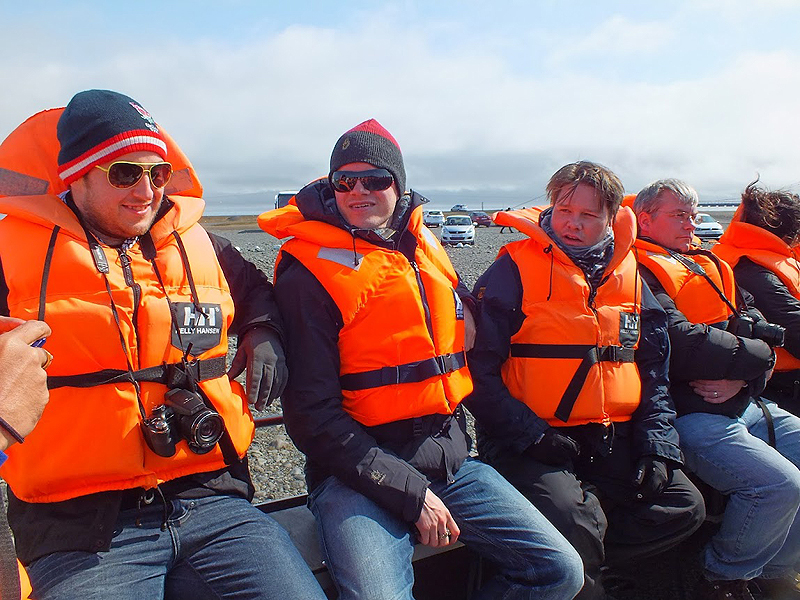 All Aboard! - We all had do don luminous life jackets - Markus's newer type lacked a whistle! The price of progress indeed! We were made to sit for take off and landing - i.e. when the boat entered and exited the water, otherwise we were allowed to roam free - boat was amazingly stable and did not rock when scores of people moved from one side to the other - just as well, as the water is regularly only a few degrees warm, and is 250 meters deep at the deepest point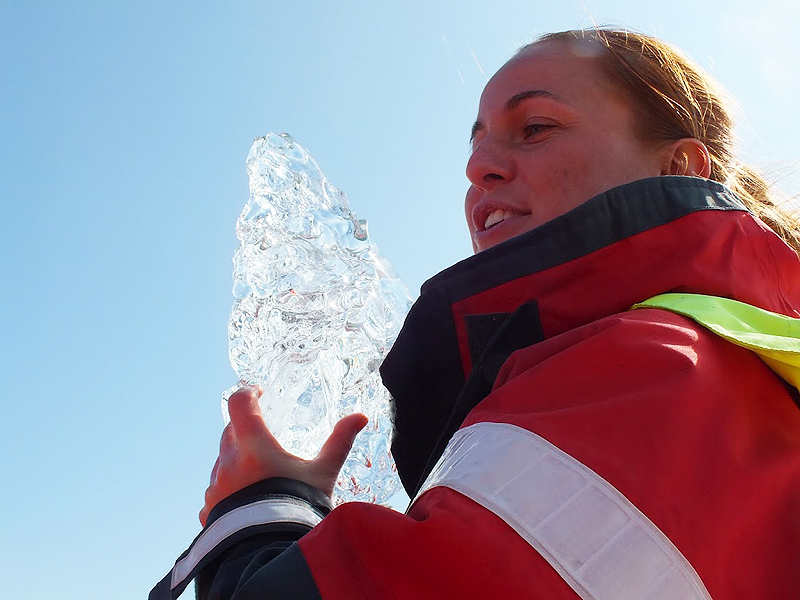 1500 Year Old Ice - Our lovely boat tour guide introduces us to 1500 year old ice - freshly retrieved from the lagoon. Due to the weight and force of the glacier, this ice is 5 times denser than normal ice and takes a lot longer to melt. The ice was hacked into small pieces for sampling - it tasted wonderfully clear and pure to me, with barely traces of minerality. Markus though was able to taste something 'funny' in the ice, no wonder he often has issues in restaurants!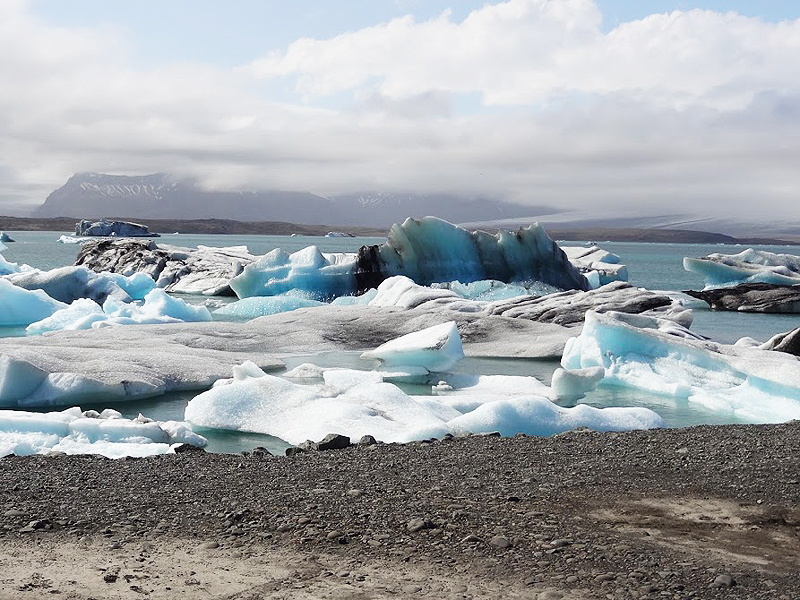 View over densest part of ice floes - Like I said earlier, the lagoon is now really quite empty, there are obvious clusters of icebergs though - the ice appears blue as pure ice absorbs all the other colours of the spectrum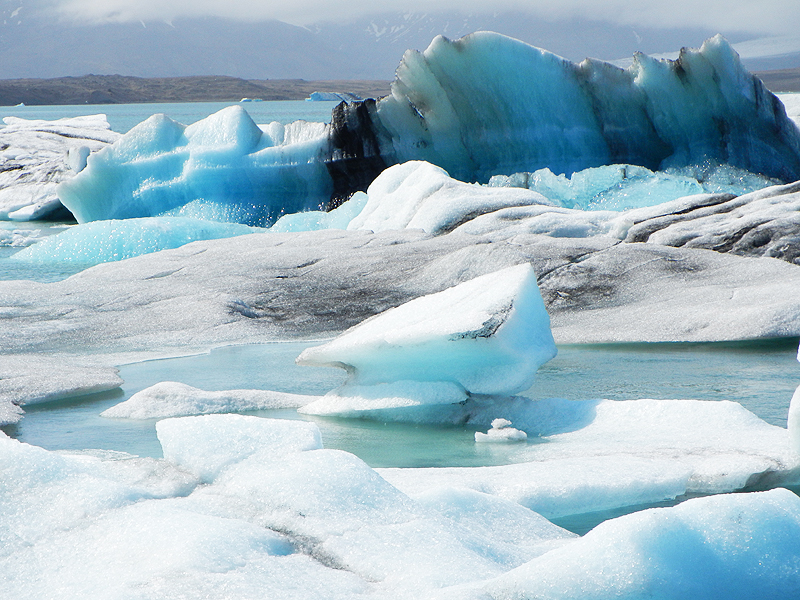 Close up on ice floe - Even in a cluster of ice bergs there is amazing variation in pattern and hue. The black streaks are a mixture of volcanic sand and ash - the layers of which help date the ice back to a particular year of eruption!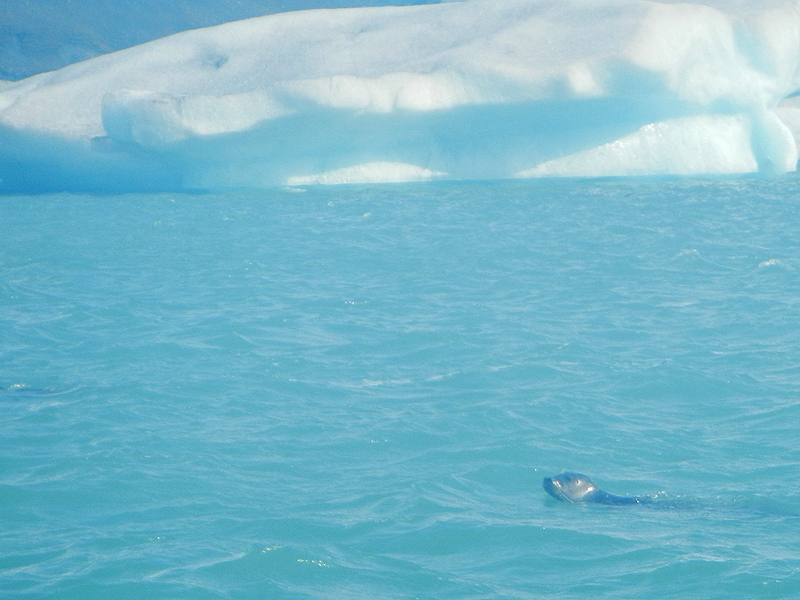 Colony of Seals - There is a colony of circa 200 seals which are pretty much permanent residents of the lagoon. They feed on various fish types and shellfish - including salmon. They're a relatively rare sight though, as this is the first time I've seen them in about 10 visits. We must have seen about a dozen - who played it up for the cameras - although they kind of kept their distance too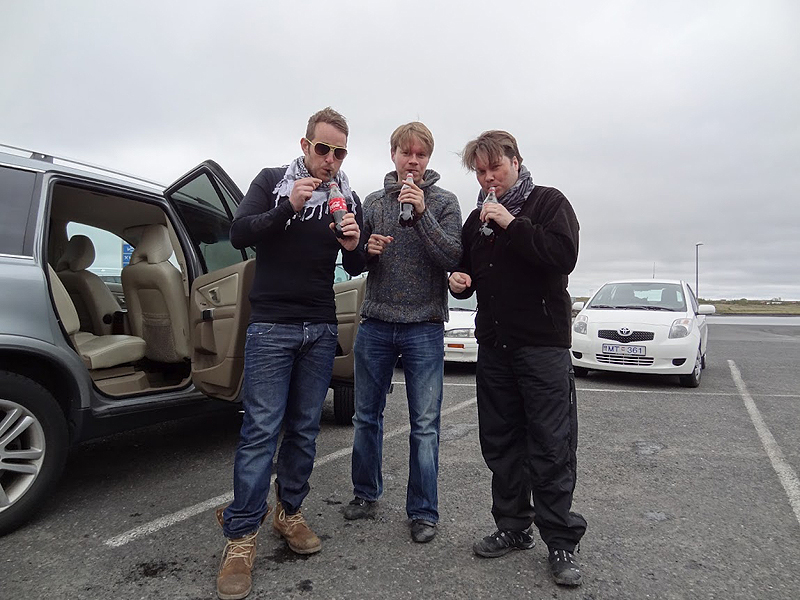 Coke + Liquorice Straws - A throwback to our childhood days, where kids would buy Coke + Prins Polo + Liquorice Straws as the treat of choice. You need to be very careful though as the liquorice causes the coke to fizz up - a novel experience for most nevertheless - we did not get to the Prins Polos on this trip either - one for next time. We stopped again at Kirkjubæjarklaustur on the way back for refuelling and ice creams. We were supposed to be going to dinner at fantastic Hot and Cold Gourmet Buffet restaurant Nítjánda (www.nitjanda.is/) - but after the epic day's journey we were running very late, and did not really fancy a slap up meal as we'd eaten plenty anyway - so we went off to the cinema instead to watch 'The Dictator' which we all enjoyed - especially as we could experience freshly-made-on-the-premises popcorn - which is all but extinct in the UK! The following morning we were up early for the return journey to Luton - it's been a while since I travelled through Luton, and it's definitely not one of my favourite airports - passport check here is a shambles! Everyone was very happy with the trip though, we could not have squeezed more in!