May The 4th Be With You! - Happy Star Wars Day 2018
04 May 2018
12:38 AM

Stefan Karlsson
Ashiguru
Han Solo
Kessel Run
Lego Star Wars
May the 4th
May the 4th be with you
Star Wars
Star Wars Day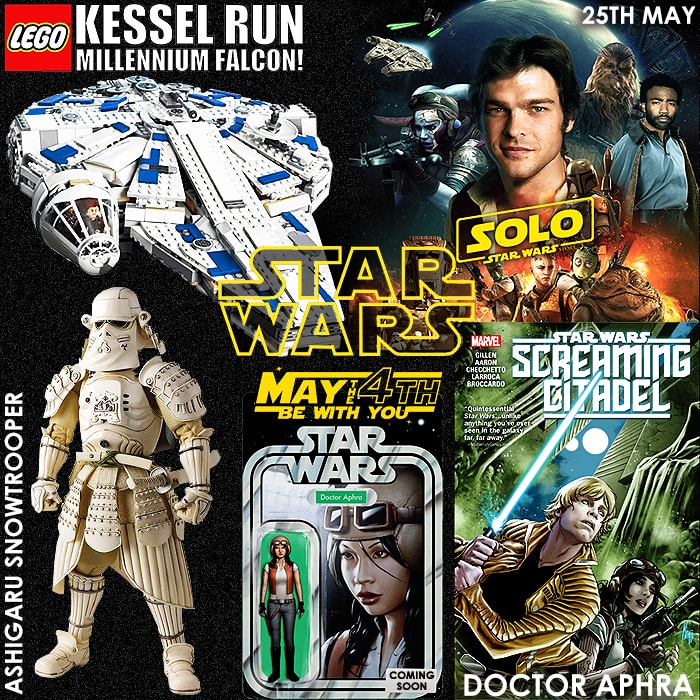 May is going to be a bumper Star Wars month chiefly for the release of the Han Solo origin film which hits cinemas on the 25th - one for 4DX for sure. As well as the obligatory Cinema Kessel Run, Lego has also been busy of late with several enticing Star Wars sets - including the slightly fresher Millennium Falcon from the aforementioned film. It has several pop-up panels which expose lots of lovely interior details.
Also featured in the above visual is the forthcoming Ashigaru Snowtrooper Figure (ETA October), which is one of several Star Wars figures in the Japanese Shogun style. We've seen Imperial Guard. Darth Vader and various Stormtroopers before, and this collection continues to hold appeal. I will probably just get one of these, and the Snowtrooper looks pretty cool.
Finally we have my fairly recent, but firm favourite Star Wars newbie character - the devious and manipulative 'Tomb Raider in Space' - Doctor Aphra, who is accompanied by a pair of psychotic droids. Best story arc to date is the fairly recent 'Screaming Citadel', but anything with Aphra in it makes for decent reading.
I will likely be combining Star Wars day with Free Comic Books Day - doing my rounds on Saturday through the 3 Central London Comic Book emporiums - Orbital, Forbidden Planet and Gosh! Obviously Forbidden Planet is the one for all the Star Wars Merch - you could easily spend a day or at least half a day in that store alone...
Feel the Force! & Share the Love.