Affino
Affino 7
Affino DEs
Affino Design
Affino Design Centre
Affino Design Elements
Affino Design Objects
Affino Panels
Button DE
Comrz
Comrz Design
Design Cetre
design elements
design objects
Panel Elements
Panels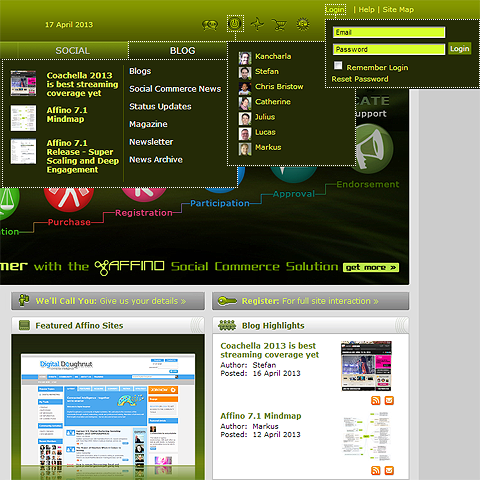 My favourite introduction in the Affino 7.1 release is something I have been campaigning after for a while - Panel Design Elements.
The versatility and utility of Panels in Affino is really quite remarkable, as you can combine any of Affino's 80+ Design Elements into a separate Design Object - which can pop-up from any Button DE.
Several sites already have made use of a Login DE as a Panel on a login button - as you can also see top right on this site. In fact the top ...
Affino
Affino 7
Affino Design Centre
Affino Design Objects
Cell Padding
Comrz
design centre
Design Element
design objects
DIY Site Implementatiion
Smart Save
website design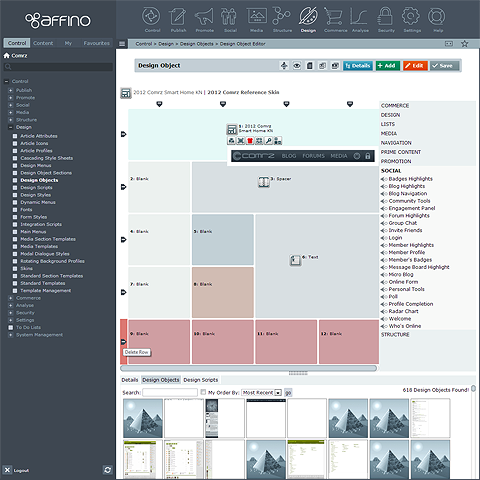 Since it's introduction in Affino in 2002, Design Centre has continued to blaze a trail of innovation for DIY site implementation. The only downside what that it was Flash based and therefore a technological dead end.
In Affino 7 the Design Centre has had to be re-written from the ground up, keeping all the elements which made it great and improving on it futher. The move to HTML 5 for the Object Designer means much more solid Design Object / Skin generation. Affino 7 has also ...