The incredible utility of Affino Panels
17 April 2013
11:48 AM

Stefan Karlsson
Affino
Affino 7
Affino DEs
Affino Design
Affino Design Centre
Affino Design Elements
Affino Design Objects
Affino Panels
Button DE
Comrz
Comrz Design
Design Cetre
design elements
design objects
Panel Elements
Panels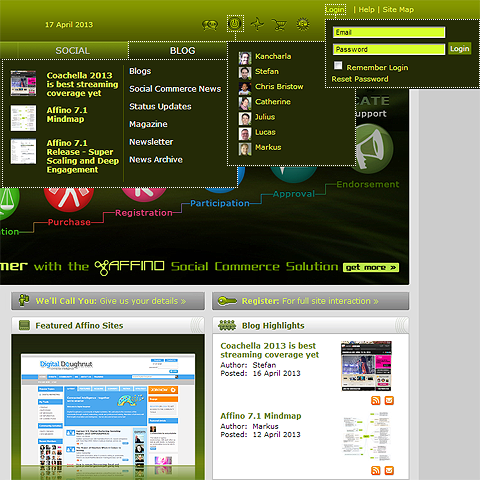 My favourite introduction in the Affino 7.1 release is something I have been campaigning after for a while - Panel Design Elements.
The versatility and utility of Panels in Affino is really quite remarkable, as you can combine any of Affino's 80+ Design Elements into a separate Design Object - which can pop-up from any Button DE.
Several sites already have made use of a Login DE as a Panel on a login button - as you can also see top right on this site. In fact the top right corner of the Comrz site is quite heavy with Panel elements. Apart from the Login, we have Forum Highlights on the small Forums icon button, Team Time Who's Online on the Team Time button, Article Listing DE on the Rated button, What's New DE on the 'New' button, and a combination of Article Listing and further Button DEs on the 'BLOG' button. 3 of the mentioned Panels are illustrated above.
The beauty of the Panels is that they can provide users with quick and concise information in a rapid, easily-accessible manner, and which can take up hardly any of your page real-estate.
I'm sure we will see some very clever implementations of panels in the forthcoming months; hopefully you will like the new innovations forthcoming in the new Comrz.com site design which is due to start implementation soon ...