Trade Show Survival Guide - Staying Refreshed and Mitigating Against Potential Mini Disasters
07 October 2019
9:58 PM

Stefan Karlsson
Events Management Platform
Live Events
Resource
Trade Show Survival
Trade Show Tools
Trade Show Tricks
trade shows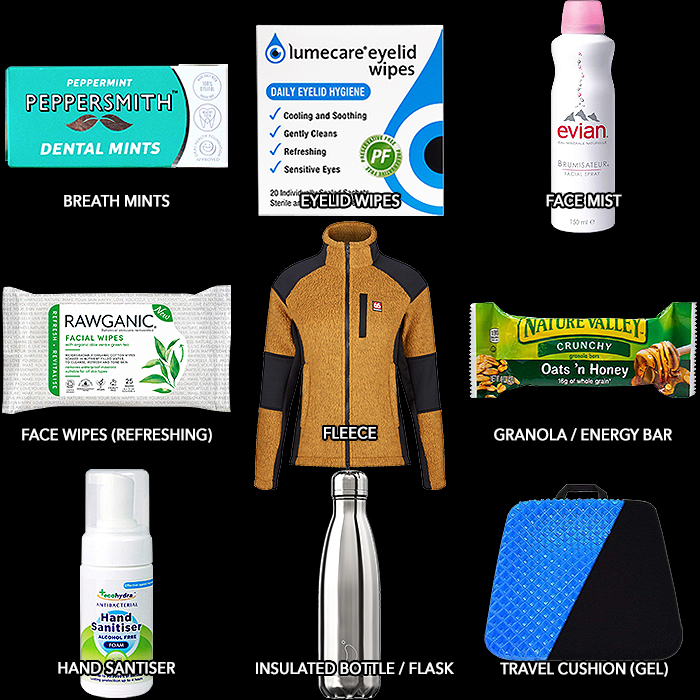 This feature was inspired by a few conversations I had at the recent Islington / London UK Guitar Show where I encountered a number of exhibitors throughout the day in varying states of repair and alertness. It recalled my advertising agency days where and when I attended numerous trade shows for extended periods - including also some more recent events escapades.
It brought to mind various 'tricks' and 'tools' I made use of throughout those days to solve and mitigate likely eventualities and to keep me alert and refreshed throughout the duration. Some of these following items are more modern evolutions and alternatives to what I had available to me back in the day - yet all of these are valid in one way or another - as I will endeavour to explain below.
I've split out some featured items into the 9 grid squares above which I've decided to list first, and then followed on with a few additional extras. The first part roughly covers trade show attendance for both exhibitors and visitors, while the latter half is intended for exhibitors and persons manning the booths / stands.
Most people should be fully aware that Trade Shows like frequent airline travel are dehydrating events - to a degree brought on by air-conditioning - so a lot of residual issues can be caused by that.
---
Breath Mints : Peppersmith Xylitol Peppermints
It stands to reason if you're going to be doing lots of face-to-face work that your breathing apparatus remain relatively fresh and fragrant. There are of course lots of options in this area, while my absolute favourite candidate here is Peppersmith's Peppermint Dental Mints made from 100% Xylitol and approved by dentists worldwide and the Oral Health Foundation. Xylitol has been proven to boost dental health and prevent tooth decay to a degree - which is why it comes highly recommended.
---
Eyelid Wipes : Lumecare Eyelid Wipes
Another personal favourite here - these are essentially hypoallergenic refreshing eyelid wipes - great for tired eyes and removing grit or other airborne micro-pollutants - pollen etc.. Instructions say not to use with contact lenses, while I've used this product for years while wearing hydrophilic lenses and not suffered any ill effects - I think they're fine as long as you deploy with caution and keep to the exterior of the eyelids. Another alternative here but for slightly different purposes is Optrex's Actimist Eyelid Spray for Tired and Irritable eyes. You may need both of these in combination on some occasions - while I tend to prefer the Lumecare wipes and use the Actimist far less frequently.
---
Face Mist : Evian Brumisateur Facial Spray
This is a godsend during summer months in particular - when you are feeling a touch tired and drowsy this can feel like a pseudo refreshing shower for me - I often use proper showers to wake me up in the morning; and at a trade show - long periods of standing around can make you slightly soporific - to which the best solution is a quick spray of the Evian followed by a caffeinated drink (as below).
---
Face Wipes (Refreshing) : Rawganic Refreshing Facial Wipes, Fragrance-free Biodegradable Organic Cotton Wipes with Aloe Vera and Green Tea
This is another refresher element usually deployed to remove perspiration and grime - and can be done as a two-step ahead of the Evian Face Mist - those Trade Show halls and loading docks in particular can be quite dusty and grimy environments.
---
Fleece : 66°North Tindur Technical Shearling Jacket
Spending a whole day or more at a trade show exposes you to varying temperatures throughout the duration and it's always cooler in the loading docks particularly early in the morning and possibly even later in the day / at night - so it's useful to have layers with you that you can throw on or off appropriately. My absolute favourite 3-pocket Technical Fleece is the 66°North Tindur (faux-) Shearling (Polartec) Jacket - while there are plenty of other alternatives that will do. Note that the general dusty and grimy environment of trade shows means that you should try to wear colours that don't easily show the dirt/grime - so shades of grey or mustard yellow as pictured are pretty ideal.
---
Granola Bar : Nature Valley Oats 'N Honey Crunchy Granola Bar / Go Raw Raisin Crunch Bar
A tricky thing at shows is getting to eat - as you often get held up and waylaid throughout the day - meaning it's best to have an energy-rich snack bar handy. I recommend slow-release healthy granola bars, but you can also substitute energy bars, a snickers bar or banana even. You're often on a tight schedule - have various time slots to attend to and only a moment or two to grab some quick sustenance - so having some sort of portable emergency rations handy is essential!
---
Hand Sanitiser : EcoHydra Alcohol Free Antibacterial Foam Instant Hand Sanitiser
All that shaking of hands means all too easy transfer of germs and bacteria - and obviously not everyone has the same standards of hygiene. You have various sanitiser options - wipes, gels, creams and foams. My own preferred option is a foam type sanitiser with added Aloe Vera moisturising properties.
---
Insulated Bottle - Chilly's Water Bottle
Trade shows are usually a thirsty business and for eco-reasons and convenience you are best off bringing your own cooling / warming insulated flask / bottle with a rehydrating liquid of your choice - water / Lucozade / milk / protein shake. Note that milk's combination of proteins, minerals and fats actually makes it the most effective rehydration agent - but only Scandinavians typically have evolved to wholesale lactose tolerance - many people still remain somewhat lactose intolerant which limits your options here.
---
Travel Cushion - General Armor Gel Seat Cushion
I worked at numerous shows where seating was reserved for clients and commercial conversations - so when I had a break I would grab a bunch of brochures or manuals to sit on and find myself some quiet backstage oasis or a back staircase even to perch out of harm's way. Nowadays I would grab a gel-type travel cushion to take with me - which can make any surface into a seat as such. Frequently at trade shows seats can be few and far between - especially for uniformed personnel typically manning a stand - you often need a break - away from the crowds.
---
AND 9 MORE :
---
Blu Tack and/or Sugru
Things frequently need fixing at shows - and or become unstuck - anything from carpet tiles to stand panels, graphics, decals, posters etc. It's always good to have some supplies of sticky stuff to effect quick and effortless maintenance and repairs to your show stand, booth or paraphernalia.
---
Caffeinated Beverage
Coffee, Tea, Hot Chocolate or a Coke typically - whatever your preference. We all usually need some sort of pick-me-up when attending all-day shows - it may even be your dehydrator of choice in your insulated flask (above).
---
First-Aid Kit
At the minimum a plaster or two - but you can easily snag something or hit a sharp corner or edge while at a trade show for an extended period. Doesn't have to be a huge kit - just the essentials really - mostly plasters and some disinfectant / iodine with a handy pair of scissors too.
---
Gloves
Part of being at a trade show typically means moving some sort of gear around or boxes of materials or similar. This involves dusty and/or grimy trucks, vans or car boots - gloves often come in handy here, and there has been many a time where I've missed having a pair on me. My gloves of choice are usually the North Face Etip types - whichever gauge matches the season, or generally the thinnest ones all-year round.
---
Gerber / Leatherman / Victorinox Multi-Tool
My weapon of choice here as it were is either the Leatherman Wave or Charge - depending on type of show. You often need to tighten a screw or two or 'fix' some tiny defect - having a Multi-Tool on you for such an occasion is never wrong!
---
Needle and Thread
A stiff medium gauge nylon thread can be used for all kinds of quick fixes - you often have some sort of curtain backdrop or partitions on booths / stands - and having some way to manipulate or fix those usually proves advantageous - as well as the ability to prevent a snag-rip spreading on various items of clothing or fabric.
---
Peppermint Oil
Prolonged exposure to trade shows can lead to headaches and mental fatigue. A drop of Peppermint Oil on the forehead is a brilliant cure-all for those kinds of scenarios - and works as a really good partial natural remedy in place of aspirin, paracetamol or ibuprofen.
---
Post-it Notes and Sharpie
During busy shows it is often essential to be able to communicate silently, efficiently and effectively to your colleagues and customers. Say one of your demo workstations stops working or has issues - having the ability to quickly write and post advisory Post-its can really help avoiding various unwanted scenarios.
---
Tape - Gaffer and/or clear/sellotape
This is another useful addition to any booth or stand - sometimes in tandem with zip / cable-ties for tidying up wiring, carpet ties, or affixing and repairing various parts of the show paraphernalia / backdrop / scenery etc. Bulldog clips can also come in handy on occasion.