2017 Best of Year Entertainment
15 December 2017
4:31 PM

Stefan Karlsson
2017 Best Albums
2017 Best Graphic Novels
2017 Best Lego Sets
2017 Best Movies
2017 Best of Entertainment
2017 Best Songs
2017 Best TV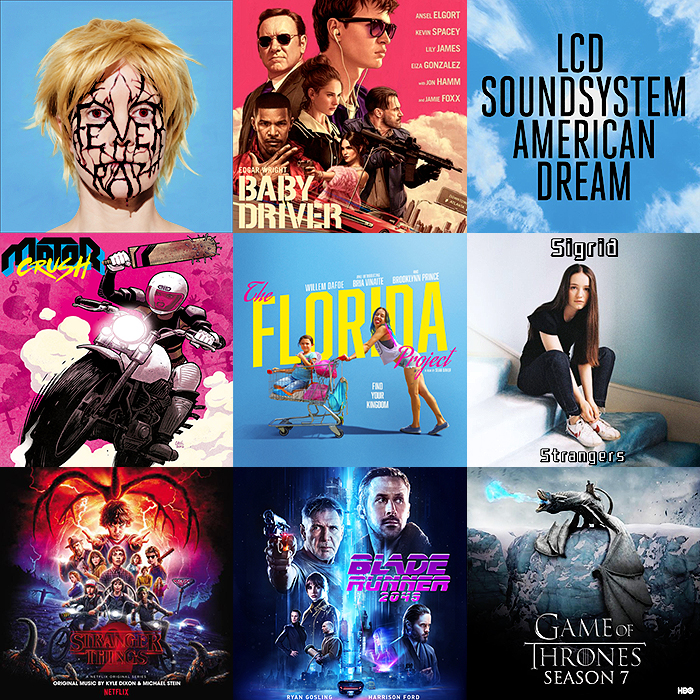 I'm not sure 2017 has been a particularly vintage year, then again I have been rather preoccupied with guitar matters all year, and have spent a little less time on new music than normal. I did though start the year listening to Run the Jewels a lot, and most of my top 20 has been on pretty regular rotation since release, with the exception of the new King Krule and Kendrick Lamar albums which I came to rather late. There are some really decent consistently high quality efforts here, with Karen Dreijer's sophomore release pipping the rest - a lot let less grungy than her debut, and more in fact along the lines of her original band 'The Knife'. American Dream was the surprise package for me - with its mix of Talking Heads, Bowie and early 80's UK electronica influences - right up my street - and I also really enjoy the more pop-leanings of Annie Clark, and the slightly more Hip-hop Gorillaz!
20 Favourite Albums
Plunge - Fever Ray
American Dream - LCD Soundsystem
Masseducation - St Vincent
RTJ3 - Run The Jewels
Humanz - Gorillaz
Everything Now - Arcade Fire
From Deewee - Soulwax
Dua Lipa - Dua Lipa
The OOZ - King Krule
Damn - Kendrick Lamar
Lust for Life - Lana Del Rey
Melodrama - Lorde
Wonderful Wonderful - The Killers
A Deeper Understanding - The War on Drugs
A Fever Dream - Everything Everything
Home Counties - St Etienne
Real High - Nite Jewel
Mosaik - Cameo & Krooked
Lose My Cool - Ronika
Double Duchess - Fergie
Honourable mention - Total Depravity (2016) - The Veils
20 Favourite Songs
I should really take more notes throughout the year as I often forget some of the earlier stuff that caught my attention - this list covers most of the highlights though - and I really like most of what Sigrid has put out this year - so she's worthy winner - and 'Like it Ain't Nuttin' is definitely the groove of the year!:
Strangers / Plot Twist / Don't Kill My Vibe - Sigrid
Like it Ain't Nuttin' - Fergie
Chained to the Rhythm - Katy Perry ft Skip Marley
Waterfall - Stargate ft Pink and Sia
Cola - Camelphat & Elderbrook (Franky Rizardo Rmx)
Ciao Adios - Anne-Marie
Green Light - Lorde
Shape of You - Ed Sheeran
New Rules - Dua Lipa
Lust for Life - Lana Del Ray ft The Weeknd
The Man - The Killers
In the Mood / Mermaids - Skott
Slide - Calvin Harris ft Frank Ocean & Migos
Feels - Calvin Harris ft Pharrell Williams, Katy Perry & Big Sean
Lemon - NERD ft Rihanna
Los Ageless - St Vincent
Boys - Charli XCX
Despacito - Luis Fonsi & Daddy Yankee ft Justin Bieber
Mi Gente - J Balvin & Willy William ft Beyoncé
I Miss You - Clean Bandit ft Julia Michaels
20 Favourite Movies
My favourite film last year was American Honey, and in some ways I see 'The Florida Project' as a companion piece to that - a snapshot of colourful American fringe life - this time set in pastel hues and on the outskirts of Disney World Orlando. It does not have as good a soundtrack, but the premise, casting, acting, cinematography and direction are all first rate - a highly memorable film about childhood. Blade Runner 2049 did not disappoint either - forming a very worthy sequel to one of my all-time favourite films, and Baby Driver was an exceptional virtuoso performance in soundtrack and visual choreography by the ever inventive Director - Edgar Wright. Note that I always watch Star Wars over the Christmas holidays with most of the kids - so that's obviously not included for now - I may add a note post viewing.
The Florida Project
Blade Runner 2049
Baby Driver
Thor Ragnarok
La La Land
Personal Shopper
Atomic Blonde
T2 Trainspotting
Wonder Woman
Wind River
Raw
Get Out
Logan
Kong Skull Island
Guardians of the Galaxy 2
John Wick 2
Lost City of Z
Colossal
Valerian and the City of a Thousand Planets
Logan Lucky
20 Favourite TV Series
Television continues to outstrip cinema in various ways, and there were some truly exceptional programmes this year. I'm not sure Game of Thrones can get more epic, even though it does drop fairly regular logic-bombs. American Gods is the best thing Amazon have ever delivered, and Twin Peaks was visceral and exciting yet not quite a match to its original in overall appeal - all were pipped by the wonderful 80's love-letter that is Stranger Things - it came up trumps for me once again - reinforcing several fond memories of childhood along the way - that series resonated with me the strongest:
Stranger Things 2
Game of Thrones 7
American Gods 1
Twin Peaks: The Return (3)
Star Trek Discovery 1
Ozark 1
Godless (MS)
Peaky Blinders 4
Taboo 1
Fargo 3
Blue Planet II
GLOW 1
American Vandal 1
13 Reasons Why 1
Mindhunter 1
The Deuce 1
Black Sails 4
Line of Duty 4
Into the Badlands 2
The Expanse 2
20 Favourite Graphic Novels
The Comics Universe shows no signs of slowing down anytime soon - it's still the golden age as I've said many times already. And the Image imprint is still leading the charge in innovative and arresting titles. Not to say I still don't buy the occasional Marvel and DC issue - I really enjoyed Star Wars' Dr Aphra this year. By and large though - it's Image, Dark Horse and Titan which are winning out for me. I don't feel that there was any particularly significant release on Humanoids this year - certainly nothing approaching Incal or Metabaron:
4 Kids Walk into a Bank (Black Mask)
Shade - the Changing Girl 1 (DC : Young Animal)
Motor Crush 1 (Image)
Extremity 1 (Image)
Black Cloud 1 (Image)
Snotgirl 1 (Image)
Monstress 2 (Image)
The Goddamned 1 (Image)
Cursewords 1 (Image)
Black Hammer 1: Secret Origins (Dark Horse)
Briggs Land 1: State of Grace (Dark Horse)
Chew 12 (Image)
The Death of Stalin (Titan)
Lazarus 5 (Image)
Kingsway West (Dark Horse)
Khaal (Titan)
God Country (Image)
Frostbite (Vertigo)
Reborn (Image)
King Tiger 1 (Dark Horse)
10 Favourite New Lego Sets
I have had relatively little action with Lego this year - only really the company Christmas do build-off - which featured the Mighty Dinosaurs set - I have snagged two - since both the Triceratops and T-Rex are excellent - I might still get a third to produce the Pterosaur also. Even though not actively involved - several sets caught my eye - including the biggest ever Lego set - the still to be properly released Ultimate Millennium Falcon - with no less than 7,541 pieces!:
(Ascending Price)
Creator 3-in-1 Mighty Dinosaurs [174 pieces] - £13
Creator 3-in-1 Robo Explorer [205 pieces] - £18
Architecture Solomon R. Guggenheim Museum [744 pieces] - £65
Technic Airport Rescue Vehicle [1098 pieces] - £80
Creator Expert London Bus [1686 pieces] - £110
Ideas Old Fishing Store [2049 pieces] - £140
BOOST Creative Toolbox [847 pieces] - £150
Ninjago City [4867 pieces] - £260
Creator Expert Taj Mahal [5923 pieces] - £300
Star Wars Ultimate Millennium Falcon [7541 pieces] - £650