Affino Design Elements Encyclopaedia goes live!
30 May 2012
6:34 PM

Stefan Karlsson
Affino
Content Highlights
design
design centre
design elements
design objects
Design Widgets
Look and Feel
Website Implementation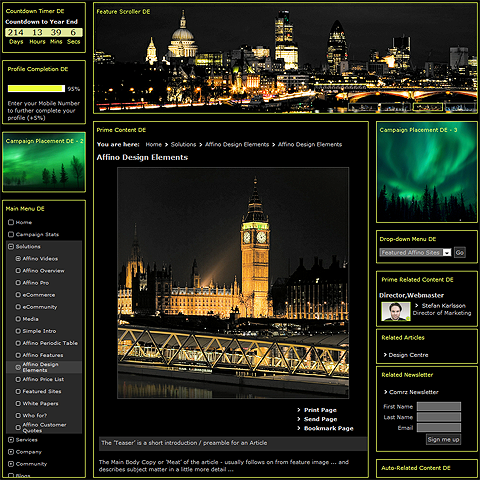 We've been meaning to do this for a while, and it actually turned out to be a lot less painful than I had originally envisaged - but here it is! - a comprehensive 'Affino Design Elements Overview' - featuring 76 of the 81 Design Elements currently available in Affino - including the 2 new Recruitment ones ('Job Search' and 'Member Profile').
I have managed to squeeze them all onto a single screen - and placed them in the position you would likely encounter / utilise those elements - Left Column, Middle Column or Right Column - with some overlapping / spanning.
To further help you Designers and Site Implementers, I have completed the 'Design Elements Feature' - which lists out every single Design Element by name. While you're at it you can check out Affino's other 50 key Features!
Both of these are best used together, and are essential reference guides for designing and implementing an Affino site - you are of course best off logging in, as more Design Elements appear for you when logged in. It is though also useful to compare the logged-in and logged-out states to get a fuller understanding / picture of exactly how some of Affino's Design Elements work.
For anyone considering buying into Affino or about to embark on a site implementation - this is a good starting point - don't try to shoe-horn it all in on one screen like us though - this is just a reference and showcase, and you can see by how long it take the page to load up, how impractical it would be to cram everything onto a single page...
NOTE - One word of warning - the MP3 Player currently has the annoying habit of auto-playing, so make sure you have your computer / laptop muted in advance - or on low volume!