Happy Mando Star Wars Day - May the 4th be with You!
04 May 2020
12:27 AM

Stefan Karlsson
May the 4th be with you
May the force be with you
Star Wars Day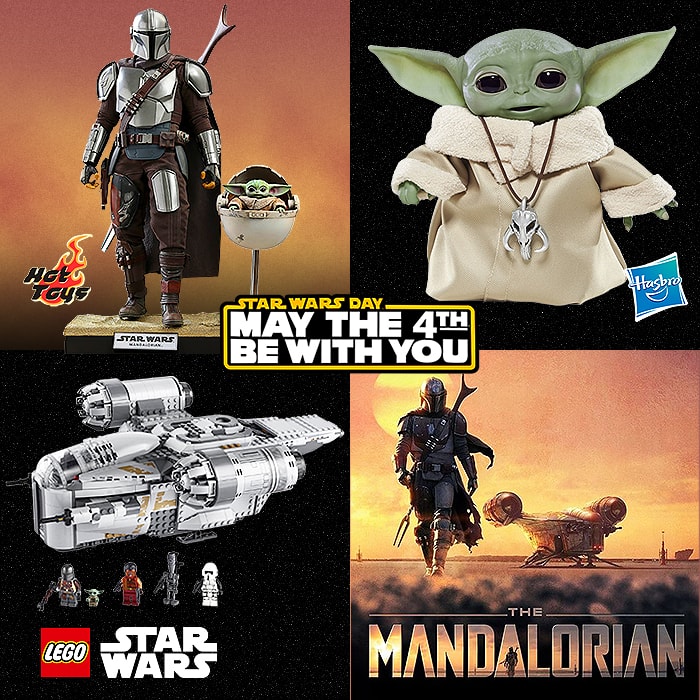 With no big Star Wars event on the horizon - and all the forthcoming movies still in their planning stages - 2020 Star Wars Day is really mostly about The Mandalorian. Sure we have new episodes of the animation series Clone Wars, but it's the recent sidekick action drama which has captured the public's imagination.
For me actually The Mandalorian / Mando is quite an old formula at heart - a sort of buddy / sidekick dynamic - obviously made somewhat different by the inclusion of seriously the cutest ever character 'The Child' AKA Baby Yoda - brought to life in a fantastic way by Jim Henson Studios.
The formula seems to be a sort of mix of Firefly and Xena Warrior Princess - with a sort of episodic travelling 'fixers' sort of theme. I thought we could have done with a longer season than just 8 episodes - and I did not feel that there was sufficient build-up of the main Din Djarin Mando character and how his Bounty-Hunting adventures shaped his character. I also feel that the show could do with a little more of that Firefly style humour.
Apart from some slightly wonky flying SFX the production quality of this show is superb - with a fantastic theme track and score. And for Star Wars fans it's a treasure trove of Star Wars Lore and Easter Eggs. That said - some of the episodes have been somewhat uneven, I feel the ones that worked best for be were Episodes 4 and 6 - Sanctuary, and The Prisoner - which were suitably caper-ish in nature and so reminded me of Firefly / Xena.
The Mandalorian could probably best be explained as a Space-Western - it's obvious where the second season is headed, but I would have liked to have seen more missions and capers in the first season - and better definition of the lead character.
The Creature Design for 'The Child' is the wonder of the show though and somehow appeals properly to people of all ages. I feel that the £60 Animatronic The Child by Hasbro will likely become one of the most successful toys of all time. Most of these toys don't ship until December, while you can already watch the entire 8 episode run of The Mandalorian in all territories - and get The Razor Crest Lego Set from the 1st of September.
Here are some further details on 4 pictured references :
---
Hot Toys 1:6 Scale Star Wars The Mandalorian & The Child Deluxe Edition - £400 (available June 2021)
A really highly detailed 1:6 scale figure / diorama set with dozens of different accessories including two different Child Figures - one for walking and another for sitting in the pod. I've seen US prices quoted at the $313 rate - so £400 per Forbidden Planet does seem a touch high - and of course we need to wait until June of next year for this to be ready. Everything here is super high quality though - the painting and finishing just look top-notch and the actual sculpts are spot on!
---
Hasbro Star Wars The Child Animatronic Edition - $60/£60 (available December 2020)
I don't think I'm alone in thinking this will break all kinds of records when it finally materialises sometime in December - this is you Christmas Gift Bestseller right here. 25 different motion and sound sequences with changing facial expressions - moving eyes, eye-lids and ears. Literally the cutest thing ever - and most definitely something I have to have! I think you need to get your orders in relatively early though as I don't think production will be able to keep up to demand in the slightest!
---
Lego Star Wars The Mandaolorian Razor Crest Set - £120 (available September 2020)
Yet another really cool Lego set which I really don't have space for - but am considering - almost just for the little The Child figure - but the Ship is pretty cool too with lots of opening panels - per the above video. This is a moderate build with 1023 pieces and 5 cool mini figures - really not much to dislike here!
---
Disney+ The Mandalorian Season 1 (8 episodes) - £6 per month (available now)
I really enjoyed this show - it's not perfect by any means, but the only thing currently of this kind out there. Proper Space Western of the Firefly kind - but so far with less humour and less character development. Lots of cool Star Wars lore here though and dozens of Easter eggs in every episode. Baby Yoda / The Child of course steals the show. Looking forward to how they can improve things in Season 2 - which really could do with a few more episodes - it's all over way too quickly!