TTG Media Cements its Travel Industry Leadership with Exemplary Coronavirus Hub
25 March 2020
8:35 AM

Stefan Karlsson
Charity Digital
Coronavirus
Coronavirus Hub
Coronavirus Resources
Covid-19
Smart Cities World
Travel
TTG Media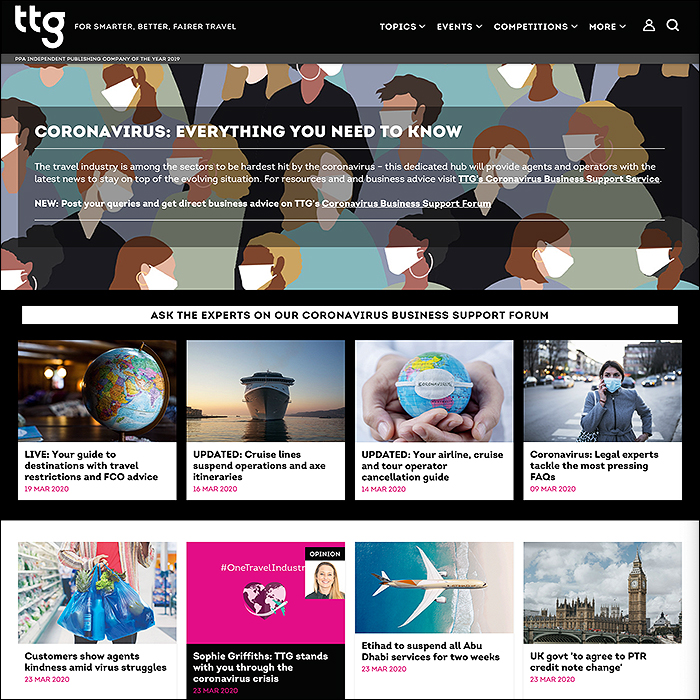 At Affino we've long advocated the use of Topic Hubs and Industry / Sector Collaboration Spaces to better serve your audience - and to which ends our platform is honed to deliver those sorts of elements with ease.
If you're connected to the Travel Industry in any way, for sure you will have made use of the essential updates delivered by TTG's sharp-minded and ever-present team - who are typically first with that sort of news, or at least the most authoritative in their objective take on the various evolving issues.
In most of our collective lifetimes, the Covid-19 / Coronavirus Pandemic will be one of the most significant and complex events and challenges we will have had to tackle and come to terms with. In fact the scale of it's impact is unprecedented since the Spanish Flu / Flu Pandemic of 1918-1920.
Coronavirus / Covid Topic Hubs
While we are living through such complicated and challenging times, it is essential for all of us to have access to the right sort of reliable information, and these industry Topic-focused Hubs are a fantastic means to bring all the relevant information and resources together under a single virtual roof as it were. In Affino terms this means using Topics and Topic Filtering on a specific Gateway Channel / Landing Page, where you can then sort and arrange all that pertinent information, and resources, into an easily navigable and intuitively accessible layout / framework - in the same manner as TTG have accomplished for their Coronavirus Hub.
Tthe Travel and Tourism industries were among the first to be hit by these escalating factors, and even with the Affino Platform's acute readiness, it's still a marvel that TTG managed to get everything so well established quite so quickly - and take such rapid and far-reaching advantage of Affino's adaptive feature set.
Once you know what you're doing with the system, rolling out new Landing Pages / Micro-Sites / Topic Hubs pretty much becomes second-nature.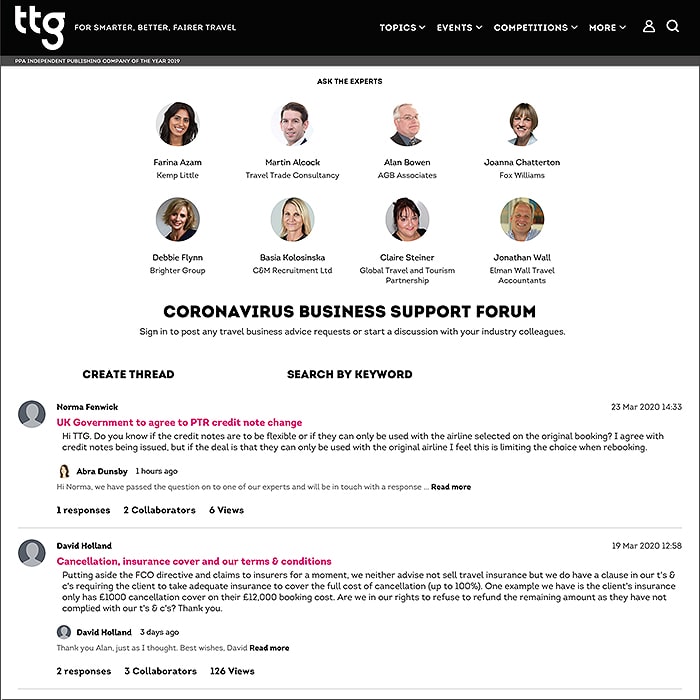 Collaboration Forums
Central to the TTG Coronavirus Topic Hub is their : 'Coronavirus Business Support Forum' - a type of 'Ask the Experts' Affino Collaboration Forum Type - where TTG Members can get advice from a select pool of industry experts. So we're only talking about a few different Affino content and social elements here - Articles, Forums, Gateway Channels and Media - all using smartly targeted Topics to gel the different areas altogether and allow members to view all the pertinent parts within a singularly seamless flow.
We've related a handy Affino Collaboration Forum Setup guide to help you get started in this area - don't hesitate to reach out if you would like more help or advice in this area. Of course we all need to pull together to make the very best of this situation we've found ourselves in.
Supporting our Business Communities with Coronavirus Hubs
We heartily recommend that all Affino Clients take up this challenge and deliver their own essential Coronavirus Topic Hubs for their industry / sector - it's certainly something we're currently putting in place for Affino.com.
Customers of all industries and sectors are looking for answers, guidance and inspiration as to what to do, and Affino empowers you to take a leadership position within your space, and become a vital tool for change, nurture and support.
We've been counselling and advising our own Clients on the best means to move forwards, and the digital realm is most certainly the medium where most interactions are taking place nowadays. This space is going to get a lot more congested than usual, and with Affino, you have access to the best toolset available to provide additional added value for your community/ies.
There is so much in the extended Affino Platform Solution that helps bring people closer together, informs, interacts and reassures. We all need to make sure that we're doing our bit to help society and humanity even survive and endure this in the best way possible.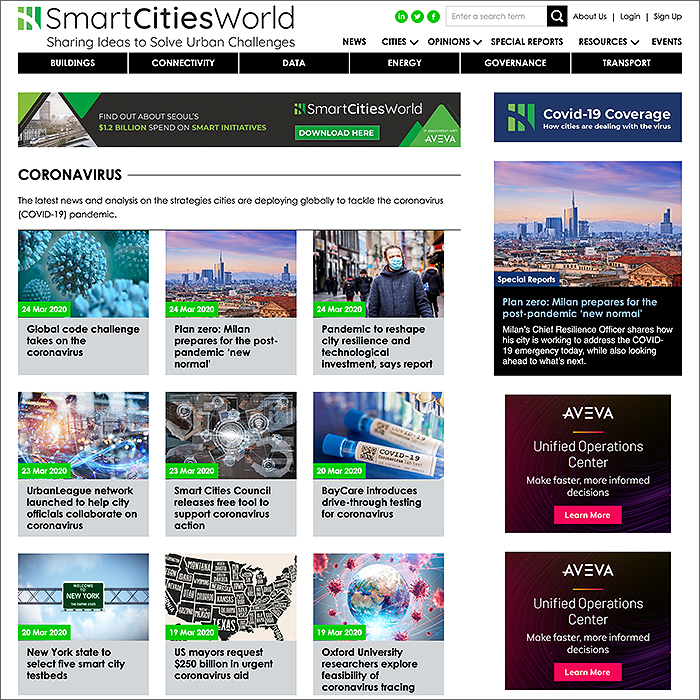 More Great Affino community Coronavirus Hubs and Resources
Since I first started writing this post, three more Affino sites have followed TTG's Lead - Charity Digital has a core central Coronavirus Page listing all pertinent Coronavirus Articles and Resources, and Smart Cities World have also followed suit with their own SCW Coronavirus Hub which gathers together all relevant news and analysis on how Cities should be dealing with this Pandemic. Also Inernet Retailing has its own dedicated Covid-19 Hub,
Affino Coronavirus Hub - Coming Soon
As I mentioned earlier, we are in the process of putting together our own Affino.com Coronavirus Hub, and will be adding a number of helpful articles and resources over the next days and weeks. We have also started to prioritise coronavirus related developments for Affino, not least is the ability to exclude admin groups from site stats as it's critical with us all workfing from home, which up until now has been done by IP Address, expect that to be in the next Affino release.
We will be reaching out to you all regularly to ensure you're coping with these challenging times.
If you have your own covid / coronavirus resource that you feel would be valuable to our community, please reach out and let us know in the comments below or directly.