Congratulations to TTG Media for their Highly Commended Award in the Coronavirus Response Category at this Evening's PPA IPN Awards
19 November 2020
12:48 AM

Stefan Karlsson
Coronavirus
Coronavrisu Hub
Covid-19
PPA
PPA Independent Publisher Awards
PPA Independent Publisher Conference & Awards
TTG
TTG Media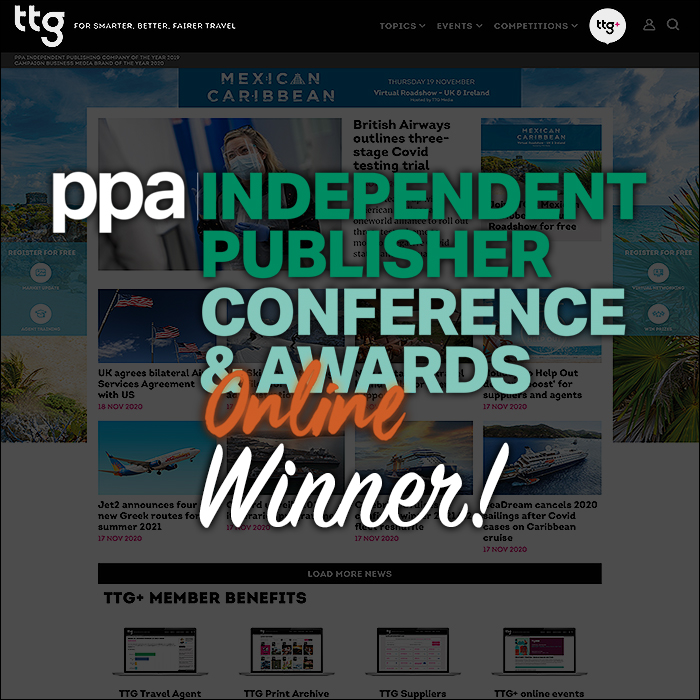 Congratulations and commiseration are due to the ever great Team at TTG Media who've put in another amazing shift this year with their massive quick-witted and full-range response to the Coronavirus pandemic - being first with a proper Coronavirus Sector Hub of its kind - which galvanised an entire Travel Industry. And was then followed up with further deep-reaching initiatives, including the wide-reaching #SaveTravel Campaign.
No one was more deserving of recognition for their activities in the face of the most significant travel crisis of modern times. For many, TTG Media were the overridingly obvious and worthy choice here - while we can't help but think last year's clean sweep of awards at the previous ceremony may have weakened TTG's hand somewhat this year around.
The Judging Panel opined :
"The combined initiatives of supporting advertisers; paid for online events; and petitioning government means that TTG will have a tough but ultimately good Covid-19 as they will be well positioned as things improve. This was a coherent and well-executed strategy to support the travel trade and ensure the sustainability of their own business."
TTG were nominated in 4 Categories - Brand of the Year, Coronavirus Response Award, Diversity Initiative of the Year, and Editor of the Year. We all felt for sure they would at the very least come away with a well deserved win in the Coronavirus Response Category. Considering the adversity the Travel Industry has faced this year and how TTG Media have met those challenges with extraordinary and profound sector leadership. It seems slightly odd that TTG would not get its due reward and recognition.
I am quite happy to concede the other battles and honorifics here - even though Sophie Griffiths was pretty much equally worthy for Editor of the Year.
Awards or no though, TTG Media have had a very remarkable year which sees them still going from strength to strength. It really says something that they have continued yo have such a strong presence and showing at these awards events. And while it's understandable that they can't keep on winning in every category they are nominated - genuine Excellence should always be properly recognised. And what TTG has achieved this year is extraordinary.