Affino CEO Markus Karlsson features prominently in inaugural PPA Digital Leaders Network meeting
07 April 2014
10:29 AM

Stefan Karlsson
Affino
Digital Content
Digital Leaders Network
Digital Platform
Digital Publishing
Digital Publishing Monetisation
PPA
PPA Digital Leaders Network
Professional Publishers Association
publishing
Publishing Digital Platform
Publishing Industry
Publishing Platform
Publishing Trends
Suppliers to Publishing Industry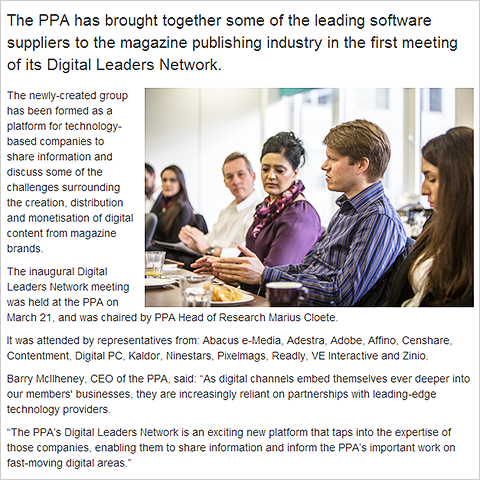 On March 21, the Professional Publishers Association (PPA) brought together a panel of leading-edge technology providers to discuss the challenges, opportunities and trends - chiefly on the subject of how best to monetize digital content. The Digital Leaders Network will be convened periodically to confer on the best way forward for the publishing industry.
After helping Procurement Leaders win 3 PPA awards last year, including 'PPA Independent Publisher Digital Product of the Year'- Markus had plenty to share with the panel on how we at Affino help publishing companies achieve their online potential.
Which digital platform you choose to run your online business on, and how flexible and capable that platform is, is obviously a key concern for future success.
Publishing is still in the throes of a major step-change in the move to digital technologies, and most publishing companies' futures are at stake - the right choice of approach and platform to the forthcoming challenges will decide which companies thrive, and which wither and fade away...