You are here:
Home
|
Blogs
|
Stefan's Naturally Aspirated Blog





05 Jul 2015 11:20 PM

Popular

Comments

Profile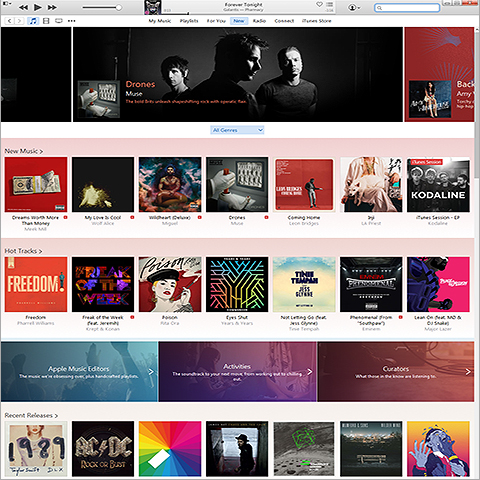 I will preface this article by saying that I am a long term music fanatic - having amassed some circa 10,000 12" records over the years, as well as a considerable volume of CDs - music is a constant in my every waking moment. Over the past 10 years I have gradually and almost fully transitioned to digital. I've been using iTunes since 2010, and am an early adopter of Spotify. I buy between 2 and 10 albums worth of music on roughly a weekly basis - this comes from a variety of sources - including iTunes, Amazon, Beatport, Traxsource, Juno Download, Bandcamp, 7 Digital, and still some vinyl and the occasional CD. I am still disappointed that a great part of music has yet to be converted to digital and still can only be consumed on an analogue basis. To which ends I have a USB turntable and optical drive to convert my analogue music sources to MP3 format - so that I can listen to them on the go. When you encounter me in public you will almost always see me with a pair of headphones on - either in use or wrapped around my neck in standby mode (Bluetooth!).

I rely on an iPhone 6 Plus 128GB paired with a Philips Fidelio M1BT headset - which combination is my daily musical companion / jukebox. The vast majority of the iPhone's memory is occupied by music - currently in excess of 11,000 songs (circa 50% of my total iTunes library). As I said previously, this music soundtracks most of my daily activities, and is with me while I work and on every journey. Cloud-streamed music will never be fully reliable for me though, as there will always be some sort of reception black spots and occasions for Signal drop-out. The most significant part really, is that no single source can or could ever fulfil the broad spectrum of music I like to listen to.

Spotify I use mostly for music discovery / exploration and to help me to decide whether it is worth adding a particular collection of songs to my own collection / library. As the 30 seconds to 2 minutes song previews on iTunes etc. are usually inadequate to properly gauge the character of an entire album. For ease of use I buy most of my MP3s through iTunes, then Beatport, Juno Download etc. for more specialist tracks which aren't available from Apple.

Before and while upgrading iTunes and iOS to the latest versions (i.e. featuring Apple Music), I had fairly familiar memories of Apple&

...

8 comments
|
permalink
|
email this
|

|





31 Dec 2014 12:29 AM

Popular

Comments

Profile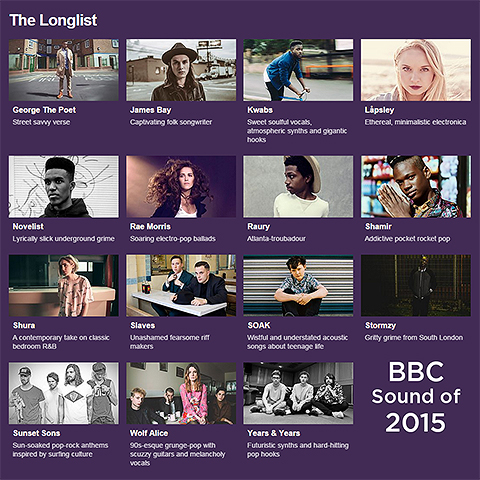 Time has come around again to scope out new directions and find some new blood which may just strike it big in the forthcoming 12 months or so. I've already discarded some nominations as they featured heavily last year, or have already released a commercial album (you can unleash infinity mix-tapes and still feature!). Anyway, should be something for everyone here from this list of 88 contenders. James Bay seems to be favourite already, and has already picked up the BRIT Critic's Choice Award. There are 27 here I rate highly, including 7 of the 10 most popular. I typically don't go for too much folk or guitarry strumming, but if it's really special it may just strike the right chord. Really impressed with what Ben Khan and Kacy Hill are up to ...
Advocates = Amazing Radio, BBC, Deezer, Gigwise, GlobalGrind, Guardian, iTunes, MTV, Spotify
x3 etc. = number of backers
+ = rated by Stef!

Most Championed Artists
James Bay [Contemporary Folky Pop | 2015 BRIT Chritic's Choice Winner] x7
SOAK [Ethereal Singer / Songwriter] x6 +
Years & Years [Dance-inflected Electronic Pop, tour with Clean Bandit] x6 +
Raury [Singer / Songwriter] x5
Ibeyi [Soulful Percolated Pop] x4 +
Kwabs [Contemporary Soulful Pop] x4 +
Låpsley [Ethereal Electronic Pop] x4 +
Shura [Contemporary R&B-inflected Pop] x4 +
Slaves [Percussive Riff-Rock] x4
Becky Hill [Contemporary Pop] x3
George the Poet [Poetic Lyricist] x3
Laura Doggett [Singer / Songwriter] x3
Rae Morris [Singer / Songwriter] x3
Seinabo Sey [Soulful Pop] x3 +
Sunset Sons [Surf-inspired Pop-Rock] x3
Stef's Top Outsider Picks
Ben Khan [Deep Electronic Pop] +
Kacy Hill [Futuristic R&B] x2 +
Tourist [Dance-inflected Electronic Pop] x2 +
Full Alphabetical Long List with Advocates
All We Are [Folky Pop] (Gigwise, Spotify) x2
Autobahn [Indie Rock] (Gigwise)
Becky Hill [Contemporary Pop] (iTunes, MTV, Spotify) x3
Ben Khan [Deep Electronic Pop] (iTunes) +
Black Honey [Pop-Rock] (Gigwise) +
Blood Diamonds [Electronic / Hip-Hop / Beats] (Gigwise) +
Brawlers [Punk-Rock] (Gigwise)
Charlotte OC [Singer / Songwriter] (Gigwise)
Cheerleader [Pop-Rock] (Gigwise)
Chet Faker [Electronic Pop / Downtempo] (Guardian)
Circa Waves [Indie-Rock] (Gigwise, iTunes) x2
Coasts [Indie-Rock] (
...

1 comment
|
permalink
|
email this
|

|





30 Jun 2014 1:12 PM

Popular

Comments

Profile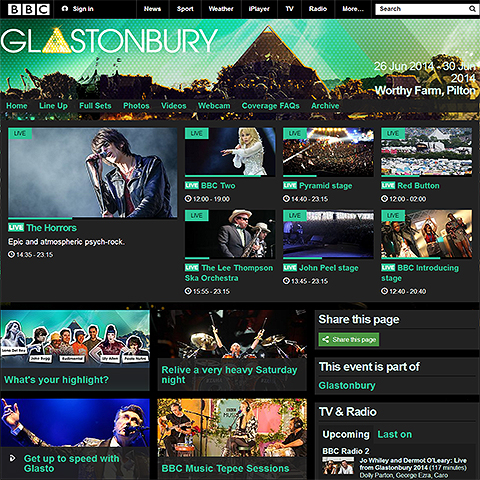 From previous blog posts you will know that I'm a huge music fan and sometime armchair festival attendee. The two big annual music festivals are of course Coachella (covered by YouTube) and Glastonbury (covered by BBC). These are very different events in many ways and Glastonbury has far more scale and complexity than Coachella. That said, this year's Coachella coverage by YouTube was a high water mark as you can read in my [previous post].

I love the way that YouTube had the 3 Stages option selector with excellent 'On Now' / 'Up Next' menus - really easy and quick to operate - and a doddle to flit from one live feed to another. As indicated in the title, flitting from one stage to the next on the BBC site was a little more arduous and I think the BBC can learn quite a bit from YouTube. On YouTube the live feeds were looped around and interspersed with interviews and Coachella general interest pieces - when waiting for bands to setup, or if there was a delay in the proceedings - there was always some content being broadcast. On the BBC site conversely when the lightning strike hit on Friday - there were just notices on all the feeds saying that there was an interruption to the usual programme because of inclement weather conditions. Broadcasters usually live in mortal fear of 'dead-air' - those moments then the broadcasts are unintentionally interrupted because of technical reasons - or when a presenter runs out of things to say - or literally just nothing happens for a period of time. On the BBC we had lots of dead-air on the live feeds - something I feel could be handled a lot better.

It was interesting to see that the BBC music websites are still largely adaptive in design - with dedicated versions for mobile platforms as per below screen. Some parts of the BBC have moved to responsive - like the iPlayer for instance, but in the main the design format in operation is still adaptive.

As for the actual content of this year's festival, I must say I rather enjoyed it - and technically, the streaming was excellent in quality, not sure it was necessarily a vintage year though. I loved the inclusion of Metallica whose set I mostly watched, but did not majorly resonate with me. My favourite bit of the Metallica set was when they covered the great Thin Lizzy standard 'Whiskey

...

1 comment
|
permalink
|
email this
|

|





02 Jan 2014 5:03 PM

Popular

Comments

Profile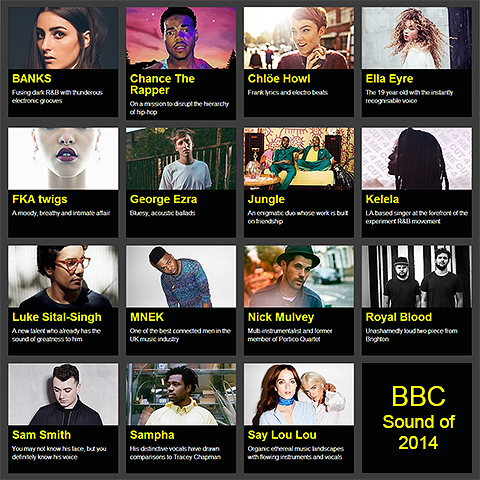 It's that time again when musos try to predict the breaktrough acts of 2014. In the past I've always led on 'BBC's Sound of ...', but this year I have decided to do an aggregate listing of everyone recommended by BBC, GlobalGrind, iTunes, MTV, Spotify and others. The first is the entire long-list, followed by 'Most Hyped' (most mentions) and finally my 5 top picks - should be something for everyone here!:
Alphabetical:
Banks - Fusing dark R&B with thunderous electronic grooves (BBC, MTV, iTunes, Spotify)
Betty Who - Effervescent synth-pop (Spotify)
Bipolar Sunshine - Rhythmic, soulful indie pop (Spotify)
Chance the Rapper - On a mission to disrupt the hierarchy of hip-hop (BBC, GlobalGrind)
Chlöe Howl - Frank lyrics and electro beats (BBC, iTunes)
Circa Waves - Liverpool garage rock revivlalists (Spotify)
Dan Croll - Charming melody-led electro-folk (iTunes, Spotify)
Ella Eyre - Rudimental vocalist goes solo (BBC. MTV)
Elyar Fox - Prodigious YouTube talent (MTV)
FKA Twigs - Mesmerizing haunting electronica (BBC, Spotify)
G-Eazy - Poppy Hip Hop from New Orleans (Spotify)
George Ezra - Bluesy, accoustic ballads (BBC, MTV, iTunes)
Glass Animals - Electronic Alt-folkish quartet from Oxford (Spotify)
Hozier - Moody / soulful Irish singer-songwriter (Spotify)
Isaiah Rashad - Soulful Tennessee emcee (GlobaGrind)
Joel Compass - Male singer-songwriter with contemporary appeal (MTV)
Joey Bada$$ - Gruff 18 year old Brooklyn rapper (Spotify)
Josh Record - Acoustic guitar combined with heavenly vocals (iTunes)
Jungle - Enigmatic urban duo (BBC, Spotify)
Kelela - LA-based singer at forefront of experimental R&B (BBC, GlobalGrind)
Kwabs - 'Electro-synthesized soul' (MTV)
Laura Welsh - Stripped-down soul-pop (iTunes)
Lil Bibby - Youthful Chicago Hip Hop (GlobalGrind)
Luke Sital-Singh - Dreamy singer-songwriter (BBC, iTunes, Spotify)
Mapei - Swedish princess of Hip Hop Soul (GlobalGrind)
Marie Naffah - Witty singer-songwriter, winner of MTV unsigned (MTV)
Migos - Georgia trap trio (GlobalGrind)
MNEK - Hardest working collaborator in UK urban (BBC)
Mø - Entrancing Danish electropopper (iTunes, Spotify)
Nick Mulvey - Portico Quarted member goes solo (BBC)
PARTYNEXTDOOR - Modern urban R&B in the mold of The Weeknd (GlobalGrind)
Royal Blood - Riff-heavy power
...

4 comments
|
permalink
|
email this
|

|





28 May 2013 10:14 PM

Popular

Comments

Profile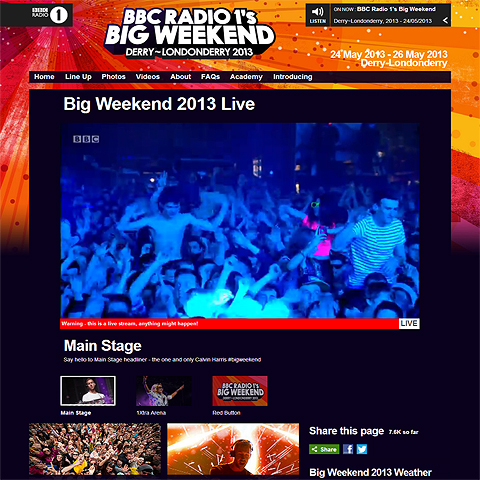 Following YouTube's best ever streaming coverage of Coachella, it would have been nice to see the BBC match its ambition. Of course in some areas the BBC coverage was infinitely superior, but the Beeb is still not really getting into social media, and the usually brilliant inclusions of setlists were glaringly absent this year.
I also felt that YouTube's streaming / interface was smoother and smarter. When viewing the BBC feed it dropped out a few times and needed a browser refresh to re-establish which never happened with YouTube's Coachella. Switching between feeds on YouTube was slick and effortless, whilst the BBC interface was noticably laggy. Finally, the BBC did not have an 'Artists on now and coming up next panel' or 'Lineup / Agenda' panel on the same page - so you had to flit between pages to get a proper sense of what was going on.
The BBC excels though in providing Video Highlights on its iPlayer which allows you to watch most of what went down - in any order.
I caught the following acts - both live and on-demand:
alt-J
B. Traits
Bruno Mars
Calvin Harris
Chase and Status
Disclosure
Dizzee Rascal
DJ Fresh
Ellie Goulding
Haim
Iggy Azalea
Jessie Ware
Katy B
Kendrick Lamar
Labrinth
Little Mix
Pete Tong
Rita Ora
Rudimental
The Saturdays
I particularly enjoyed Disclosure, Iggy Azalea, Katy B, Kendrik Lamar and Rudimental - as well as B. Traits' DJ set.

...

Add Comments
|
permalink
|
email this
|

|





02 Nov 2012 4:23 PM

Popular

Comments

Profile
Tags:
apple
,
FaceBook
,
Google
,
Comrz
,
LinkedIn
,
Affino
,
Amazon
,
BBC
,
Affino 7
,
London 2012
,
London 2012 Olympics
,
2012 London Olympics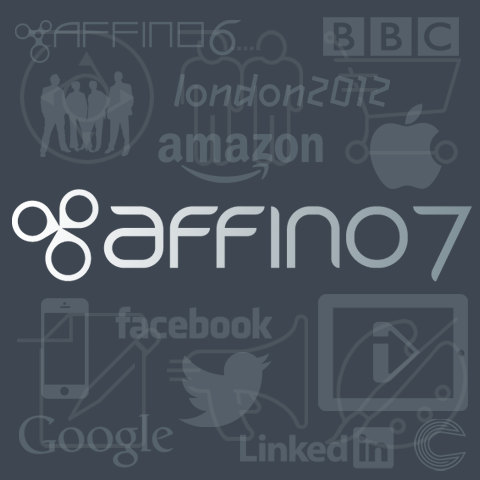 An enormous amount of input goes into every major Affino version release, and Affino 7 is no exception. Front and centre to all our considerations are our customers' ongoing requirements and feature requests - Affino almost wholly evolves along collaborative lines between the Comrz Team and every single one of Affino's users.
It's frequently a tough job consolidating all the different diverse requirements into a single streamlined system, but this is what we do every day. Pretty much every tiny nuanced functionality has been specified for a particular business scenario and activity. For every major release we endeavour to simplify the user experience, which is not always as simple as it sounds as no two Affino users deploy the system in exactly the same manner.
Every consideration is made to imbue Affino with simplicity, elegance and ease of use. It thus follows that the key technological inspirations convey those same values of clarity of purpose, elegance and simplicity:
The degree of detail and finish of the many elements of the London Olympics are a key influence in the look of the new interface. In particular, we took inspiration from the dynamic keyline pictograms - which elegantly convey movement and modernity. Affino's Key Navigation Icons are largely inspired by those pictograms - harnessing the same values of forward movement and dynamism
Still the benchmark for online retail, now with a vastly improved elegant interface - Amazon continues to inspire with its ever increasing depth and breadth and yet singularity of purpose
Apple still remains the benchmark for elegant product and interface design, and supreme ease of use. It's focus on learnability remains a significant design influence in how we consider Affino's daily usability and overall customer experience
Despite its detractors, the BBC is a significant pioneer online - with its iPlayer representing the first and the best of the Internet TV Players, and the relatively recent BBC.co.uk update being the first significant move towards tablet-style navigation for the main website interface
The world's most popular people-connector maintains its position for a reason. Despite lacklustre performance on the stock exchange,

...

1 comment
|
permalink
|
email this
|

|





03 Aug 2012 9:16 AM

Popular

Comments

Profile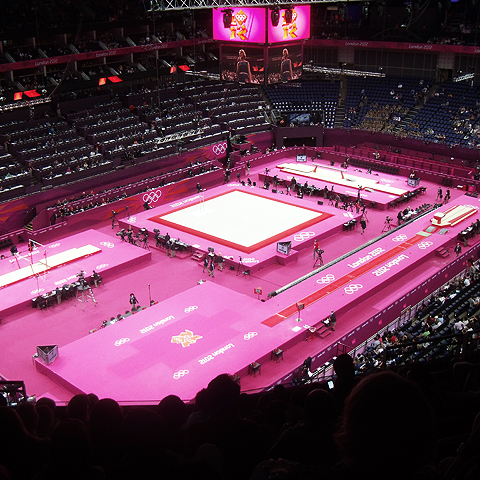 Gymnastics Venue - North Greenwich Arena (The O2) (adapted by Populous)

Much has been written about the exterior design of the new London 2012 Olympic Venues, Stadium and Olympic Park. There has been far less coverage of the actual interior designs of the various venues - the playing surfaces, perimeter wraps, boundary decorations and signage.

I'm fortunate to live right next door to one of the minor outdoor venues - Hyde Park, home to the Triathlon and 10K Marathon Swim events, as well as the location of the BT London Live venue. I do daily Nordic Walks around the perimeter, and the contrasting 2-tone signage looks wonderful all around the park. Just up the road from me is Paddington Station which has London 2012 welcoming / information booths and bunting, and is peppered with the resplendently uniformed London 2012 Ambassadors,

For some, the colour combinations are a little garish, but watching live via the BBC, they seem to give these spectacles added vibrancy. Where with Wimbledon it's frequently difficult to see where the ball has landed on or outside the court - the wonderfully contrasted playing surfaces featured in this blog make is super clear this time around. I expect the London 2012 games to have a significant impact on the future indoor / floor / surface design of new sports halls and sporting venues around the world.

No one really likes the Wolff Olins designed '2012' logo, which is why the 'London 2012' typography is the more commonly used brand marker - the typography was designed by Wolff Olins too, as well as the branding guidelines - for the diagonal separating lines, two-tone colour schemes etc. With the various architect firms - Populous, Zaha Hadid, Thomas Heatherwick, Wilkinson Eyre etc.

For the Gymnastics we have 4 island podiums mixing pink, red, pale yellow and grape, quite fitting for the Women's Gymnastics.

...

8 comments
|
permalink
|
email this
|

|





25 Jun 2012 11:52 PM

Popular

Comments

Profile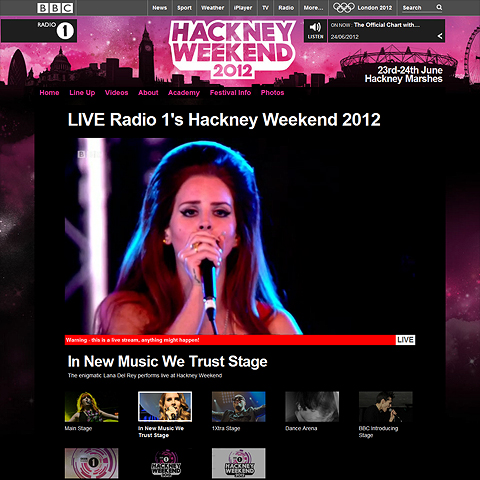 I'm an avid follower of the world's leading music festivals - specifically how they are broadcast and 'packaged' for the digital audience. I've kept tabs on the BBC's and YouTube's coverage of music festivals over the last few years, and reported back on how each has evolved their offering - benchmark events have been Glastonbury in the UK and Coachella in the US. In this Olympic year, there is no Glastonbury, so we will use BBC 1's Big Weekend extravaganza - the 2012 Hackney Weekend Music Festival as the UK benchmark.

Where the BBC always excels is in the depth and breadth of its broadcast coverage, and in its archiving. For this year's Coachella there was really just a smattering of play-back videos from the 3 days of live music, and no full sets. The BBC though has video highlights for pretty much every featured artist, including full sets for the festival headliners.

Watching live though was a different story, as YouTube's Coachella coverage had better broadcast quality and a much superior interface - with full interaction! For Coachella, fans were able to connect via Facebook, Google+ and Twitter and do comments and shout-outs during the performances - on a live update feed - obviously comments are enabled for most content on YouTube. YouTube also cleverly includes the hashtag #coachellalive on all the updates posted - for maximum exposure. Moreover YouTube's Coachella screen had a really clever rolling 'What's On' panel with dynamic thumbnails - which allowed you to mouse-over for live previews of each stage!

The BBC interface did not really makes the most of social media, and it was noway near as easy to organise your viewing schedule. I also noted that for last year's Carlisle Big Weekend, the BBC was much better at posting up setlists on the artist overviews. Currently the write-ups are mostly sans setlists, which is something we kind of expected after last year!

It's a tale of two very different approaches - as for live and direct coverage, YouTube's system was most obviously superior, but in terms of being able to really 'catch' the music - in terms of 'on demand access' - then the BBC comes up trumps, as you can view after the fact - most of what you missed, which was not the case for

...

2 comments
|
permalink
|
email this
|

|





18 Apr 2012 10:36 PM

Popular

Comments

Profile
Tags:
FaceBook
,
social media
,
youtube
,
Twitter
,
Firefox
,
BBC
,
Google Chrome
,
Coachella
,
Coachella Festival
,
Coachella Live
,
Coachella Valley Music and Arts Festival
,
Coachella Music Festival
,
Swedish House Mafia
,
Google+
,
Azealia Banks
,
Frank Ocean
,
The Weeknd
,
SBTRKT
,
Coachella 2012
,
Miike Snow
,
Datsik
,
Snoop Dogg + Tupac
,
Santigold
,
arabMUZIK
,
Lykke Li
,
Talk Talk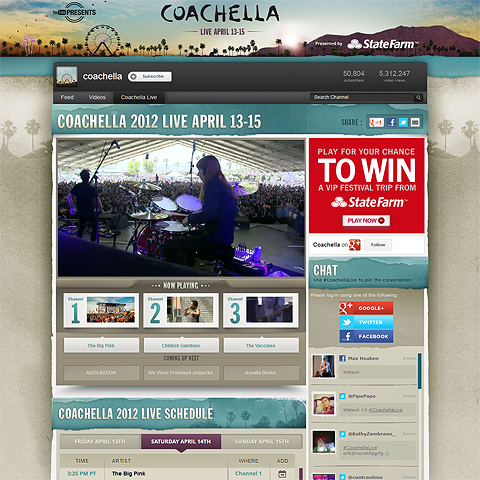 Last year I blogged about catching the year's first big music festival courtesy of YouTube - who broadcast live form the 5 stages over the 3 days. I raved about the really clever interface - how they included hashtags into their live updates - and how slickly the whole thing worked, including the uninterrupted streaming broadcast itself.
This year the layout of the interface was even better - with the current and upcoming bands listed in the centre, and the updates off to the right. It was interesting to see the addition of the 'Login with Google+' option - although I never saw a Google+ originated post - they were about 70% Twitter Updates, with 30% Facebook - I even logged on myself to post updates during the Azealia Banks and Miike Snow sets.
I did not really start watching properly until the Saturday - and thus caught a mix of highlights and full live gigs by the following artists:
AWOLNation
Azealia Banks
The Big Pink
Buzzcocks
Childish Gambino
Datsik
Dr Dre & Snoop Dogg + Eminem, Fiddy, Warren G, Wiz Khalifa et al.
Florence & The Machine
Kaiser Chiefs
Kasabian
Miike Snow
Noel Gallagher's High Flying Birds
Radiohead
Santigold
SBTRKT
Swedish House Mafia
I would have loved to have seen, but missed these:
Amon Tobin
araabMUZIK
Borgore
Dada Life
DJ Shadow
Feed Me
Flying Lotus
Frank Ocean
Girl Talk
Justice
Kaskade
M83
Noisia
SebastiAn
The Weeknd
I always compare YouTube's coverage of this with the BBC's coverage of its main music festivals. I think the actual live streaming and the social experience is better by YouTube, but overall the BBC still leads - as they provide so much better supporting materials - and actually post up much more of the video highlights - only 76 Videos are listed on YouTube's Coachella Page - and these are individual tracks, whilst for the BBC there is normally an extended highlights (circa 30 mins.) plus a couple of individual great moments from nearly all the featured performers - a number of the videos on Coachella Live are not even the best moments from those sets.

On my somewhat dodgy Talk Talk connection, I was astounded to get a totally seamless experience over the whole event - did not drop out once - and switching between the 3 live feed options was butter smooth!

As I've said before, I&

...

4 comments
|
permalink
|
email this
|

|





10 Jan 2012 11:30 AM

Popular

Comments

Profile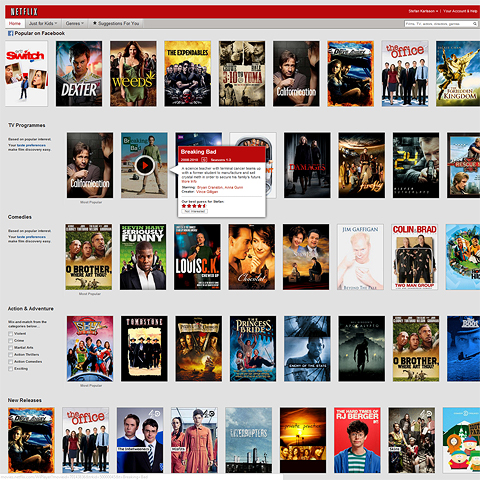 I've been waiting a while now for the arrival of Netflix on these shores, so was it worth the wait?

When I received the initial email invitation, it's poor quality made me unsure as to whether this was some sort of phishing effort. This was not helped by the very basic Netflix holding page presented to UK users.

In any case, I had been waiting a while for this so I dipped my toes into the 30 day free trial. You have to enter you credit card details during registration, which will likely put off some users, but I triangulated the security certificate to be sure. Once registered, you get presented with a very elegant browsing interface, not a million miles from the one for iTunes films, but much the superior in my opininon - especially how it pops up detail information when you hover over the film / programme image.

I caught up with 'Gone Baby Gone' - a film I had not got around to watching yet, but had always wanted to see. The whole experience from browsing, to selecting and watching is truly slick, simple and elegant. For those worried about signing up via Facebook - for everything you watch, you get the option to not share to Facebook - so that you can continue to watch trashy TV and movies without exposing your viewing choices to friends and family.

Currently, the only thing that really counts against Neflix at the moment is the rather slim selection of video available. Like many other users, I expected there to be a lot more US TV Series. Also - you don't get the very latest films or TV - it's mostly a series or two behind. But great if you want to catch up with films and TV you missed when they were initially releases - a couple or so years ago.

The £5.99 all-inclusive monthly fee is the perfect price point as far as I'm concerned - Netflix just needs to work on signing more studio deals and providing a larger selection.

In terms of overall experience, this is currently my favourite way of watching video online - I'm of course interested to see what Apple, Amazon (LoveFilm), YouTube and the BBC do in response to this.

I wrote a blog not so long ago about the poor state of online video, and how poorly it compared to the more traditional model of Blockbuster - which is unfortunately fast waning. There is no online service yet though which is able to deliver as wide a video libary, as quickly as Blockbuster.

...

4 comments
|
permalink
|
email this
|

|


| | |
| --- | --- |
| Found: 24 Displaying: 1-10 | |

Subscribe to feed

Subscribe by email
Recent Visitors