05 July 2015 11:20 PM GMT
apple
iTunes
Spotify
BBC
Digital Music
Music Industry
Music Streaming
Internet Radio
Music Discovery
Playlists
Apple Music
Music Store
Digital Radio
Music Interactivity
Social Music
Music Sharing
Social Connectivity
Music Consumption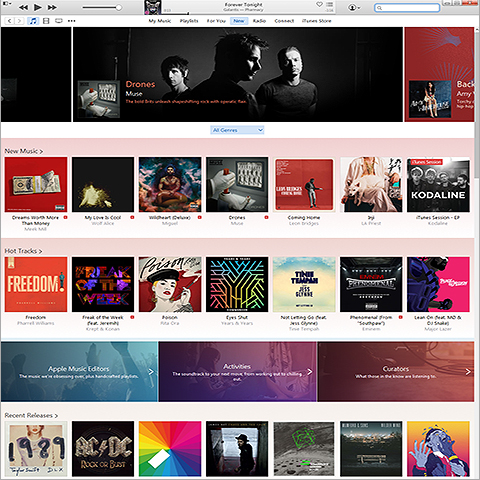 I will preface this article by saying that I am a long term music fanatic - having amassed some circa 10,000 12" records over the years, as well as a considerable volume of CDs - music is a constant in my every waking moment. Over the past 10 years I have gradually and almost fully transitioned to digital. I've been using iTunes since 2010, and am an early adopter of Spotify. I buy between 2 and 10 albums worth of music on roughly a weekly basis - this comes from a variety of sources -
...
31 December 2014 12:29 AM GMT
iTunes
Spotify
BBC
MTV
GlobalGrind
Deezer
Sound of 2015
New Artists for 2015
Brand New 2015
New Music for 2015
Amazing Radio
Gigwise
Guardian
New Artist Picks for 2015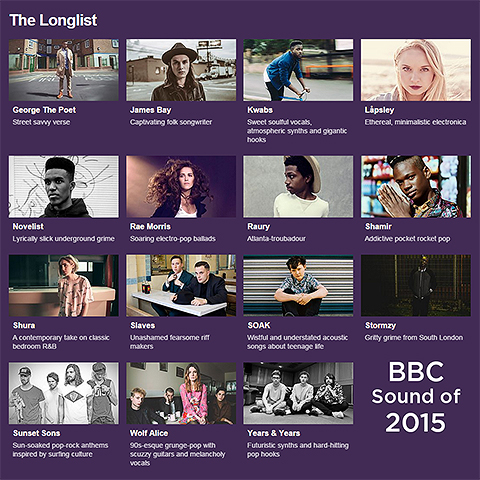 Time has come around again to scope out new directions and find some new blood which may just strike it big in the forthcoming 12 months or so. I've already discarded some nominations as they featured heavily last year, or have already released a commercial album (you can unleash infinity mix-tapes and still feature!). Anyway, should be something for everyone here from this list of 88 contenders. James Bay seems to be favourite already, and has already picked up the BRIT Critic's
...
30 June 2014 1:12 PM GMT
social media
BBC
Glastonbury
Live Music Streaming
BBC Glastonbury
Glastonbury 2014
Glasto 2014
Glastonbury Music Festival
Live Video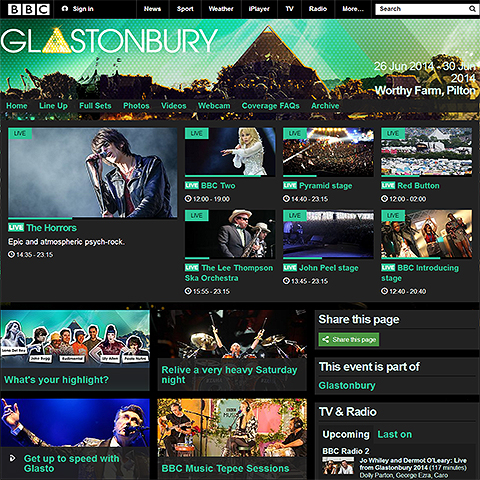 02 January 2014 5:03 PM GMT
iTunes
Spotify
BBC
MTV
New Artists for 2014
Sound of 2014
MTV Brand New 2014
iTunes New Artists 2014
BBC Sound of 2014
Spotify New Artists for 2014
GlobalGrind New Artists for 2014
GlobalGrind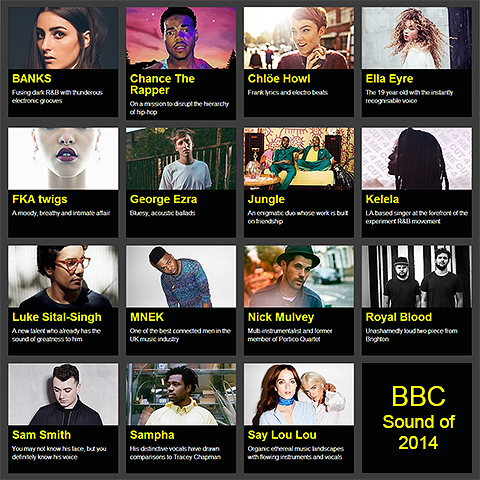 It's that time again when musos try to predict the breaktrough acts of 2014. In the past I've always led on 'BBC's Sound of ...', but this year I have decided to do an aggregate listing of everyone recommended by BBC, GlobalGrind, iTunes, MTV, Spotify and others. The first is the entire long-list, followed by 'Most Hyped' (most mentions) and finally my 5 top picks - should be something for everyone here!:
Alphabetical:
...
28 May 2013 10:14 PM GMT
social media
BBC
Radio 1
Live Music
Live Streaming
BBC Big Weekend
BBC Radio 1
Internet Streaming
Radio 1 Big Weekend
Big Weekend Derry
Big Weekend Londonderry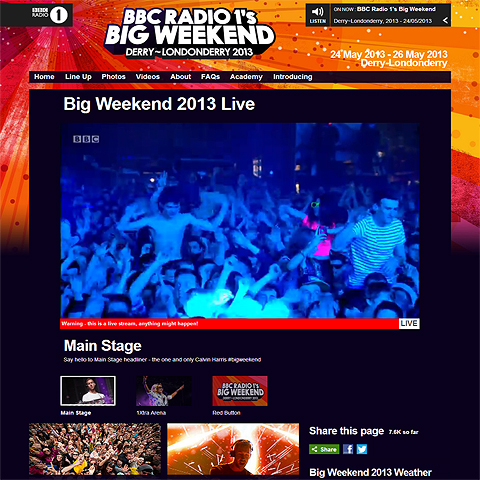 Following YouTube's best ever streaming coverage of Coachella, it would have been nice to see the BBC match its ambition. Of course in some areas the BBC coverage was infinitely superior, but the Beeb is still not really getting into social media, and the usually brilliant inclusions of setlists were glaringly absent this year.
I also felt that YouTube's streaming / interface was smoother and smarter. When viewing the BBC feed it dropped out a few times and needed a browser
...
02 November 2012 4:23 PM GMT
apple
FaceBook
Google
Comrz
LinkedIn
Affino
Amazon
BBC
Affino 7
London 2012
London 2012 Olympics
2012 London Olympics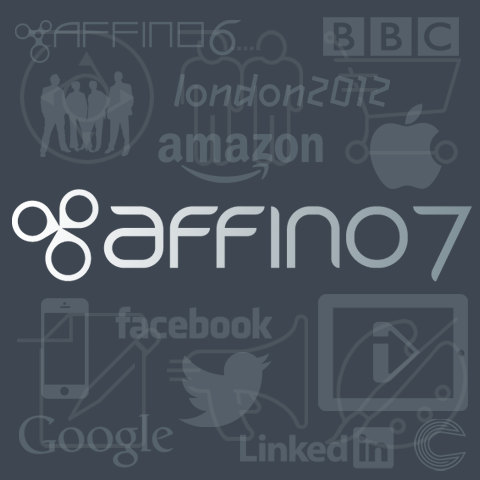 An enormous amount of input goes into every major Affino version release, and Affino 7 is no exception. Front and centre to all our considerations are our customers' ongoing requirements and feature requests - Affino almost wholly evolves along collaborative lines between the Comrz Team and every single one of Affino's users.
It's frequently a tough job consolidating all the different diverse requirements into a single streamlined system, but this is what we do every
...
03 August 2012 9:16 AM GMT
london
BBC
Logo Design
2012 Olympics
London 2012
London 2012 Olympics
London 2012 Design
Typography Design
Interiors Design
Colour Specification
London Olympic Venues
London 2012 Venues
London 2012 Venue Design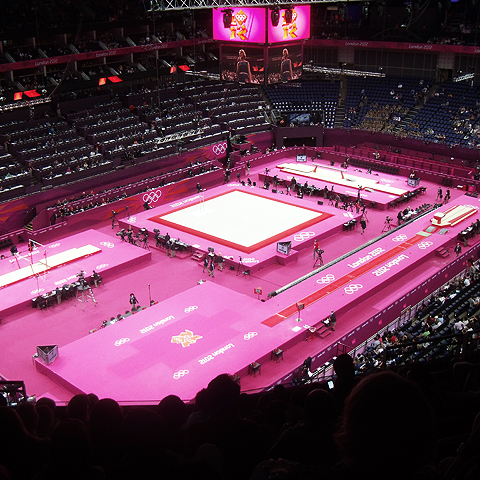 Gymnastics Venue - North Greenwich Arena (The O2) (adapted by Populous)
Much has been written about the exterior design of the new London 2012 Olympic Venues, Stadium and Olympic Park. There has been far less coverage of the actual interior designs of the various venues - the playing surfaces, perimeter wraps, boundary decorations and signage.
I'm fortunate to live right next door to one of the minor outdoor venues - Hyde Park, home to the Triathlon and 10K
...
25 June 2012 11:52 PM GMT
FaceBook
social media
video on demand
youtube
Twitter
BBC
Glastonbury
Video Streaming
Live Music
Coachella
Google+
2012 Hackney Weekend
BBC Hackney Weekend
Music Festivals
Streaming Website
Hashtag
Web Interface
Festival Website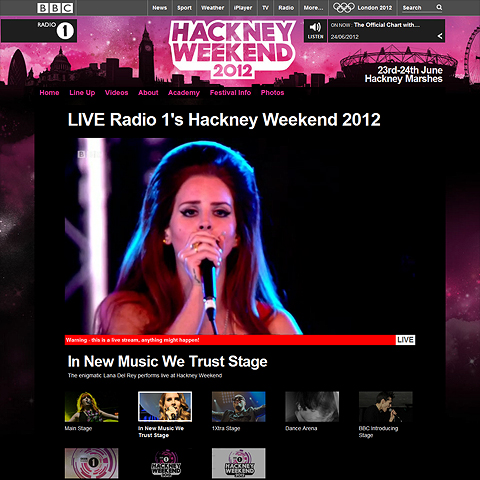 I'm an avid follower of the world's leading music festivals - specifically how they are broadcast and 'packaged' for the digital audience. I've kept tabs on the BBC's and YouTube's coverage of music festivals over the last few years, and reported back on how each has evolved their offering - benchmark events have been Glastonbury in the UK and Coachella in the US. In this Olympic year, there is no Glastonbury, so we will use BBC 1's Big Weekend
...
18 April 2012 10:36 PM GMT
FaceBook
social media
youtube
Twitter
Firefox
BBC
Google Chrome
Coachella
Coachella Festival
Coachella Live
Coachella Valley Music and Arts Festival
Coachella Music Festival
Swedish House Mafia
Google+
Azealia Banks
Frank Ocean
The Weeknd
SBTRKT
Coachella 2012
Miike Snow
Datsik
Snoop Dogg + Tupac
Santigold
arabMUZIK
Lykke Li
Talk Talk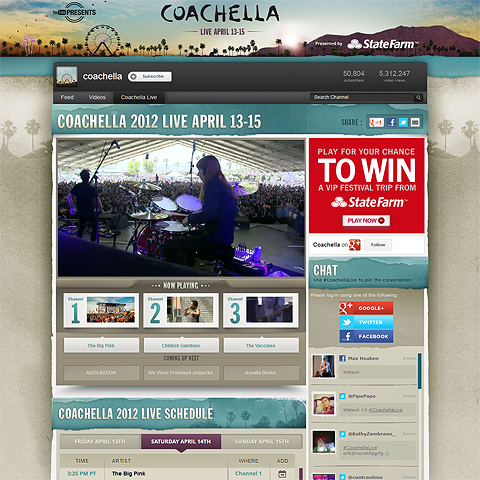 Last year I blogged about catching the year's first big music festival courtesy of YouTube - who broadcast live form the 5 stages over the 3 days. I raved about the really clever interface - how they included hashtags into their live updates - and how slickly the whole thing worked, including the uninterrupted streaming broadcast itself.
This year the layout of the interface was even better - with the current and upcoming bands listed in the centre, and the updates off to the
...
10 January 2012 11:30 AM GMT
apple
internet tv
social media
youtube
iTunes
BBC
Video Rental
LoveFilm
Netflix
Blockbuster
Online Video
Online Streaming
Internet Movies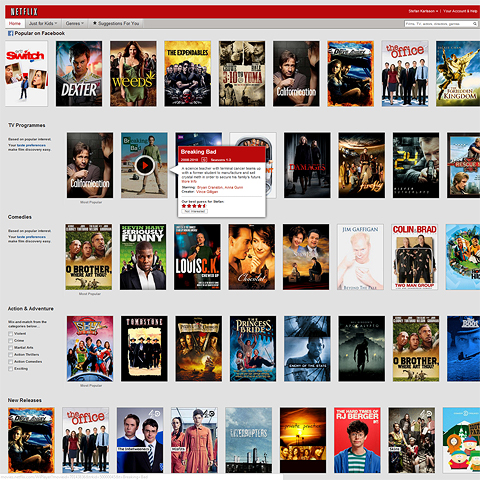 I've been waiting a while now for the arrival of Netflix on these shores, so was it worth the wait?

When I received the initial email invitation, it's poor quality made me unsure as to whether this was some sort of phishing effort. This was not helped by the very basic Netflix holding page presented to UK users.

In any case, I had been waiting a while for this so I dipped my toes into the 30 day free trial. You have to enter you credit card details during registration, which will
...