BBC Glastonbury 2014 online coverage is rich in detail but somewhat labyrinthine
30 June 2014
1:12 PM

Stefan Karlsson
BBC
BBC Glastonbury
Glasto 2014
Glastonbury
Glastonbury 2014
Glastonbury Music Festival
Live Music Streaming
Live Video
social media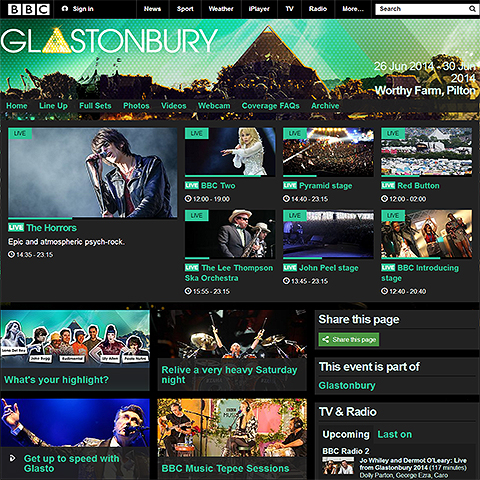 From previous blog posts you will know that I'm a huge music fan and sometime armchair festival attendee. The two big annual music festivals are of course Coachella (covered by YouTube) and Glastonbury (covered by BBC). These are very different events in many ways and Glastonbury has far more scale and complexity than Coachella. That said, this year's Coachella coverage by YouTube was a high water mark as you can read in my [previous post].
I love the way that YouTube had the 3 Stages option selector with excellent 'On Now' / 'Up Next' menus - really easy and quick to operate - and a doddle to flit from one live feed to another. As indicated in the title, flitting from one stage to the next on the BBC site was a little more arduous and I think the BBC can learn quite a bit from YouTube. On YouTube the live feeds were looped around and interspersed with interviews and Coachella general interest pieces - when waiting for bands to setup, or if there was a delay in the proceedings - there was always some content being broadcast. On the BBC site conversely when the lightning strike hit on Friday - there were just notices on all the feeds saying that there was an interruption to the usual programme because of inclement weather conditions. Broadcasters usually live in mortal fear of 'dead-air' - those moments then the broadcasts are unintentionally interrupted because of technical reasons - or when a presenter runs out of things to say - or literally just nothing happens for a period of time. On the BBC we had lots of dead-air on the live feeds - something I feel could be handled a lot better.
It was interesting to see that the BBC music websites are still largely adaptive in design - with dedicated versions for mobile platforms as per below screen. Some parts of the BBC have moved to responsive - like the iPlayer for instance, but in the main the design format in operation is still adaptive.
As for the actual content of this year's festival, I must say I rather enjoyed it - and technically, the streaming was excellent in quality, not sure it was necessarily a vintage year though. I loved the inclusion of Metallica whose set I mostly watched, but did not majorly resonate with me. My favourite bit of the Metallica set was when they covered the great Thin Lizzy standard 'Whiskey In the Jar'.
These were my favourite sets in roughly the order of appreciation:
Glastonbury 2014 Highlights
Arcade Fire
St Vincent
Lana Del Rey
Clean Bandit
Goldfrapp
Dolly Parton
Manic Street Preachers
Kasabian
M.I.A.
Lykke Li
Pixies