Sound of 2015 - Key New Artists championed by BBC, MTV, iTunes, Spotify et al
31 December 2014
12:29 AM

Stefan Karlsson
Amazing Radio
BBC
Brand New 2015
Deezer
Gigwise
GlobalGrind
Guardian
iTunes
MTV
New Artist Picks for 2015
New Artists for 2015
New Music for 2015
Sound of 2015
Spotify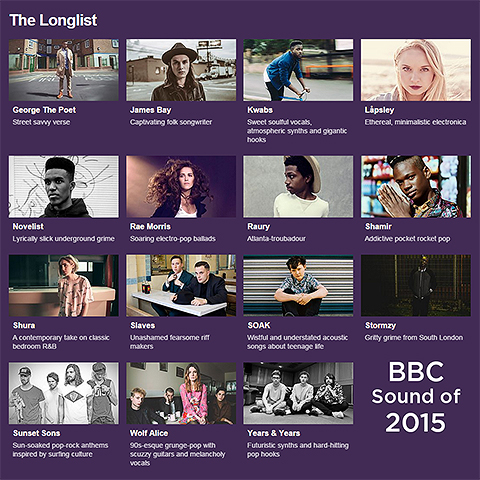 Time has come around again to scope out new directions and find some new blood which may just strike it big in the forthcoming 12 months or so. I've already discarded some nominations as they featured heavily last year, or have already released a commercial album (you can unleash infinity mix-tapes and still feature!). Anyway, should be something for everyone here from this list of 88 contenders. James Bay seems to be favourite already, and has already picked up the BRIT Critic's Choice Award. There are 27 here I rate highly, including 7 of the 10 most popular. I typically don't go for too much folk or guitarry strumming, but if it's really special it may just strike the right chord. Really impressed with what Ben Khan and Kacy Hill are up to ...
Advocates = Amazing Radio, BBC, Deezer, Gigwise, GlobalGrind, Guardian, iTunes, MTV, Spotify
x3 etc. = number of backers
+ = rated by Stef!

Most Championed Artists
James Bay [Contemporary Folky Pop | 2015 BRIT Chritic's Choice Winner] x7
SOAK [Ethereal Singer / Songwriter] x6 +
Years & Years [Dance-inflected Electronic Pop, tour with Clean Bandit] x6 +
Raury [Singer / Songwriter] x5
Ibeyi [Soulful Percolated Pop] x4 +
Kwabs [Contemporary Soulful Pop] x4 +
Låpsley [Ethereal Electronic Pop] x4 +
Shura [Contemporary R&B-inflected Pop] x4 +
Slaves [Percussive Riff-Rock] x4
Becky Hill [Contemporary Pop] x3
George the Poet [Poetic Lyricist] x3
Laura Doggett [Singer / Songwriter] x3
Rae Morris [Singer / Songwriter] x3
Seinabo Sey [Soulful Pop] x3 +
Sunset Sons [Surf-inspired Pop-Rock] x3
Stef's Top Outsider Picks
Ben Khan [Deep Electronic Pop] +
Kacy Hill [Futuristic R&B] x2 +
Tourist [Dance-inflected Electronic Pop] x2 +
Full Alphabetical Long List with Advocates
All We Are [Folky Pop] (Gigwise, Spotify) x2
Autobahn [Indie Rock] (Gigwise)
Becky Hill [Contemporary Pop] (iTunes, MTV, Spotify) x3
Ben Khan [Deep Electronic Pop] (iTunes) +
Black Honey [Pop-Rock] (Gigwise) +
Blood Diamonds [Electronic / Hip-Hop / Beats] (Gigwise) +
Brawlers [Punk-Rock] (Gigwise)
Charlotte OC [Singer / Songwriter] (Gigwise)
Cheerleader [Pop-Rock] (Gigwise)
Chet Faker [Electronic Pop / Downtempo] (Guardian)
Circa Waves [Indie-Rock] (Gigwise, iTunes) x2
Coasts [Indie-Rock] (Spotify)
Courtney Barnett [Indie-Folk-Rock] (Gigwise)
Darlia [Grungy-Riff-Rock] (Gigwise)
Deers [Indie-Rock] (Amazing Radio, Gigwise) x2
Dolomite Minor [Heavy-Riff-Rock] (Gigwise)
Dreezy [Contemporary Hip-Hop] (GlobalGrind)
Drippin [Electronic Beats / Instrumental Hip-Hop] (Amazing Radio) +
Eaves [Singer / Songwriter / Pop-Rock] (Gigwise)
Ezra Vine [Folky-Pop] (Deezer)
Flyte [Pop-Rock] (Deezer, Gigwise)
Francesco Yates [Contemporary R&B / Electro-Soul] (GlobalGrind) +
Freddie Dickson [Folky Singer / Songwriter] (Deezer)
Future Brown [East Coast Urban Hip Hop] (Guardian)
George The Poet [Poetic Lyricist] (BBC, Gigwise, MTV) x3
Gengahr [Indie-Pop-Rock] (Amazing Radio)
Girl Band [Alternative-Rock] (Gigwise)
Heyrocco [Indie Rock] (Gigwise)
Ibeyi [Soulful Percolated Pop] (Guardian, Gigwise, iTunes, Spotify) x4 +
Indiana [Electronic Pop] (Gigwise)
James Bay [Contemporary Folky Pop | 2015 BRIT Chritic's Choice Winner] (Amazing Radio, BBC, Deezer, Gigwise, iTunes, MTV, Spotify) x7
Joey Bada$$ [East Coast Hip-Hop] (Gigwise)
Josef Salvat [Electronic-infused Contemporary Pop / Indie Pop] (Deezer, iTunes) x2
JUCE [Soulful Contemporary Pop] (Spotify)
Kacy Hill [Futuristic R&B] (Gigwise, GlobalGrind) x2 +
Kate Boy [Electronic Pop] (Gigwise) +
Kaytranada [Eclectic Canadian Hip-Hop] (GlobalGrind)
Kite String Tangle [Electronic Pop] (Gigwise) +
Krept & Konan [UK Hip-Hop / Grime] (MTV)
Kwabs [Contemporary Soulful Pop] (BBC, Deezer, Guardian, Gigwise) x4 +
Låpsley [Ethereal Electronic Pop] (Amazing Radio, BBC, Gigwise, Spotify) x4 +
Laura Doggett [Singer / Songwriter] (Deeezer, Gigwise, Spotify) x3
Laurel [Electronic-tinged Soulful Pop] (Gigwise) +
Lil Herb [Chicago Hip-Hop /Trap](GlobalGrind) +
Little Simz [UK Hip-Hop / Grime] (Amazing Radio)
Lion Babe [Contemporary R&B / Pop] (GlobalGrind) +
Majid Jordan [Weeknd-like Modern R&B] (GlobalGrind) +
Marika Hackman [Singer / Songwriter] (Guardian, Gigwise) X2
Meanwhile [Inde-Dance-Pop] (Deezer) +
Melissa Steel [Reggae-Tinged-Pop] (MTV)
Menace Beach [Indie Rock] (Gigwise)
MNEK [Electronic-Dance-Pop] (iTunes) {MNEK already featured on most 2013 lists!} +
Natalie Prass [Soulful-Folky Singer / Songwriter] (Guardian)
Nimmo [Electronic Pop] (Amazing Radio, Guardian) x2
Nothing But Thieves [Indie Rock] (MTV, iTunes, Spotify) x3
Novelist [UK Hip-Hop / Grime MC] (BBC, Gigwise) x2 +
OG Maco [Grimey Atlanta Hip-Hop] (GlobalGrind)
Only Real [Indie Pop] (Deezer)
Pale Seas [Indie Pop] (Gigwise)
Prides [Indie-Pop] (Deezer, Gigwise)
Rae Morris [Singer / Songwriter] (BBC, Deezer, Gigwise) x3
Rae Sremmurd [Young-Thug-ish Mississippi Hip-Hop] (GlobalGrind)
Raury [Singer / Songwriter] (Amazing Radio, BBC, Gigwise, GlobalGrind, Spotify) x5
Rhodes [Indie / Singer / Songwriter] (Deezer)
Rome Fortune [Chilled Atlanta Hip-Hop] (GlobalGrind)
Rosie Lowe [Cool, Soulful Modern R&B] (Deezer, Gigwise) x2 +
Ryn Weaver [Contemporary Power Pop] (Gigwise)
Saint Raymond [Indie Pop] (MTV)
Say Lou Lou [Electronic Pop] (Gigwise) {Mostly recognised in 2013} +
Seinabo Sey [Soulful Pop] (Deezer, Gigwise, Spotify) 3x +
Shamir [Fizzy / Soda-Pop] (BBC, Guardian) x2
Shura [Contemporary R&B-inflected Pop] (Amazing Radio, BBC, Deezer, Gigwise) x4 +
Shy Glizzy [More Young-Thug-ish D.C. Hip-Hop] (GlobalGrind)
Sinead Harnett [Soulful Dance-inflected Pop, featured for Disclosure and Rudimental] (Deezer, MTV) x2 +
Sisters [Melodic Fuzzy Indie Rock] (Gigwise)
Slaves [Percussive Riff-Rock] (Amazing Radio, BBC, Guardian, Gigwise) x4
SOAK [Ethereal Singer / Songwriter] (Amazing Radio, BBC, Deezer, Gigwise, iTunes, Spotify) x6 +
Stormzy [Gritty London Grime] (BBC, Gigwise) x2
Sunset Sons [Surf-inspired Pop-Rock] (BBC, Deezer, MTV] x3
Ten Walls [Atmospheric Minimal / Deep House] (Gigwise) +
Tink [Contemporary R&B / Hip-Hop] (GlobalGrind)
Tobias Jesso Jr [Singer / Songwriter / Pianoman] (Guardian)
Troye Sivan [Electronic Pop] (Deezer) +
Tourist [Dance-inflected Electronic Pop] (Amazing Radio, Gigwise) x2 +
Vic Mensa [Soulful Chicago Hip-Hop] (GlobalGrind)
Vince Staples [Mostly Breezy LA Hip-Hop] (GlobalGrind, Guardian) x2
Wolf Alice [90s-Esque Grunge-Pop] (BBC, Gigwise) x2
Years & Years [Dance-inflected Electronic Pop, tour with Clean Bandit] (BBC, Deezer, Guardian, Gigwise, iTunes, MTV) x6 +