Happy Star Wars Day - May the 4th be with You!
04 May 2017
1:04 AM

Stefan Karlsson
Forbidden Planet
Lego Star Wars
May the 4th
May the 4th be with you
May the Fourth
Star Wars
Star Wars Day
Star Wars Episode VIII
Star Wars Snowspeeder
The Last Jedi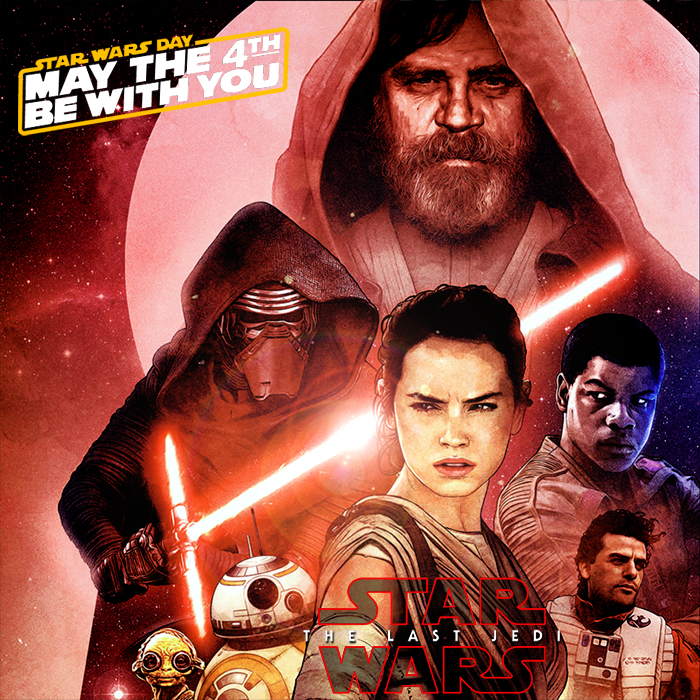 In years past I have singled out various bits of new Star Wars merch for your purchasing consideration. This time I will just give you two links - one to Lego (here) and one to Forbidden Planet (there) - those should both sate your cravings for new Star Wars memorabilia.
Instead, we turn our attention back to the original universe that started / spawned this whole journey / saga we now celebrate - the still most significant cinema event of my life - when I first saw Star Wars 'A New Hope' in my fledgling years. And although the nostalgia and romance is still there, some of the impact has faded very slightly with the SFX looking a little lo-fi (ropey even) when compared with what is currently possible and being done.
I had a debate with my security guard buddy at Fopp in Covent Garden - about what order he should play the Star Wars series for his new-to-the-franchise 8 year old daughter. He suggested showing them in numerical chronological - order i.e. starting with the shiny Jar-Jar Binks festooned prequels, but I'm not so sure. Even though the recent films return somewhat to the more 'worn' aesthetic of old, they are nevertheless much more polished in their production and effects.
It is quite evident that the earliest films have become dated in places, even though they have a lot more heart than the subsequent prequels and even to some degree the sequels. So I would most likely advocate watching them by release date and just treating them as sort of 3 batches of films - with different starting points in the narrative chronology. I find a certain satisfaction in watching how Rogue One joins together some of the lost history leading up to episode IV and how it connects the new with the old and newer still. I'm not sure it would have the same impact factor if viewed between episodes III and IV. Watching it in release sequence is a little like discovering some amazing found footage of earlier events - which enhances your memory of preceding events. All the cameos and easter egg surprises would likely not hit home to the same degree if you watched as a lead-in to New Hope.
For us Star Wars fans - each of the films tugs at our heartstrings a little, and even the weaker film episodes still have several spectacular scenes to recommend them. For the connoisseurs you are allowed to choose either Episode IV or V as the best in the series. We still hope that one of the future ones can equal the impact of 'A New Hope' or the raw emotion of 'Empire Strikes Back'. I have a feeling that 'The Last Jedi' may be quite dark as the middle sequence of this latest trilogy - I'm still excited to see it of course, in fact even in a year filled with lots of fabulous sci-fi fare, it is nigh on impossible to compete with a Star Wars Christmas Release, let's hope this latest recaptures some of the magic we witnessed in Rogue One - minus the digitally remodelled character cameos ideally - although it was majorly emotional watching a digitally recreated Carrie Fisher at bizarrely same time that her passing was announced - actually during the movie interval.
Here is the most recent teaser for Episode VIII - The Last Jedi:

Despite all efforts, I could not help but include this recently released Lego UCS Snowspeeder!: