Celebrate Star Wars Day - May the Fourth Be With You!
04 May 2015
1:01 AM

Stefan Karlsson
May the 4th be with you
May the force be with you
May the Fourth
May the fourth be with you
Star Wars
Star Wars Battlefront
Star Wars Day
Star Wars Day 2015
Star Wars Episode VII
Star Wars The Force Awakens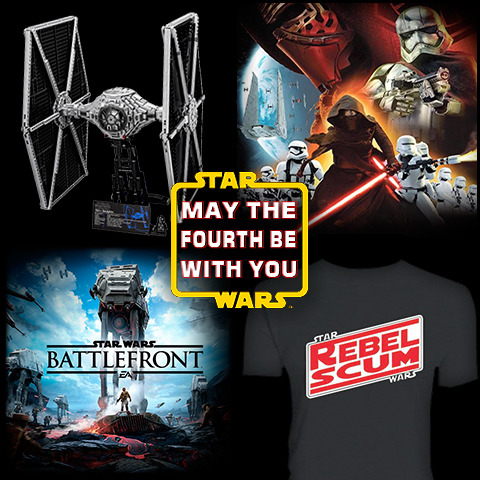 This year's Star Wars Day most likely heralds the biggest year in Star Wars since 1977. Expectations are at fever pitch for the next instalment in the franchise - 'Episode VII The Force Awakens'. There's already mass hysteria over possible plotlines, reunions, revolutions and revelations, especially which is the latest addition to the Jedi ranks? The newest trailer should not leave any Star Wars fans in doubt that they will be royally entertained:
While we wait for the movie's December release date, we can get stuck into its predecessors via the latest imminent console game offering - 'Star Wars Battlefront'. This allows you to immerse yourself in all the best remembered fight sequences - whether in space or on the ground - in ice or lush tropical rainforests populated with tiny teddy bears!:
Lego has also pulled the rabit out of the hat with a number of exclusive new sets - many of which will be specially available in-store today. I will likely pop across to the Lego Store at Westfield to see what's what. Here is a preview of some of which may be available.
Following on from Saturday's Comic Book Day, I'm already a little overwhelmed by comic book stores, having spent some not inconsiderable time in queues on that day. I may though make one more sweep today to see what Star Wars treats they have on offer - Forbidden Planet always has an amazing selection. As the film is not released until December though, I'm not entirely sure what movie tie-ins will be available right now. Perhaps Star Wars / Disney has honed its act now, as we're still waiting for a number of the Guardians of the Galaxy toys to appear since last year.
Star Wars Day though is not really about consumerism, it's more about thinking kindly towards and of accepting your fellow human - however alien their ways or appearance may seem to you. Regardless of your faith or religious beliefs, there is a quite evident lifeforce of some description, a common consciousness that truly unites us all ...