You are here:
Home
|
Blogs
|
Stefan's Naturally Aspirated Blog





05 Jul 2015 11:20 PM

Popular

Comments

Profile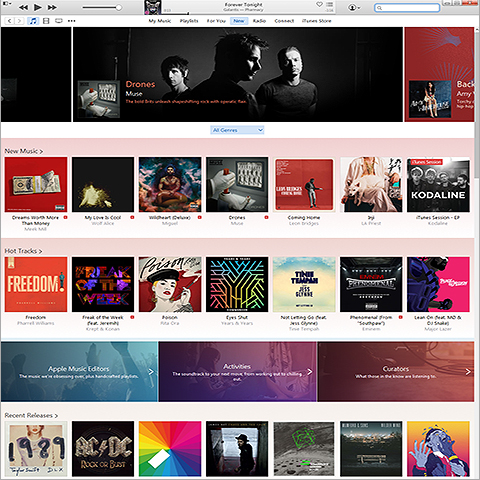 I will preface this article by saying that I am a long term music fanatic - having amassed some circa 10,000 12" records over the years, as well as a considerable volume of CDs - music is a constant in my every waking moment. Over the past 10 years I have gradually and almost fully transitioned to digital. I've been using iTunes since 2010, and am an early adopter of Spotify. I buy between 2 and 10 albums worth of music on roughly a weekly basis - this comes from a variety of sources - including iTunes, Amazon, Beatport, Traxsource, Juno Download, Bandcamp, 7 Digital, and still some vinyl and the occasional CD. I am still disappointed that a great part of music has yet to be converted to digital and still can only be consumed on an analogue basis. To which ends I have a USB turntable and optical drive to convert my analogue music sources to MP3 format - so that I can listen to them on the go. When you encounter me in public you will almost always see me with a pair of headphones on - either in use or wrapped around my neck in standby mode (Bluetooth!).

I rely on an iPhone 6 Plus 128GB paired with a Philips Fidelio M1BT headset - which combination is my daily musical companion / jukebox. The vast majority of the iPhone's memory is occupied by music - currently in excess of 11,000 songs (circa 50% of my total iTunes library). As I said previously, this music soundtracks most of my daily activities, and is with me while I work and on every journey. Cloud-streamed music will never be fully reliable for me though, as there will always be some sort of reception black spots and occasions for Signal drop-out. The most significant part really, is that no single source can or could ever fulfil the broad spectrum of music I like to listen to.

Spotify I use mostly for music discovery / exploration and to help me to decide whether it is worth adding a particular collection of songs to my own collection / library. As the 30 seconds to 2 minutes song previews on iTunes etc. are usually inadequate to properly gauge the character of an entire album. For ease of use I buy most of my MP3s through iTunes, then Beatport, Juno Download etc. for more specialist tracks which aren't available from Apple.

Before and while upgrading iTunes and iOS to the latest versions (i.e. featuring Apple Music), I had fairly familiar memories of Apple&

...

8 comments
|
permalink
|
email this
|

|





02 Jan 2015 3:58 PM

Popular

Comments

Profile
NOTE - this blog post will be updated throughout the year, particularly the Album Release Schedule ...
2014 was an excellent year for music all in. Not much rock really, but plenty to get excited about. There are not as many big releases forthcoming in 2015, which seems destined to be the year of the blockbuster movie. Nevertheless there are lots of minor music industry intrigues happening - especially Apple's imminent launch of iTunes Streaming. There are also a number of new artists exploring interesting diections in 2015 ...
Top 10 Albums of 2014
St Vincent - St Vincent
LP1 - FKA Twigs
Goddess - Banks
Cut Your Teeth - Kyla La Grange
Beauty is Pain - Rebecca & Fiona
The Inevitable End - Röyksopp
Chiaroscuro - I Break Horses
Blue - Iamamiwhoami
Kiasmos - Kiasmos
No Mythologies to Follow - Mø
[for a greater selection see Best of the Year 2014 article]

Top 10 Tracks of 2014
B a NoBody / Blud - Soak
Chandelier (Four Tet Remix) / Free the Animal - Sia
Prince Johnny / Digital Witness - St Vincent
Hideaway / No Enemiesz - Kiesza
Tough Love (Cyril Hahn Remix) / Say You Love Me (Gorgon City Remix)- Jessie Ware
Two Weeks / Pendulum - FKA Twigs
Rather Be / Real Love - Clean Bandit ft. Jess Glynne
Beautiful / Hey QT - A.G. Cook / Sophie
Change / Beggin for Thread - Banks
Do It Again (Original) / Monument (TIE) - Röyksopp and Robyn
[for a greater selection see Best of the Year 2014 article]
My Top 21 Online Music Discovery Resources (alphabetical)
Every day / week I get a number of new release prompts - automated subscriptions from most of the following list. I follow several hundred favourite bands / musicians / DJs on Facebook now and for the last few years these have been the source of a surprising proportion of new likes for me. If you want to check out a known-name band, then it's difficult to do much better than Last.fm - to check to see if an entire album is worth buying - Spotify or Deezer are essential resources. For more obscure / left-field bands, you can usually find these on SoundCloud or Bandcamp. A very high proportion of these resources focuses on electronic music, which is of course my primary music of choice:

2 comments
|
permalink
|
email this
|

|





31 Dec 2014 12:29 AM

Popular

Comments

Profile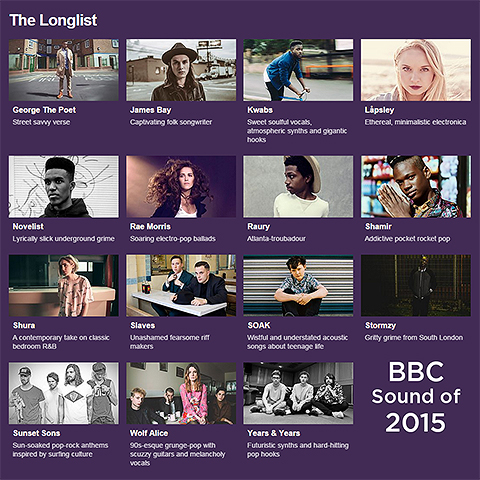 Time has come around again to scope out new directions and find some new blood which may just strike it big in the forthcoming 12 months or so. I've already discarded some nominations as they featured heavily last year, or have already released a commercial album (you can unleash infinity mix-tapes and still feature!). Anyway, should be something for everyone here from this list of 88 contenders. James Bay seems to be favourite already, and has already picked up the BRIT Critic's Choice Award. There are 27 here I rate highly, including 7 of the 10 most popular. I typically don't go for too much folk or guitarry strumming, but if it's really special it may just strike the right chord. Really impressed with what Ben Khan and Kacy Hill are up to ...
Advocates = Amazing Radio, BBC, Deezer, Gigwise, GlobalGrind, Guardian, iTunes, MTV, Spotify
x3 etc. = number of backers
+ = rated by Stef!

Most Championed Artists
James Bay [Contemporary Folky Pop | 2015 BRIT Chritic's Choice Winner] x7
SOAK [Ethereal Singer / Songwriter] x6 +
Years & Years [Dance-inflected Electronic Pop, tour with Clean Bandit] x6 +
Raury [Singer / Songwriter] x5
Ibeyi [Soulful Percolated Pop] x4 +
Kwabs [Contemporary Soulful Pop] x4 +
Låpsley [Ethereal Electronic Pop] x4 +
Shura [Contemporary R&B-inflected Pop] x4 +
Slaves [Percussive Riff-Rock] x4
Becky Hill [Contemporary Pop] x3
George the Poet [Poetic Lyricist] x3
Laura Doggett [Singer / Songwriter] x3
Rae Morris [Singer / Songwriter] x3
Seinabo Sey [Soulful Pop] x3 +
Sunset Sons [Surf-inspired Pop-Rock] x3
Stef's Top Outsider Picks
Ben Khan [Deep Electronic Pop] +
Kacy Hill [Futuristic R&B] x2 +
Tourist [Dance-inflected Electronic Pop] x2 +
Full Alphabetical Long List with Advocates
All We Are [Folky Pop] (Gigwise, Spotify) x2
Autobahn [Indie Rock] (Gigwise)
Becky Hill [Contemporary Pop] (iTunes, MTV, Spotify) x3
Ben Khan [Deep Electronic Pop] (iTunes) +
Black Honey [Pop-Rock] (Gigwise) +
Blood Diamonds [Electronic / Hip-Hop / Beats] (Gigwise) +
Brawlers [Punk-Rock] (Gigwise)
Charlotte OC [Singer / Songwriter] (Gigwise)
Cheerleader [Pop-Rock] (Gigwise)
Chet Faker [Electronic Pop / Downtempo] (Guardian)
Circa Waves [Indie-Rock] (Gigwise, iTunes) x2
Coasts [Indie-Rock] (
...

1 comment
|
permalink
|
email this
|

|





20 Nov 2014 12:07 AM

Popular

Comments

Profile
Tags:
youtube
,
SoundCloud
,
Amazon
,
iTunes
,
Spotify
,
Digital Music
,
MP3
,
Music Industry
,
Taylor Swift
,
Music Streaming
,
Music Technology
,
Music Discovery
,
Music Promotion
,
Value of Music
,
Streaming Revenues
,
Bob Stanley
,
Pop Music
,
History of Music
,
Music Evolution
,
Music Industry Evolution
,
Vinyl Music
,
Recorded Music
,
Analogue Music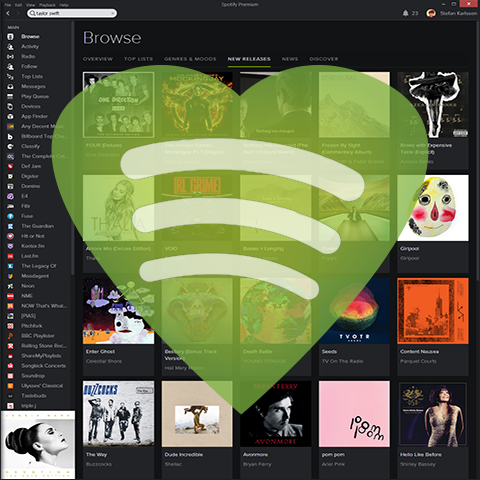 Taylor Swift is not the first to remove her entire catalogue from Spotify and nor will she be the last. Following on from her disingenuous pretense at offering better service to UK fans by forcing them to buy her whole pre-release album instead of being able to download individual promo tracks like the rest of the world could do. It's not a surprise that she's taken these latest extreme measures, but the reasons she gives are nothing more than record label bulls**t spin - in an attempt to divert attention away from a pretty blatant act of profiteering - which is to say that she removed all her music from Spotify so that the only way her fans could access it legitimately was via fully purchasing / owning the album and thus ensuring higher sales revenues... of course her less fastidious fans can still listen to her back-catalogue via Vevo, YouTube, Dailymotion, and a million other video and mp3 serving websites - the vast majority of which pass on absolutely no revenues to Taylor or her record label.

I myself am a huge music fan, not particularly of Taylor Swift, but I buy on average 2-3 albums worth of music each week - via iTunes, Amazon, Beatport and Juno Download etc., I am also a premium subscriber to Spotify whose services I really love - I still live in hope for proper full-range 'Spotify' -like services for Films, for TV and for Books. Long have we heard the music industry and particularly certain old-fashioned (backward looking?) echelons within it bemoaning the diminishing fortunes of the industry - compared with its heyday in the 70's and 80's - seemingly totally oblivious to ever evolving changes in society and in technology.

Let's then not forget to review the entire history and evolution of popular music, and how mainstream American radio is still very much influenced by payola-like dynamics - or pay-for-play. Bob Stanley (Saint Etienne + Yeah Yeah Yeah: The Story of Modern Pop) traced the origins of modern pop back to the 50's and the start of the 45rpm vinyl records which fuelled the earliest pop charts. Records were initially seen as promotional tools to ensure radio-play in order to get more members of the public to attend concerts. The peak of record-buying was reached in the late 70's / early 80's - where the records became an artist's main source of

...

Add Comments
|
permalink
|
email this
|

|





23 Jul 2014 12:09 PM

Popular

Comments

Profile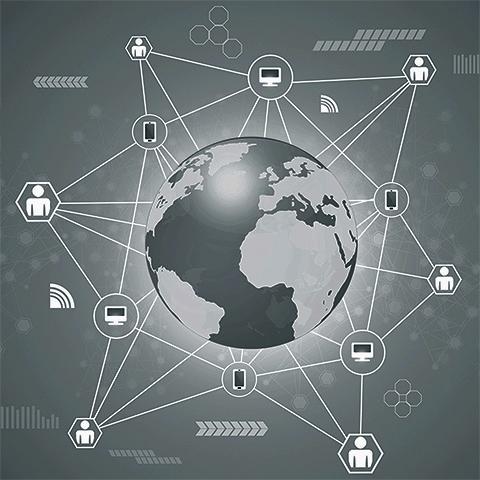 Readers of this blog will know that I'm a big fan of music and movies. I subscribe to all manner of mailing lists and regularly read up on latest releases on a variety of online movie and music resources. On Facebook I am fan to countless musicians and bands, and am very aware when new releases are out in the marketplace. I initially wrote about this issue 10 years ago, and I'm sad to report that global media availability is still highly idiosyncratic.

Big artists like Justin Timberlake and Beyoncé know that if they don't make their music available globally when it is released, they will become victims of piracy and will loose significant earnings potential. I still though come across even promo videos on YouTube which have for some reason not been enabled for my location - the UK! The UK still being one of the major entertainment marketplaces in the world - particularly from the perspective of promotional potential.

I get notified that Artist A has a new release out today, I go to iTunes, and it's 'Not available for your Region'. I then go to the Artist or record label website, and am heartened to see that yes they sell digital downloads on-site. But when I try to add to basket / checkout, it says that the website caters only for the local market where that website is based - USA, Australia etc. I'm still surprised this happens at all in today's global economy. Fans like me like to get their hands on the latest media content as soon as it is made available. If they cannot acquire the MP3 or Video etc. by legitimate means, they will often resort to alternative means of acquisition.

In the past, record labels used to stagger releases between Regions - we still have new UK releases appearing on a Mondays, while new US releases appear on the following day - Tuesday. The most famous recent global media release was Beyoncé's new album which was simultaneously released to all markets / territories overnight. In fact, pretty much all major artists know to release simultaneously or fall victim to piracy. Even Radiohead, who pioneered independent releasing, don't restrict the availability of their music by region. I find it very peculiar when I come a across a fairly minor artist with little or no presence in the UK, and little content on either Amazon or iTunes,

...

Add Comments
|
permalink
|
email this
|

|





02 Jun 2014 3:02 PM

Popular

Comments

Profile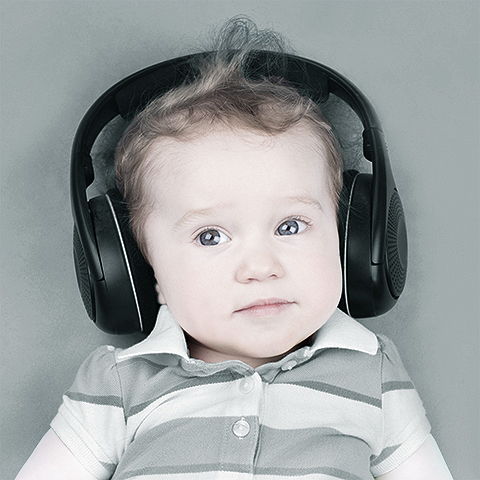 Apple's recent $3.2 Billion purchase of Beats has been seen as 'extremely generous' by many industry commentators. As a counter though, a recent article in the Telegraph goes so far as to predict the imminent demise of Spotify in the face of this acquisition - somewhat erroneously claiming that the only thing left to Spotify is to sell itself to a similarly large benefactor (e.g. Google / Facebook}.

We all know that iTunes revenues have been falling in the face of competition from both music and video streaming services (e.g. Spotify and Netflix). Apple launched iTunes Radio in the USA in September 2013, but it has so far failed to gain any significant traction vs industry leaders Spotify, Pandora, Grooveshark and Deezer - hence leading to a key reason for acquiring Beats + Beats Music.

Apple's justification for the high purchase price on Beats rests on their claims that Beats Music's unique combination of Curation, Narrowcasting and Playlists is the future of music consumption. For Curation and Narrowcasting read 'specialist radio' - for which there are already dozens of apps, and music is available for free - albeit some is ad-supported. Beats 'Genres', 'Activities' and 'Curators' are in essence a simplification of music consumption into a limited number of smartly tagged streams - which is kind of what Apple likes to do with its own offerings. The detractors will claim that this is a dumbing down / marginalisation of music taste-making, while its supporters proclaim it as a smart value-added service.

Apple's key rationale is that your typical music fan is semi-ignorant and 'uncool', and needs Beats Music's army of 200+ Curators (DJs and industry players) to tell them what it's cool to listen to and when within their chosen genres. You could argue that Spotify already has this covered via its 100+ dedicated apps, which are essentially playlists curated by DJs, Labels, music media - e.g. Pitchfork and the like. Beats Music's approach is more simplified and more appealing to what I call 'skimmers' or more casual listeners.

I personally have always loved Spotify, and have been a Premium Subscriber of that service pretty much from the start. However, as a high-level music consumer, Spotify has never

...

2 comments
|
permalink
|
email this
|

|





28 May 2014 2:43 PM

Popular

Comments

Profile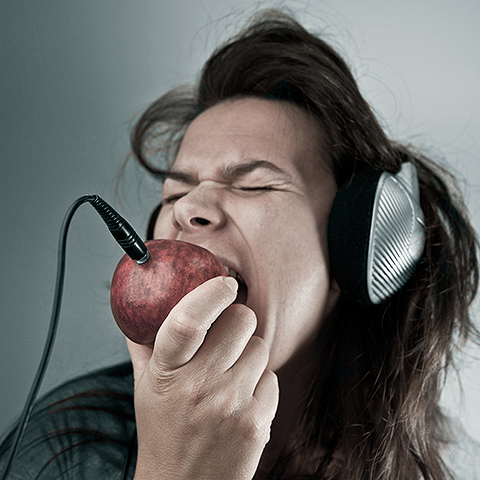 As most will know by now, I am a huge music fan and buy an album or two or three pretty much every week, as well as a variety of singles and EPs. My iPhone's primary purpose really is as a personal jukebox - with 50GB typically dedicated to MP3s. Because of the limited space available on the iPhone - max 64GB for the last three generations, I constantly need to chop and change my selections as I add new albums to my playlists - these constant updates seem to exacerbate the syncing and backup process somewhat.

Right from the earliest days of my iPhone ownership I have had issues with the iTunes <> iPhone sync - typically with the process freezing out at some stage during the number 1-7 steps and occasional corruptions occurring. Corruptions seems to occur on both apps backup / syncing as well as on music. there was a time when the same 2 apps were being copied to the phone for every single sync (for several months in a row) - even though neither had been updated recently.

Since iOS 7 was launched on September 18th 2013 - that is to say iTunes versions 11.1 onwards, the experience has been an unmitigated disaster for me. There's pages and pages of user complaints / notes about music and playlist syncing errors on the various Apple support forums. The issue has been so serious for me that in the last few months I have had to reset and restore my phone to factory settings a dozen times, half of the time needing to set up the phone from scratch as the backup was not restoring properly. I find that a lot of fitness and dance instructors - who use the playlist function extensively are having the same issues. It's not just a matter of the playlists not copying across properly, but frequently during a sync some existing tracks / songs can get corrupted somehow and are no longer available for playback - the only way to fix that really is to restore the device completely - both very frustrating and time consuming. I'm still getting random freezes and the 'update' icon continuing to cycle on my iPhone on occasion even after decoupling from iTunes.

Most recently I updated to iTunes 11.2 last Friday night, and all the music on my phone became corrupted as 'Other' format. It took 6 restores to factory settings with two 'set up phone from new' to finally get everything back in

...

3 comments
|
permalink
|
email this
|

|





02 Jan 2014 5:03 PM

Popular

Comments

Profile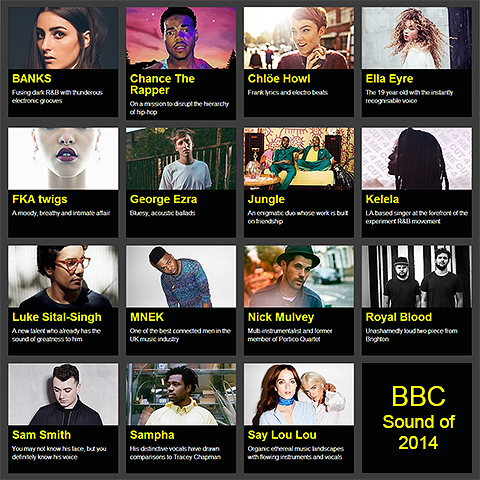 It's that time again when musos try to predict the breaktrough acts of 2014. In the past I've always led on 'BBC's Sound of ...', but this year I have decided to do an aggregate listing of everyone recommended by BBC, GlobalGrind, iTunes, MTV, Spotify and others. The first is the entire long-list, followed by 'Most Hyped' (most mentions) and finally my 5 top picks - should be something for everyone here!:
Alphabetical:
Banks - Fusing dark R&B with thunderous electronic grooves (BBC, MTV, iTunes, Spotify)
Betty Who - Effervescent synth-pop (Spotify)
Bipolar Sunshine - Rhythmic, soulful indie pop (Spotify)
Chance the Rapper - On a mission to disrupt the hierarchy of hip-hop (BBC, GlobalGrind)
Chlöe Howl - Frank lyrics and electro beats (BBC, iTunes)
Circa Waves - Liverpool garage rock revivlalists (Spotify)
Dan Croll - Charming melody-led electro-folk (iTunes, Spotify)
Ella Eyre - Rudimental vocalist goes solo (BBC. MTV)
Elyar Fox - Prodigious YouTube talent (MTV)
FKA Twigs - Mesmerizing haunting electronica (BBC, Spotify)
G-Eazy - Poppy Hip Hop from New Orleans (Spotify)
George Ezra - Bluesy, accoustic ballads (BBC, MTV, iTunes)
Glass Animals - Electronic Alt-folkish quartet from Oxford (Spotify)
Hozier - Moody / soulful Irish singer-songwriter (Spotify)
Isaiah Rashad - Soulful Tennessee emcee (GlobaGrind)
Joel Compass - Male singer-songwriter with contemporary appeal (MTV)
Joey Bada$$ - Gruff 18 year old Brooklyn rapper (Spotify)
Josh Record - Acoustic guitar combined with heavenly vocals (iTunes)
Jungle - Enigmatic urban duo (BBC, Spotify)
Kelela - LA-based singer at forefront of experimental R&B (BBC, GlobalGrind)
Kwabs - 'Electro-synthesized soul' (MTV)
Laura Welsh - Stripped-down soul-pop (iTunes)
Lil Bibby - Youthful Chicago Hip Hop (GlobalGrind)
Luke Sital-Singh - Dreamy singer-songwriter (BBC, iTunes, Spotify)
Mapei - Swedish princess of Hip Hop Soul (GlobalGrind)
Marie Naffah - Witty singer-songwriter, winner of MTV unsigned (MTV)
Migos - Georgia trap trio (GlobalGrind)
MNEK - Hardest working collaborator in UK urban (BBC)
Mø - Entrancing Danish electropopper (iTunes, Spotify)
Nick Mulvey - Portico Quarted member goes solo (BBC)
PARTYNEXTDOOR - Modern urban R&B in the mold of The Weeknd (GlobalGrind)
Royal Blood - Riff-heavy power
...

4 comments
|
permalink
|
email this
|

|





28 Nov 2013 7:08 PM

Popular

Comments

Profile
Tags:
publishing
,
iTunes
,
iBooks
,
Spotify
,
education
,
eBooks
,
Tablets
,
Online Publishing
,
Publishing Industry
,
Selling Chapters
,
Online Books
,
Selling Books Online
,
Magazine Publishing
,
Book Publishers
,
Academic Publishing
,
Book Singles
,
Book Chapters
,
Tablet Books
,
Digital Formats
,
Digital Book Formats
,
Book Granularity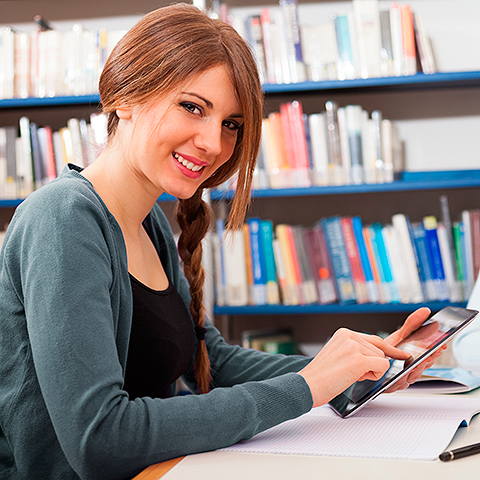 The last big step change in publishing was the accelerated transition to digital formats - eBooks, PDFs and the like. In a similar way, the music industry moved from CDs and Vinyl to be largely dominated by digital formats like MP3 and FLAC.

We've already heard from academic publishers that Professors and student bodies no longer wish to buy the whole text book, but only the 2-3 most relevant chapters. In publishing we are therefore moving metaphorically from album to single sales - or increasing book granularity.

There are other obvious parallels to be considered though, as Spotify has further shaken up the music industry by giving access to an enormous library on a subscription basis. No doubt Amazon is figuring out how to deliver its own 'Spotify for books' service via Kindle. It's a frightening fact in the UK that the average number of books bought per capita is currently less than '1' - so any means to drive up book sales should be welcomed.

This then opens up the next evolution and its obvious parallel with music playlists. You can imagine academics being able to set the curriculum by ascribing key chapters (singles) to a specified reading list.

I remember when I was at university, and the constant internal debate about whether to buy the book or borrow from the library or even just browse and absorb in the library on an adhoc basis. Once an academic publisher launches their 'Studify' portal, it will be as if all students' dreams have finally come true. They will be attending classes with their tablet of choice / kindle in hand, and can instantly gain access to all the necessary study materials - neatly categorised into Curricula or Reading Lists, and paid for on an affordable monthly subscription.

Don't think that this won't impact on consumer book sales either. How many of us have read one or two chapters of a book before realising that said book holds no interest for us - and cursing a failed investment.

Magazine publishers have already taken advantage of the online subscription route, and book publishers need to be aware of the opportunities in that area. With a subscription model we can also see the reintroduction of the old fashioned weekly serial - where you release a chapter at a time, or deliver engaging topical stories like

...

1 comment
|
permalink
|
email this
|

|





13 Jan 2013 9:21 PM

Popular

Comments

Profile
Tags:
MySpace
,
youtube
,
iTunes
,
Discogs
,
Lana Del Rey
,
Online Music
,
Niki & The Dove
,
Santigold
,
Music Discovery
,
AlunaGeorge
,
Chvrches
,
Haim
,
K Koke
,
Future of Music Online 2013
,
Future of Music 2013
,
2013 Musical Trends
,
Music Discovery Resources
,
New Artists for 2013
,
Sounds of 2013
,
2013 Album Release Schedule
,
Online Music Retail
,
Grimes
,
Iamamiwhoami
,
Ava Luna
,
Kendrick Lamar
,
Crystal Castles
,
Purity Ring
,
Poliça
,
Sportify
,
Daley
,
Elliphant
,
Foxes
,
Inc.
,
Kate Boy
,
M.O.
,
Glass Candy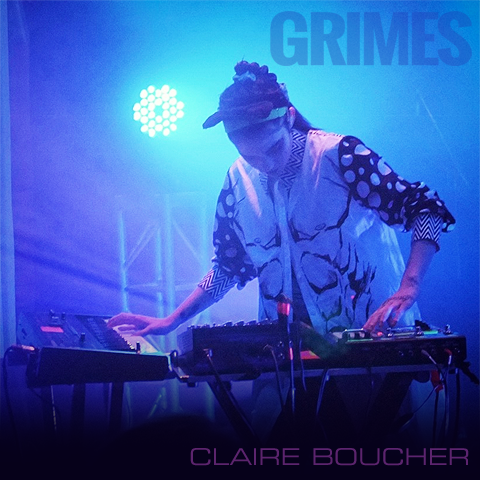 My Top 10 Albums of 2012
Visions - Grimes
Born to Die (Paradise Edition) - Lana Del Rey
Kin - Iamamiwhoami
Ice Level - Ava Luna
Good kid, m.A.A.d city - Kendrick Lamar
III - Crystal Castles
Shrines - Purity Ring
Instinct - Niki & The Dove
Master of My Make-Believe - Santigold
Give You The Ghost - Poliça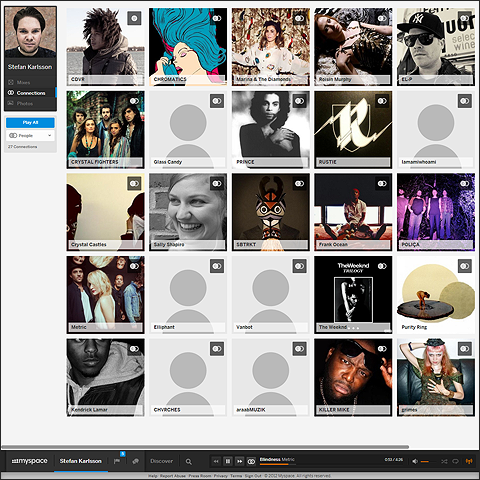 10 Musical Trends for 2013
MySpace will try to re-assert itself versus Spotify and iTunes - some nice features in the recent update, but not sure if it's enough to take on Spotify and become the defacto music discovery site - vs current front-runner YouTube
YouTube is still most likely to remain the dominant Musical discovery / promotion vehicle for most pop artists throughout 2013
iTunes and Spotify will hopefully bring out browser versions of their interfaces in 2013 - meaning we don't need to continue using clunky desktop applications
We will see more mixing apps and utilities in 2013 - allowing you to create seamless fx-laden DJ mixes and compilations from your own digital collections, YouTube, Spotify and iTunes, something along similar lines to Turntable.fm - but simpler and more stand-alone
We are still waiting for genuine competitors to Spotify; - iTunes was feted to launch a streaming service in 2012 but nothing materialised - perhaps we will see something more promising this year - perhaps MySpace can have a real impact
Expect to see further advancements and refinements in musical services SoundCloud and MixCloud - both could do with better music discovery facilities
In 2012 almost all my Music Album consumption was digital - I only bought a handful of CDs for albums which I was unable to acquire digitally - still suprising to see that not everything is yet available universally in commercial digital formats
Amazon is set to become sole purveyor of mass-market solid format music (CDs really) with the demise of Play.com's own products retail and HMV in dire trouble, digital music really is king (For me that means iTunes, Amazon, Beatport, Juno and even Spotify downloads on occasion)
Lady Gaga has announced a multi-media / apps extravaganza for her new album - along similar lines to Björk's Biophilia, kind of surprised more artist have not followed suit already
What with cinemas now showing Live Theatre, Opera, Concerts and Sporting Events,
...

17 comments
|
permalink
|
email this
|

|


| | |
| --- | --- |
| Found: 33 Displaying: 1-10 | |

Subscribe to feed

Subscribe by email
Recent Visitors