Coachella
Coachella Festival
Coachella Live
Coachella Valley Music and Arts Festival
Live Music Streaming
social media
Video Streaming
YouTube Coachella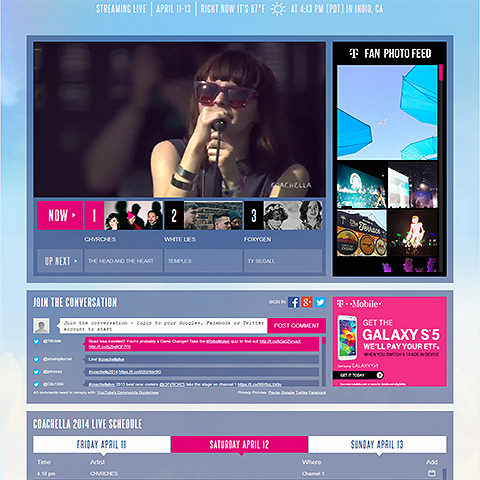 This is the 4th time I catch Coachella live courtesy of YouTube, and each time Google has made tiny increments which keep improving the experience. The interface is pretty much perfect now, with a clearer Live Schedule panel and Fan Photo Feed higher up the page - I still sort of prefer having the social updates to the right of the main panel as per the debut version, but overall, the current one has good balance - and I love how the page background changes contemporaneously with the evolving ...
Coachella
Coachella 2013
Coachella Festival
Coachella Live
Coachella Music Festival
Coachella Valley Music and Arts Festival
Google
Internet Streaming
Music Festival
Music Streaming
social media
youtube
YouTube Coachella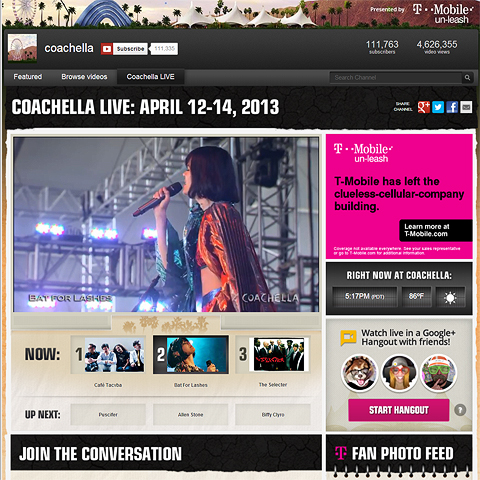 The Coachella festival always signals the start of Spring proper for me, I of course look forward to hearing some of my favourite bands play live, as well as seeing what advances YouTube / Google make in their coverage.
As far as the YouTube interface goes, I preferred last year's version - with the Social Media shout-outs appearing to the right of the main video. I also felt the who's playing and who's on next was better done last year too. As per last year - shout-...