Coachella 2013 is best streaming coverage yet
16 April 2013
2:01 PM

Stefan Karlsson
Coachella
Coachella 2013
Coachella Festival
Coachella Live
Coachella Music Festival
Coachella Valley Music and Arts Festival
Google
Internet Streaming
Music Festival
Music Streaming
social media
youtube
YouTube Coachella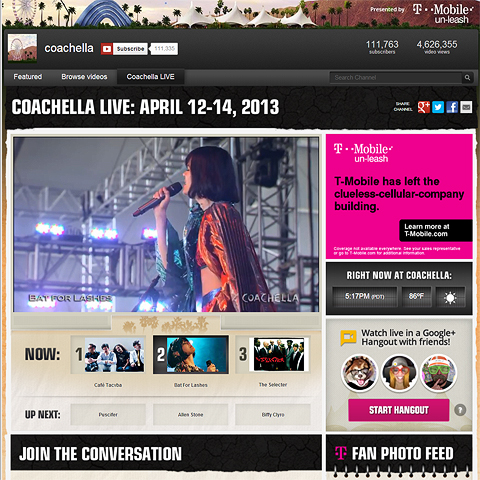 The Coachella festival always signals the start of Spring proper for me, I of course look forward to hearing some of my favourite bands play live, as well as seeing what advances YouTube / Google make in their coverage.
As far as the YouTube interface goes, I preferred last year's version - with the Social Media shout-outs appearing to the right of the main video. I also felt the who's playing and who's on next was better done last year too. As per last year - shout-outs were evenly split between Twitter and Facebook, with Google+ messages barely 1 in 50.
What really stood out this year though was the 'Rebroadcast' service YouTube provided - where they looped the live footage 2-3 times after each night. This is how I watched most of the acts - and it enabled me to dive right in and see who I wanted to see and skip those who did not spark my interest.
YouTube / Google are still fairly poor at the Video highlights / edit thing and the so-called 'Highlight Reels' are attrocious. The BBC is far better at the editing thing - and providing full and set highlights per artist.
Obvious trend this year was the dominance of what the American's like to call 'EDM'. In terms of legendary performances though, there were very few of these - Major Lazer put on a spirited show, but it's really only dance music acts like Basement Jaxx and Groove Armada who know how to put on a proper show for this genre of music. However good James Blake's music is, I'm not sure how well it works in a lively festival setting - I tend to agree with Glastonbury die-hards in that you need a proper spirited 'band' mechanic for a live performance to really work - and on that basis, the standout highlight for me was Janelle Monáe. Of Monsters and Men, Yeah Yeah Yeahs, Grimes, Bat for Lashes, La Roux, Metric and Poliça were pretty good too...
I caught whole or partial sets by the following artists:
Baauer
Bassnectar
Bat for Lashes
Beardyman
Benny Benassi
Blur
Disclosure
Franz Ferdinand
Grimes
Infected Mushroom
James Blake
Janelle Monáe
Jessie Ware
La Roux
Major Lazer
Metric
Moby
New Order
Of Monsters and Men
OMD
Poliça
Purity Ring
Yeah Yeah Yeahs
The XX