YouTube continues to set benchmark for live music streaming with latest Coachella coverage
14 April 2014
10:20 AM

Stefan Karlsson
Coachella
Coachella Festival
Coachella Live
Coachella Valley Music and Arts Festival
Live Music Streaming
social media
Video Streaming
YouTube Coachella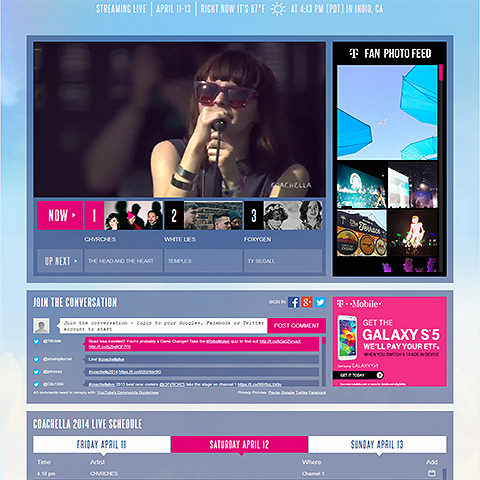 This is the 4th time I catch Coachella live courtesy of YouTube, and each time Google has made tiny increments which keep improving the experience. The interface is pretty much perfect now, with a clearer Live Schedule panel and Fan Photo Feed higher up the page - I still sort of prefer having the social updates to the right of the main panel as per the debut version, but overall, the current one has good balance - and I love how the page background changes contemporaneously with the evolving colour of the sky. On the subject of social updates - this year was totally dominated by Tweets - probably 90% of shout-outs were via Twitter, with the remaining 10% being mostly Facebook and a Google+ entry once in a while.
Sound and Video streaming quality (HD 1080p) have been excellent throughout and I love the way it's one continuous redline stream - so that you can dip back into the timeline if you missed something. YouTube is also doing the excellent 'Rebroadcasts' between programmes - so you don't need to stay up to catch the highlights. Versus the BBC, YouTube does not provide quite the width of commentary, nor the individual artist video showreels or highlights - the same criticism I have levelled for previous years. The beauty of having this streamed via YouTube though is that lots of helpful social-minded people record and segment the broadcast - so you can find full Coachella sets by your favourite artists on YouTube away from the official versions.
In terms of solid, high quality music coverage, the YouTube Coachella service is currently peerless - with a little more direct artist programme access, I would not mind paying for such a service. I always envisaged that someone like Live Nation would start offering this kind of service, or even start co-ordinating with the cinema chains. The cinemas already play host to Theatre, Opera, Ballet, Exhibitions, Key Concerts and Sporting Events - why not have festival sessions too. With high-quality sound and video on a big screen, and readily available beverages and refreshments - with civilised sanitation on hand - these are perfect social venues for people who don't want to get too dirty!
Highlight of the opening night was suprisingly Girl Talk (Gregg Gillis), who brought out Busta Rhymes, E-40 and Juicy J for cameos during his set. The expected highlights Outkast, playing their first show in a long time, somehow mis-fired and came across somewhat flat - you can't beat Girl Talk and 2 Many DJ's for party rocking... Pharrell was great on the Saturday, and Arcade Fire were wonderful on Sunday ...
Live Schedule picks over 3 days:
Alesso
Arcade Fire
Bastille
Blood Orange
Bonobo
Bryan Ferry
Calvin Harris
Chromeo
Chvrches
The Cult
Daughter
Disclosure
Duck Sauce
Ellie Goulding
Empire of the Sun
Fatboy Slim
Girl Talk
Goat
Haim
Little Dragon
Lorde
MGMT
MS MR
Muse
The Naked and Famous
Nas
Outkast
Pet Shop Boys
Pharell Williams
Pixies
Skrillex
Warpaint
Wye Oak
Zedd