Half a dozen of us from Affino hit the VauxWall Climbing Centre last week for one of our team-night events. And while some of us had experienced some form of indoor climbing before, none of us had participated in Bouldering. This full-body workout consists of scaling 4-5 metre walls following a path of colour-coded bumps and holds - ranging in difficulty from Green to Purple to Blue/Red, White etc. and through to Black (V0 to V10) - the holds getting progressively smaller and more challenging.
Each colour-coded ascent is known as a 'Problem', which typically has a number of likely solutions or 'Betas' - with the route-setter having one particularly efficient Beta in mind, but various others being viable depending on the climber's strength, flexibility and ingenuity. The flooring is a several-inches-thick mat similar to but slightly thinner than a high-jump mat - meaning a nicely cushioned landing from a fall. Chance of injury is minimised, but injury is still easily a possibility - particularly strains and sprains, twisted ankles and the like.
For our induction session we had an hour's worth of training - mostly of the practical wall-scaling variety, We then had an hour's worth of freeform climbing. It is advisable to go at your own pace, slow and steady as you like - picking up strength and technique as you go. You can scale the walls both dynamically (maintaining constant movement / forward momentum, often with short leaps) and statically (slowly but steadily extending your limbs and pivoting from point to point in a more isolated fashion).
The great thing about this sort of climbing is that you utilise pretty much all your key muscle groups, several of which you had probably quite forgotten about. An ascent often resembles a vertical form of Twister as you contort, swivel and pivot from point to point - often needing to switch hands and / or feet on the same mounts. For newbies you soon start to feel the strain on your forearms and shoulders, and as with any strenuous exercise you can feel your muscles building up lactic acid and becoming sore and stiff and tired. All the guidelines I have seen advise you to go at your own steady pace. Of course it's healthy to challenge yourself, but for sake of self-preservation it is equally healthy to know your limits and take a break / end a session at the right time - and try not to leave too much skin behind.
All of us suffered some degree of stiffness and ache for the following days, this is likely to be the case until you build up your core climbing strength and stiffen and harden your fingertips and grips.
There is a real social element to the climbs with people taking it in turns to ascend the walls, and the others observing and offering suggestions on the best possible Betas alongside hints and tips on tehcnique and body positioning. Price per session is circa £7-£10 - obviously cheaper to buy several sessions in advance (punch-card) or longer-term membership.
We love the facilities at VauxWall, which is the closest dedicated location for most of us (Central London):
VauxWall Climbing Centre
Web: www.vauxwallclimbing.co.uk
Address: Arch 46 - 47a, South Lambeth Road, London, SW8 1SR
Times: WD 06:00 - 22:30 | WE 09:00 - 19:00
Phone: 020 7160 0248
Closest Tube: Vauxhall (Victoria Line - Zone 1)
VauxWall Facilities:
8 circuits of 25 problems covering all grade bands VB to V8 and beyond
2 circuits of 25 problems individually graded
Comp Wall with up to 45 individually graded problems
Perma-Set of 15 Wood individually graded problems
Traverse Wall with 6 traverses F4 – F7a
Circuit Board with 8 ~25 move routes F5 – F7b
Permanent 35 degree symmetrical system board with mix of Beastmaker, Bleaustone and Core Holds.
Fully equipped gym with everything you need to take you to the next level

Other Indoor Bouldering Climbing Centres in London
(By Tube Zone, then alphabetical):
Climb London West 1
Web: www.high-sports.co.uk/sites/west1
Address: Seymour Leisure Centre, Seymour Place, London, W1H 5TJ
Times: WD 12:00 - 22:00 | WE 09:30 - 18:00
Phone: 0845 363 1144
Closest Tube: Edgware Road (Bakerloo, Circle, Disctric Lines - Zone 1)
The Arch 2 - a.k.a The Biscuit Factory
Web: archclimbingwall.com
Address: Unit EO1B, The Biscuit Factory, 100 Clement's Rd, London, SE16 4DG
Times: WD 12:00 - 22:30 | WE 10:00 - 21:00
Phone: 020 7252 1033
Closest Tube: Bermondsey (Jubilee Line - Zone 2)
The Castle Climbing Centre
Web: www.castle-climbing.co.uk
Address: Green Lanes, Stoke Newington, London, N4 2HA
Times: WD 12:00 - 22:00 | WE 09:00 - 19:00
Phone: 020 8211 7000
Closest Tube: Manor House (Picadilly Line - Zone 2)
Mile End Climbing Wall
Web: www.mileendwall.org.uk
Address: Haverfield Road, London, E3 5BE
Times: WD 10:00 - 21:30 | WE 10:00 - 18:00
Phone: 020 8980 0289
Closest Tube: Mile End (Central Line - Zone 2)
Urban Ascent
Web: urbanascent.co.uk
Address: Unit 5, Parsons Green Depot, 33-39 Parsons Green Ln, London, SW6 4HH
Times: WD 14:00 - 22:30 | WE 10:00 - 20:00
Phone: 020 7751 0913
Closest Tube: Parsons Green (District Line - Zone 2)

The Reach Climbing Wall
Web: www.thereach.org.uk
Address: Unit 6, Mellish Estate, Harrington Way, Woolwich, SE18 5NR
Times: WD 10:00 - 22:00 | WE 10:00 - 19:00
Phone: 020 8855 9598
Closest Tube: Woolwich Arsenal (Docklands Light Railway - Zone 4)
Recommended Bouldering Gear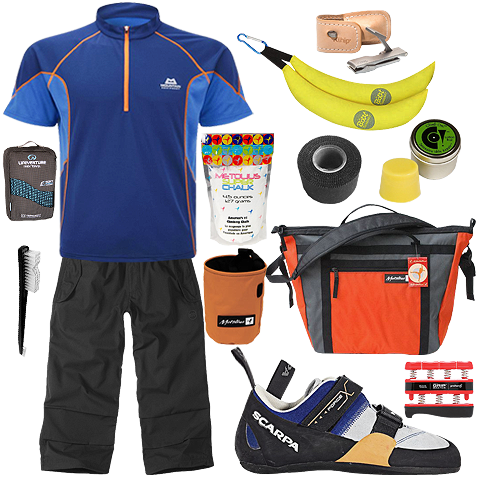 (most of above acquired from London's best Climbing Store - Cold Mountain Kit - items not to scale)
Shoes: Scarpa Force X
I initially had my eyes on Andrea Boldrini Apache Light, Evolv Shaman, Scarpa Instinct VS and La Sportiva Solution. The major thing about climbing shoes is for them to closely fit your foot shape and size, and cause the minimum of discomfort. Because of how they work and how they focus the force on the front of the foot, all shoes will have some degree of discomfort at the start. I tried on circa 10 different shoes in as many as 6 different sizes, before I settled on the Scarpa Force X's - they were simply the best fit and the best comfort. In the end I was down to a head-to-head between the Force x's and the Apache Lights - which I preferred the look of, but practical considerations won out in the end. If you are to take to this sport, it is essential that the shoes are right. It is recommended you start with the slightly more flatter variety of shoe and upgrade to more extreme / aggressively arched forms as you build up experience and resilience.
Pants: Moon Cypher 3/4 Pant
Great climbing pants with 3 press-stud pockets and draw-string at waist and at calves. You can choose from 3 lengths of climbing pants and go tight or loose - full length / leggings | 3/4 | Shorts. I chose the 3/4 length as the most versatile, these are great climbing trousers.

Top: Mountain Equipment Crux SS Zip Tee
I have a penchant for technical tops - you can zip down to ventilate better, and you get good wicking and ventilation and quick drying. I have always liked the North Face zipped tees too, the above Mountain Equipment one coordinates best with the selected shoes though! I also have a NF top in pure black.

Chalk Bag: Metolius Competition
Steamlined yet with a wide enough aperture for easy access to chalk, plush lining

Chalk: Metolius Super Chalk
Supposedly the best climbing chalk available

Bouldering Brush: Metolius M-16
Essential for improving grip by cleaning up holds where too much chalk has been deposited

Finger Tape: Various / i'BBZ Coloured Tape
Essential for taping up abrasions, lacerations, callouses, cuts and scratches and for supporting tired tendons

Hand Balm: Climb On! Intensive Hand Lube
The very best in soothing and strengthening hand treatment - essential in post-climb recovery

Shoe Preservers: Boot Bananas
Boot Bananas are essential in protecting and preserving your shoes, as you wear no socks, and sweat is soaked entirely up by shoes

Nail Clippers: Klhip
Essential to keep nails trim for climbing - these are the best clippers bar none
Grip Trainer: Grip Master
Individual finger trainer for improving grip

Towel: Lifeventure Trek Towel
You will sweat, so it's useful to keep this handy size towel in pocket for mopping up sweat as and when required

Gym Bag - Metolius Gym Bag
You will get white chalk over everything, so it is handy to be able to keep your climbing kit separate from everything else - the Metolius bag is just the right size and fit, and ever so practical

Quick Bouldering Warm-up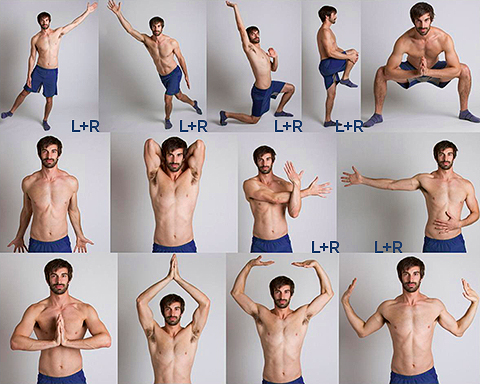 (c/o The Climbing Doctor)
Your warm up should consist of three parts:
Limber Up: Raise your pulse and shake out your hands and legs, rotate head, shoulders and hips and key rotational joints

Stretch: Some key lunges - leg and arm stretches should set you up nicely
Easy Start: Start by doing easy traversing routes, and gently ramping up the force you apply