Affino Supports Independent Publishers through Participation in tomorrow's 2020 PPA IPN Awards and Sponsorship of the Commercial Partnership of the Year Category
17 November 2020
8:35 AM

Stefan Karlsson
Commercial Partnership of the Year Award
PPA
PPA Independent Publisher Conference & Awards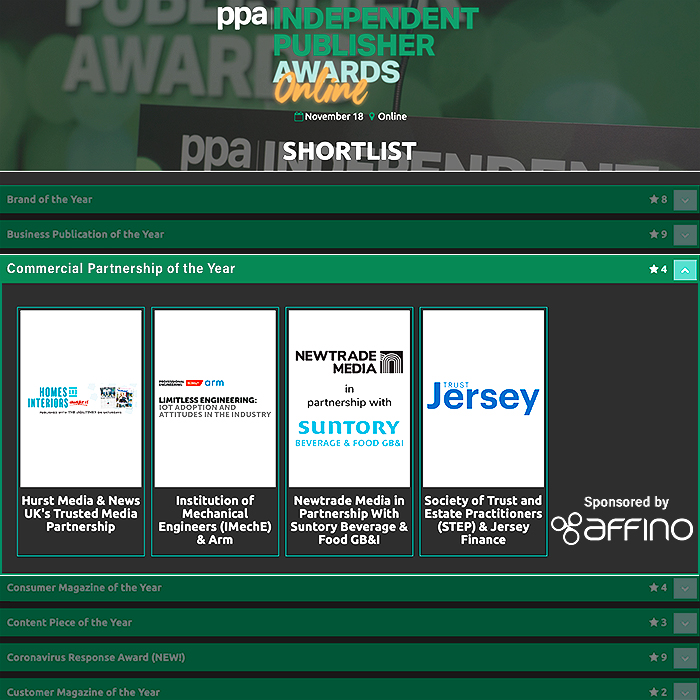 Once more Affino is proud to support the Publishing Industry in these challenging times - through our continued endorsement of the Professional Publishing Association. We delight in bringing new and interesting talents to the fore and celebrating the very best in publishing innovation.
We are again sponsoring the PPA Independent Publishing Awards Commercial Partnership , as it very aptly ties into our own collaborative way of conducting business in partnership with our clients.
The finalist short list on this occasion features 4 unique partnership collaborations - all worthy contenders :
Hurst Media & News UK Trusted Media Partnership
Institution of Mechanical Engineers & Arm
Newtrade Media & Suntory Beverage with Food GB&I
Society of Trust and Estate Practitioners (STEP) & Jersey Finance
We of course wish each of them the very best of luck on the night.
And we would also like to draw your attention to the follow-up PPA IPN Conference on November 26th - where Affino will be hosting a round table discussion on 'Automation to Elevate your subscription model' alongside some celebrated guest presenters.
We hope to virtually see several of you there on both occasions and look forward to making contact again beyond the Internet.
Of course we also wish the very best of luck too to our clients The Stage and TTG Media - who are each up for 4 awards :
The Stage - Event of the Year, Independent Publishing Company of the Year, Team of the Year, and Website of the Year
TTG Media - Brand of the Year, Coronavirus Response Award, Diversity Initiative of the Year, and Editor of the Year