The new Messaging 2 suite in Affino is not simply an incremental update, it is a complete re-imagining of how messaging should work for businesses online.
It has meant a fundamental re-think of how bulk and targeted messages work, and breakthrough improvements for notifications and auto-responders.
Sales and Marketing Automation
Messaging is at the heart of sales and marketing automation. Typically though it is necessary to integrate with many different systems to achieve even the basics of an effective messaging campaign.
Although Affino's Messaging doesn't do everything that tools such as Mail Chimp, Mandrill, Hub Spot, Eloqua, KISSmetrics and Scout do, it does a big part of it, and a whole load more.
It also does it at no additional cost, with easy-to-use tools, and with no code integration required.
Message Campaigns vs Mailing Lists
The first big change with Affino's new messaging comes with the splitting off of the mailing list from the messages being sent. Affino now has Mailing Lists and Message Campaigns in place of Newsletters. Mailing Lists manage the actual subscribers, whilst Messages are sent out based on your Message Campaigns.
This means you can target your mailing lists in much more creative ways by running multiple messaging campaigns against individual mailing lists.
It also means you can do much more to target your subscribers effectively, whilst maintaining a unified unsubscribe and bounced subscriber list across multiple campaigns.
Premium, Personal and SMS Message Campaigns
You can now run three distinct types of messaging campaigns. Premium messages act the same as the previous Newsletter messages. These are tailored messages which can have high design values and where the message content can be highly targeted, automated and personalised.
It is now also possible to send out bulk SMS messaged and Personal messages. Personal messages are instant messages which appear to be sent individually, but are in fact sent in bulk.
We have also made it much easier to send out individual messages and to test / preview those messages. You can now simply enter in the message content, and Title where they are being sent by email. You can then preview them, send test messages or simply dispatch your message immediately.
All messages are Smart messages
Every message in Affino is Smart. It is optimised, tracked, targeted and personalised. Additionally messages can be set to go out to tightly segmented groups, or be triggered by specific user activities (or in-activity).
It is possible now to set up messaging workflows so that messages are sent out based on a combination of activities. These are then all logged and you can analyse the success of any of your message campaigns over a period of time.
We have added many new triggers for sending out messages and responding to activity.
Smarter Segmenting and Targeting
There are many new methods for segmenting your message campaigns in Messaging 2. It's always been possible to filter by security groups, member activity and customer status. More recently we added the ability to filter by specific purchases, gender and age ranges.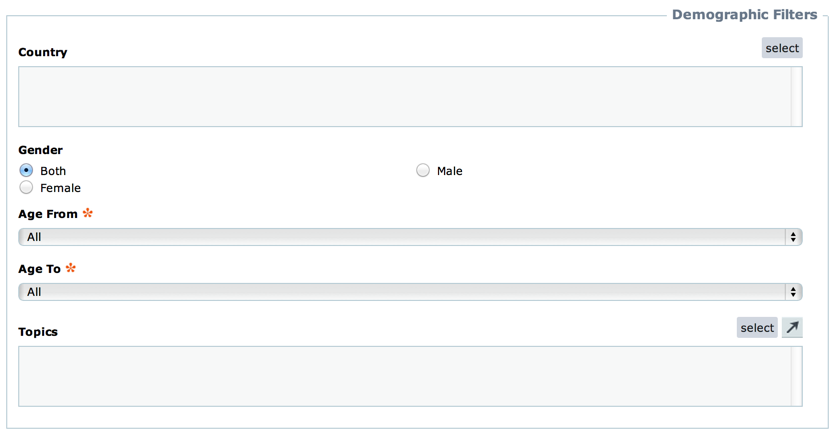 It is now also possible to filter by client accounts, store credits and most importantly members' interests.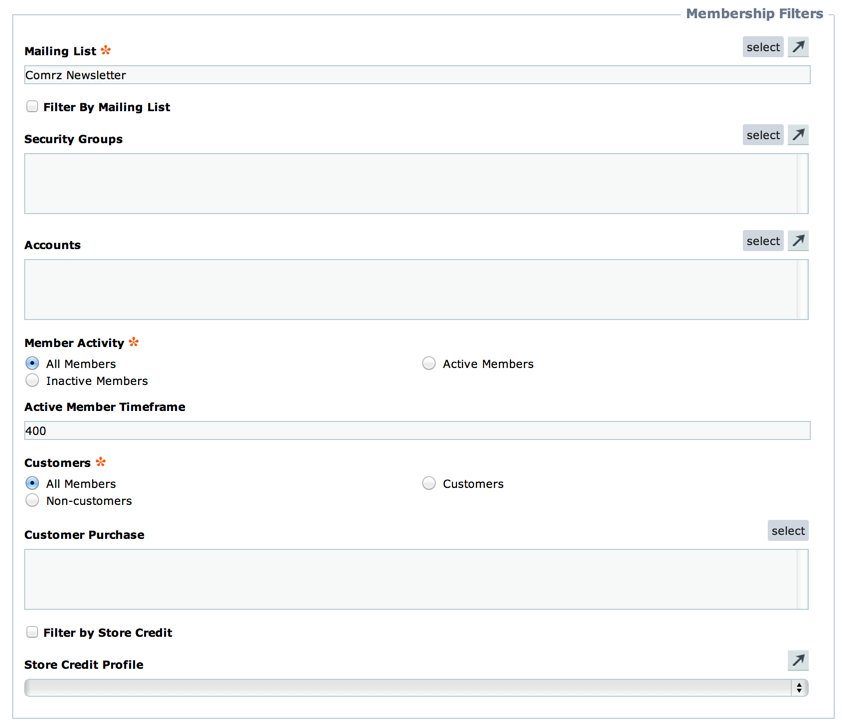 These filters are all 'live' and can be used against all manual, auto-responder and auto-scheduled messages.
Clearer Messages
We've considerably refined the formatting and content of the messages in this release. Messages now look better across all major email clients, and we will continue to refine this on an ongoing basis.
It is now much simpler to style and frame your content, whilst the dynamic content population has been further refined by adding new interest filters on Campaigns.
The next step is responsive messages, which will be coming late summer.
Auto-Responders
We have added a host of new ecommerce, sharing, Facebook and credits triggers in the latest release. We have also made it easier to manually assign activities to users so that the notifications support offsite workflows as well as on-site ones.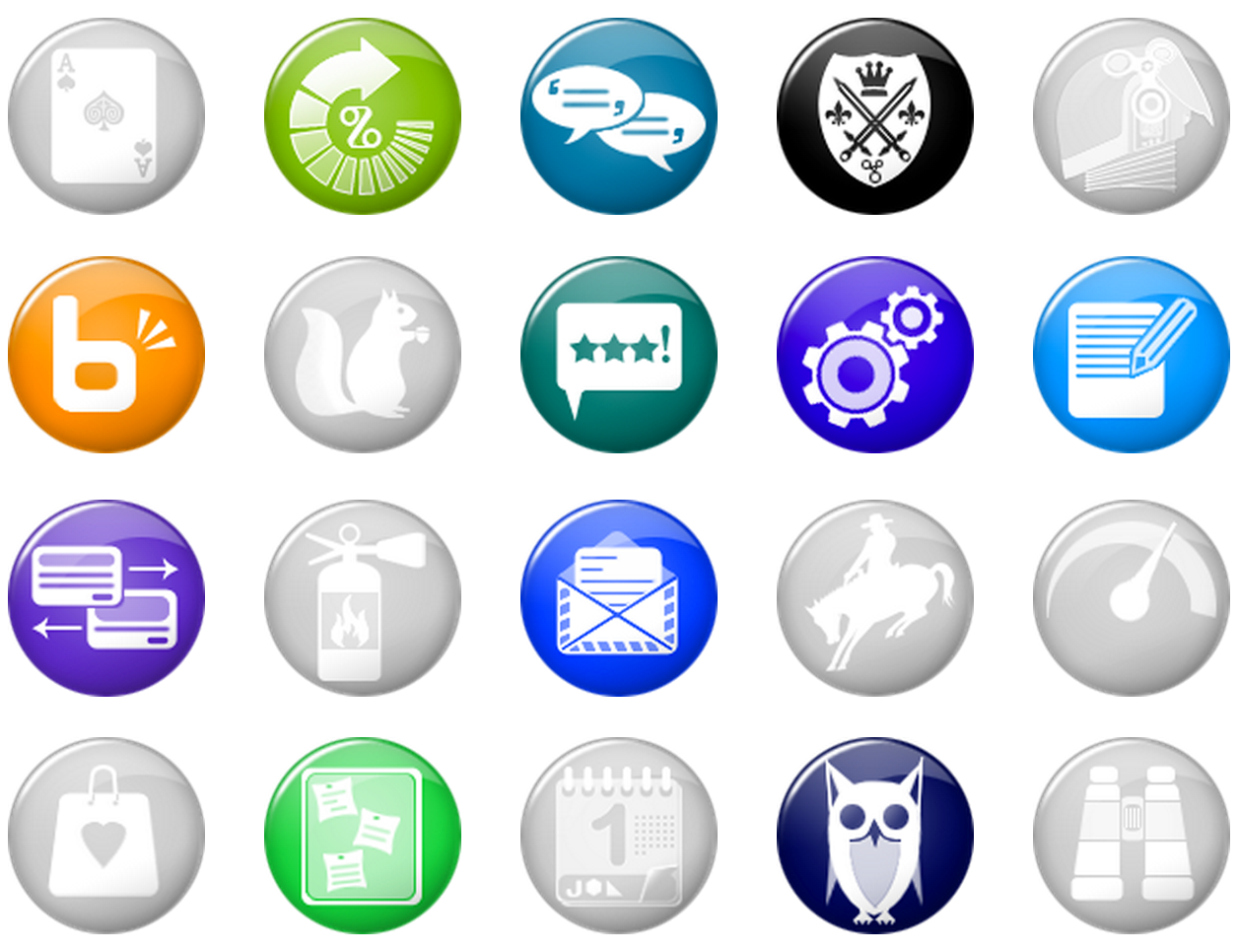 There are now dozens of user-based activities which can trigger response messages, and it is possible to create workflows on them with tight filtering gets sent a message.
Simply select the specific activity you want to track for the Conversion Event along with its frequency. There's no coding required for any of the triggering or tracking.
Smart Messaging Workflows
We have added some great conditional workflows on Conversion Events in Affino which allow you to set up conditional message triggers in a way which was not possible before.
Every conversion event can be filtered so that they're only triggered if other activities have / haven't been completed first. This means that your automated responses can now be much more nuanced in their nature and timing. Which in turn are likely to drive up the level of engagement of your message campaigns.
Message Campaign, Message and Mailing List Analytics
Two of the best improvements we've made in Messaging 2 are the great new Message Campaign and Mailing List Analysis tools. These offer insight into the immediate status of any individual mailing, as well as the long-term trends for each of your campaigns.
They also offer insight into your sales and marketing automation since they track all your auto-responders in the same way. You can see just how many times auto-response messages are sent, and the success rates over time.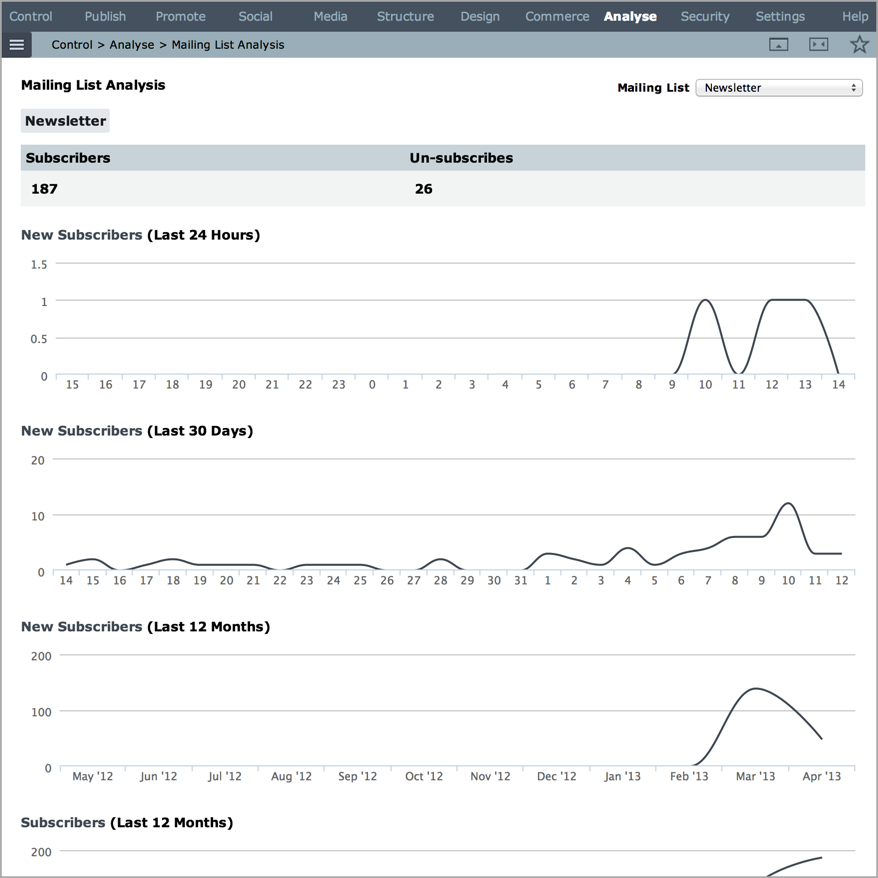 Mailing List Analysis gives great insight into subscriber trends. The updated Message Analysis has some great improvements in benchmarking the success of each message against the overall success of any Message Campaign.
Getting Started
To get started with Messaging in Affino simply add a Mailing List, create a Mailing List Channel for users to manage their subscriptions, update your registration (and checkout) so that users can sign up for one or more mailing lists, and then you can place the Mailing List Sign-up element on whatever page is appropriate.
If you have a subscriber-base already you can import your mailing list subscribers, or simply use Message Campaigns to message out to all your users. If you want to use bounce handling (recommended) then use a Gmail address for handling the bounce-backs and Affino will automatically monitor them and sanitise the mailing list.
There is a handy Message To Do list which will take you through the tasks, and once you have your campaigns up and running and your auto-responders in place you can monitor everything using the Analysis Centre.
It's good practice as well to create a Test mailing list and Test message campaign so you can try out different / new approaches internally prior to sending out publicly. It is also useful for testing new message designs for auto-responders without having to wait for them to be triggered.
Update
Affino 7.2 will have some useful updates, partly based on the comments. The first one is that we will no longer list out Mailing List subscribers on the main User and Contact lists, you will need to select the Subscriber option on the listing if you want to see them.
The mailing list signup process is now also much more streamlined and immediate, especially for guest users.
We've also added in a new level of spam sign-up prevention on the mailing lists. This improves the overall quality of your subscriber lists.
Update 2
More feedback and more improvements.
We've further refined the use sign-up process so that it is now as simple and straight-forward as possible. We've also improved the subscriber import process, especially for marketing mailing lists. It means it is no a much more seamless process to run your marketing campaigns.
You can now also view all your sent My Message and SMS messages more readily and Mailing List subscribers are also now easier to track against each list and campaign.
If you have more feedback then please provide it so we can make the messaging platform as effective for you as it can be.