New Comrz News Presentation Style makes for the Ultimate Topical News Resource
25 October 2010
2:35 PM

Stefan Karlsson
Affino
BBC
CNN
Comrz
content management
design
design centre
Design Style
News
The Guardian
Topical News
Topicality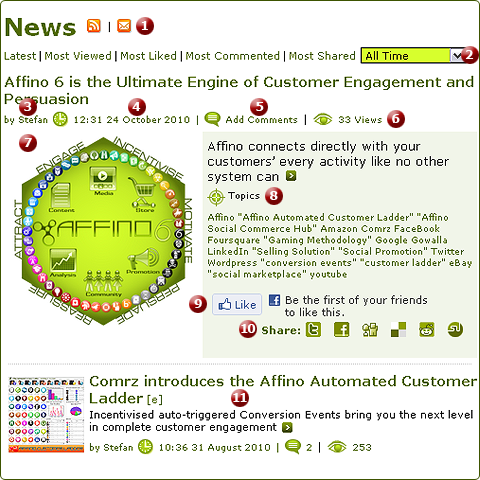 Markus was not happy with how our News pages looked on Comrz, and I was set the task to devise a new presentation template to showcase the very best of news delivery currently available on the web. I spent several days trawling all the major news sites, and was particularly impressed with several of these, largely - BBC, CNN and The Guardian. The idea was to produce the Ultimate Topical News Resource - where you could easily seek out, list and review key news stories by key criteria.
The make-up of the main listing template is as follows:
RSS and Content Subscription appear with Section Header, as well as at base
Articles can be listed out by time range - Latest | Most Viewed | Most Liked | Most Commented | Most Shared
You can click through to the Public Profile of the Author
Click on the Date to list out all articles within that Section published on the same date
Click to add / view Comments
Number of Views - also clicks through to article
Most recent Article is highlighted with Larger Image and Teaser Text
Article Topics are only revealed on mouse-over
Facebook 'Like' is revealed on mouse-over
Share icons / function is revaled on mouse-over
The following articles are listed in summary format - mouse-over reveals Topics, Like and Share
We may still have a couple more tweaks to do, but so far it's working pretty well. The 'Detail' presentation utilises the 'Info Box' for 'Article Highlights', we also list Topics in a left hand column, and we include a new 'Quotation' field.
All the new icons are enabled via additional fields / settings on the Design Style. Some of these icons / elments may find their way onto other existing templates in the fairly near future ...