66°NORTH Pop-up Shop in Marylebone from 4th to 6th November
24 October 2010
9:36 PM

Stefan Karlsson
66 North
66°NORTH
Clothing
Economy
Iceland
Outdoor Clothing
Retail
Weather-proof
Winter
Winter-wear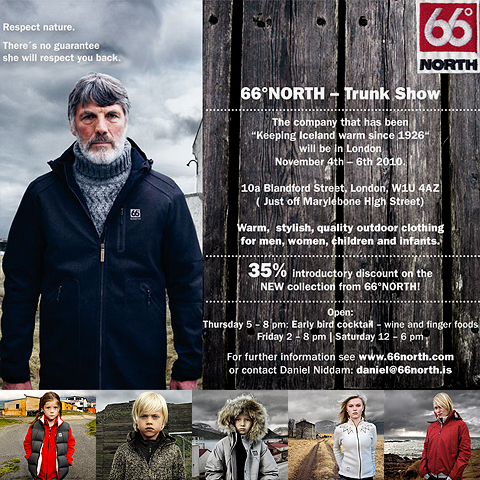 "Keeping Iceland Warm since 1926"

Legendary Icelandic outdoor clothing manufacturer 66°NORTH is bringing its wares to England for a limited time! Famed for warm, durable, weather-proof garments for all the family, 66°NORTH will be sporting a 'Trunk Show', really a Pop-up Store as such, which will be located at:

10a Blandford Street, London W1U 4AZ (Just off Marylebone High Street)
from Thursday November 4th to Saturday November 6th, details are as follows:

Opening Times:

Thursday 4th November: 17:00 - 20:00 : 'Early Bird Cocktail' - wine and finger foods
Friday 5th November: 14:00 - 20:00
Saturday 6th November: 12:00 - 18:00

Further Info:

35% Introductory discount on the new collection
For details of clothing collections see www.66north.com
or contact Daniel Niddam: daniel@66north.is

Iceland's economy is still in somewhat of a mess, so we do our utmost to support Icelandic enterprise - particularly when the products are as fine and practical as these. Winter coats are particularly amazing, I have the Thorsmork Unisex Parka in metallic red. The various techno-wool mid layer jackets and fleeces are also excellent. For warm children's clothing, there's not much that comes close to 66°NORTH - both for infant all-in-ones, as well as rugged, weather-proof clothing for your children in general.

There are several Icelandic outdoor wear brands, but this is renowned as having the best quality. It is a high-quality-focused brand which results in a mid-level price band (Prices up to circa £500 for the most expensive jackets and parkas), though the 35% introductory discount should make these garments pretty affordable for most.

If you want to be warm and snug this winter - it's well worth a look-in.