Is Palm Vein Authentication the best solution for Biometric Security Access?
29 July 2011
3:35 PM

Stefan Karlsson
Biometric Authentication
Biometric Scanning
Biometrics
Fingerprint Scanning
Fujitsu
Identity Theft
Iris Scanning
login
Palm Vein Authentication
Passwords
Security
Security Authentication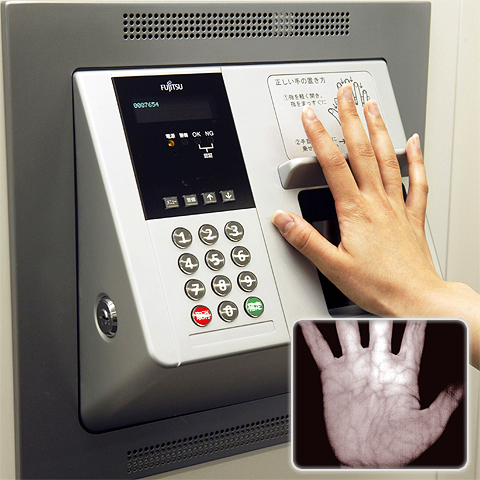 Finger-print scanning is too easy to fake, and iris-scanning can be a little fiddly, and yes, if you really want to - you can probably by-pass that with a glass eye too.

The Security Industry has long been searching for a contactless and non-invasive (i.e. non dna-scraping) foolproof biometric security authentication technique that is quick and easy, and difficult to hack or circumvent.

Largely developed by Fujitsu, and now used mostly by US healthcare centres to ward of fraudulent health-insurance claims - by way of identity theft. Palm Vein Authentication uses an infrared scanner to trace the vein patterns of a human palm. A key advantage of this technology is that the subject must be alive, so a chopped off hand won't do; it's also sufficiently detailed and unique to make it very difficult to replicate with other props or even mechanical parts.

The Fujitsu scanner pictured above is a rather large industry strength one, but the scanners can be as small as smartphone dongles - pretty much the same outer dimensions of the phone, and less than a couple of inches in height.

I've long blogged about the need for an improved biometric technology to replace pin codes, ID cards and the like. As the smartphone rapidly accelerates on its path to absorb most of your daily transactions and interactions - keyless entry, electronic wallet, ID cards, Tickets etc. - this would really seem to be the perfect solution to the current elevated security need we now have.

What with pincodes and login passwords increasingly becoming liabilities, perhaps Palm Vein Authentication is the one-fits-all solution that really works!