This past Sunday I headed into the depths of Hampshire with my brother's family - three adults and three kids, for a birthday treat for the 11 year old son. For whatever reason I did not have particularly high expectations and imagined myself getting muddy, cold and soggy on some isolated river bank. As it turns out, my imagination was far from the reality - and we were all mightily impressed from the moment the automated gates of the estate parted to admit our vehicle.
The vista that lay before us was quite magnificent really - one of those idyllic hidden corners of England that few people know of - a magnificent landscaped garden intersected by several small streams, and dominated by a smallish lake on one side - as you can see in the picture below (extensive landscaped gardens off right of picture not visible).
As we parked the car we were almost immediately met by our genial host for the day - one Bob Preston - who proved to have boundless enthusiasm and patience in equal measure. He provide exceptional fishing lore, tuition and support, and his nimble fingers were employed throughout the day with untangling and fixing lines and replacing lost flies, as well as helping us land the 6 fish we managed to keep on the line. We retained two for supper - one regular and one blue rainbow trout, the others were released back into the lake. An equal amount of fish were clever enough to get themselves off the hook, so we lost at least a half dozen in that manner - some took the hook / fly with them for souvenirs.
The weather forecast had been sketchy - predicting showers in the morning and blustery conditions in the afternoon. We lucked out though, and there was no rain, and the trees and hedges managed to subdue the wind sufficiently to not cause us any significant problems. All of us are and were novice fly-fishermen, and we spent significant part of the early fishing snagging the hook on a variety of foliage, including grass, hedges and trees.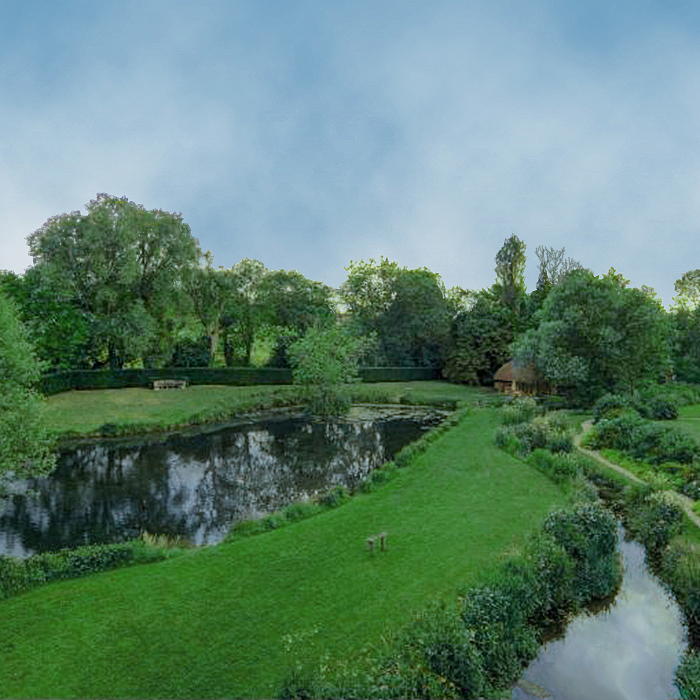 (View of the lake with fishing cabin on far side)
We had packed a picnic lunch with us, and we recommend others do the same - so you can spend as much time as possible within the fabulous grounds. There are pubs and other eateries relatively nearby, but it does mean jumping into your car and driving offsite for 10-20 minutes each way - there is also a grill to the side of the Fishing Cabin, so you could do a barbecue there too - not forgetting the full kitchen in the back of the Cabin.
We experienced mostly glorious sunshine and idyllic countryside isolation, with our hearing just a single vehicle going past the property during the day. The lakeside surrounding are just exceptional, as it the Fishing Cabin at the far end - which contains kitchen and bathroom, sitting room and porch-style covered-yet-open dining room, with further picnic style table outside.
I'm not saying that I'm going to get fully tackled up and kitted out as a dedicated fly-fisherman now, but we all really enjoyed the day. The youngest (3) was too little to handle a rod (recommended minimum age of 8), but the 8 year old girl and 11 year old boy really enjoyed it, and both landed fish. There were 5 of us fishing simultaneously, and owing to the nature of the lake, and how much space newbies need around them, that number was about right. Nether Wallop Mill takes parties of up to 10, but I would have thought optimal size for simultaneous fishing would be 6-7 otherwise people would be getting in each other's way, and you would most likely need to alternate and do shifts.
Every aspect of the day was excellent, and all of us would not hesitate to go again. As you are fishing on the manicured banks of a lake, you can wear pretty much any kind of clothing - protective eyewear and a hat / cap are of course mandatory though.

Structure of the day (09:30 - 17:30):
General Introduction and Overview to the day
Preparing the rods for training
Fly-casting tuition
Break for lunch - picnic (circa 12:00)
Dredging for bugs - to evaluate suitablity of bait
Demonstration of Fly Tying
Selection of flies and final preparation of fishing rods
Walk along neighbouring Wallop Brook to spot native brown trout
Fishing! (For us circa 14:00 - 17:30 - plenty really)

Address:
Fishing Breaks
The Mill
Heathman Street
Nether Wallop
Hampshire SO20 8EW
Tel: 01264 781988