Affino Supports the Publishing Industry by Sponsoring the Innovation of the Year Category at the 2021 PPA Awards on June 23rd
17 May 2021
12:24 PM

Stefan Karlsson
2021 PPA Awards
PPA Awards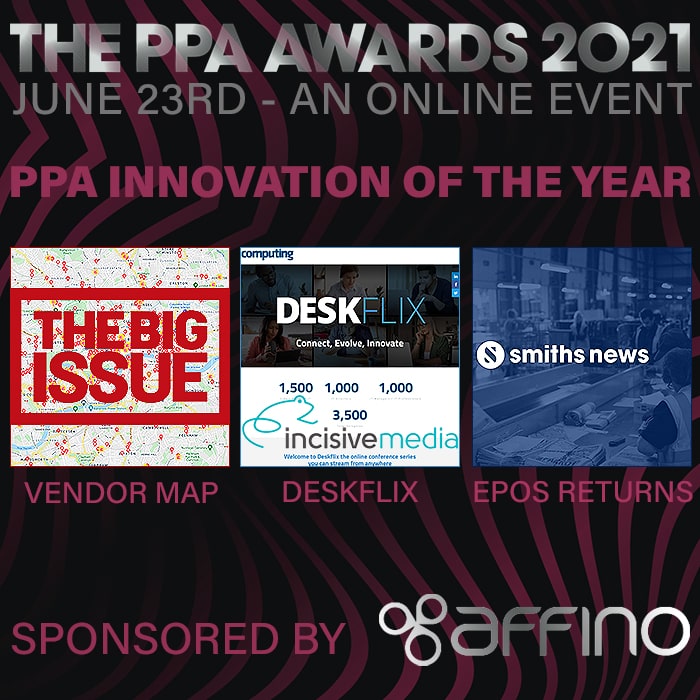 The PPA Awards seem to have come around very quickly again, as it really doesn't seem to be that long since we last participated.
This time around we are sponsoring the highly Affino-relevant PPA Innovation of the Year Award. Affino has always been all about Innovation - and our very own keynote event is of course the annual Affino Innovation Briefing. So it makes perfect sense for us to be involved in this category at the forthcoming PPA awards - due to take place virtually / online on June 23rd. In fact it should be very similar to last year's affair.
We have 3 formidable short-listed candidates for the category :
The Big Issue - nominated for their excellent Vendor Map - which allows everyone to view and zoom in on a proper geo-tagged map of all UK vendor locations
Incentive Media - nominated for their Computing Deskflix initiative - an extensive online conference series that can be streamed from anywhere
Smiths News - known to a lot of us as the distribution arm of WH Smiths, nominated for its smart EPoS-based Returns process
We congratulate all 3 on making the shortlist - and hope that the most deserving one wins on the day!
Looking forward to seeing you all there, virtually.