2013 Album Release Schedule
2013 Musical Trends
AlunaGeorge
Ava Luna
Chvrches
Crystal Castles
Daley
Discogs
Elliphant
Foxes
Future of Music
Future of Music 2013
Future of Music Online
Future of Music Online 2013
Glass Candy
Grimes
Haim
Iamamiwhoami
Inc.
iTunes
K Koke
Kate Boy
Kendrick Lamar
Lana Del Rey
M.O.
Music Discovery
Music Discovery Resources
Music Industry
MySpace
New Artists for 2013
Niki & The Dove
Online Music
Online Music Retail
Poliça
Purity Ring
Santigold
Sounds of 2013
Sportify
youtube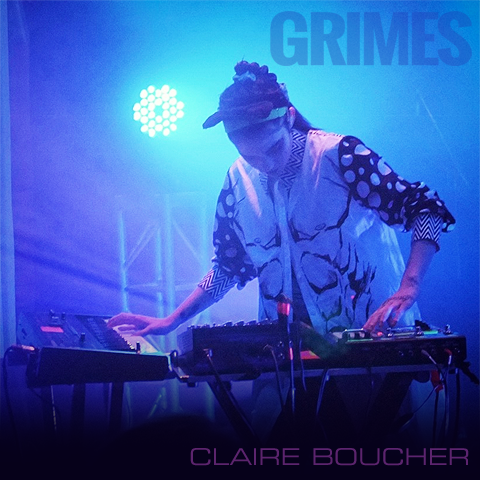 My Top 10 Albums of 2012
Visions - Grimes
Born to Die (Paradise Edition) - Lana Del Rey
Kin - Iamamiwhoami
Ice Level - Ava Luna
Good kid, m.A.A.d city - Kendrick Lamar
III - Crystal Castles
Shrines - Purity Ring
Instinct - Niki & The Dove
Master of My Make-Believe - Santigold
Give You The Ghost - Poliça
content.affino.com/AcuCustom/Sitename/DAM/383/2013NewMySpace480.png
10 Musical Trends for 2013
...
arabMUZIK
Azealia Banks
BBC
Coachella
Coachella 2012
Coachella Festival
Coachella Live
Coachella Music Festival
Coachella Valley Music and Arts Festival
Datsik
FaceBook
Firefox
Frank Ocean
Google Chrome
Google+
Lykke Li
Miike Snow
Santigold
SBTRKT
Snoop Dogg + Tupac
social media
Swedish House Mafia
Talk Talk
The Weeknd
Twitter
youtube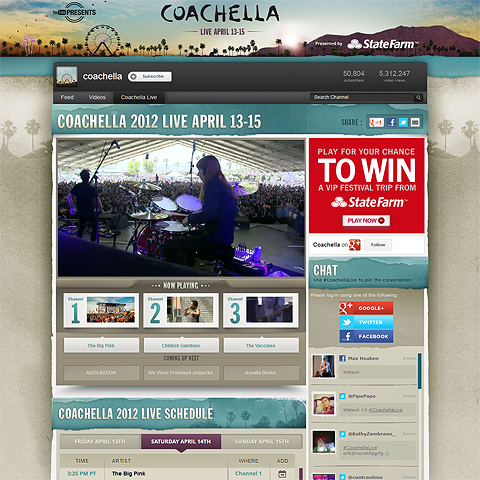 Last year I blogged about catching the year's first big music festival courtesy of YouTube - who broadcast live form the 5 stages over the 3 days. I raved about the really clever interface - how they included hashtags into their live updates - and how slickly the whole thing worked, including the uninterrupted streaming broadcast itself.
This year the layout of the interface was even better - with the current and upcoming bands listed in the centre, and the updates off to the ...