You are here:
Home
|
Blogs
|
Stefan's Naturally Aspirated Blog





05 Dec 2011 7:44 PM

Popular

Comments

Profile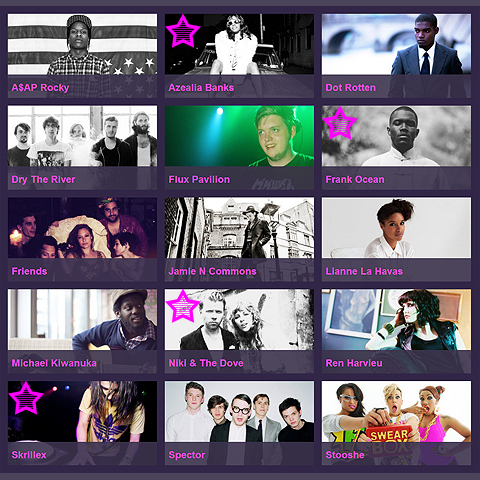 It's that time of year again when pop pundits do their best to predict who's going to strike it big next year.

There's no real suprises on the BBC Shortlist, certainly not in the inclusions, but there may be a question as to why Lana Del Rey has been edged out by Lianne La Havas and Ren Harvieu - I for one certainly think Lana is doing more interesting things vocally and melodically than those two.

I was never that bowled over by Nicki Minaj - sure she's done some mean raps / flows, but for me she's not nearly as consistent as say her predecessor Missy Elliott, nor quite as interesting as NME's favourite newcomer Azealia Banks, who is a little potty-mouthed for sure, but is fresh and dynamic, and somehow more genuine and arresting than Ms Nicki.

One of my favourite albums this year has been Frank Ocean's 'Nostalgia, Ultra'; in particular the 'Novacane' track - slick, laidback, mature hip hop, superbly produced - he certainly deserves a high place on this listing.

Skrillex (aka Sonny Moore) has been a very busy boy this year, co-producing a number of records, including nu-metallers Korn's latest album, as well as numerous remixes and own productions. Skrillex's 'Scary Monsters and Nice Sprites' EP came out last year, but has been on fairly regular rotation for me this year on my iPhone jukebox. I love this kind of Dubstep / Electro House hybrid sound, which some naysayers are unfortunately trying to denigrate by calling it brostep - obviously they don't like to dance!

I really hope Niki & The Dove (Gustaf Karlöf and Malin Dahlström) win the award this time - they're like an even catchier 'The Knife' as if fronted by Kate Bush. This is glorious, quirky pop which does not sacrifice melody to artifice as often happens. Pretty much everything they have released so far is excellent - DJ Ease My Mind, The Fox, Gentle Roar, The Drummer, Mother Protect, Last Night - really great, inventive pop music.

The full BBC Sound of 2012 shortlist is as follows:

A$AP Rocky - rough and ready, urban US grimey hip hop (Not UK grimey!), some great tracks (e.g. Palace) but does not quite rise up to the lofty heights of Azealia Banks or Frank Ocean - who are superior in the rap category

*Azealia Banks - smart, witty, innovative flows with clever changes in tempo

...

6 comments
|
permalink
|
email this
|

|



Subscribe to feed

Subscribe by email
Recent Visitors