The Web by Relative Favicon Size
26 August 2010
4:52 PM

Stefan Karlsson
Alexa
eBay
FaceBook
Google
Gravatar
Microsoft
NMAP
social media
social networking
Twitter
Wikipedia
Yahoo
youtube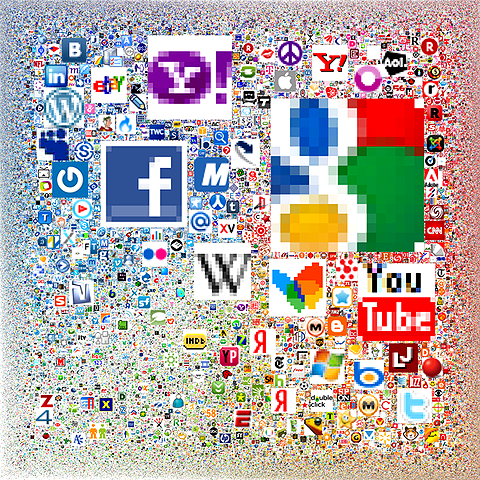 NMAP.org has generated an interesting dynamic Web Infograph showing the relative size of the Web's largest websites, rendered in relative Favicon terms. Of course the Favicons are simply 16 x 16 pixel - browser website identifiers, so there is some degree of distortion at larger sizes.
The dynamic favicon diagram is simply called 'Favicon' and is based on a large-scale scan of the top million websites, in accordance with Alexa traffic data.
A static JPG can be found [Here] with a legend of the 70 largest websites - which are really domains if you read the fineprint. All the usual suspects feature, the top 10 or so including:
I had no idea that Gravatar was so big, in the top 70 listing, there are also a number of sites I'm not familiar with. including:

LiveJasmin (Porn - beware!)
Yandex (Russian Search Engine)
Sohu.com (Chinese)
Kaixinoo1 (Chinese)
Soso (Chinese)
XVideos (Porn - beware!)
Rakuten (Japanese)
4shared (File Sharing)
Travian (MMO Game)
Renren (Chinese)

You really need some kind of Augmented Reality 3D app to be able to navigate into the full dynamic infograph, which contains some 328,427 properties. The smallest icons, those corresponding to sites with approximately 0.0001% reach, are scaled to 16 x 16 pixels. The largest icon (Google) is 11,936 x 11,936 pixels, and the whole diagram is 37,440 x 37,440 pixels in total!