Affino Innovation Briefing Wednesday 27th November 2019 - Actionable Intelligence
28 November 2019
7:12 PM

Stefan Karlsson
Actionable Intelligence
Affino
Affino Briefing
Affino Briefing 2019
Affino Innovation Briefing
Affino Unified Digital Business Platform
Drewry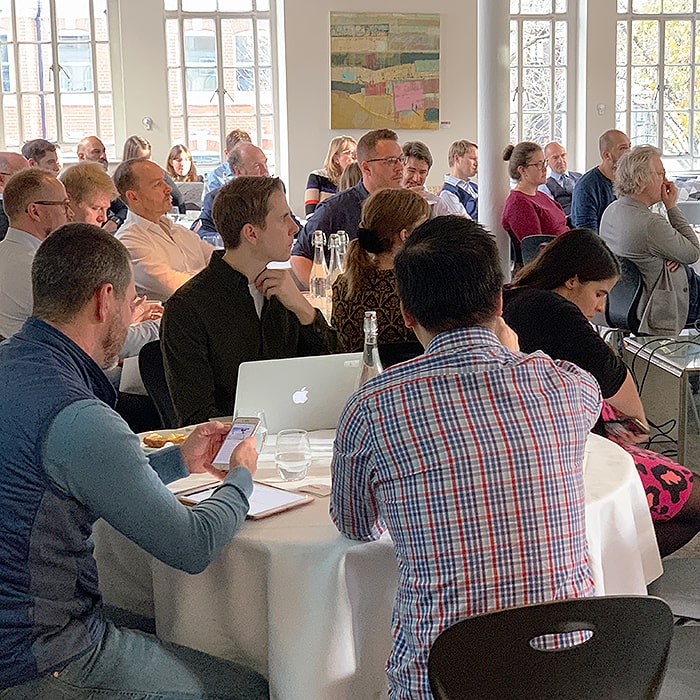 Many thanks to all those who attended our annual briefing event yesterday - we had a healthy turn-out at One Alfred Place yet again, and the sun shone on the Store Street Room as in previous years. Special thanks go to our Master of Ceremonies CCO Jonathan Collins, and principal speakers - James Harley, Head of Marketing at Drewry Shipping Consultancy, and of course our CEO Markus Karlsson - who appeared in that order.
The approximate agenda times shifted somewhat to roughly the following order of business:
Final Agenda / Timings
9:00 Networking and drinks
10:00 Welcome & introduction - Jonathan Collins, Affino
10:10 Actionable Intelligence Unlocked - James Harley, Drewry
11:05 Affino Update - Markus Karlsson, Affino
11:25 Affino Roadmap with Q&A - Markus Karlsson, Affino
11:43 Affino Events & Networking : Future Briefings and Roundtable series introduction - Jonathan Collins, Affino
11:48 Networking
12:00 Conclusion
---
Welcome & Introduction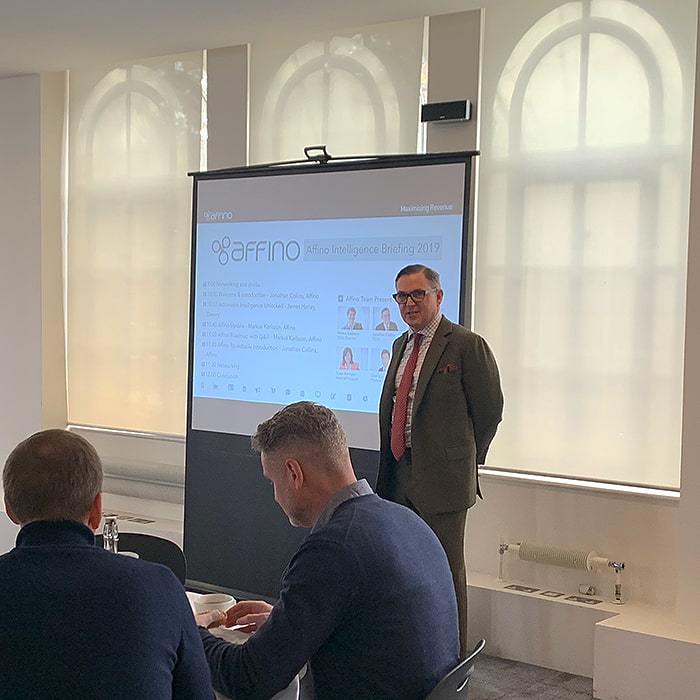 CCO Jonathan Collins kicked off proceedings with the Welcome Address, including general introductions and overview of the proceedings.
---
Technical Assistance & Setup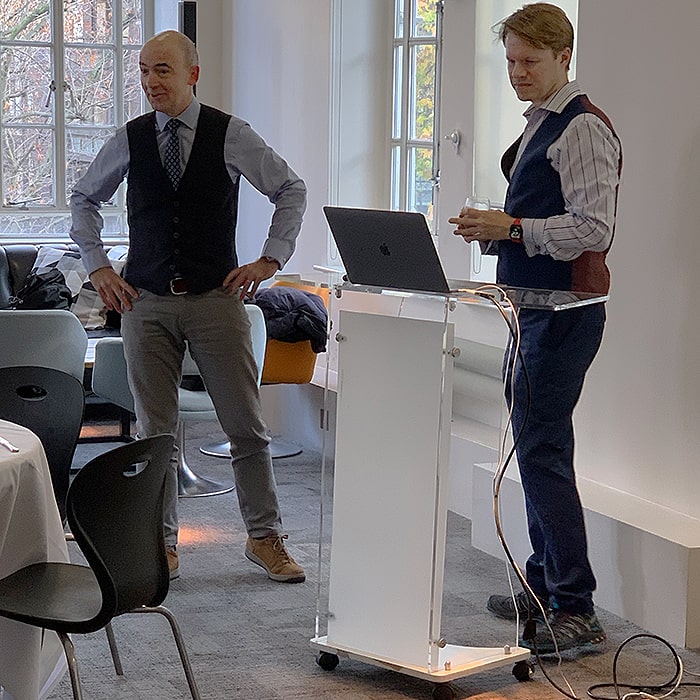 Our CEO Markus Karlsson also took on the role of Chief Technical Officer for the day - overseeing the technical aspects of the event.
---
Actionable Intelligence Unlocked - Drewry Presentation with Affino Case Study and Q&A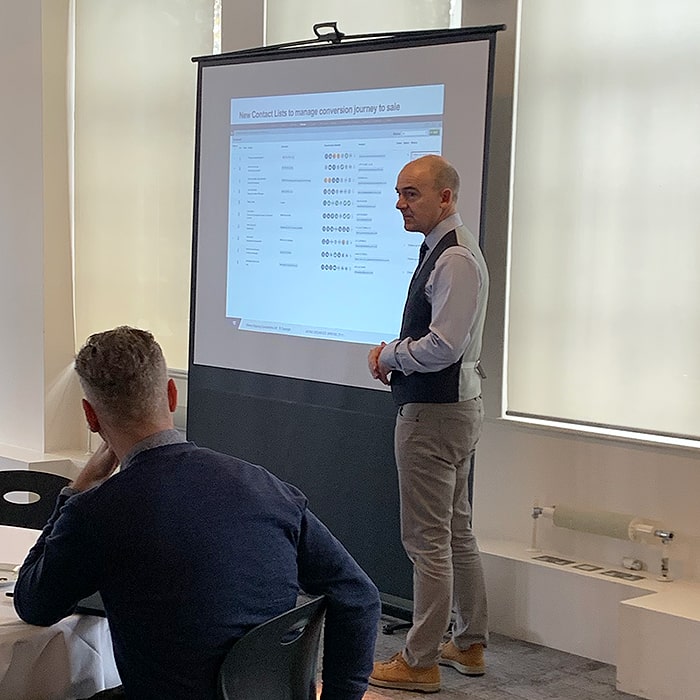 James Harley, Head of Marketing and Business Development at Drewry Shipping Consultants took to the podium for his highly detailed overview of Actionable Intelligence in use in Drewry's Affino setup.
James highlighted the different elements of his Marketing and Business Development purview and How Affino's recently evolved Intelligence, Targeting and Analysis elements combined - particularly as regards Contacts, Accounts and Contact Lists across Channel, Section and Article activity.
The presentation is attached to this article as related media (PDF), and can be downloaded by registered and logged-in members of the site.
---
Affino 2019 Update, 2020 Roadmap and Q&A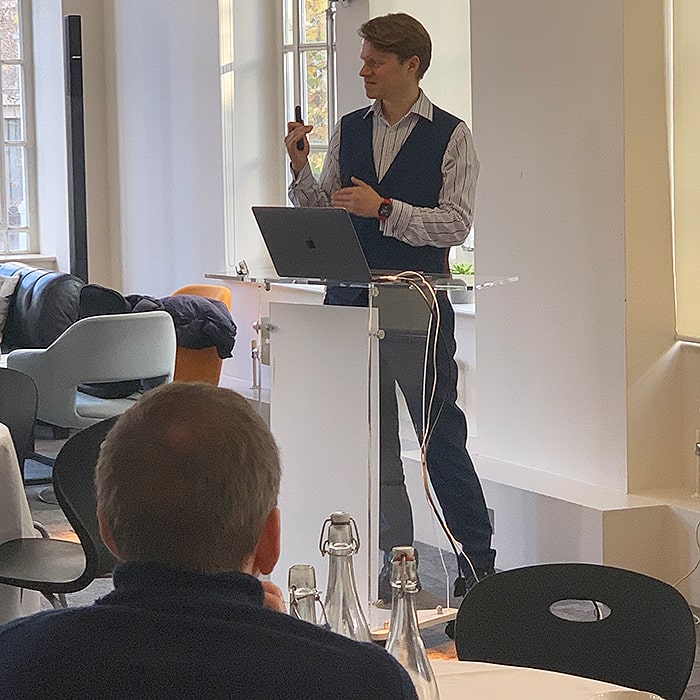 CEO Markus Karlsson took us through the highlights of the thousands of new project, development and systems enhancements that touched Affino this year - including our ever evolving technical infrastructure and Affino's innovation progress report.
Markus also touched on the imminent forthcoming releases including the significant pre-Christmas editions, as well as the development focus for next year.
Markus's presentation is also attached to this article - for registered and logged-in members.
---
An Introduction to Affino 2020 Events & Networking : Future Briefings and Roundtable series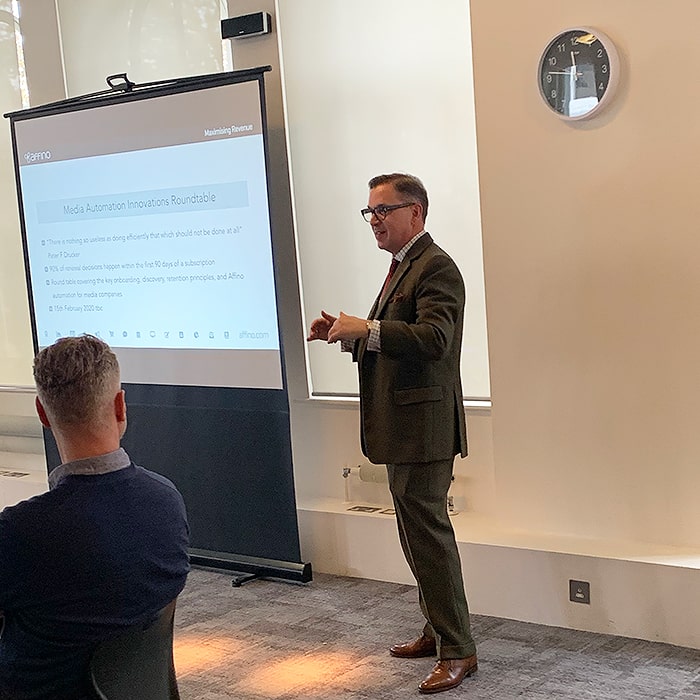 CCO Jonathan Collins introduced Affino's ongoing and forthcoming events series for next year - which in the main will consist of more detailed Breakfast Briefings on key topical subjects, while there will be also smaller roundtable discussion groups arranged for more intelligence sharing amongst Affino Users.
The next planned event is targeted for 15th February 2020 and will cover key onboarding, discovery, retention principles and Affino automation for media companies.
Keep your eyes peeled for further details and invitations to our events - which will require online sign-up for attendance.
---
Actionable Intelligence in action!
Being active believers in practicing what we preach, we have set up a series of Conversion Events and Contact Lists to track who of you read this article and download either of the attached / related PDF presentations.
We may well publish the results of those activities in one of our future briefings or roundtables - so by all means keep in touch if you wish to keep up with all our latest developments.