Superb Live Streaming Coverage of Coachella by YouTube
16 April 2011
10:28 PM

Stefan Karlsson
Apple TV
BBC
Coachella
Coachella Festival
Coachella Live
Coachella Music Festival
Coachella Valley Music and Arts Festival
FaceBook
Google TV
internet tv
Live Concert
Live Music
Live Music Streaming
Live Streaming
Moving Units
music
social marketplace
social media
social networking
Social Promotion
Twitter
youtube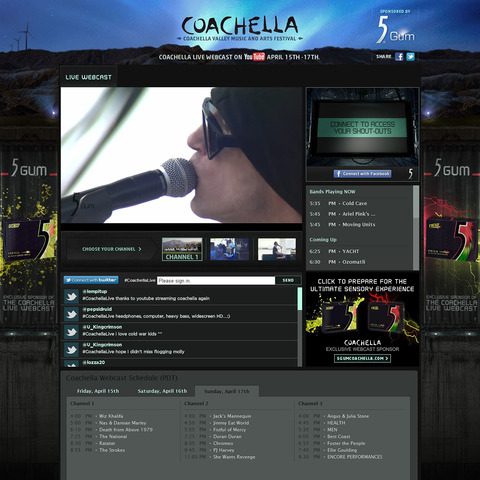 I always thought the BBC were the masters of live music coverage, and in many ways they still are - in terms of all the behind the scenes footage, biographies, interviews, escapades and impromptu live accoustic sets. For this year though, YouTube has done a sterling job in letting non-attendees witness the live spectacle of Coachella, America's Glastonbury of sorts, at least a little brother to Glastonbury in most ways.

I'm not going to split hairs on the lineup, I have watched a number of bands now, and I'm really impressed with the simplicity and elegance of the YouTube Coachella Festival interface, and the cleverness of the Twitter and Facebook connects. For Twitter, YouTube are automatically embedding the "#CoachellaLive' hash tag for superb Twitter trending performance. Via integration with Twitter and Facebook they allow Fans to easily post 'Shout Outs', at the same time promoting the festival and YouTube itself.

The interface has a simple Programme Guide and What's on Now / Coming Up listing - everything you really need for live music coverage. BBC goes a little further with Artist Biographies, Videos and backgrounds - linking into the enormous archives that make up the complete BBC experience. I don't expect YouTube do to this, but it would be nice to have some king of tag-indexed library of officially related videos for each of the featured artists, and a means to access the elements of the live stream individually post gig also.

I can really see YouTube becoming a forerunner in this, and can foresee a two-stream concert ticketing system where a lower priced tariff allows you to experience the concert from the comfort of your home sofa - allowing to to neatly forego the pleasures of stinky chemical toilets, endless queues and the potential of rain and mud.

With the rapid development of Internet Television services - connecting with a variety of home streaming devices - Apple TV, Google TV etc. I see this as a big potential money earner for YouTube. Mainstream cinemas are already on the bandwagon - providing streamed access to live events - operas, pop concerts and sporting events - giving global access, as well as more convenient access in some ways - to a much larger audience. This is certainly an object lesson in how to do things well. The sound and video - were great for the whole of my viewing period - everyone involved is to be congratulated - I say more of the same please!

I have to say I really enjoyed 'Moving Units'' set - this was my first introduction to the band - bang up my street as they say - I'm loving their new 'Tension War' EP...