This is the first time in a while I won't be getting up early on the 3rd Saturday in April. As a long-term loyal music fan and vinyl fanatic, I've usually been queueing up with the best of them - outside Phonica on Poland Street from about 08:00 onwards. In fact this is the first year that Record Store Day (RSD) has had a little bit of backlash - particularly from the smaller independent labels. I have noticed myself that the RSD releases have been increasingly major label re-issues and re-presses and special / re-packaged editions - like coloured vinyl or picture discs. In the last couple of years the biggest sellers were a picture disc of Kate Bush's Running up that Hill, and Ray Parker Junior's Ghostbusters - the former containing a proper new remix, the latter just a repackaging job really.
Vinyl sales now stand at more than 2 million units per annum - the highest in over a decade, which is a struggle with so few pressing plants still in action. As a vinyl buyer, the delays in releases have become quite commonplace as the larger labels are hogging up too much of the production capacity with their re-issues and re-presses. I have a feeling that a big part of the vinyl sales growth is caused by middle aged men trying to recapture their youth and replace their vinyl collections which they were forced to abandon when they got into their first proper relationships / marriage. Now in their middle years and facing existential quandaries about where they ended up, they think back to a time of more joy and endless possibilities.
So the smaller labels are being somewhat squeezed out at the pressing plants, but most importantly, the quality of releases on RSD (Record Store Day) is dwindling. These used to be much more unique versions of songs, new or unreleased material and special collaborations and new and unusual remixes. The vast majority now though is increasingly just more of the same old stuff that those who have collected through the years (like myself) still have in their collections.
Being only half-English, I have never been comfortable with waiting over-long in line, in fact I quite loath queueing, but will occasionally do so for something truly worthwhile. Last year I was number 20 in the queue at Phonica but still a number of the releases I wanted had been sold out already by the time I got to the front. I realised after that, that I had not really wanted some of those releases after all - my main reason for wanting the Ghostbusters release was that it was supposed to be a new remix, but ended up being the same old standard extended version (just re-packaged!). So in some ways I saved money by not being able to get some of what I would not have been happy with. The problem with a lot of these releases is that they are bought untested - they are very poorly described / documented on the RSD website and even the record store sites themselves, and you don't know what you've got until you get it home... or listen to the uploaded Soundcloud and YouTube recordings a day or two later. My biggest bugbear is in how many of the most sought after releases end up straight on eBay at ridiculously inflated prices - you have to wonder if some of the record stores aren't involved themselves in this.
While the queue at Phonica is bad, the queue at Sister Ray around the corner is insane. Last year I traipsed back into town on the very next Sunday, and found most of those stores mostly empty, more importantly - most of what I had queued up early for the day before was still available. So in fact I will be doing RSD day this year, but not on the official date, but the day after. My own vinyl buying has actually dwindled quite considerably, as almost all the stuff I buy is digital now (I mostly listen to my library on my 128GB iPhone on headphones) - I do still like to keep my hand in vinyl as it were, and do still do the round of Soho record stores, just a little less frequently than before. It's all the same layout really except that Sister Ray has moved across the street.
I do encourage people to support their local, independent record stores, but also to think about what they are buying and try to support the smaller, independent labels too. RSD is in danger of moving too far away from its original ideals, it should not really be about the label giants of old making a killing, and it certainly should not be about profiteering, it should be all about the music - ideally about new music! This is the first year I have no clear idea of what I want to buy - I will just roll up on the Sunday and see what takes my fancy ...
Here is the round-up of usual suspects, I really recommend Soho for its easy density of shops - you can get through all the scope and variety in a couple of hours of browsing: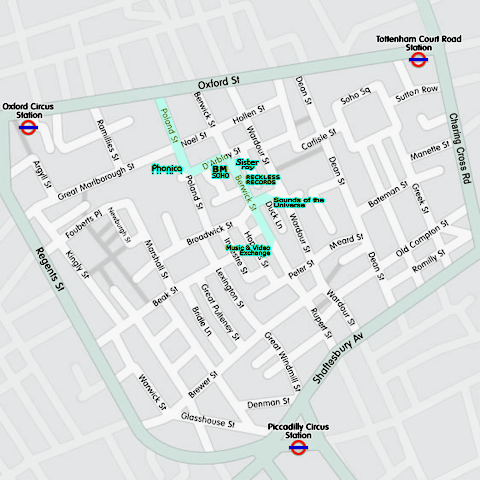 Soho Stores:
Phonica - 51 Poland Street, W1F 7LZ
BM Soho (Black Market) - 25 D'Arblay Street, W1F 8EJ
Sister Ray - 75 Berwick Street, W1F 8RP
Reckless Records - 30 Berwick Street, W1F 8RH
Sounds of the Universe - 7 Broadwick Street, W1F 0DA
Music & Video Exchange - 95 Berwick Street, W11 3HL
London Others:
Rough Trade - 130 Talbot Road, W11 1JA
Rough Trade East - 91 Brick Lane, E1 6QL
Full list of Record Store Participants [here].
Full list of RSD releases [here].
UPDATE!:
So this is my haul from today (Sunday 19th), I'm pretty happy with it:
Grace Jones - I Need A Man / La Vie En Rose 12"
Gorgon City - Sirens Remixes - 12"
I-Robots Presents Gene Hunt - Gene VS Gene 12"
Karizma - Beats & Bobs RSD Edition 10"
KC & The Sunshine Band - I Get Lifted (Todd Terje Edit) 10"
KC & The Sunshine Band - I'm Your Boogie Woman (Todd Terje Edit) 10"
Kiasmos - Looped EP 12"
Late Night Tuff Guy - Tuff Cuts 07 RSD 12"
Little Dragon - Pink Cloud 12" (Pink)
Mr G - Waxheadz EP 12"
Vinalog & Mr G - Relative 2 x 12"
Considering I was a day late, there were just a few I missed out on (as below) I'm sure some will end up on Discogs or some other form of general circulation eventually, depends how bothered or motivated I will be then. I would have quite liked the Shura one too, but am really not in the slightest disappointed. I did wander through Soho yesterday and I have never seen it so packed, today I was straight to the counter with no delay ...
Amir Alexander, Nicson & An Gelo, Thomas Wood - Subwax RSD Series 2015 12"
Larry Levan / Grace Jones / Gwen Guthrie - Genius Of Time Sampler 2 x 12"
Shura x Jungle - Incentive 12"
William Onyearbor / Hot Chip etc - Atomic Bomb Remixes 12"