14 Apr 2014 10:20 AM

Popular

Comments

Profile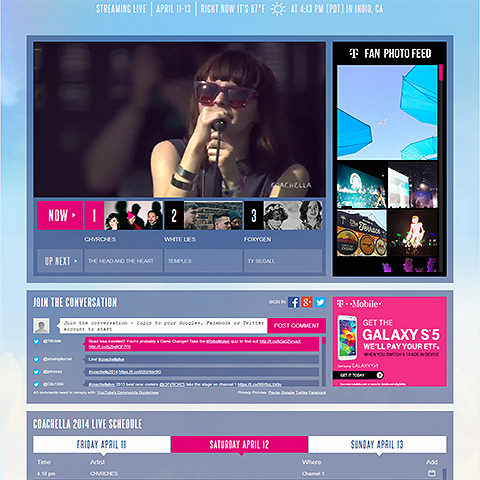 This is the 4th time I catch Coachella live courtesy of YouTube, and each time Google has made tiny increments which keep improving the experience. The interface is pretty much perfect now, with a clearer Live Schedule panel and Fan Photo Feed higher up the page - I still sort of prefer having the social updates to the right of the main panel as per the debut version, but overall, the current one has good balance - and I love how the page background changes contemporaneously with the evolving colour of the sky. On the subject of social updates - this year was totally dominated by Tweets - probably 90% of shout-outs were via Twitter, with the remaining 10% being mostly Facebook and a Google+ entry once in a while.

Sound and Video streaming quality (HD 1080p) have been excellent throughout and I love the way it's one continuous redline stream - so that you can dip back into the timeline if you missed something. YouTube is also doing the excellent 'Rebroadcasts' between programmes - so you don't need to stay up to catch the highlights. Versus the BBC, YouTube does not provide quite the width of commentary, nor the individual artist video showreels or highlights - the same criticism I have levelled for previous years. The beauty of having this streamed via YouTube though is that lots of helpful social-minded people record and segment the broadcast - so you can find full Coachella sets by your favourite artists on YouTube away from the official versions.

In terms of solid, high quality music coverage, the YouTube Coachella service is currently peerless - with a little more direct artist programme access, I would not mind paying for such a service. I always envisaged that someone like Live Nation would start offering this kind of service, or even start co-ordinating with the cinema chains. The cinemas already play host to Theatre, Opera, Ballet, Exhibitions, Key Concerts and Sporting Events - why not have festival sessions too. With high-quality sound and video on a big screen, and readily available beverages and refreshments - with civilised sanitation on hand - these are perfect social venues for people who don't want to get too dirty!

Highlight of the opening night was suprisingly Girl Talk (Gregg Gillis), who brought out Busta Rhymes, E-40 and Juicy J for cameos during his set. The expected highlights

...

3 comments
|
permalink
|
email this
|

|





16 Apr 2013 2:01 PM

Popular

Comments

Profile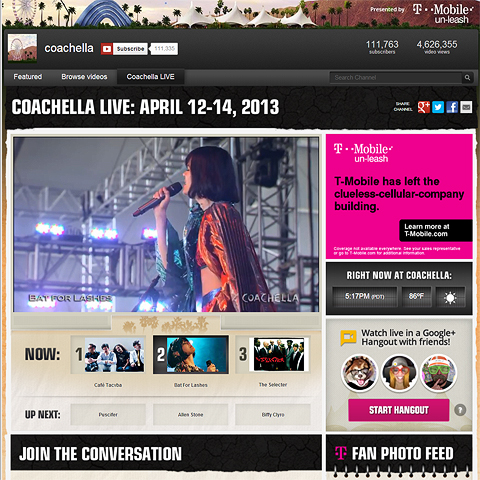 The Coachella festival always signals the start of Spring proper for me, I of course look forward to hearing some of my favourite bands play live, as well as seeing what advances YouTube / Google make in their coverage.
As far as the YouTube interface goes, I preferred last year's version - with the Social Media shout-outs appearing to the right of the main video. I also felt the who's playing and who's on next was better done last year too. As per last year - shout-outs were evenly split between Twitter and Facebook, with Google+ messages barely 1 in 50.
What really stood out this year though was the 'Rebroadcast' service YouTube provided - where they looped the live footage 2-3 times after each night. This is how I watched most of the acts - and it enabled me to dive right in and see who I wanted to see and skip those who did not spark my interest.
YouTube / Google are still fairly poor at the Video highlights / edit thing and the so-called 'Highlight Reels' are attrocious. The BBC is far better at the editing thing - and providing full and set highlights per artist.
Obvious trend this year was the dominance of what the American's like to call 'EDM'. In terms of legendary performances though, there were very few of these - Major Lazer put on a spirited show, but it's really only dance music acts like Basement Jaxx and Groove Armada who know how to put on a proper show for this genre of music. However good James Blake's music is, I'm not sure how well it works in a lively festival setting - I tend to agree with Glastonbury die-hards in that you need a proper spirited 'band' mechanic for a live performance to really work - and on that basis, the standout highlight for me was Janelle Monáe. Of Monsters and Men, Yeah Yeah Yeahs, Grimes, Bat for Lashes, La Roux, Metric and Poliça were pretty good too...
I caught whole or partial sets by the following artists:
Baauer
Bassnectar
Bat for Lashes
Beardyman
Benny Benassi
Blur
Disclosure
Franz Ferdinand
Grimes
Infected Mushroom
James Blake
Janelle Monáe
Jessie Ware
La Roux
Major Lazer
Metric
Moby
New Order
Of Monsters and Men
OMD
Poliça
Purity Ring
Yeah Yeah Yeahs
The XX
...

Add Comments
|
permalink
|
email this
|

|





18 Apr 2012 10:36 PM

Popular

Comments

Profile
Tags:
FaceBook
,
social media
,
youtube
,
Twitter
,
Firefox
,
BBC
,
Google Chrome
,
Coachella
,
Coachella Festival
,
Coachella Live
,
Coachella Valley Music and Arts Festival
,
Coachella Music Festival
,
Swedish House Mafia
,
Google+
,
Azealia Banks
,
Frank Ocean
,
The Weeknd
,
SBTRKT
,
Coachella 2012
,
Miike Snow
,
Datsik
,
Snoop Dogg + Tupac
,
Santigold
,
arabMUZIK
,
Lykke Li
,
Talk Talk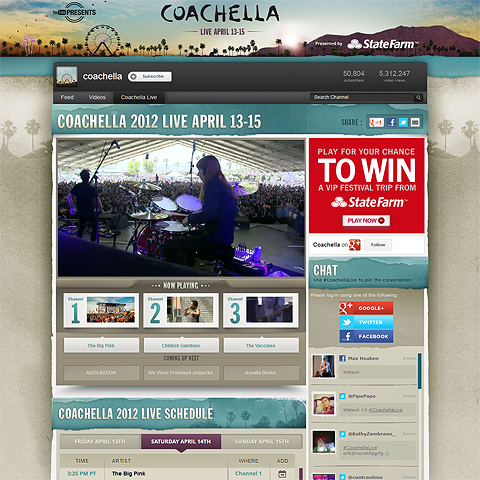 Last year I blogged about catching the year's first big music festival courtesy of YouTube - who broadcast live form the 5 stages over the 3 days. I raved about the really clever interface - how they included hashtags into their live updates - and how slickly the whole thing worked, including the uninterrupted streaming broadcast itself.
This year the layout of the interface was even better - with the current and upcoming bands listed in the centre, and the updates off to the right. It was interesting to see the addition of the 'Login with Google+' option - although I never saw a Google+ originated post - they were about 70% Twitter Updates, with 30% Facebook - I even logged on myself to post updates during the Azealia Banks and Miike Snow sets.
I did not really start watching properly until the Saturday - and thus caught a mix of highlights and full live gigs by the following artists:
AWOLNation
Azealia Banks
The Big Pink
Buzzcocks
Childish Gambino
Datsik
Dr Dre & Snoop Dogg + Eminem, Fiddy, Warren G, Wiz Khalifa et al.
Florence & The Machine
Kaiser Chiefs
Kasabian
Miike Snow
Noel Gallagher's High Flying Birds
Radiohead
Santigold
SBTRKT
Swedish House Mafia
I would have loved to have seen, but missed these:
Amon Tobin
araabMUZIK
Borgore
Dada Life
DJ Shadow
Feed Me
Flying Lotus
Frank Ocean
Girl Talk
Justice
Kaskade
M83
Noisia
SebastiAn
The Weeknd
I always compare YouTube's coverage of this with the BBC's coverage of its main music festivals. I think the actual live streaming and the social experience is better by YouTube, but overall the BBC still leads - as they provide so much better supporting materials - and actually post up much more of the video highlights - only 76 Videos are listed on YouTube's Coachella Page - and these are individual tracks, whilst for the BBC there is normally an extended highlights (circa 30 mins.) plus a couple of individual great moments from nearly all the featured performers - a number of the videos on Coachella Live are not even the best moments from those sets.

On my somewhat dodgy Talk Talk connection, I was astounded to get a totally seamless experience over the whole event - did not drop out once - and switching between the 3 live feed options was butter smooth!

As I've said before, I&

...

4 comments
|
permalink
|
email this
|

|





16 Apr 2011 10:28 PM

Popular

Comments

Profile
Tags:
FaceBook
,
internet tv
,
social marketplace
,
social media
,
social networking
,
youtube
,
music
,
Twitter
,
BBC
,
Google TV
,
Social Promotion
,
Live Music
,
Live Concert
,
Live Music Streaming
,
Coachella
,
Coachella Festival
,
Coachella Live
,
Coachella Valley Music and Arts Festival
,
Coachella Music Festival
,
Live Streaming
,
Apple TV
,
Moving Units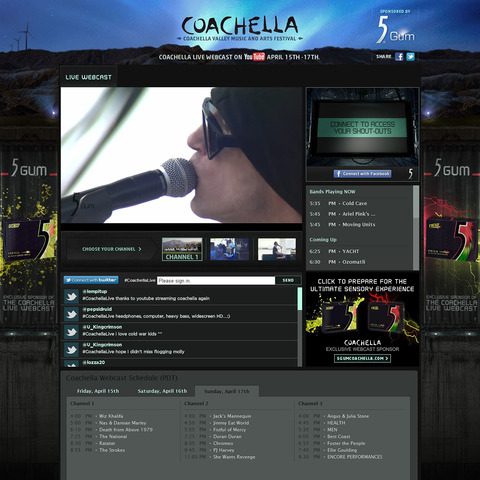 I always thought the BBC were the masters of live music coverage, and in many ways they still are - in terms of all the behind the scenes footage, biographies, interviews, escapades and impromptu live accoustic sets. For this year though, YouTube has done a sterling job in letting non-attendees witness the live spectacle of Coachella , America's Glastonbury of sorts, at least a little brother to Glastonbury in most ways.

I'm not going to split hairs on the lineup, I have watched a number of bands now, and I'm really impressed with the simplicity and elegance of the YouTube Coachella Festival interface, and the cleverness of the Twitter and Facebook connects. For Twitter , YouTube are automatically embedding the "#CoachellaLive' hash tag for superb Twitter trending performance. Via integration with Twitter and Facebook they allow Fans to easily post 'Shout Outs', at the same time promoting the festival and YouTube itself.

The interface has a simple Programme Guide and What's on Now / Coming Up listing - everything you really need for live music coverage. BBC goes a little further with Artist Biographies, Videos and backgrounds - linking into the enormous archives that make up the complete BBC experience. I don't expect YouTube do to this, but it would be nice to have some king of tag-indexed library of officially related videos for each of the featured artists, and a means to access the elements of the live stream individually post gig also.

I can really see YouTube becoming a forerunner in this, and can foresee a two-stream concert ticketing system where a lower priced tariff allows you to experience the concert from the comfort of your home sofa - allowing to to neatly forego the pleasures of stinky chemical toilets, endless queues and the potential of rain and mud.

With the rapid development of Internet Television services - connecting with a variety of home streaming devices - Apple TV , Google TV etc. I see this as a big potential money earner for YouTube . Mainstream cinemas are already on the bandwagon - providing streamed access to live events - operas, pop concerts and sporting events - giving global access, as well as more convenient access in some ways - to a much larger audience. This is certainly an object lesson in how to do things well. The sound and video - were great for the whole of my viewi...

Add Comments
|
permalink
|
email this
|

|



Subscribe to feed

Subscribe by email
Recent Visitors